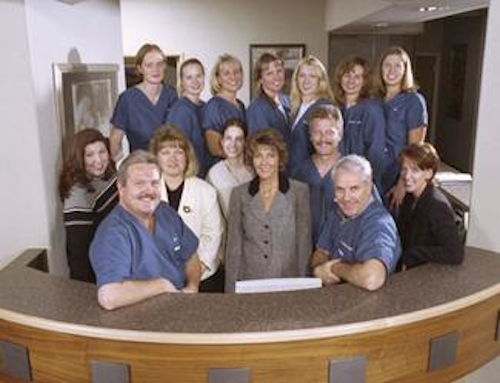 by Joseph A. Blaes, DDS
The winner of the third annual Matsco Dental Office Design Competition in the Multiple Practitioner Practice Division is Dentus Dental Center in Vancouver, Wash. The principals in the practice are Joseph D. Opray, DMD, a general practitioner, and Andre Kaindl, DMD, DDS, a periodontist.
Having been in solo practice for 17 years, Dr. Opray decided to bring in a partner. After an extensive search, he chose Dr. Kaindl. Great customer service for all ages in one office was the doctors' goal. Their practice quickly outgrew the existing 1,600-square-foot, four-chair office that served 3,200 active patients. After three years of planning and research, the two doctors felt that a future in fee-for-service dentistry demanded the best and latest technology in a new facility.
After an honest review of his values and his vision, Dr. Opray named the practice Dentus: A Community of Smiles. From this review came the need to express two complementary concepts - the humanness and personal touch the practice was already known for and a focus on technology and modern methods of dentistry. The "us" in Dentus refers to the relationships that are formed there every day among patients, staff, and doctors - all working together to create a truly unique dental experience. A Community of Smiles refers not only to more attractive smiles through great dentistry, but also to the smiles that come from having great relationships with patients.
The new facility is located one block off the busiest highway intersection in the fastest growing county (population 350,000) in Washington state for the past five years. The intersection handles 88,000 cars per day and is adjacent to a Burger King and a McDonald's. The neighborhood is primarily a blue-collar working area with local shopping. Close by are a family-practice physician, three chiropractors, and a physical therapist. There are five banks and 14 restaurants within a third of a mile - a great example of location, location, location!
Between the two of them, Drs. Opray and Kaindl have 40 years of expertise in providing efficient, cost-effective, patient-centered dentistry. They visited offices in Portland, Seattle, and Vancouver and attended seminars by T.H.E. Design Group and Dr. Michael Unthank. They attended 10 dental conventions, visiting with designers and sales reps and seeing the most current trends in dentistry. By combining structural needs with aesthetic desires, they were able to find the ultimate design for their eight-operatory, 3,400-square-foot dental building. The design is unique, so spend some time studying the floor plan and the photos; there are a lot of "pearls" here.
Each treatment room is 10 feet by 11 feet with dual entry. Four rooms use shared, split-center walls that house the X-ay units and recessed sinks. The patient chair is from Midmark. It is unencumbered by attached equipment, thus creating a nonthreatening environment. Custom dental cabinetry by Stelte Dental Systems (Seattle) allowed individual design to achieve maximum productivity in each room. All rooms are 12 o'clock workstations, with a slide-out Porter nitrous oxide unit with master control panel, a roll-out Dentsply Cavitron/Cavijet unit, Vipercam docking station, the Amtel Communication System, and storage for tubs and trays that can be stocked from outside the room. The closed water-bottle system is accessed at the rear of the unit. A moisture-resistant heating pad surrounds the bottles, warming the water throughout the day.
A-dec's Cascade side-delivery doctor's unit has fiber-optic KaVo 649 high-speed handpieces, a Bien Air electric handpiece (high- and slow-speed attachments), a Midwest slow-speed handpiece, and three-way heat syringe. The assisting side has the A-dec vacuum package with a three-way air/water syringe. Track lighting by Belmont with an infrared on/off sensor creates a sterile, efficient lighting source.
The Patterson Triangle Sterilization Center is designed to go from contaminated biohazards to sterile tray prep without any chance of cross-contamination. The sterilization area is equipped with the Miele Dental Disinfector to minimize the handling of individual contaminated instruments. The area has a large Midmark Steam Sterilizer for hand instruments, as well as a SciCan Statum sterilizer for handpieces.
The Orthopantomograph OP100D by Instrumen tarium Imaging is located in a separate X-ray area. This is the digital model, so the image can be seen quickly on the computer screen and then stored permanently in the patient's record.
Each operatory also has the CAESY Patient Education System for preop and postop information, the KaVo DIAGNOdent for early detection and diagnosis of disease, Air Techniques' Airdent II CS air abrasion for minimally invasive dentistry, and the Zoom! Chairside Whitening System by Discus Dental for rapid, one-stop bleaching.
The lab features the KaVo Masterspace Work station with built-in dust extraction, light, and K-9 electric handpiece with knee control. This was the first lab workstation that KaVo has placed in a dental office in the United States.
Drs. Opray and Kaindl are in the process of purchasing and integrating the CEREC System into the practice. They are excited about the possibilities that this new technology offers to patients, staff, and doctors.
Each treatment room is identically computerized with a new concept of computer utilization. The doctor's side has a touch flat-screen computer, with a minikeyboard and wireless mouse, designed to swing out in front of the patient to facilitate patient communication and the exam process. The capabilities of this computer using Dentrix software include digital panoramic radiographs, digital sensors for periapical and bitewing radiographs, intraoral video cameras, as well as the complete Dentrix computer menu. The ability to use digital radiography in each operatory allows for maximum function. Each room has an X-ray unit that is connected to the CPU via a USB cable. The sensor and docking station are transported to each room as needed. The assistant-side computer is a flat screen with a fold-up minikeyboard and wireless mouse. This allows easy data entry into the patient's digital records during the doctor's treatment planning and discussions with patients. This requires each room to have two CPUs. The doctor's CPU is a computer tower with DVD and CD. The assistant's CPU is a simple machine that works as a slave to the main server. All of the 22 workstations are networked, allowing patients and staff to view all digital information from anywhere in the office.
The office has a voice and video system that allows staff members to see and talk to delivery people. Once acknowledged, the front desk or sterilization can "buzz" the person in via a magnetic door lock. The system also features security cameras at the three office entries, with a one-month hard-drive backup. To eliminate keys for the staff, a key-card system for keyless entry was installed. This system keeps track of the staff's arrival times and eliminates the hassle of lost keys.
Congratulations to Drs. Opray and Kaindl for an outstanding office design and integration of dental technology! They make full use of their technological tools, because everyone in the office is trained in how to use them, understands how each tool integrates with the next, and knows how each new innovation can be used for the improvement of the practice.
null