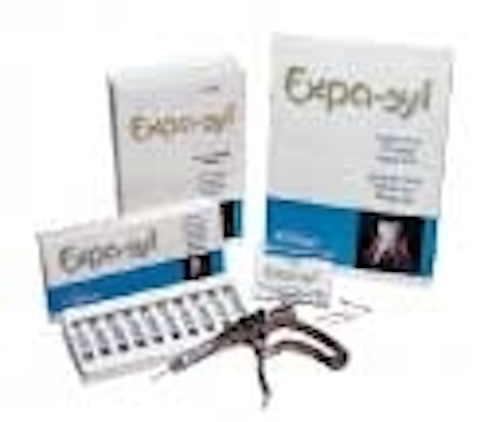 Joseph Blaes, DDS
Pearl 1 - Expa-syl™ by Kerr. Would you buy a product that would let you stop packing gingival-retraction cord? I hate packing cord, and I would run - not walk - to the nearest store to get a product like that!
Well, here it is! Expa-syl™ is a fast, safe, and painless alternative to packing retraction cord. I'm sure I have your attention now!
Have you ever tried to pack cord in a sulcus without anesthesia? You have prepped a root canal tooth without anesthesia, and you need a little retraction to assure a great impression. The patient is comfortable until you start poking on his gums. Then, some times, he is so uncomfortable that you have to stop and give anesthetic. Now all you have to do is pick up the Expa-syl™ dispenser and inject the paste into the sulcus, leaving it for about two minutes. The paste will open the sulcus and leave the field dry, ready for your impression (or for cementation).
Expa-syl™ holds its rigidity while in the sulcus to create a space between the tooth and the tissue, much like retraction cord does. There is absolutely no danger of rupturing the epithelial attachment, since little or no pressure is required to apply Expa-syl™. And the great part: You will control bleeding and cervicular seepage through the presence of aluminum chloride. Expa-syl™ saves you time and gives patients a comfortable experience. I have found that with the elimination of packing cord, there is less postoperative sensitivity and gingival irritation is gone.
This product is a great time-saver, and you will love throwing away your retraction cord! So, if you hate packing cord as much as I do, call your dealer and order some Expa-syl™. For more information, call Kerr at (800) KERR-123 or visit www.kerrdental.com.
Pearl 2 - The Bio-Esthetic™ Level Gauge by Panadent. Have you ever run into a situation where the esthetic case that you are trying to complete just does not look right, no matter what directions you send to the lab? The anterior teeth are slanted to one side, or they may be running off to one side, but you just cannot compensate for it. You look at the eyes and discover that one eye is higher than the other. You have taken a face bow, but you suddenly find that one ear is higher than the other. How do you ever communicate this to the lab technician? How will you ever satisfy the patient and finally finish this case?
Traditionally, dentists have been taught to make the incisal-canine esthetic line parallel to the interpupillary line when the patient is looking straight ahead. In the event that one eye is higher than the other, the incisal-canine line would be made slanted in relation to true horizontal when the patient's head is erect.
Dr. Robert Lee feels that the interpupillary is not the best esthetic reference line. He advocates making the incisal-canine line parallel to horizontal when the patient's head is perfectly erect, regardless of the eyes or any other facial feature.
With the Panadent Bio-Esthetic™ Level Gauge, face bows (ear-bows) can be oriented to true horizontal while the patient's head is held erect. The mounted dental casts will be oriented properly to true horizontal, which is represented by the frames of the articulator.
This is a must-have instrument that will change your life. Order from Panadent at (800) 368-9777 or visit www.panadent.com.
Pearl 3 - MicroDose™ Single Patient Applicators by Premier Dental Products. It is interesting to me that, with the advent of bonding, we have become more like chemists than dentists. Most of the things we use in adhesive dentistry rely on a chemical reaction. Single-dose applicators provide us with the freshest-possible chemistry in disposable packaging, making infection control easier.
Premier has packaged a number of great products in a nifty dispenser called MicroDose™. It has a long tip that will reach even the most difficult areas. Just cut off the tip and you are ready to go.
Here are some of the great packaged Premier products I use often in my office: a powerful prep disinfectant with a full 2 percent chlorhexidine called Chlor hexi-Prep; a silane coupling agent with enough liquid to do about four veneers with fresh chemistry (especially important with silane) called Porcelain Silane; an old standby desensitizer that I have used for years called Therma-Trol; and a 38 percent phosphoric acid gel with a bright blue color that rinses easily called Enamel Etchant.
I occasionally have needed hydrofluoric acid to etch porcelain, but found that the bottle was empty or had evaporated. Premier has packaged a 9.6 percent hydro fluoric acid in a Micro Dose™ applicator that is ready when you need it, with fresh chemistry for superior retention.
Get your own fresh chemicals by ordering from your dealer, or call Premier at (888) PREM-USA or visit www.premusa.com.
Pearl 4 - VioNexus&$153; Health-Care Personnel Handwash by Metrex. During this time of the year, I hate washing my hands. I look at them and am reminded of the ad with the hands replaced by very red lobster claws. I have found the answer - everyone in my office really loves this hand-wash system.
VioNexus™ is a revolutionary, no-touch dispensing system that virtually eliminates cross-contamination and im proves everyone's attitude about hand washing. Metrex introduces an innovative, battery-operated dispenser so you do not have to worry about having an electric outlet handy. This state-of-the-art, infrared dispenser is engineered to give you a metered amount of material effectively. A fully atomized application of VioNexus™ provides better coverage in hard-to-reach areas - such as nails and cuticles - that lotions and soaps don't reach.
Simply put your hands in the dispenser area and they are sprayed with VioNexus™. Rub your hands together and the material evaporates, leaving hands feeling soft and dry. No more towels! It makes donning gloves quicker and easier. This is superior to soap and water, since it leaves the skin's natural oils on the surface and prevents the skin's surface from shedding and causing hands to be dry and irritated.
Get on the road to softer hands by ordering from your dealer or calling Metrex for more information at (800) 841-1428, or visit www.metrex.com.
---
Dr. Blaes has a general practice in the St. Louis area. He is known for his expertise in dental materials and techniques and his innovative systems designs. He writes and lectures on "How To Increase Productivity and Profitability." Dr. Blaes is a member of the American Academy of Dental Practice Administration. He may be reached at (573) 686-2388.