Predictable, accurate, and easy to use
Traxodent™ by Premier® Dental Products Company. In my practice, I carefully prepare teeth for inlays, crowns, and veneers using a shoulder margin.
Aug 1st, 2009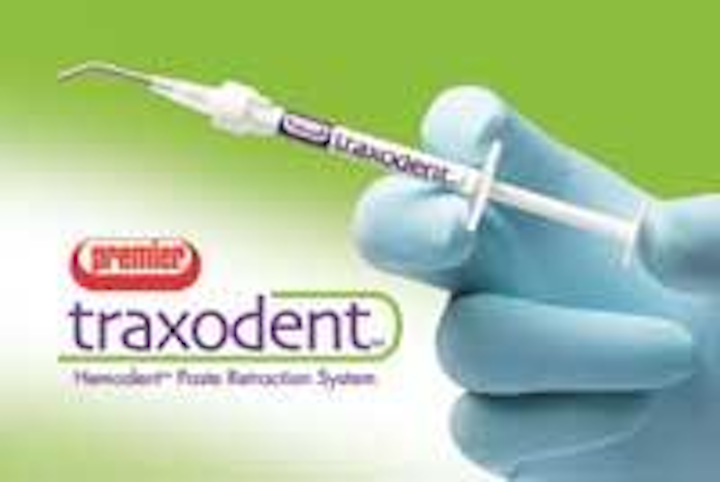 Traxodent™ by Premier® Dental Products Company. In my practice, I carefully prepare teeth for inlays, crowns, and veneers using a shoulder margin. I do not bury that margin under the gingival tissues unless an old filling or decay leads me there. I believe that the best way to maintain healthy gingival tissue is to protect it from being cut with a diamond or bur. I try to place the margin 0.1 or 0.2 of a millimeter below the gingival tissue. The key to a great impression is to control what is going on in the sulcus so that the impression material will actually go past the margin. Then there is no way the dentist or lab technician can miss seeing the margin on a model. Premier has come to the rescue with the new Traxodent Hemodent™ Paste Retraction System. This new product is a retraction and hemostatic system for use prior to impression taking, cementation, bonding procedures, or wherever tissue control is needed. Many products rely on iron salts for hemostasis, but Traxodent paste contains 15% aluminum chloride, a proven and effective hemostatic agent. When you open the resealable foil pouch, you will find an ergonomic disposable syringe with a bendable tip ready for immediate use. There are no guns or cartridges to buy. The soft paste produces gentle pressure on the sulcus while it absorbs excess crevicular fluid. The aluminum chloride creates an astringent effect without irritating or discoloring the surrounding tissue. It is best to order some new Premier Retraction Caps, which are anatomically formed cotton caps that work synergistically with Traxodent to quicken and assist the retraction process. I leave the paste in place for about two minutes and then rinse it out.This leaves an open, retracted sulcus. The bottom line is that the Traxodent system provides predictable tissue management for accurately detailed impressions with fewer retakes. This saves time and money. Premier makes it easy to try Traxodent with a starter package that is well priced. Order from your dealer or go to www.premusa.com for more information.
Lubricoat by DUX Dental. Have you ever used a gloved finger to place a lubricant on a patient's lips and had the glove turn sticky and maybe even fall off? My clinical assistants now use cotton swabs or a cotton roll to place lubricating materials on the lips and face. DUX Dental has a great new all-purpose dental emollient that will not compromise latex gloves. Lubricoat is a dental emollient that I trust. It has become my office's new hot pink partner. We use new Lubricoat in every treatment room to provide comfort to a patient's dry or chapped lips. I do not want patients leaving the office with bleeding lips! That is inexcusable. I use it as a separating medium when I cement temps with resin cement and there is a composite buildup on the tooth being temporized. Then I do not pull out the buildup when I remove the temp. We use it to prevent dental materials from sticking to patients and instruments. Silicon-based Lubricoat will not compromise latex so you feel at ease no matter what type of glove you use. Order from your dealer or go to www.duxdental.com for more information.
Elipar™ S10 LED Curing Light by 3M ESPE. This is not just another curing light from 3M ESPE. The S10 is a totally redesigned curing light that keeps the best characteristics of the FreeLight and adds much-needed new attributes that dentists have requested. The Elipar S10 is a seamless, stainless steel instrument that is virtually unbreakable. Since the casing has no seams or vents in which liquid can seep in, internal components are protected from contaminants. The one-piece casing is easy to disinfect. The innovative design of the S10 eliminates the fan and even includes an option to turn off those pesky beeping signals. This really is a silent operation! There is no learning curve with the Elipar S10 light. It is designed for maximum simplicity, the key to intuitive operation. It has a simple, two-button operation with one cure mode to cover all indications. The S10 has a multiple-setting light timer that features push-button control to set timing intervals of 5, 10, 15, and 20 seconds, a continuous 120-second mode, and a one-second tack-cure mode. The tack-cure function allows predictable curing with reproducible short light pulses that are produced by simply keeping the start button pressed. For easier removal, excess cement is tack-cured to a gel state. In comparison, the unpredictable light flashes produced by manually turning a light on and off can result in a longer, harder cure than desired. This tack cure mode has made my veneer cementation clean-up much faster, easier, and better. I really like the feel of the ergonomically designed V-shape that provides a comfortable grip for everyone in the office whether they have big or small hands. The light guide mount is magnetized for quick and easy attachment of the 10-mm light guide that rotates 360° for easy alignment of the light tip to whatever you are trying to cure. The new LED curing lights are approaching the power of the old PAC lights. The Elipar S10 curing light allows a five-second high-intensity cure on tested composite shades A3 and lighter. Many times it is impossible to be right on top of a material that you are trying to cure so you wonder if the material has really cured completely. The optics of the Elipar S10 light are optimized to deliver a more focused light output. The wider 10-mm light guide illuminates up to 80% more curing surface for time-saving, one-shot curing. The more focused light output also produces up to three times more intensity at a clinically relevant distance of 7 mm so dentists can have confidence during any curing procedure. The result is a significantly improved depth of cure. If you are in the market for a new curing light, be sure to look at the Elipar S10 from 3M ESPE. For more information, visit www.3mespe.com/elipars10 or order from your dealer.
ICON by DMG America. Today the emphasis is on minimally invasive dentistry, and ICON definitely falls into this category. This is a hard product to describe with words. You have to see it to really understand what the product is doing. Its name, ICON, is derived from the technology that is being introduced — the Infiltration Concept. ICON can arrest a carious lesion that is progressing in enamel only or is just barely into the dentin. The key to treatment of interproximal caries is wedging the teeth apart to allow insertion of the proximal tip. Attached to the proximal tip are syringes for etching, drying, and finally infiltrating the carious lesion with a material that fills the lesion. The proximal tip looks like a plastic strip with a membrane that allows materials to pass through to the carious lesions. On smooth surfaces, ICON combines early caries arrest with a cosmetic treatment of cariogenic white spots, and does this in only one sitting. Orthodontic patients are especially well-suited for caries infiltration and white spot removal. Order from your dealer or go to www.dmg-america.com for more information. And be sure to visit the DMG America booth the next time you are at a dental meeting.
Pearl Update: Protemp™ Crown by 3M ESPE is now approved for implant temporization. With a simple change in technique, you can quickly make a temporary crown for a single tooth implant. Simply fill the fitted Protemp Crown with a flowable composite material, cure, finish, and cement. Order from your dealer or visit www.3mespe.com for more information.