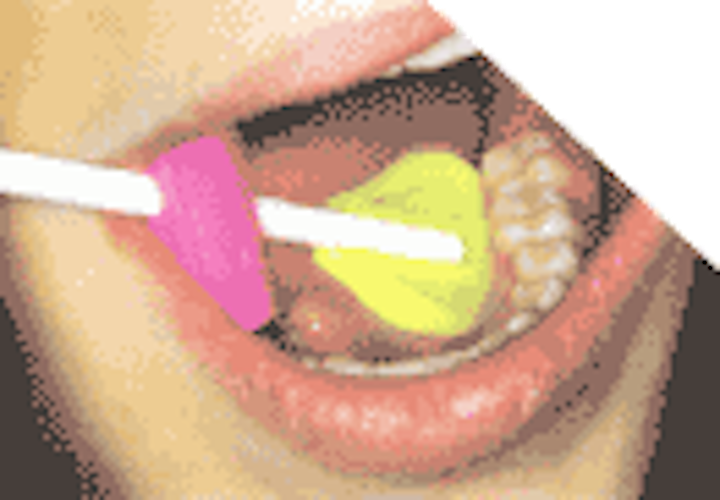 Dentapops 3-in-1 device is a "hands-free" dental assistant
The Dentapop is a disposable intraoral device consisting of three parts working together: mouth prop, suction tube, and tongue deflector. The patient simply bites on the mouth prop which holds the mouth open and stabilizes the dry-field aspirator.
The Dentapop can be placed in seconds, is fully adjustable to fit both adults and children, and is universal for either the left or right side of the mouth. Comfortable to use and nonabrasive to soft tissues, it is excellent for sealants, ultrasonic scaling, and all operative procedures on both arches. By having the patient provide the stability for the Dentapop dry-field aspirator, the dental assistant can use the extra time to attend to other tasks for greater efficiency. Dentapops have been highly rated by the top product evaluators in dentistry.
For additional information, call Primotec, Inc., at (800) 959-8517, email at info@primotec.com, or visit www.primotec.com.
Kaeser Compressors eliminate air problems
Kaeser Compressors, Inc., announces its line of KT units providing reliable, dry, and oil-free air for your practice or lab. They feature a built-in "Seccomat" dryer. KT units are quiet, smooth-running, and low-maintenance.
For more information, call (800) 777-7873 or visit www.kaeser.com.
DentalEZ introduces the V-Chair™
With a rich tradition and focus on the ergonomics of the dentist and the patient, DentalEZ has added another versatile chair to its product line - the V-Chair. It's new split-back design was developed to accommodate general and pediatric dentistry, endodontics, and oral surgery.
The V-Chair retains the exclusive DentalEZ seat tilt providing optimal ergonomics and patient positioning. It was designed to increase efficiency for all types of dentistry, allowing total patient placement flexibility to create the most comfortable working position for the patient and dental team. The back, seat, and base positions adjust independently, allowing precise patient placement. So even after long procedures, eye, back, and neck strain are virtually eliminated.
The contoured, no-obstruction design eliminates all obstructions from the operator's thighs and knees, allowing a more ergonomically correct position. Providing all the benefits of the venerable J-Chair®, the V-Chair offers three headrests: The Magnetic Catchers Mitt; the Magnetic Neck Support; and the Double Articulating Headrest. The total flexibility provided by the V-Chair allows the dentist precise positioning and access to the oral cavity without sacrificing comfort for the patient.
For more information, please visit www.dentalez.com or call (866) 383-4636.
Astra Tech introduces Smart Gauges for dental implants
A smart set of soft-tissue gauges allows the precise checking of soft-tissue thickness, simplifying treatment planning and selection of the ideal abutment. The smart gauge set will support the clinical protocols needed for optimal aesthetics and is an elegant system for every implant office.
For additional information, call Astra Tech at (800) 531-3481 or visit www.astratechusa.com.
Ergotron introduces the new HD cart
Ergotron, a leader in specialty mounting solutions for computers, introduces a new addition to its mobile computing line, the HD series cart. This versatile cart offers superior ergonomics and easily mounts flat-panel monitors or laptop computers for point-of-need computing.
It accommodates sitting or standing use for a wide range of users with 15 inches of vertical adjustment. The screen can be positioned for optimal viewing angles, and easily rotated for side-to-side viewing. The HD cart's rugged and easy-to-clean steel design allows numerous optional accessories for application-specific carts, and all feature a security shroud that deters laptop theft. The VESA® FPMPMI™ monitor mounting features tilt and portrait/landscape adjustability.
For more information, call (800) 468-3917, Ext. 4894, or visit www.ergotron.com.
Coltene Whaledent's Alpen™ Swiss Gold Diamond burs arrive in United States
New to U.S. clinicians, these Swiss precision-manufactured Alpen™ Gold Diamond burs offer the highest level of performance and durability at a reasonable cost, with approximately 700 shapes and grits available.
Alpen Gold Diamonds are uniquely engineered with a multi-level diamond application process to assure maximum, uniform crystal coverage even at the tip - significantly improving cutting performance and durability.
The coarse and super-coarse grits enable efficient reduction and shaping while producing a relatively smooth surface. A range of fine, extra-fine, and ultra-fine grits simplify trimming and finishing while the TurboCut™ super-coarse spiral diamonds offer cooling and cleaning efficiency for rapid bulk reduction.
For more information about our special introductory offer, call (800) 221-3046, Ext. 8198, or visit www.coltenewhaledent.com.
Two new continuing-education videos released by the AAOMR
The American Academy of Oral and Maxillofacial Radiology (AAOMR), representing dentistry's newest specialty, has produced a new continuing-education video sponsored by Instrumentarium Imaging. The videos are designed for all dentists, and offer 1.0 ADA-CERP credit.
The first section is designed to assist in understanding the principles of tomography and panoramic radiography, image layer formation, and patient positioning.
The second section outlines a consistent strategy for evaluating and interpreting a panoramic radiograph, starting with the mineralized tissues and progressing to soft-tissue shadows and air spaces. It makes reading films easier, yet more comprehensive.
The program contains one (1) video plus a test leading to a C.E. certificate.
For more information, contact Laurie Carter, DDS, PhD, at (804) 828-1778.
Clive Craig introduces lead-free apron
Clive Craig announces "The Lead Free Apron," protecting patients from secondary (scatter) radiation during intraoral or panoramic X-rays without the weight of lead.
The Lead Free Apron features new, high-tech alloy sheeting that provides protection equivalent to a traditional lead apron, yet it weighs less than half as much - 3 lbs. vs. 6 lbs. 6 oz. It is much more comfortable for the patient - especially children - and is very easy to handle.
The Lead Free Apron features a Scotch-Guarded, corduroy backing that won't slip off patients, an easy-to-clean vinyl front, and it is compatible with all existing apron hangers. Also available with an attached collar.
For more information, call (800) 833-8267 or visit www.clivecraig.com.
Salivart® synthetic saliva offers relief from xerostomia
The Gebauer Company has developed an effective saliva substitute called Salivart®. The major functional roles of saliva include digestion, lubrication, and protection. Salivart substitutes for human saliva no longer being produced by the body due to certain diseases, radiation, drug groups, or the aging process.
A quick spray of Salivart will relieve the symptoms of xerostomia. It is sprayed directly into the mouth and throat, and can be swallowed. Its aerosol delivery coats the oral mucosa quickly and evenly, is easy to use, and effective. Salivart comes in a 75g, nitrogen-propelled, environment-friendly spray can.
For more information, call (800) 321-9348 or visit www.gebauerco.com.
Rembrandt Sapphire Light boosts bleaching power by 50 percent
A new clinical evaluation presented at the International Association of Dental Research (IADR San Diego, March 8, 2002) supports the efficacy of power lights used during in-office tooth-bleaching procedures.
The evaluation, performed by Den-Mat's director of research, Dr. Xinyl Yu, examined the Rembrandt Sapphire Light used in the Rembrandt One-Hour Whitening procedure, proving that the system can significantly whiten teeth in a short time. The conclusions corroborate two other Loma Linda University tooth-bleaching studies.
Tests also proved that dehydration-induced "bleaching relapse" syndrome does not occur with the Rembrandt system, and showed virtually no relapse one week after use. Tests also revealed no adverse effects on gum tissue.
The system whitens teeth approximately 50 percent more than gel used alone, with an average start-to-finish difference of 10.5 shades. The Rembrandt One-Hour Whitening procedure is available at dental offices nationwide.
For more information, call (800) 445-0345 or visit www.rembrandt.com or www.denmat.com.
SmartPractice announces 2002-2003 catalog
Celebrating 30 years of serving dental practices, SmartPractice announces the arrival of its most comprehensive dental supply catalog to date. To mark this milestone, customers are invited to participate in the company's Universal Studios dream getaway promotion. Winners will be treated to airfare, hotel, and entertainment (up to a $15,000 value) at their choice of Universal Studios Florida or California.
The new SmartPractice catalog - featuring more than 370 new products - is 260 pages filled with some of dentistry's most trusted and recognized brand names.
Comparison shoppers are invited to call with competitor's catalog prices on any of more than 27,000 clinical supplies. SmartPractice guarantees to match any competitor's lower price and continue to provide the new low price on subsequent orders. The value pricing guarantee is backed up by same-day shipping plus an instant credit line of up to $15,000 for qualifying offices.
SmartPractice's 2002-2003 catalogs are arriving in dental offices now. Office managers who do not receive a catalog are urged to call us at (800) 522-0800.
X-Rite's ShadeVision vastly improves dentist-to-lab communications
X-Rite, Inc., the world leader in optical color-measurement technology, introduces the ShadeVision™ System for the dentist and dental laboratory desiring to optimize aesthetic restorations. The ShadeVision provides the simplest, most consistently reliable shade measurement diagnosis for precise, quantifiable communications between the dental office and laboratory. As a result, the assurance of an accurate shade match is significantly improved compared to traditional techniques.
The cordless, handheld ShadeVision System uses advanced colorimeter technology to consistently determine the hue, value, and chroma of teeth. Within seconds, images are conveniently captured and the data is uploaded to the dentist's personal computer for processing. This information is easily communicated to the laboratory electronically or as a hard copy. The lab now has objective data to fabricate and verify the restoration's aesthetics.
For more information, please visit www.ShadeVision.com or call (866) 61-SHADE (74233).
Cosmedent announces the next generation of the Insure Universal Cementation System™
The Insure Universal System, the number-one rated resin cement for more than a decade, has been reformulated to make it better than ever. Noteworthy advancements include: the only true, clear shade in dentistry; decreased stickiness for easier handling; dual-curing catalyst in both regular and lite viscosities; increased radiopacity in all resins; easiest marginal cleanup; newly reformulated colors; redesigned dispensing system for pinpoint delivery; and an ideal viscosity that is neither too stiff nor too runny.
Additionally, new Prevue try-in gels are perfectly color-matched to the Insure cements. Prevue gels have the least glycerin content of any glycerin-based try-in gel, greatly reducing sensitivity.
For more information on the Insure system, call Cosmedent, Inc., at (800) 621-6729.
Mizzy presents new line of fluoride trays
Mizzy, a trusted name in dentistry since 1906, is proud to offer you Prevent™ premium foam fluoride trays.
Quality features include: exclusive "fold-away" hinge that prevents gag reflex and assists in easy separation for single-tray use; exclusive, extra-long locking tabs ensure cleanliness and ease of insertion and removal; anatomic design and buccal ridge ensures fluoride coverage of the entire tooth; distal dams and high, contoured walls reduce overflow and prevent ingestion of fluoride.
Exclusive "combo" assortment provides all three sizes in one convenient, resealable, freestanding bag. Suggested retail pricing on the generous 100-count bag offers you a substantial savings over the leading national brands.
Mizzy Prevent premium fluoride trays are available from your local dental dealer or call Mizzy at (800) 333-3131.
New EagleSoft report manual available
Patterson Dental Supply, Inc., has developed and released a new EagleSoft report manual for dental practice-management and clinical software. This invaluable tool is a comprehensive overview of the essential screen shots and reports needed to efficiently run the dental practice. From front-office protocols to clinical and imaging procedures, the EagleSoft report manual details seamless integration using one patient record. Superbly detailed, the EagleSoft report manual is a vital tool to improve organization, efficiency, and profitability.
Beyond the EagleSoft report manual, Patterson Dental Supply has a complete array of EagleSoft educational materials, courses, demo CDs, and ownership packages to assist dental professionals in building tomorrow's practice today.
For more information, contact your local Patterson technology representative or visit www.eaglesoft.net.
Kinetic Instruments announces SunliteLED composite curing light
Kinetic Instruments Inc., introduces the newest LED composite curing light, SunliteLED.
SunliteLED is a wand-style LED instrument designed to produce and deliver blue light in the exact range of 470 nanometers. This is the wavelength of light that triggers the photo-initiator, called camphorquinone, in composite filling materials.
SunliteLED is the ultimate curing device delivering quiet, clean, heat-free, high-tech LED light. No noise-producing fans, no large and cumbersome gun-type device to hold, and no heat generation equals no-stress curing. The SunliteLED comes with a high-output turbo tip, a swivel quick-connect/disconnect stainless steel handle, and is autoclavable. It is powered by your existing handpiece foot control combined with a two-circuit universal light-control system.
The complete SunliteLED system is available at prices considerably less than conventional bulky, noisy, heat-generating halogen curing lights, and it is much more convenient to use.
For more information, call your local dealer or Kinetic Instruments at (800) 233-2346 or visit www.kineticinc.com.
Jameson Management launches new video
Jameson Management, Inc., introduces its newest product to the JMI line - The Dental Team's Guide to Productive and Profitable Days - a 30-minute video for dental teams developed by Dr. Cathy Jameson. They show easy and workable ways for dental teams to tune up office procedures, helping teams to help patients "switch gears" easily and successfully through all aspects of their dental visit. The video is organized into five segments. The first segment discusses and demonstrates morning meetings, providing tips on organizing and conducting this vital daily event. The second and third segments cover the "Three to Five Minute Checkout" and the "New-Patient Experience," providing steps for transferring patients from the clinical to the business area of a practice as well as ways to obtain new patients' trust and confidence from the outset.
The two final segments discuss "Case Presentation and Consultation" and the "Financial Consultation." Dental teams will learn how to educate patients about their situations, the doctor's recommendations, and helping patients understand their financial responsibilities.
Thousands of dental teams have profited by Dr. Jameson's dynamic approach to conducting business, now available on video. To order, call Jameson Management at (580) 369-5555.
GC America introduces Fuji LINING LC Paste Pak radiopaque light-cured glass ionomer
Used as a base or liner under composite resin or amalgam restorations, GC Fuji LINING LC Paste Pak is the first light-cured glass ionomer lining material available in a paste-paste formula. It has a high compressive strength, minimal polymerization shrinkage, and extremely low solubility. Fuji LINING LC Paste Pak minimizes sensitivity and provides long-term fluoride release. Bonding well to tooth structure and composite, it makes an ideal dentin substitute and flexes and absorbs the stresses caused by polymerization shrinkage, and thermal expansion and contraction of composite resin materials.
The new Paste Pak Dispenser saves time and reduces waste, delivering consistent mixes every time no matter how little or large a mix required. Simply adjust the dispenser's metering slide and dispense the exact amount you need with the exact mixing ratio for optimized physical properties.
For more information, call GC America at (800) 323-7063.
Osteo Implant Corporation announces the Osteo® Premounted Taper
The premounted Osteo® Taper is the newest addition to the Osteo Implant Corporation's line of quality dental implants. The Taper offers not only the most scientifically developed tapered threads for ease of insertion, but it also is delivered in an advanced premounted design, conveniently packaged to eliminate handling during placement.
This unique design allows the practitioner to deliver the implant to the osteotomy in one motion, without the need for an implant mount driver. The Osteo Taper offers design advantages for placement to immediate extraction sites, between convergent tooth roots, and across labial concavities. Seating in dense bone is simplified by the tapered implant body design.
The price of the Osteo Premounted Taper is $155 for AMP (Advanced MicroPorous) surface, and $165 for HA coated. For more information, call Osteo Implant Corporation at (800) 654-5560 or visit oic@osteo-implant.com.
Zilactin Baby Teething Swabs launched
Zila Consumer Pharmaceuticals has recently launched a breakthrough teething medication: Zilactin Baby Teething Swabs. This revolutionary swab technology is available for the first time in an oral health-care baby product for relief of teething pain.
Unlike other topical baby-teething medications, Zilactin Baby Teething Swabs are pre-measured, pre-medicated, one-time use, disposable swabs that provide fast, convenient and precise application to babies' most sensitive teething areas.
Zilactin Baby Teething Swabs are grape-flavored and contain menthyl lactate, a special ingredient that gives a "cooling" sensation to babies' gums. Baby Teething Swabs also contain 10 percent benzocaine, which is stronger than most teething gels but mild and safe enough for a baby. Unlike most teething gels, Zilactin Baby Teething Swabs do not contain any dyes or saccharin.
Every package comes with eight individual swabs, each containing 0.35 ml of medication so parents don't have to measure application quantities. Zilactin Baby Teething Swabs can be found in chain, grocery, and drug stores beginning in June.
Zilactin Baby Teething Gel is another option for relieving teething pain. Like Zilactin Baby Teething Swabs, the teething gel consists of 10 percent benzocaine, has a soothing grape flavor, and contains no saccharin, dyes, or alcohol.
For additional information, visit www.zila.com. For additional information on oral health, cold and canker sores, or Zilactin, visit www.zilactin.com.