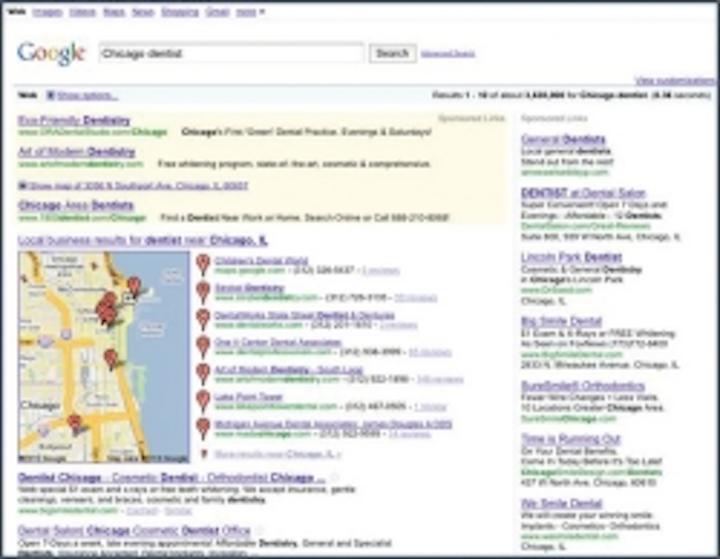 by Dr. Joe Blaes, Editor
---
New Search Marketing Solutions from Officite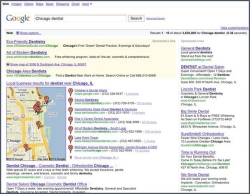 A Web site built for visibility is a Web site built for new patients. Officite offers three proven search solutions with one result: New patients for your practice. Search Engine Optimization for first page search engine ranking; Local Pay Per Click Campaign for targeted keyword advertising such as veneers, implants and sedation dentistry; and Google Places Optimization for local maps listing and patient review management. Visit Booth 223 or www.officite.com for more information.
---
Endo-Eze TiLOS™ from Ultradent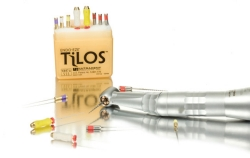 Endo-Eze TiLOS™ from Ultradent is a hybrid file system that combines stainless steel and NiTi files to offer the best features of step-back and crow-down instrumentation in a reciprocating motion. It offers safe, efficient, and predictable results and is optimized for Ultradent's 30° reciprocating handpiece. Visit Booths 417 and 617 or go to www.ultradent.com.
---
Discus Dental Moxie™ TE and Moxie™ SE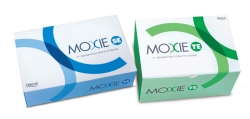 Discus Dental Moxie™ TE and Moxie™ SE light-curable adhesives have an acetone-free and solvent-free formula that delivers tested and verified bond strength between composite and enamel or dentin. Moxie TE is a single coat application of primer and bonding agent in one bottle. Moxie is the perfect chemical match for the new Discus Nuance composite. Moxie TE and SE come in single dose units. Visit Booth 401 or www.discusdental.com.
---
1-800-DENTIST® Patient Activator®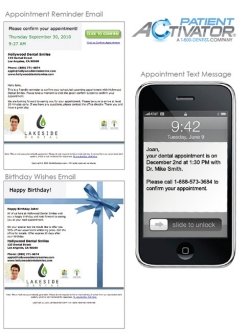 1-800-DENTIST® Patient Activator® has personalized e-mails and text messages to keep patients coming back - without adding hours of work for your staff. It will do appointment confirmations, recall reminders, dormant patient reactivation, patient newsletters, e-cards and e-notes, and birthday greetings. Boost your online presence with patient reviews, a custom MicroSite, tools to improve your Google ranking, and a lot more. Visit GNY Booth 625 or www.patientactivator.com.
---
Zimmer® Dental Collagen Capsules and Collage Wedge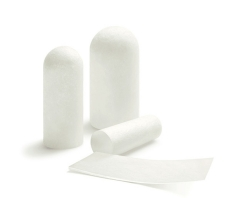 The Collagen Capsules (the industry's first ever bone-shaping membranes) support focused bone augmentation and can be used in crestal and lateral sinus lift procedures. They efficiently retain grafting material during socket preservation and repair procedures. The shape-retaining Collagen Wedge can be used for bone defects and ridge augmentation procedures. Visit Booth 915 or www.zimmerdental.com.
---
Clinical PRO-HEALTH SYSTEM for Gingivitis from Procter & Gamble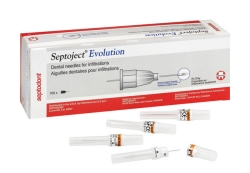 Clinical PRO-HEALTH SYSTEM for Gingivitis from Procter & Gamble includes: the Oral-B ProfessionalCare SmartSeries 5000 Electric Toothbrush with oscillating-rotating technology and SmartGuide, which encourages compliance; the new Oral-B Glide PRO-HEALTH Professionals Floss; the new Crest PRO-HEALTH Clinical Gum Protection Toothpaste with stabilized stannous fluoride that protects against plaque bacteria that cause gingivitis, and against sensitivity pain; and Crest PRO-HEALTH Multi-Protection Rinse with CPC that kills 99% of germs in laboratory tests. See at Booth 1225 or visit www.dentalcare.com.
---
Core-Flo™DC from BISCO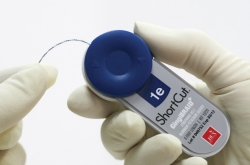 Core-Flo™DC from BISCO is dual-cured material for core build-ups, post cementation, and dentin replacement. It is radiopaque in two esthetic shades and blue for all direct and indirect restorative requirements. Core-Flo DC has high strength (cuts just like dentin), is nonslumping (stays where you put it), and has low shrinkage. Visit Booth 1203 or www.bisco.com.
---
Hand Care Essentials from Hu-Friedy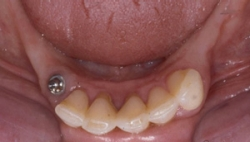 Hu-Friedy introduces a complete line of premium hand-care products, including Sterillium® Comfort Gel™, which kills 99.999% of a broad range of nosocomial pathogens within 15 seconds, and is proven to significantly increase skin hydration after only one week. Also featured is Hand Essentials Skin Repair Cream, which helps restore the skin's natural moisture balance and is uniquely suited for dental professionals, especially those at high risk for skin breakdown due to frequent washing. Visit Booth 1403 or www.hu-friedy.com.
---
E4D and Henry Schein Dental E4D Dentist®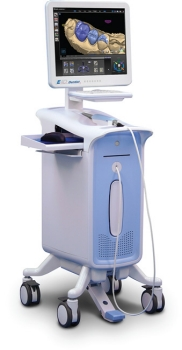 E4D and Henry Schein Dental E4D Dentist® defines a standard for chairside CAD/CAM systems. A high-speed laser scanner takes a digital impression of the preparation and neighboring teeth to create a 3-D image without the use of contrast agents. The software powered by DentaLogic™ guides the operator from scanning to milling to create restorations fabricated from a variety of materials. Visit Booth 1417 or www.E4D.com.
---
Demandforce Connect for Facebook and Web site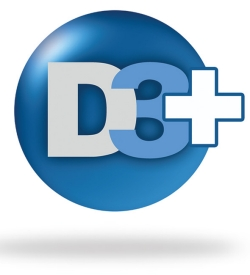 Demandforce Connect for Facebook and Web site is a way to attract new patients. Nearly 400,000,000 people are on Facebook, and Demandforce can connect you. It will automatically capture reviews and is easy and fast to set up. Best of all, it is free with your Demandforce subscription. Does your Web site do this? Demandforce Connect allows your patients to post reviews, schedule appointments, and more. The best way to understand this is to see and experience it. See it at Booth 1822 or visit www.demandforce.com.
---
Smile Analysis by ProSites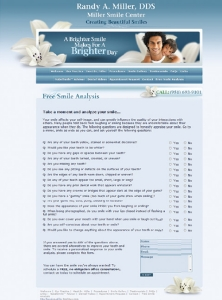 This encourages your Web site visitors to review their smile and answer simple yes or no questions about their smile. Those answers, along with their contact information, are sent to the doctor's practice, where the doctor can then provide feedback about the patient's personal smile issues and how dentistry can resolve any problem areas. It's a great way to encourage patient/visitor communication with the practice and boost appointment requests. See at Booth 1709, or visit www.prosites.com.
---
EZ-Fit™ from Essential Dental Systems, Inc.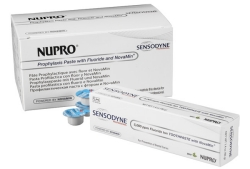 EZ-Fit™ from Essential Dental Systems, Inc. is the newest member of the EDS family of posts. EZ-Fit couples exemplary design with affordability to create the most superior passive fiber post available. EZ-Fit has undercuts on the head and shank that provide excellent core retention, multiple tiers that countersink the post, and a positive seating head that stabilizes the restoration, all for a fraction of the price of other passive fiber posts. Visit Booth 2003 or go to www.edsdental.com/ezfit_fiber.htm.
New products to see at the Greater New York
---
Funky Tool from DENTSPLY Raintree Essix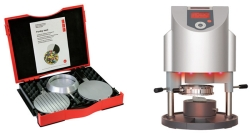 Funky Tool from DENTSPLY Raintree Essix enables practices to create custom colored sports mouthguards and removable appliances right in their offices. Attaching to the Dreve Drufomat® Scan pressure thermoforming machine, the Funky Tool accessory allows patients to express their individuality by selecting their favorite color(s), the colors of sports teams, or even school colors. These standout appliances are natural conversation starters that generate peer envy, patient buzz, and word-of-mouth referrals. Visit Booth 2603 and 2803 or go to www.essix.com.
---
DENTSPLY Caulk SmartLite® Max LED Curing Light

DENTSPLY Caulk SmartLite® Max LED Curing Light has Dual Wavelength technology, which provides curing confidence for all of your restorative materials. It features high output up to 1,400 mw/cm2, a built-in radiometer, four different output modes, and multiple time settings. You will never have to worry about running out of battery in the middle of a procedure again since the SmartLite® Max can be used both cordless and corded. Get all of this, without the astronomical price tag. Visit www.caulk.com or see at Booth 2603 and 2803.
---
The Midwest® Stylus™ ATC from DENTSPLY Professional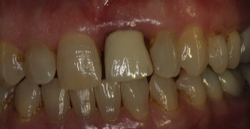 Quite simply, this high-speed air-driven handpiece changes everything. Torque and power are the primary focus in the engineering of a handpiece. Midwest engineers took a different approach and optimized speed and torque on the ATC. They designed an electronic "brain" in the control source that constantly maintains bur speed according to load. It knows when to deliver more power. You have to try this lightweight handpiece to believe it. Visit Booth 2603 and 2803 or visit www.StylusATC.com.
---
Dentlight DOE Oral Exam System
Dentlight DOE Oral Exam System uses a high power LED illumination and high contrast switching filter for oral exams. This helps dentists or hygienists easily identify abnormal tissue that might develop into oral cancer, and at an affordable price. Fluorescence and tissue reflectance technology have proven successful. The healthy tissue fluoresces green. See at Booth 2629 or visit www.dentlight.com.
---
MAXmin™ Prophy Paste with NuFluor from Preventech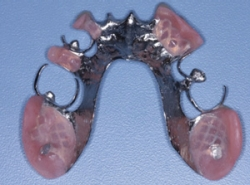 MAXmin™ Prophy Paste with NuFluor from Preventech will maximize your ability to clean and polish. This product features NuFluor, a unique fluoride, calcium, and phosphate chemistry designed specifically for prophy paste. MAXmin is formulated with 1.23% fluoride ion and sweetened with Xylitol. It goes on easily without splatter, is tough on stains, and flash rinses to a clean finish. It is available in great tasting cherry and bubblegum flavored mints in medium and coarse grits. See at Booth 2711, visit www.preventech.com, or call (800) 474-8681.
---
InvisalignG3 from Align Technologies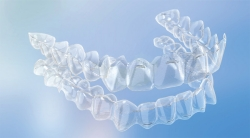 InvisalignG3 from Align Technologies is engineered to deliver better clinical results. The new features are designed to make it easier to treat Class II and Class III cases with Invisalign. New SmartForce™ features include variations of the Optimized Rotation Attachment, and the PowerRidge™ features. See new versions of ClinCheck® software at the Invisalign doctor site. Visit Booth 4420 or www.aligntechinstitute.com/G3.
---
Freedom from Orascoptic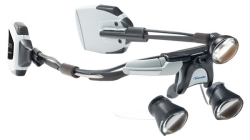 Now is your chance to experience freedom in a whole new light. The innovative Freedom light is powered by small rechargeable battery pods that attach directly to the loupe frame. There are no cumbersome cables or heavy belt packs! The lightweight headlight delivers 4,000 foot candles and maintains its intensity over the full run time of the batteries. The compact pods and lightweight headlight attach to virtually any TTL loupe model on the market. Innovative capacitive touch technology allows the practitioner to control the light eliminating buttons, knobs, and switches. The Freedom system includes a battery charging station for fast charging hot swappable batteries that deliver six hours of illumination. Visit Booth 4423 or www.freedomfromcables.com.
---
ShortCut with GingiBRAID+ Retraction Cords by DUX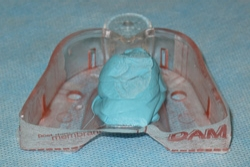 What a nifty idea! A container for GingiBRAID with a built-in cutter that allows you to cut any length of cord you need. This is a real time saver. No more searching for scissors to cut the cord. GingiBRAID is a specially treated retraction cord that has great absorbency, less memory, fast acting hemostasis, and low instrument penetrability. Visit at Booth 4215, or www.duxdental.com.
---
Demi™ Plus, Powered by Demetron™ Technology from Kerr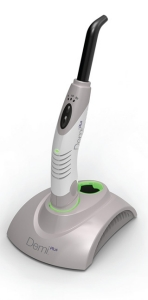 Demi™ Plus, Powered by Demetron™ Technology from Kerr, is the next generation in premium curing lights. It combines sophisticated engineering with design advancements that enhance performance and deliver consistent cures. This light must truly be seen and tried to realize the innovative advances that Kerr has made, such as a true five-second cure, and it never shuts down because it is fan cooled. See at Booth 4529 or visit www.kerrdental.com/demiplus.
---
Luxatemp® Ultra from DMG America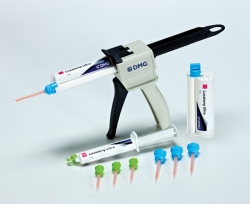 Luxatemp® Ultra from DMG America is the next generation of the brand that set the benchmark for esthetic provisional materials in dentistry more than 20 years ago. I know this because I started using Luxatemp that long ago. New Luxatemp Ultra incorporates a proprietary technology that gives it increased strength when used for temporary crowns, bridges, inlays, onlays, and veneers. It continues to deliver great esthetics, and the fluorescence makes temporaries look beautiful and more natural in any lighting conditions. The material is highly accurate, with outstanding adaptation to margins, and is also faster curing and easier to handle than ever before. See at Booth 4615 or visit www.dmg-america.com.
---
Under Armour Performance Mouthwear from Bite Tech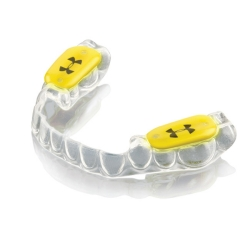 Under Armour Performance Mouthwear from Bite Tech is a new line of custom mouthpieces and mouthguards designed to help any athlete improve strength, endurance, reaction time, and reduce athletic stress. It is powered by ArmourBite™, which is Bite Tech's patented technology. Simple and cost-effective to incorporate in any practice, Under Armour Performance Mouthwear is a practice-building offer available exclusively through Patterson Dental. See at GNY Booth 4601 or visit www.bitetech.com.
---
Axis All-Inclusive Inter Proximal Reduction (IPR) Set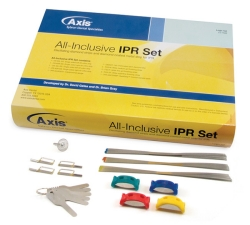 The ability to safely and efficiently create space between teeth manually or with a handpiece is critical to a successful outcome in many orthodontic procedures. The set (LS-7586) has single-sided ortho strips in two grits, a perforated latch diamond disc, QwikStrips™ (curved) sample pack, 15 finishing strips in three grits, and interproximal gauge. See at Booth 4632 or visit www.axisdental.com.
---
eReminders from Carestream Dental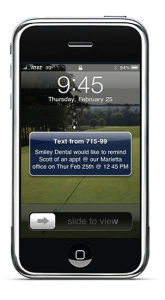 eReminders from Carestream Dental gives you the ability to automate patient reminders for upcoming appointments. Patients choose to receive reminders via a text message, voice mail, or e-mail. Each is a paperless option, saving practices the cost of materials and postage. Contact a Carestream Dental rep at (800) 944-6365, visit www.kodakdental.com, or visit Booth 4817.
---
Estelite® Flow Quick (Medium Flow) and Estelite Flow Quick High Flow from Tokuyama Dental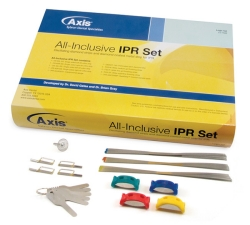 Estelite® Flow Quick (Medium Flow) and Estelite Flow Quick High Flow from Tokuyama Dental. These are universal supra-nano-filled resin composites that offer a choice of two optimal flowabilities, superior esthetics, ideal handling, and excellent gloss and polishability - all in one system. They build on the proven success of RAP technology and provide an extended working time and quicker curing time. See at Booth 5222 or visit www.tokuyama-us.com.
---
DentalVibe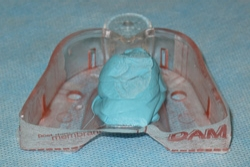 DentalVibe sends a soothing message to your patient's brain, effectively closing the "pain gate" and allowing for a comfortable and predictable injection. Dentists report less stress when administering anesthetic. DentalVibe is cordless, portable, and easily affordable for every office. It has aligned science with technology and achieved outstanding results. See at GNY Booth 5033 or visit www.dentalvibe.com.
---
Sonic Tips by KOMET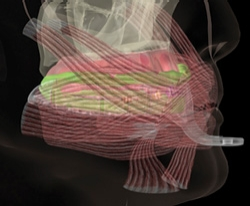 Sonic Tips by KOMET are used to place the finished margin that has been partially created by rotary diamonds. A sonically placed margin makes producing an exact impression very easy. The lab technician will produce a finished restoration with an exceptional fit. If you have been looking for an instrument to produce that perfect margin, I think I have found it. Visit www.komet-usa.com or see it at Booth 5422.