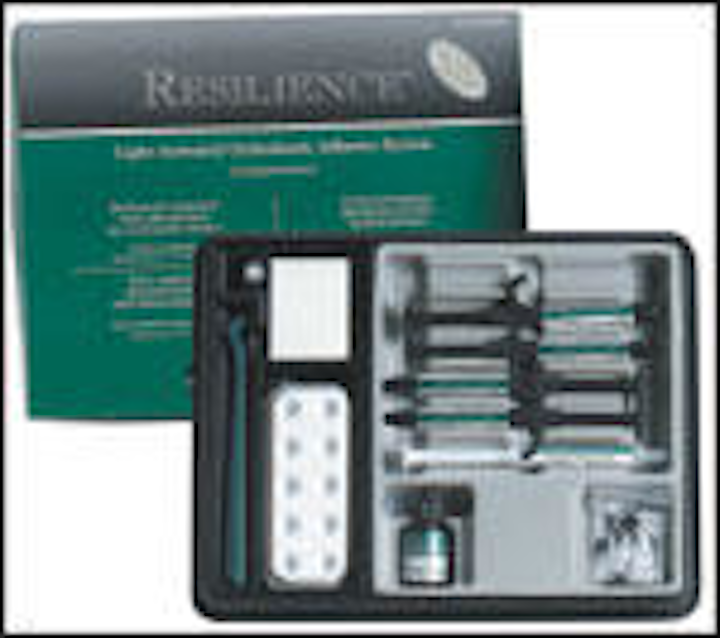 by John W. Farah, DDS, PhD
The editors of THE DENTAL ADVISOR™ proudly bring you their "Shared Secrets" column. Every other month, we will feature dental products and equipment that have received top ratings in THE DENTAL ADVISOR™. Take your practice to the next level with the help of our "Shared Secrets."
Resilience
Ortho Technology, Inc.
(800) 999-3161
++++ 1/2/93%, Vol. 18-8
Resilience is a highly recommended, light-cured resin cement for bonding orthodontic brackets or other attachments to enamel, porcelain, or composite restorations. The cement is packaged in syringes or standard unit-dose capsules that will fit most composite syringes. This delivery system allows neat, efficient bracket placement, avoiding the mess and inconvenience of cements that require mixing. Excess cement is easy to remove before curing due to the extended working time. Curing time is 20 seconds from two directions (40 seconds total) for each bracket. After evaluation on 500 brackets, minimal failures were reported.
3M ESPE Clinpro Sealant
3M ESPE
(800) 634-2249
+++++/96%, Vol. 18-6
Editors' Choice
3M ESPE Clinpro Sealant is an excellent unfilled, light-cured resin. The unique feature of this sealant is its pink color, which prior to light exposure enables the clinician to see the exact placement on the tooth. The viscosity is ideal with good flow into fissures and very few bubbles. After light curing for 20 seconds, the sealant is an opaque, light yellow color. Since excess material can be removed easily before curing, often no occlusal adjustment is necessary. 3M ESPE Clinpro Sealant is available in both dropper bottles and syringes with disposable tips.
ParaPost Fiber White
Coltene/Whaledent, Inc.
(800) 221-3046
++++1/2/92%, Vol. 18-6
ParaPost Fiber White is a highly recommended, prefabricated aesthetic post system for the restoration of endodontically treated teeth. The white color eliminates shadows under translucent, metal-free restorations and is a definite advantage for aesthetic cases.

Constructed of resin-impregnated glass fibers, the post bonds to dual- and self-cured resin cements and composite core materials. It has a parallel design, and the head of the post is rounded with double undercuts to provide a mechanical lock for the core material. The introductory kit contains four post diameters with matching reamers. Color-coded o-rings on the post heads allow easy identification and organization of the kit contents. Like most resin/fiber posts, ParaPost Fiber White posts are easily retrievable if endodontic retreatment is necessary.
Note: For information on the "Shared Secrets" lecture seminars or to subscribe, contact THE DENTAL ADVISOR™, 3100 W. Liberty, Ann Arbor, MI 48103, by phone at (800) 347-1330, by email: info@dentaladvisor.com, or through our Web site at www.dentaladvisor.com.
John W. Farah, DDS, PhD, an editor of THE DENTAL ADVISOR™, maintains a full-time dental practice in Ann Arbor, Mich., and lectures internationally on dental products and materials. John M. Powers, PhD, an editor of THE DENTAL ADVISOR™, is a professor of restorative dentistry and biomaterials at UT Health Science Center at Houston. He also is the director of the Houston Biomaterials Research Center.