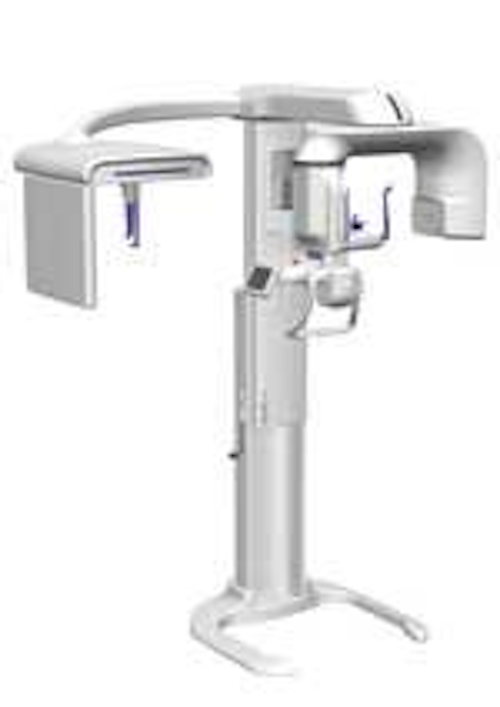 Suni3D from Suni Medical Imaging — A 3-in-1 Pan/Ceph/3D. I can remember in the late 1960s when the SS White Panorex came on the market. My mentor had bought one for his pedodontic practice and after it was installed, he called and told me to come by to see it. It was truly amazing! He then showed me how I could pay for mine in less than two years. It was one of the best investments I ever made! Now, for comprehensive dental care, 3D technology is rapidly emerging as a critical tool in diagnosis and treatment planning. 3D cone beam will quickly become the standard of care for a number of treatments, including implants, endodontics, orthodontics, and comprehensive dentistry. The Suni system offers you many options to choose from. An all new 3-in-1 system allows you to go digital today and upgrade to 3D cone beam or one shot Cephalometric when you are ready. This is a great choice to have when planning for technology in your office. The Suni 3D Panoramic System combines simplicity with state-of-the art technology to provide ease of use, superior image quality, and extensive diagnostic capability. There are nine anatomical programs, including Standard, Hemi-Panoramic, Frontal Dentition, Sinus, TMJ Open and Closed, Incisor Clear, Orthogonal, Canal Clear, and Maxillary Clear. The 3D Cone Beam comes standard with a 5 x 5 cm field of view (which is upgradable to 8 x 5 cm). This is ideal for both implant and endo procedures, and is also just right for quadrant dentistry and TMJ evaluation. Suni3D acquires 18 to 30 frames per second and scans the target area in eight seconds with a reconstruction time of less than one minute. The scanning procedures and patient positioning are as easy as shooting a panograph. The one-shot Cephalometric system has a state-of-the-art large area sensor that enables orthodontic specialists to produce unmatched quality images previously unavailable with a traditional scanning cephalometric unit. This Ceph will give you a posterior-anterior view, a lateral view, and a carpus view with a significant reduction of the X-ray exposure dose. This is exceptional technology at an affordable price from Suni. For more information, call (800) 438-7864 or visit www.suni.com.
Space Maintainer Kits from Success Essentials products division of the Appliance Therapy Group — This system will allow you to treat space maintenance problems on children and adults. With this handy kit, you can fabricate a space maintainer with no impressions, no models, and no lab fee. I found them to be extremely easy to use because the bands and crowns included are fully adjustable and require no wire bending since everything is completely preformed. The finished maintainers are easily cemented into place. They are strong, sturdy appliances for maintaining the space that a child needs for a permanent tooth to erupt. They are also great for adults who need to prevent tooth drifting while they decide to replace a tooth permanently with an implant or a bridge. In my practice, I feel it is important to impress upon patients the necessity of saving space for that new tooth. The entire procedure can be completed in 15 minutes. You save chair time since you will not need a second appointment. This is a great company to consult about all your orthodontic needs and information on courses. For more information or to order, contact Appliance Therapy Group at www.appliancetherapy.com.
EXA'lence™ Vinyl PolyEther Silicone (VPES™) from GC America — In a recent survey conducted by Focused Evolution, dentists were asked about taking an impression involving subgingival margins. It found that 55% were concerned about creating and maintaining space, 32% were concerned about controlling bleeding, and 14% were concerned about gingival trauma. In my hands, the answer to these perceived problems is EXA'lence, a new impression material from GC America that combines the best features of both VPS and polyether. VPES is intrinsically hydrophilic without the surfactants that most VPS impression materials rely on for wet ability. Hydrophilicity, when combined with excellent flow, allows this material to go deep into the sulcus to capture all the detail of the preparation while minimizing voids and bubbles, giving you easy-to-read, crisp, clear margins. EXA'lence gives you the handling of VPS but with the detail of a polyether. This means you will get high tear strength with the flexibility necessary to get in and out of undercut areas. The result is that you will have fewer retakes and no adjustments to your margins, which will ensure better-fitting crowns. The rationale for developing this new VPES material, EXA'lence, was to enable you to get an impression faster, better, and easier. This material deserves your attention. To order, contact your dealer. For more information, visit www.gcamerica.com.
Clinpro™ 5000 from 3M ESPE — The advanced formula contains an innovative tri-calcium phosphate ingredient (TCP) that makes Clinpro 5000 toothpaste an outstanding choice. It contains fluoride as well as calcium and phosphate, which are remineralization components naturally found in saliva. During the manufacturing process, a protective barrier is created around the calcium, allowing it to coexist with the fluoride ions. As the toothpaste comes in contact with saliva during brushing, the barrier breaks down and makes the calcium, phosphate, and fluoride readily available to the tooth. The tooth naturally absorbs these components, helping to prevent the initiation and further progression of demineralization, and allowing remineralization to occur. Practicing dental professionals will discover the breakthrough benefits of this winning formula. And your patients will, too! Clinpro 5000 prescription toothpaste "makes every brush better." Dispensing Clinpro 5000 1.1% Sodium Fluoride Anti-Cavity Toothpaste from your office is good for your patients and your practice. Order from your dealer or visit www.3MESPE.com for more information.
GENTLEmini LUX 4500B from KaVo — This is the handpiece so many of us have been waiting for — KaVo's latest and littlest addition, the GENTLEmini LUX 4500B. The GENTLEmini offers a perfect complement to KaVo's best-selling handpiece, the GENTLEsilence LUX 6500B, and completes KaVo's Prestige Collection of handpieces. KaVo describes its Prestige Collection as "The Pinnacle of KaVo Innovation," and the 4500B meets this definition. GENTLEmini delivers a smaller head and improved ergonomics to further address the issues of patients who have difficulty opening their mouths wide for full oral access and operator comfort. The 4500B is an extremely well-balanced turbine that reduces acoustic pressure and high-frequency peaks to protect hearing and help create a relaxing environment. The 4500B is available for traditional single item purchase or as part of the KaVo Handpiece Bundle program, which offers the best possible price when purchased in conjunction with any new dental unit. Contact your local KaVo dealer or visit www.kavo.com for more information.
Getting the Most Out of QuickBooks in Your Practice by Susan Gunn — I have heard Susan lecture a number of times on the advantages of QuickBooks in a dental practice, and taking the QuickBooks beyond tax accounting to financial management. Her book is a phenomenal, complete step-by- step guide to using QuickBooks specifically for your practice, including the Practice Management Chart of Accounts, Financial Organization, Petty Cash Form, Scheduled Payroll and Tax Payments, and much more. I recommend this book for beginners and skilled users alike. This easy-to-follow manual is the comprehensive, practical resource you need to help you use QuickBooks back-to-back with your practice management software. You can order from Susan's Web site at www.susangunnsolutions.com or call (888) 994-3167. If you use QuickBooks or are considering it, you need this book. Order a copy today. Susan is truly a gifted teacher.