Valplast: Flexible, aesthetic partial dentures
Like many other topics in dental school, removable partial dentures were taught in a rather dogmatic fashion. Design and function were stressed, as they should be, but—for the most part—esthetic issues were ignored.
Oct 1st, 2004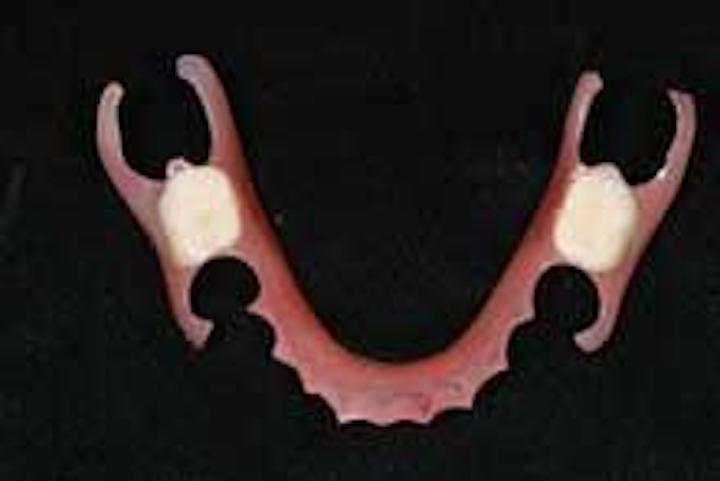 Michael DiTolla, DDS, FAGD
Like many other topics in dental school, removable partial dentures were taught in a rather dogmatic fashion. Design and function were stressed, as they should be, but—for the most part—esthetic issues were ignored. Rather conspicuous clasps, such as I-bars, were placed on maxillary cuspids without a lot of thought given towards how this would affect the patients' opinion and confidence in a given prosthesis.
Upon entering private practice, many of us learned that patients would sometimes simply refuse to wear unesthetic partials, unless they replaced maxillary anterior teeth. In those early days I cut off more I-bars than I care to remember and replaced them with a soldered clasp that did not work as well, but could not be seen from 50 feet when the patient smiled.
With the rapid advances in esthetic materials and techniques in the fixed prosthodontic arena, it is no wonder that patients requiring removable prosthesis expect us to achieve esthetic results when we replace their missing teeth. Partially or fully edentulous patients comprise nearly half of the aging population, and this group is projected to triple by the year 2010, ensuring that removable prosthodontics will continue to be part of the general dentist's restorative practice for decades to come.
Since its introduction in the 1950s, Valplast has been satisfying both to dentists and patients as a more esthetic, yet fully functional alternative to traditional cast metal based removable partial dentures. Valplast is a flexible base resin ideal for partial dentures or unilateral restorations. The biocompatible nylon and thermoplastic resin of Valplast provide an ideal degree of flexibility and stability when processed and finished to the recommended thickness.
Additionally, the color, shape and design of Valplast partials blend seamlessly with the natural appearance of the gingival tissues, making the prosthesis nearly invisible. The strong, durable clasps snap securely and comfortably into place around the existing natural dentition and gingival. Since the strength of the Valplast resin does not require a metal framework, it eliminates the metallic taste that many patients complain about. It also enables the partial to be fabricated thinly enough with nonmetal clasps to avoid the bulky feeling often associated with large, nonesthetic traditional metal partials.
I have found that study models are useful in helping to communicate to the patient what their material options are for removable restorations. I have three models available for patients to inspect: a traditional cast metal partial, an all Valplast partial, and a Valplast partial with a cast lingual subframe and Valplast clasps. In cases of large edentulous areas, this third option works well to provide additional support while still addressing the patient's desire to have the most esthetic clasps available. Patients seem most naturally drawn to the Valplast study model, and I can't recall the last time a patient requested a metal based partial with all other factors being equal.
For maximum strength, Valplast can be fabricated with a cast metal frame, such as Vitallium 2000. With a tensile strength of more than 855 Mpa to enhance fracture resistance, Vitallium 2000 has a Vickers hardness that minimizes abrasion on opposing dentition, and a yield strength of more than 600 Mpa aids in resisting permanent deformation. The combination of Valplast and Vitallium maximizes the physical properties of the partial and makes it a great choice for extended edentulous areas, especially in the lower arch.
One of the attractive aspects of Valplast partials is that they can be constructed from two good impressions and an accurate bite relationship, along with the desired shade. A good alginate impression (Accudent, Ivoclar-Vivadent) is the ideal impression material for most Valplast cases, however polyvinyl siloxane and polyether impressions are also acceptable. As with nearly all impression techniques, use of a custom tray is highly desirable.
For most people wearing partials for the first time, there is no better partial denture available than Valplast. My experience over the last 15 years has been that the patient "learning curve" for adaptation to a new partial denture is much quicker for a Valplast than traditional metal-based partials. The esthetic nature of a Valplast partial, especially when viewed adjacent to a traditional metal partial, also helps to gain the patient's acceptance of the restoration, and ultimately, their satisfaction with our dentistry.
Dr. Michael DiTolla is director of clinical research and education at Glidewell Labs in Newport Beach, Calif., where he also teaches over-the-shoulder courses on topics such as esthetic restorative dentistry. Dr. DiTolla also teaches a two-day, live-patient, hands-on laser-training course that emphasizes diode and erbium lasers. In addition, he teaches a two-day, hands-on digital photography course emphasizing intraoral and portrait photography, and image manipulation. More information on these and other courses can be found by email at mcditolla@mac.com or by calling (888) 535-1289.