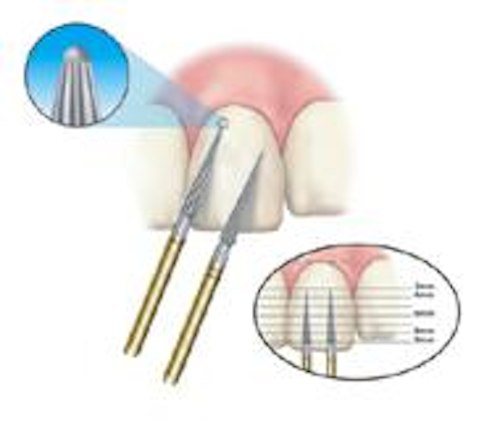 Joseph Blaes, DDS
Pearl No. 1— Safe End Series from SS White Burs, Inc. I have found the perfect finishing carbide. The Safe End Series burs have a non-cutting tip that is designed to trim and finish subgingival cosmetic restorations without nicking or damaging the gingival tissue. I use them on all types of restorations, composites, porcelain, and temporaries. All Safe End Series burs are available in 10- and 20-blade configurations that are readily identifiable by one laser-etched line on the shank of the 10 blades and two lines on the 20 blade. The 10-blade finishing burs are ideal for shaping and contouring the composite material. After the composite is anatomically correct, I use the 20-blade finishing burs, which give my composites an ideal surface texture for final polishing. The shapes of the Safe End Series burs are all the same; the only variance is the length of the cutting surface. It's simple to select the burs that you like best. Also included are a football shape for lingual surfaces and an egg-shaped bur for finishing occlusal surfaces. This bur makes finishing the gingival margins of my veneer temps and my finished veneers fast and easy with no more bleeding tissues. Another great bur from the folks at SS White! Order the Safe End Series from your dealer or visit them at www.sswhiteburs.com for more information.
Pearl No. 2 — The Wet Towel from The Wet Towel Company. I was walking the exhibit floor at the California Dental Society meeting in Anaheim when a young man in the aisle offered me a hot towel. I took it and wiped my face and hands. What a great feeling! Then I noticed a few things: There was no overpowering scent, the towel was made of high-quality cotton, and my hands felt sumptuously treated. I was in front of the Wet Towel booth. This company offers two types of service. The basic service includes a warmer and disposable towels. The premium service — which is what I experienced — is available in select areas. This company will even deliver fresh, rolled, premoistened and individually wrapped cotton towels for a week — free!
Here is a company that provides hassle-free luxury for your patients. Dental marketing experts all agree that we need to pamper our patients and give them that "wow!" experience. The Wet Towel gives you everything you need to do just that — an electric warmer, individually wrapped and premoistened towels, and a number of convenient resupply options. Order by calling (866) 938-8693, or visit their Web site at www.thewettowel.com.
Pearl No. 3 — Elements Diagnostic Unit and Apex Locator from Sybron Endo. I usually leave the endo stuff to my good friends, Dr. Ken Koch and Dr. Dennis Brave, who write a monthly column for this magazine. However, I came across this really nifty piece of equipment at the CDA meeting in Anaheim. This is a pulp tester and an apex locator built into one. The Apex Locator uses brand-new technology that will get you to the "point" — the apex — with ease. This technology gives a visual readout that is extremely accurate and easy to read. The unit also has a "Satellite Display" that you can locate in your field of vision so that you can keep your eyes focused on the task at hand.
The Diagnostic Unit contains the industry standard Vitality Scanner, which provides pain-free electric pulp testing of teeth regardless of shape, size, or abnormalities. Order from your dealer or visit www.sybronendo.com.
Pearl No. 4 — BEST-BITE™ by Dr. Jerry Simon. Treatment of head, neck, and facial pain, and of biomechanical dental disease caused by occlusal interference (or TMJ Dysfunction, which refers to the resulting pain and dental symptoms from this disorder) is a great opportunity to build a practice and serve the needs of your patients. TMJ is among the most controversial subjects in dentistry and medicine today. However, one thing is certain: Patients who have bite problems will damage their teeth and may suffer from muscle spasm pain. The Best-Bite Discluder is a biomechanical solution to head, neck and facial pain that can be made in less than five minutes.
The discluder also comes with an educational training video. For more information, call (888) 865-7335, or visit Dr. Simon's Web site at www.best-bite.com.
Pearl No. 5 — Demystifying Smiles by Kristine A. Hodsdon, RHD, BS. This is a new book written by my good friend Kristine Hodsdon. We met a few years ago and I have always been impressed by her ability to write and speak about the need for organized systems in dental office hygiene programs. She does it with a flair that makes the information fun to learn. She continues that tradition with Demystifying Smiles. Hodsdon presents a group of authors who contribute their own passion forbuilding a practice around smiles. Chapter Two, which is entitled, "Team possible: Becoming Aes-thetic Detectives," is worth the price of the book alone. This is a book for the entire team and one that you will use for years as you develop your new practice. To order, call (800) 752-9764, or visit the PennWell Books Web site, www.pennwell-store.com.
PEARL UPDATE OPTIMA PLUS by Bien Air. Frequent "Pearls" readers know how much I like electric handpieces. What if you could accomplish everything you wanted to do in dentistry with one system and only two handpieces — a high-speed and a push-button latch, slow-speed model that also delivers full-torque control and has auto reverse capabilities. You can have all of this with OPTIMA Plus including very low noise level, compatibility with all e-type attachments, a motor speed range from 20 to 40,000 rpm, and simple connection to any standard 4-hole tubing. OPTIMA Plus is equipped with a powerful microprocessor that allows you to accomplish all procedures including implants and endo dontics at slow and high speeds with only two contra-angle attachments. Order from your dealer or visit www.bienair.com for more information.
Dr. Blaes has a general practice in the St. Louis area. He is known for his expertise in dental materials and techniques and his innovative systems designs. He writes and lectures on "How To Increase Productivity and Profitability." Dr. Blaes is a member of the American Academy of Dental Practice Administration. He may be reached at joeb@pennwell.com.