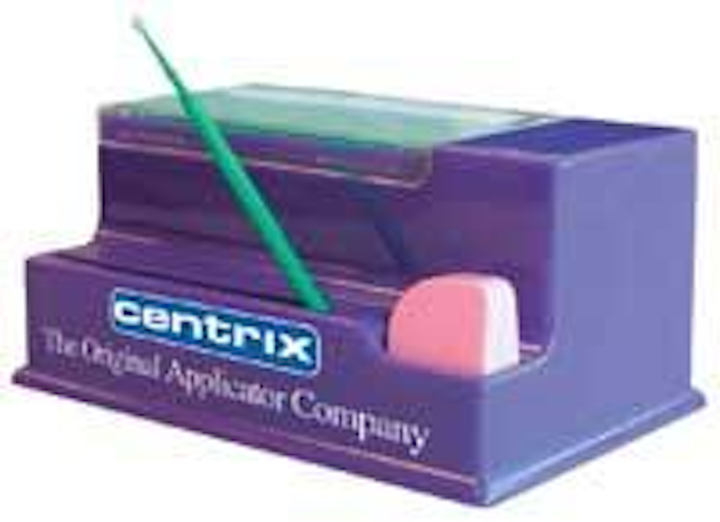 BendaMatic™ by Centrix Dental - Wow! What a neat gadget this is! When the folks from Centrix first showed this to me I said, "This has got to be a Pearl." I know we all love the microbrushes, but I have yet to find a convenient dispensing system for them. Behold the BendaMatic. Now at the touch of a button, a disposable applicator is at your fingertips, ready to deliver all of your dental materials. As we set up our treatment room, my assistant touches the button on the front of the BendaMatic, and a BendaMicro applicator will jump up ready to use. She does not remove that brush until I am ready to apply a material to the tooth. At that time, she removes the brush and uses the back end of that brush to dispense another brush so it is ready when she needs it - the dispenser itself is no longer a concern for cross-contamination. Other benefits are time saved in infection-control procedures, as well as time saved in the organization and dispensing of applicators during treatment - faster, better, easier, and less expensive because you saved time and eliminated waste. The BendaMatic delivers peace of mind in the treatment room because when you reach for an applicator, it's always there - clean, safe, and ready to work. It dispenses all three sizes of the BendaMicro applicators and/or the SofStick at the touch of a button. It features a low-profile, simple-to-load design, and holds about 100 applicators. Order from your dealer or call Centrix Dental at (800) 235-5862 for more information.
G.U.M. Delicate Toothbrush by Sunstar Butler - I want my patients to be able to brush after I have done major restorative dentistry, but often they are unable to because it hurts. Sunstar Butler to the rescue. They have developed a new G.U.M. Delicate Toothbrush just for these situations. Now I can give my patients a super-soft, bristled toothbrush that is ideal for brushing around my crown and veneer provisionals, implants, inflamed tissue from periodontal disease, extractions, grafts, aphthous ulcers, and other soft-tissue irritations. It is ideal for postsurgical use and following scaling and root-planing procedures. When appropriate, have the patient change to the G.U.M. Sensitive Brush. Your practice typically must dispense Delicate and Sensitive toothbrushes since most retail stores don't carry them. Make this part of your WOW experience for your patients. They will love you for it. To order, see your Sunstar Butler representative, call (800) 528-8537, or visit www.jbutler.com for more information.
Topex® Brilliance™ polishing paste and Topex® Brilliance™ Micrograin™ diamond polishing paste by Sultan Dental - Two different products are presented here. Brilliance polishing paste is a high-viscosity paste, containing finely ground, 3-micron corundum powder to use during the final stage of polishing composite restorations, amalgams, and castings. This paste will actually remove most of the scratches that are present after you have done your gross polishing. You also can use it with a white stone while doing your gross reduction. You will notice the paste will help the stone to cut faster and easier. So get some Brilliance polishing paste to make your composites look their best in less time.
The other product, Brilliance Micrograin diamond polishing paste, is a high-viscosity paste, containing diamond particles that will restore the original smooth finish to porcelain, crowns, bridges, veneers, and composite and metal inlays and onlays. Here you have one paste that will take care of polishing and restoring the original luster to all the materials you use in the mouth. My hygienist loves it because she can polish all those restorations without damaging the fine materials. This polish will not cause stains on composites you may see with many others. Order both of these great polishing pastes from your dealer or visit www.sultandental.com for more information.
Zone eugenol-free temporary by DUX Dental - Here is a great cement for provisionals. Crowns stay in place and you will not be plagued with re-cementing temps between the prep and seat appointments. Now Zone is available in an automix syringe. Add a tip and it's ready to dispense directly into the crown. The delivery ensures a homogenous mix resulting in precise setting times with every use. No time is wasted by hand spatulating. Material waste is reduced, and there is no instrument clean-up. The formula keeps sensitivity to a minimum and does not inhibit bonding procedures. It is faster, better, easier, and probably less expensive because of time savings and less material waste. You can't beat this for an exceptional eugenol-free temporary cement. To order, call (800) 833-8267 or visit www.duxdental.com for more information.
"Hidden Fracture and Caries Picture Book: A Patient Education Guide" by Dr. Martin B. Goldstein - Here is a book you could have created yourself - if you had captured images when you saw fractures and the damage they caused. Not to worry, Dr. Marty Goldstein has saved the day. The book is spiral bound so the pages lie flat. It is filled with wonderful high-resolution images and is laminated for heavy-duty wear and tear. Intended for rapid patient instruction on asymptomatic coronal fractures and defective restorations, it's great for the hygienist who detects a fracture at recall.
This book can save you time. It even includes an "end of the line" image with a non-repairable fracture, and a "turning over the rock" image showing recurring decay (not detected by X-ray) under a chipped amalgam. You ought to have one in every treatment room. Order from www.drgoldstein speaks.com or call (203) 879-4649 and tell them Joe sent you. The best time to order is - right now!