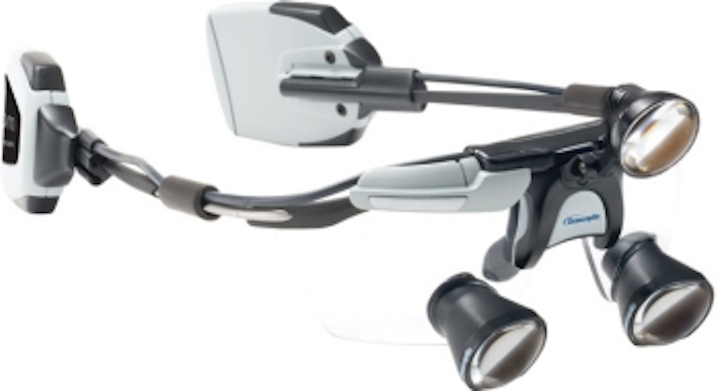 Joe Blaes, DDS
FREEDOM from Orascoptic
I have been using magnification in my practice for more than 35 years. When Orascoptic first introduced a fiber-optic headlight in 1995, it was just what I was looking for. The only problem I had with it was that I was attached by a wire to a stationary light generator. I pulled the generator off the counter a number of times before finally getting in the habit of unplugging before I went to check a hygienist. I could see okay before the headlight, but now I could really see and the light was always right where I needed it. But the cords were always a hassle even when I moved on to a battery pack. I was always catching the wire on something. I received a press release from Orascoptic just before the 2010 ADA Meeting in Orlando giving details on the new Freedom system. It seemed too good to be true. How could the batteries be built into the glasses and not be extremely heavy? I made a note to be sure to stop by the Orascoptic booth on the exhibit floor to check out Freedom. I sat down and listened while company officials explained the features and benefits of this sleek, new magnification and light system with no wires. But the real test was to try on Freedom and check out the weight on my nose and head. These are the lightest magnifiers with a light source that I have ever worn. The innovative design features a weight-neutralizing counter balance between the battery pods and the headlight. The weight disbursement can be customized to relieve all forward pressure on the nose. The unit felt like it was perfectly balanced on my head and face. The glass design comes around on the side to totally protect my eyes from spray or debris. Now you can experience freedom in a whole new light. There are no cumbersome cables or heavy belt packs. The headlight delivers 5,000 foot candles, and will maintain its intensity during the full run time of the batteries. The revolutionary Freedom light is powered by small rechargeable battery pods that attach directly to the loupe frame. Each battery pod will provide power for three hours, and then automatically switch to the other pod. A flashing light on the frame alerts you to the switch. Capacitive touch technology allows the practitioner to control the light while holding instruments, and eliminates bacteria traps that are associated with traditional buttons, knobs, or switches. The compact pods and lightweight headlight attach to virtually any TTL loupe model on the market. The Freedom system includes a battery charging station and four fast-charging, hot swappable batteries. Call (800) 369-3698 or visit www.freedomfromcables.com for more information.
G-AENIAL™ UNIVERSAL FLO AND G-AENIAL™ BOND from GC America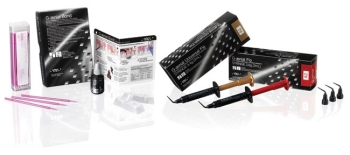 New advancements in filler technology, handling, and overall composite technology have led to the creation of this product, a flowable that can also be used as a restorative. This saves time and money while not sacrificing esthetics, strength, or longevity. This flowable is not just a base or a liner. With high viscosity, yet good flow under pressure, it can be used as the final restorative material as well, and is indicated for Class I, II, III, IV, and V restorations, minimum intervention cavities, and fissure sealants. Historically, you have had to sacrifice strength when using a flowable. But G-aenial™ Universal Flo has a higher flexural strength and better gloss retention than other leading flowables and many other leading conventional composites. This material has excellent wear resistance due to the extremely small 200 nanometer particles. It finishes like a microfill. The advanced fillers actually allow the material to be polished with everyday toothbrush use, letting patients maintain the gloss of the restoration for extended periods of time. The delivery syringe has been totally redesigned with a tip that delivers the material more precisely and a plunger that allows you to use the thumb pad. This makes it much more comfortable. We know that using an etch-and-rinse technique on enamel gives the best bond strength, but also gives a high risk of postoperative sensitivity. The newer self-etch adhesives are easy and simple to use with no postoperative sensitivity. But we have seen lower bond strength on the enamel, leading to microleakage. Would you benefit from a technique that can provide the advantages of both these techniques without their disadvantages? Based on the chemistry of G-BOND™, G-aenial™ Bond is an improvement of a successful seventh generation one-step, self-etch bonding agent. This adhesive was designed to be used with the technique of selective etching, which is an etch-and-rinse approach on enamel and then a self-etch approach on dentin. Using this technique, you will achieve improved bond strength on enamel. Meanwhile, the self-etch component of G-aenial™ Bond gives you increased bond strength to dentin with no postop sensitivity. What a combination! Order from your dealer or visit www.gcamerica.com for more information.
WATER FLOSSER from Waterpik®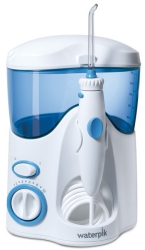 Also known as a dental water jet or oral irrigator, the Water Flosser provides a unique combination of water pressure and pulsation to massage, stimulate, and cleanse bacteria and debris from gingival tissues. The Waterpik® Water Flosser is tried, true, and improved. It continues to outperform traditional floss in study after study. New clinical research confirms that the Water Flosser is significantly more effective than string floss at reducing gingival bleeding. It's easy to use. Patients who do not like to floss will love that it takes only a minute a day. Make an evolutionary step in your practice by helping patients improve compliance and results. Waterpik®'s Ultra model can be used with your favorite mouthwash, has an advanced pressure control system with 10 pressure settings, and a high-volume, covered reservoir. The Water Flosser also comes in a cordless model that takes up less space on the countertop, is rechargeable, has a dual-pressure control, and has an ergonomic design with a nonslip grip. The Waterpik® Water Flosser with the orthodontic tip has been clinically proven to be more than three times as effective as string floss for cleaning around braces. This leads to less decalcification and decay during orthodontic treatment. I have found that the Water Flosser is an effective alternative to traditional dental floss for reducing bleeding, plaque biofilm, and gingivitis, especially for those who cannot or will not floss. Visit www.waterpik.com or call (800) 525-2020 to order or for more information.
SHINE RENEW™ STAIN AND RUST REMOVER from Hu-Friedy
I always assume that my office is like many others. So your office probably has some instruments that still function but have lost their luster. This almost sounds like one of those TV spots that claim to shine silver by magically putting the silver in a solution and having it come out shining like never before. The difference is that Hu-Friedy has come up with a way to make instruments shine again that really works. It is not magic. Shine reNEW™ will effectively remove stain and rust and restore the luster to stainless steel and tungsten carbide instruments by simply putting them in a solution to soak and following the instructions. Are your hinged instruments hard to open? You have probably tried WD40 or oil and only made them worse. Shine reNEW™ will keep them moving freely by dissolving built up residue. There is no need to use abrasive scrubbing materials or pads on your instruments. Just place them in Shine reNEW™ Stain and Rust Remover, and it goes to work. It really is quick and easy to use. Order from your dealer or go to www.Hu-Friedy.com for more information.
INTERNATIONAL PAYMENT SOLUTIONS
We have offered patients the service of paying by credit card for many years. Since more and more people do most of their purchasing with credit cards, it makes good business sense. It sure beats chasing down bad checks. In fact, most offices have higher amounts collected by credit/debit cards than by check. If we take credit cards, then we should be careful that we get the best price to process the charges and deposit the cash in checking accounts. In this economy, we need to watch expenses. If you have shopped around for a company or bank to process credit card charges, you already know there are many and they are competitive. If you talk to 10 different processing salesmen, you will get 10 different answers. The majority of processing companies has termination/loss profit clauses that could cost you hundreds - if not thousands - of dollars to cancel an account. Don't do business with a company that charges you a fee to cancel an account! International Payment Solutions has no termination fees and offers a price match guarantee. All credit card processing companies have the same cost. It's called interchange, dues, and assessments.The only difference in what each processor charges is the amount of profit they want to generate on an account. If you are using the credit card processing module of your dental software, you are probably overpaying by 20% to 40%. Let International Payment Solutions, LLC, show you how to lower your costs. Call (877) 684-5785 for a free, no-obligation review of your current processing statement. I have recommended Leo Townsend for years, and those who have used his services have saved thousands of dollars.
PAINLESS STEEL® DENTAL INJECTION NEEDLES from Transcodent®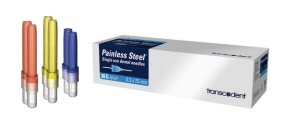 Some of you might remember one of my early Pearls about the world's sharpest dental needle - the BD Dental Needle. It was made by a huge medical company, which found the dental market too small and quit making the needles. I have found a replacement for the world's sharpest dental needle. Painless Steel® Needles are so sharp that you will not feel the needle penetrate the tissue. The patient will never feel the injection if you slowly administer the anesthetic. The secret is in the three-edge lancet sharpening and the siliconized canula. The needles have threaded hubs that make for easy handling. The hub is marked with an arrow to indicate the position of the needle bevel. They are sterilized with ethylene oxide for highest patient safety, and the needle container is heat-sealed to eliminate the possibility of contamination. They come in all the popular sizes, and are color-coded to match the box in which they are packed. Order through your dental dealer or visit www.painless-steel.com.
SHORT IMPLANTS: REALITY AND PREDICTABILITY from IneedCE.com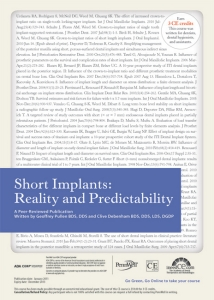 Success rates for endosseous dental implants are high. Historically, implants were of standard lengths and diameters. But increasingly, implants became available that were shorter or longer and with wider or narrower diameters, as well as with varying geometric designs. Anatomical considerations may exist that require either adjunctive treatment prior to implant placement or the placement of short implants instead. Recent research has found that length, diameter, and geometric macrodesign influence the amount of bone that osseointegrates due to differences in surface area, as well as the application of forces and resulting stresses. With appropriate selection, high success rates can be enjoyed for long and short implants where these are indicated.