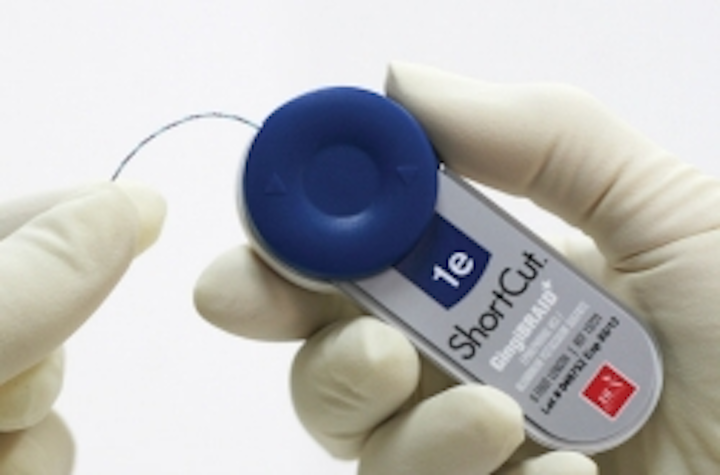 Joe Blaes, DDS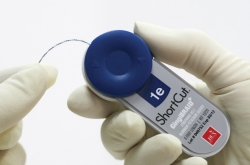 Physics Forceps from Golden Dental Solutions
For far too many years, I have battled extracting teeth. In fact, unless I could take the tooth out with a piece of gauze, I referred the extraction out. This is not a great idea for many reasons. Namely in these economic times, it hurts to refer dentistry that we should be able to do. Your patients are comfortable with you and your team; they do not like to leave for some unknown office. Think for a minute about the instruments that we use to remove teeth. They have not changed for more than 100 years even though they offer us no mechanical advantage. We grasp the tooth and try to wiggle it out. It is like trying to remove a nail with a pair of pliers. None of us do that because we know a hammer gives us a mechanical advantage to leverage the nail out of the wood. We have been continually searching for the most efficient and least traumatic way of removing a tooth without breaking the root and to preserve the most bone. By using leverage and biomechanics, the Physics Forceps allow you to preserve the buccal bone and cortical plate and you do not need to lay a flap or elevate. This system is simple, predictable, and makes extractions profitable since you can atraumatically extract any tooth in less than four minutes. The forces applied are opposing. One force is applied with the beak of the forceps on the lingual aspect of the tooth/root. The second force, the bumper of the forceps, is placed on the alveolar ridge below the mucogingival junction. The unique design of the Physics Forceps allow for light yet constant pressure to be applied to the tooth. This allows the tooth to be "leveraged out" based on biomechanical principles. The unrelenting trauma created by the Physics Forceps to the PDL releases hyaluronic acid that chemically breaks down the Sharpey's fibers. The hardest thing to learn when using the Physics Forceps is not to squeeze the handles or levers. The force is light but constant. The Physics Forceps are efficient, faster, and less traumatic to the alveolar bone. They are available in a standard set of four or a posterior set for hard-to-reach second and third molars. I have used this extraction system on patients for more than a year now, and it was unbelievable how quickly the teeth seemed to just disengage from the socket — almost like magic. I have not found an erupted tooth I had to refer or was not able to easily remove. You must experience this to believe it. This is why the manufacturer currently offers a 30-day risk-free trial on the Lower Universal Physics Forceps so you can experience just how amazing they are. I encourage you to take the company up on the offer. Contact Golden Dental Solutions at (877) 987-2284 or visit www.physicsforceps.com to view several extractions on the company's website.
---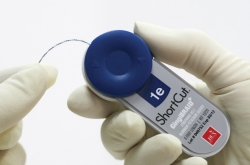 NOVUS Resilient Denture Liner from Lang Dental
In my practice, I have found the soft denture liners are great for relining my patients' dentures. The in-office types of materials work well for short periods of time such as during healing of an immediate denture. For long-time service, I have found that lab-processed soft liners are the best. The best resilient liner has been absent from the market for more than 10 years due to the key compound losing its primary user — the U.S. military/NASA. Recently, NOVUS has been reintroduced by Lang Dental to solve multiple problems dentists have had with other resilient liners. Unlike popular intermediate- and short-term liners, NOVUS has no plasticizers to leach out of the material, so it remains as resilient years from now as it was on the first day. It features no rebound. This makes chewing easier and more comfortable for the patient. It is a lab-processed liner that is truly the definitive long-term solution for denture liners. NOVUS has many other features and benefits: a) denture stays clean using normal hygiene methods with less odor and stain, and sore spots are minimized with healthy tissue under the denture, b) because the surface wets easily, the denture retention is superb, c) easy adjustment and polishing with rotary instruments chairside, d) engagement of deep anatomical undercuts, e) moldable around overdenture abutments or implant heads and bars to provide denture retention, stability, and support, f) allows denture movement toward the abutments and tissues, g) excellent bonding to acrylic denture bases, excellent adhesive strength, permanent bond with no delaminating, h) X-ray-opaque (can be identified if parts are swallowed or inhaled), i) permanent resiliency; it will not harden, even during extended time periods. More information is available on www.langdental.com or by calling Lang Dental at (847) 215-6622. NOVUS is processed by labs. Ask your dental lab technician to use it on denture relines or purchase NOVUS from a favorite distributor.
---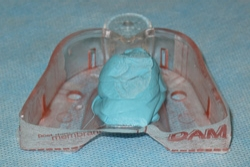 ChemFil™Rock Advanced Glass Ionomer Restorative from DENTSPLY Caulk
The importance of glass ionomers in dentistry has not been stressed in recent years. I often ask attendees at my seminars what they would use for bonding if they did not have a resin-based polymerizable material. Very few can answer the question. In the early 1980s, when composite restorations were becoming more popular, we did not have any dentin adhesives. But we did have glass ionomers that many of us used as dentin and enamel adhesives for composite restorations. For years, I have used glass ionomers for many procedures — Class V permanent restorations, as adhesives, to cement crowns, for replacing dentin, as build-up materials, as a preferred pediatric restoration, and to prevent sensitivity. Since we know that glass ionomers release fluoride, their use protects the tooth from new decay. For years, researchers have been searching for a better glass ionomer, particularly when it comes to strength. At DENTSPLY Caulk, the company has found it. ChemFil™ Rock is the significantly stronger GI restorative material. I will tell you about this outstanding new product. But I urge you to go to www.chemfilrock.com to read the DENTSPLY Scientific Compendium on ChemFil™ Rock. Pay particular attention to the preface by my friend, Dr. Joel Berg. You will find that he explains much better than I ever could why this is such a significant breakthrough in restorative material science. This article will revolutionize your thinking about materials that should be placed on the dentin surface. Dr. Berg presents his report in easy-to-understand terms that have convinced me to return to a forgotten material that served me so well for many years — the glass ionomer. Many dentists reach for glass ionomers more and more because of GI's superior performance in pediatric, geriatric, emergency, and many other cases. With the introduction of ChemFil™ Rock, things have just become much better. This restorative's unique formulation is the first to contain zinc-reinforced glass ionomers. This results in earlier toughness buildup and resistance to fractures. You will find the research for these claims in the Scientific Compendium. This material is simpler to use! Since a glass ionomer is the only dental filling material that chemically bonds to tooth structure, there is no need for cavity conditioning or surface coating. The restorative procedure is faster, better, and easier thanks to bulk placement by the advanced capsule extruder and self-cure setting. It delivers a nonsticky packable material with a consistency that allows you to sculpt it to save time in finishing. This is a significant advantage in emergency cases or those involving difficult patients. It offers superior fracture and wear resistance and up to 25% higher strength. Use ChemFil™ Rock with confidence knowing that you are giving patients the strongest, most durable glass ionomer restoration possible. It can be used for semipermanent restorations of Class I and II cavities in posterior teeth, restoration of deciduous teeth, restoration of Class V lesions, abfractions and decay, and core buildup. Let me end with a quote from Dr. Berg's preface to the Scientific Compendium. "On a daily basis in my practice, I depend upon glass ionomer as a material which can not only help in restoring the tooth in which I place it, but also can 'heal' an adjacent incipient lesion, seen or unseen. A glass ionomer restoration placed into the second primary molar can not only effectively restore this tooth until it naturally exfoliates, but can potentially avert progression of a seen or unseen lesion on a permanent tooth. This procedure is of high value to our patients. As we develop improved caries lesion detection methods that are ever more sensitive and specific, so will the value of glass ionomer grow for our practice." Order ChemFil™ Rock from your dealer or go to www.chemfilrock.com for more information.
---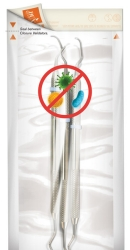 PeelVue+ Sterilization Pouches now with Closure Validators from DUX Dental
How do you know your sterilization pouch is properly sealed and airborne contaminants cannot find their way in? Until now, there was no way to be sure the seal at the top of your pouch was properly closed. DUX Dental is pleased to announce that the No. 1-branded pouch in the U.S., PeelVue+, now features visual guides printed on the pouch called Closure Validators. PeelVue is the only pouch available that provides dental professionals with a visual guide to achieve the proper seal. Pouches that are not sealed properly have holes or gaps where contamination can seep in, defeating the purpose of the packaging. Closure Validators are another way the PeelVue Smart Pouch™ aids a dental office in its sterilization to ensure patient safety. Order from your favorite dealer or visit www.duxdental.com for more information.