Are Verification Jigs Really Necessary? Part 2
Welcome back! I am pleased with the numerous emails I received responding to my March Tip of the Month discussion. Today we'll discuss a new impression material ...

May 1st, 2013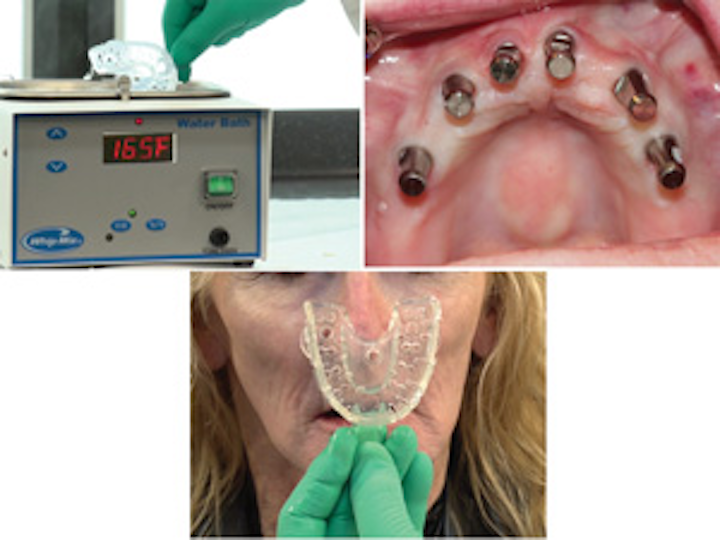 by Joseph J. Massad, DDS
Welcome back! I am pleased with the numerous emails I received responding to my March Tip of the Month discussion. Today we'll discuss a new impression material specifically formulated to address impression accuracy for multiple implants intended for bars and/or fixed denture restorations. CAD/CAM milling has become an optimal fabrication procedure. It is critical that we provide an accurate implant level impression in conjunction with a precise insertion of the implant-analog unit back into the impression with a verifiable positive seat that will resist any lateral micromovement while casting the model.
First of all, in making the multiple implant impressions, it is necessary that the material have verifiable qualifications that we can rely upon.
Requirements include:
Several viscosities from which to choose.
Easy flow through an automix dispensing gun in order to apply into targeted areas without operator strain.
Fast set time in the oral cavity while allowing sufficient working time.
Once set, the rigid viscosity increases its stiffness around implant impression coping-analog surfaces. This is critical to eliminate any diminutive movement while casting the impression. The slightest movement of the analog during pouring or applying stone will nullify the accuracy.
When performing the wash procedure with a medium or light viscosity, the material will usually be syringed onto the implant surfaces; however, most light viscosities begin to flow immediately before the tray is carefully placed into the mouth. This forces the operator to rush the final and most important step. Therefore, our next requirement is that the medium and light viscosities, once applied to the implant surfaces, will not be activated to flow until the tray is inserted into the mouth. This is a huge advantage when making impressions on multiple crown preps all at once.
The most frequent viscosities I use are the Xtra Fast Rigid and the Mono Phase Fast. This Mono Phase Fast performs similar to many other manufacturers' light viscosities, but will not flow or drip from the impressioning surface until the tray is inserted.
I have provided a step-by-step implant impression method previously published; however, I've updated the material I have found to perform with noticeable improved accuracy.
1. Heat shape stock tray (Nobilium) in mouth to allow custom fit.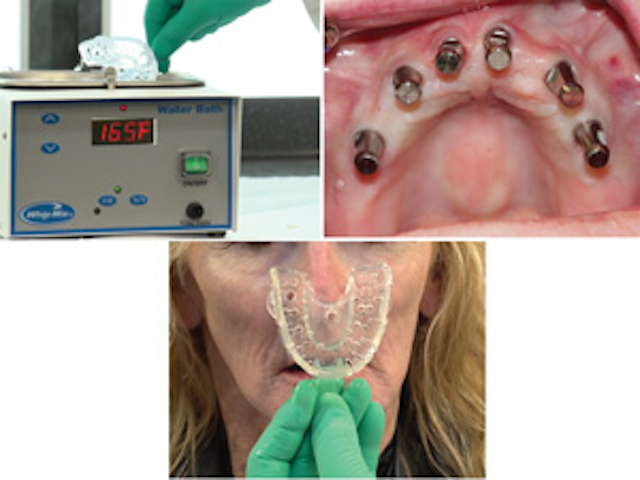 2. Apply Xtra Fast Rigid PVS in tray to act as tissue and implant stops. This allows the practitioner precise tray placement around implant copings, a controlled path of reinsertion, reduction of rotational movement, and tactile feedback to prevent overseating, especially in edentulous soft tissue areas.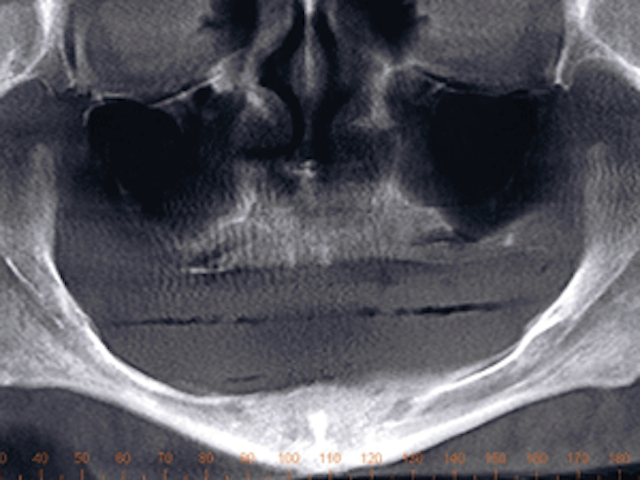 3. Apply Xtra Rigid material in the tray opposite the implant copings and Mono Phase Fast in all other areas of the tray.

4. Syringe Mono Phase intraorally around all implants and insert tray in mouth, seating until you obtain tactile feedback from the previously placed stops and you're completely seated.

5. Observe the detail of the final impression.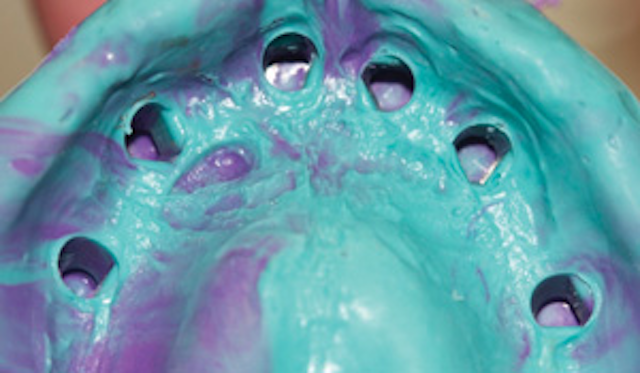 6. Note the impression with the impression coping-analog complex. The stability of making the cast without movement of the coping-analog complex is minimized.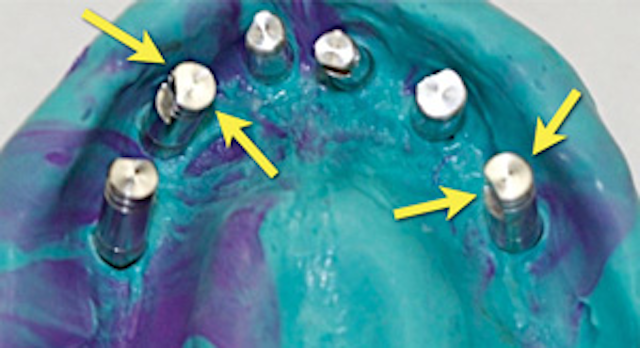 All impression materials used are made by DMG America. The company did not influence any part of this article nor was it given access to review prior to this publication.
Joe Massad
Dr. Joe Massad may be reached by phone at (918) 749-5600 or by e-mail at lectures@joemassad.com.
To see Dr. Massad's video tips, visit www.DentalLibrary.com
More DE Articles
Past DE Issues