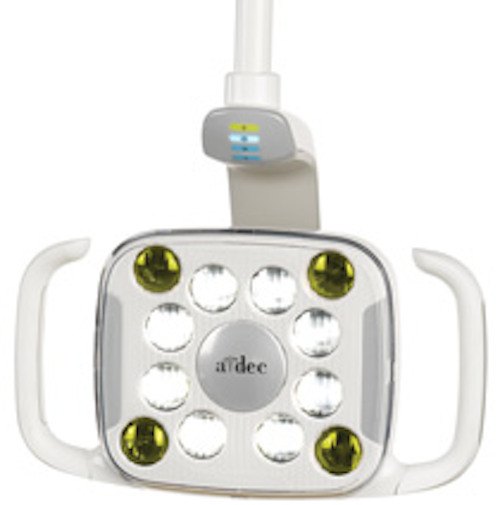 by Joe Blaes, DDS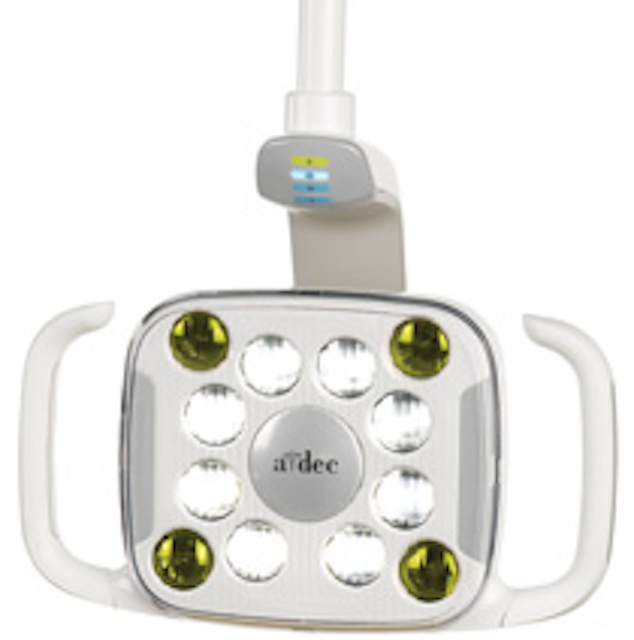 LED Dental Operatory Lightfrom A-dec -- A-dec has spent the last two years researching the strengths and weaknesses of LED technology to produce the best LED dental operatory light. This new LED offers white light settings of 30,000 lux (high), 25,000 lux (medium), and 15,000 lux (low) to provide just the right amount of light for your task at hand. A Cure Safe setting at 25,000 lux that removes all blue light gives you full illumination while working with cure-set products. Each of the eight white diodes and four yellow diodes are precisely placed to eliminate shadows. It moves smoothly with very little effort, allowing for easy positioning. The light is controlled by A-dec's touchpad or local controls on the light head. Use of engineering grade resins and die cast materials in addition to high performance LEDs and excellent passive thermal management provide for a robust design. This light is designed to last 20 years. Visit www.a-dec.com for more information. To watch this Pearl video in action by Dr. Joe Blaes, visit digital.dentaleconomics.com.

Imprint™ 4 VPS Impression Material from 3M™ESPE™ -- Dentists and patients both feel that shorter is better when it comes to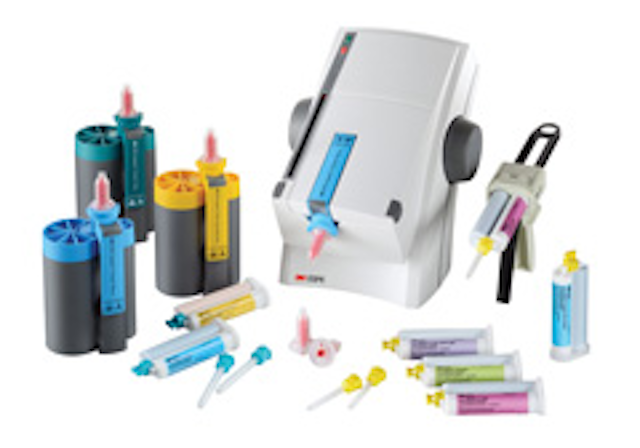 the setting time of an impression material. A faster setting time will increase patient comfort especially for those with problem gag reflex, and it will also increase clinical efficiency for the office. So when 3M ESPE called to say they had a new impression material to evaluate, I became excited when they said it would set in just 75 seconds. A unique chemical reaction causes the material to quickly warm up to body temperature, which substantially accelerates the intraoral setting time. The impression material's super hydrophilicity also contributes to its reliability, helping it capture precise details. The combination of this unique formulation, long working time, and short setting time gives Imprint 4 VPS impression materials outstanding accuracy and means that dentists rarely need to worry about retakes. Visit www.3mespe.com/imprint4 for more information.

Monarch™ CleanStream Evacuation System Cleaner by Air Techniques -- Dental vacuum systems should be cleaned regularly to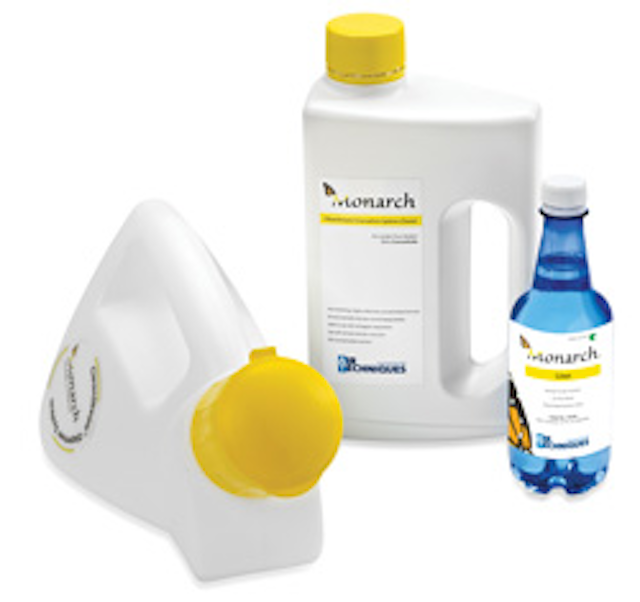 maintain peak performance and maximize system life by removing and preventing the buildup of waste and debris in vacuum tubing/plumbing. Monarch CleanStream is an easy and effective solution to keep your dental vacuum system running smoothly, so you get the most out of your equipment investment. The unique formulation is designed for daily cleaning since it penetrates and removes line buildup, which increases vacuum performance and suction. This product will clean and deodorize evacuation lines for all wet and dry vacuum systems. It has a nonfoaming, highly concentrated formula that is very economical to use, and it is noncorrosive and completely biodegradable. Monarch CleanStream is most effective when used with the CleanStream Dispenser. The specially designed dispenser enables easy, no-mess, no-spill mixing and cleaning of two treatment rooms with just one bottle. Just mix, shake, and aspirate. Visit www.airtechniques.com for more information.

MCX Micromotor from Bien Air -- I have visited the Bien Air Factory in Bienne, Switzerland, and watched the motors being made.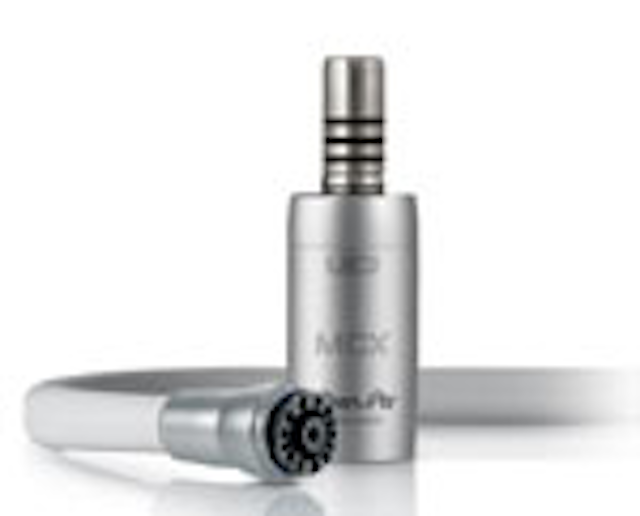 The quality begins there! Bien-Air has positioned itself as the world leader in electric micro-motors. Some models have even revolutionized modern dental techniques. Power, high torque, absence of vibration, and reliability are the assets that make Bien-Air micro-motors so unique. Their new arrival is the MCX, which is the first brushless micro-motor to offer perfect speed control at a constant torque, and at a very competitive price. This motor is based on the Smart Logic technology already used on the MX and MX2. The MCX with adjustable LED light is the smallest and lightest brushless motor ever designed by Bien-Air. Use it with the new Bien-Air Micro-Series instruments for a micro-motor/instrument assembly that's even smaller than an air turbine. You can even arrange to try the Bien Air in your own office before you buy! Visit www.bienair.com for more information. To watch this Pearl video in action by Dr. Joe Blaes, visit digital.dentaleconomics.com.

CS 3500 Intraoral Scanner from Carestream Dental -- The innovative CS 3500 is one of the most compact, easy-to-use, 3-D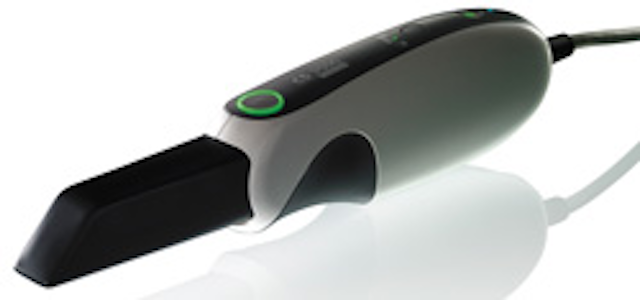 color intraoral scanners on the market. Handheld and truly portable, it requires no trolley, no traditional impression material, and absolutely no powder. Because the tip is in contact with the tooth, the scanner is easier to use and more comfortable for dentists and patients alike. There is a built-in heater to prevent fogging, which streamlines the workflow. The ingenious light guidance system shines green when the scanning is successful and orange when rescanning is necessary, enabling you to keep your focus on your patient, not your monitor. The result is a highly precise digital impression of your patient's mouth in a matter of minutes. This will simplify your practice and make your patients smile when you tell them, "No more impression material." So be sure to see it soon! Learn more about Carestream Dental's restorative solution by visiting www.carestreamdental.com/solutions. To watch this Pearl video in action by Dr. Joe Blaes, visit digital.dentaleconomics.com..

DUO-LINK UNIVERSAL™ by Bisco -- Here is the answer to your concerns about which cement to use for some of the new
restorations that we're seeing from all the dental laboratories. Duo-Link Universal is an adhesive resin cement that has been specially formulated for the cementation of all indirect restorations, including crowns, bridges (fixed prostheses), inlays, onlays, and posts that are fabricated from metal, composite, porcelain, ceramic, zirconia, alumina, and CAD/CAM restorations. This cement is formulated for quick and easy removal of all excess cement, and it is highly radiopaque for easy identification on X-rays for quick and effective diagnosis. This material has a high degree of conversion in both light- and self-cure modes, which ensures a strong, long-lasting restoration. Duo-Link Universal is easy to use in an auto-mix, dual-syringe that provides a consistent mix every time your assistant prepares it. You can trust this cement when cementing restorations made of new materials. Visit www.bisco.com for more information. To watch this Pearl video in action by Dr. Joe Blaes, visit digital.dentaleconomics.com.

NUPRO® White Varnish from Dentsply Professional -- This new product delivers rapid fluoride release in a uniquely formulated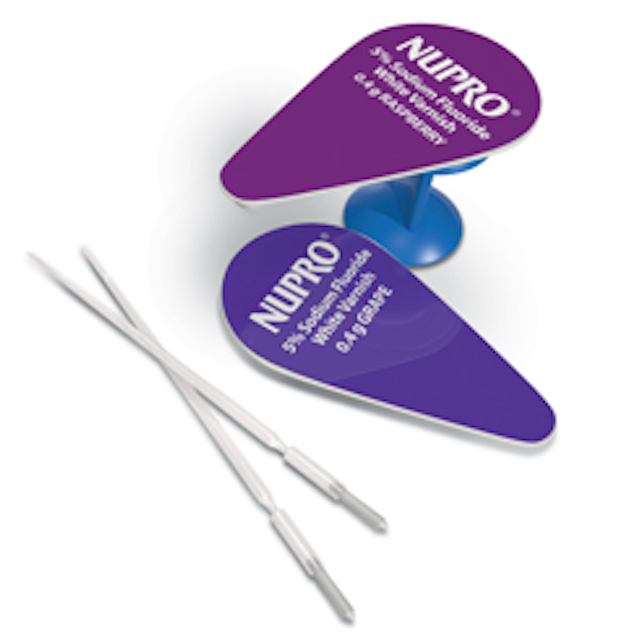 varnish for hypersensitivity relief. NUPRO White Varnish claims to release seven times more 5% sodium fluoride than its competitors over a two-hour period. A much shorter wear time is required for this new product, which will please patients. This product has been designed for easy handling and application. It can be applied to a wet tooth surface, which eliminates often painful drying of the tooth surface. It is uniquely formulated to minimize clumping of the material, and has no annoying dripping or stringing. The product is easy to see during application, and it will set to a clear finish, which patients like. NUPRO White Varnish spreads easily on teeth, leaving a uniform layer of the material. NUPRO White Varnish comes in patient-pleasing grape and raspberry flavors. For more information visit www.nuprovarnish.com, or email nuprosamples@dentsply.com. My Hygienist, Karen enjoys the convenience of this product. To watch this Pearl video in action by Dr. Joe Blaes, visit digital.dentaleconomics.com.

Prime&Bond Elect™ Universal Dental Adhesive from Dentsply Caulk -- Since my veneer preparation is 90% in enamel, I want to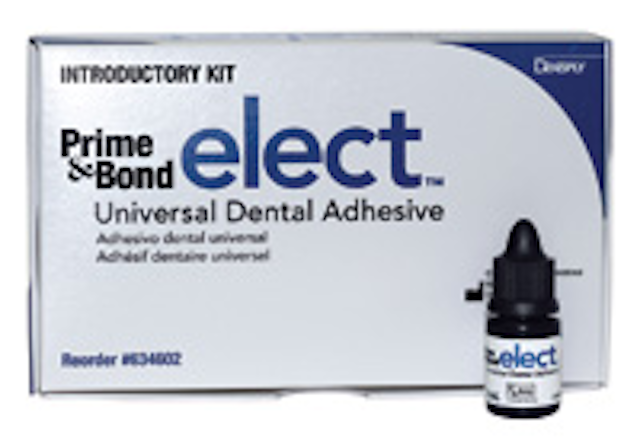 do a total etch knowing that it has given me great success in the past. This new adhesive will allow me to do that with the knowledge that I will get strong bonds to enamel and dentin. For my composite restorations, I like to use a self-etch adhesive for great bond strength and virtually NO postoperative sensitivity. Prime&Bond Elect assures virtually no sensitivity and it creates high bond strength. This adhesive can also be used for indirect full coverage crowns and endo post cementation. It virtually eliminates the risk of sensitivity by minimizing exposure to the etchant. I trust this new adhesive because it is built on the clinically proven chemistry. You can have confidence that you are achieving the consistent, high bond strengths necessary to meet the clinical needs of your patients, with virtually no post-operative sensitivity. Visit www.primeandbondelect.com for more information.

Honigum Rigid X-tra Fast & Honigum Mono QuadFast from DMG America -- These are the latest additions to the line of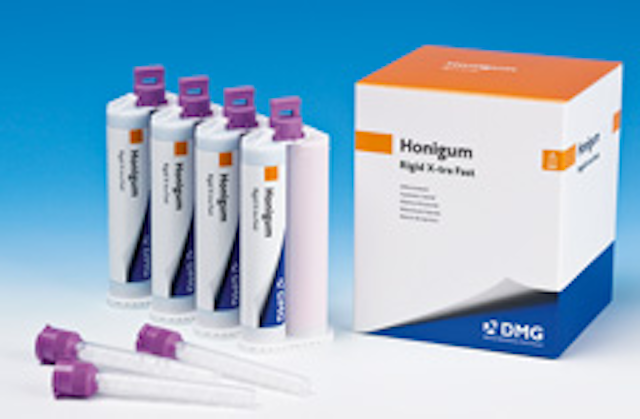 Honigum outcome enhancing impression materials. Dr. Joe Massad is the preeminent instructor of denture prosthetics. He has developed and teaches techniques that have simplified the placement of dentures. DMG America has produced Honigum Rigid X-tra Fast to meet Dr. Massad's specifications. This is a truly thixotropic impression material that will stay where you put it, meaning that it will only move under load. To border mold, you simply apply Honigum Rigid X-tra Fast into the tray and onto its borders. Here is a tip -- the material sets faster in the mouth than on the bench. If there are parts of the tray that are missing material, especially in the palate, you can use Honigum Mono QuadFast to fill in these areas. It is also a new, faster, and highly accurate material for single unit crown and bridge impressions. Visit www.dmg-america.com for more information.

Composi-Tight3D XR™ Sectional Matrix System from Garrison Dental Solutions -- Placing Composite Class II restorations with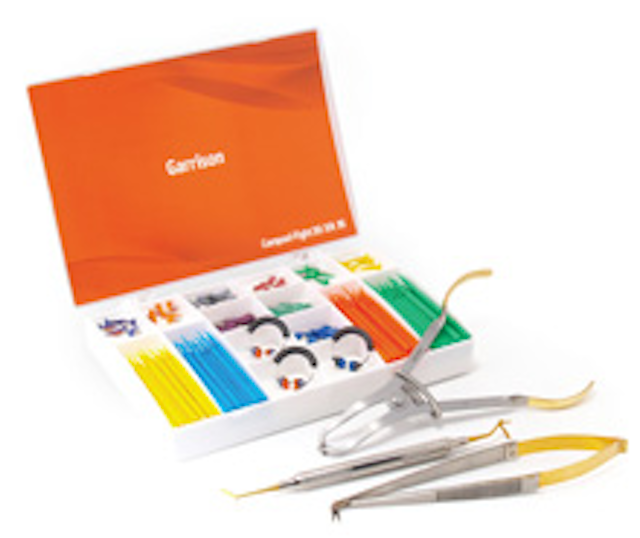 anatomically shaped contact has just become easier, faster, and better with this new matrix system. The tenacious grip, along with enhanced Soft Face™ technology and Dynamic Tip Angle™, make the new system the best choice for all Class II restorative procedures. The new XR system will eliminate ring "spring-off" on short, malpositioned, or pedodontic teeth. It also improves retention between the canine and the first bicuspid. Three-dimensionally contoured tips with Soft Face™ adaptable silicone hug the matrix band to the tooth. Flash is virtually eliminated, reducing finishing time and improving the quality of the contacts, which ensures long time success of the restoration. The slotted bottom fits directly over the wedge, which simplifies placement and allows for wedge adjustment. I encourage you to buy a complete set that will include a number of important accessories such as the ring placement forceps. Visit www.garrisondental.com to order or for more information. To watch this Pearl video in action by Dr. Joe Blaes, visit digital.dentaleconomics.com.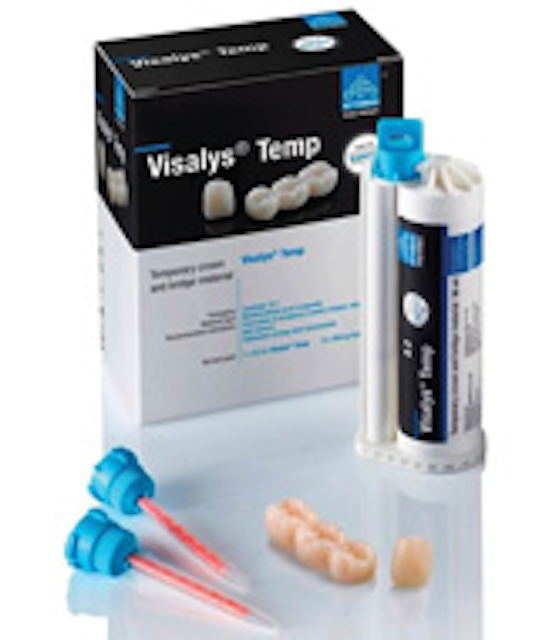 Visalys Temp by Kettenbach -- Now I know what you're thinking -- just what I need, another temporary material. Visalys Temp is impressive because it is so easy to use. It is easy to dispense and flows well into the impression, but it has enough viscosity that it is easy to control. The temporary restoration is simple to remove from the impression and you will notice that it has a minimal smear layer, which makes it easy to handle. Once set it can be trimmed precisely quickly. This temp material has a time-saving feature that you will enjoy. It has a high luster without polishing so that steps can be eliminated or greatly reduced. It is available is several shades that have fluorescence and translucency that makes this material suitable for esthetic temporary restorations and your highly demanding anterior temporary restorations. Visalys Temp is fracture resistant and stable. Visit www.kettenbach.com or call 877-532-2123 for more information. To watch this Pearl video in action by Dr. Joe Blaes, visit digital.dentaleconomics.com.

G-CEM LinkAce™ from GC America Inc -- I find that many dentists are confused about which dental cement to use when. That is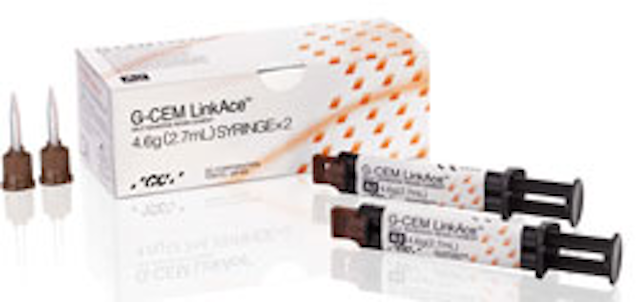 particularly evident with the many new types of materials being used to fabricate crowns, inlays, onlays, and bridges. Add this to the fact that all dentists have had some problems with crowns coming off after what they thought was successful cementation. GC America has just simplified the process with G-CEM LinkAce. It provides a high bond durability to zirconia restorations. This product shows very low water sorption and is HEMA-free, delivering exceptional color stability and making it the ideal cement selection for all-ceramic and lithium disilicate crowns. Delivered in double-barrel automix syringe, it sets with only a one- to two-second tack cure, and excess cement is easily removed. This cement is a self-adhesive resin cement ideal for cementing endo posts. G-CEM LinkAce is the cement of choice in my office for all indirect restorations. Visit www.gcamerica.com for more information. To watch this Pearl video in action by Dr. Joe Blaes, visit digital.dentaleconomics.com.

XV1 from Orascoptic -- I hope that you're using magnification whenever you're looking in the mouth. It is amazing how much you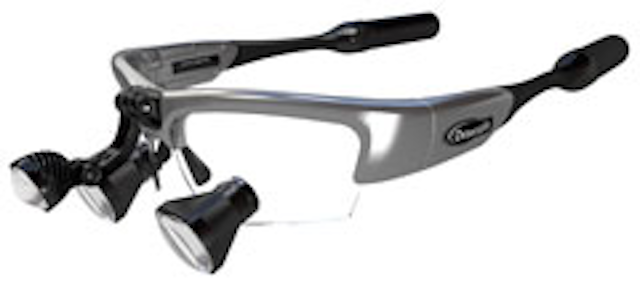 miss without it. I hope that you have also added a headlight to those loupes. Headlights become an addiction because the light is always directed where you want it. It's the world's first wireless loupe and headlight all in one with built-in battery power. The XV1's power source is housed in the temple arms, eliminating the need for a battery pack and associated wires. This power source offers six to 10 hours of run time. All the electronics are completely contained in the frame itself, making the XV1 completely cableless. Capacitive touch controls located in the temple arms are easy to use. This features Orascoptic's smallest, lightest, and fully adjustable headlight with attached orange filter for use with adhesives and composite materials. The XV1 supports all Orascoptic's HiRes and HiRes Plus telescopes. Visit www.orascoptic.com/XV1 for more information. To watch this Pearl video in action by Dr. Joe Blaes, visit digital.dentaleconomics.com.

Ti-Max Z series from NSK Dental -- I am very passionate about the production of clinical dentistry to deliver the best possible

outcome for my patients. The Ti-Max Z95L high-speed electric handpiece is one of the best ways to deliver these outcomes. This handpiece will deliver constant high torque to the diamond or burr regardless of the load. This torque allows the dentist to prepare teeth with more precision and much less noise. This product delivers speed with about 75% less noise and no vibration. It is more like milling than chopping. The electric handpiece cuts teeth in less time, and it cuts teeth more efficiently so you are able to produce dentistry with less stress for you and your patients because you will spend less time in their mouth. Your patients will notice the noise reduction and they will not miss the vibration. This will enhance the clinician concentration and the overall patient comfort. Visit www.nskdental.us for more information. To watch this Pearl video in action by Dr. Joe Blaes, visit digital.dentaleconomics.com.

Dryz™ from Parkell Inc. -- Personally, I hate packing cord. I like using a chemical retraction paste over packing cord. I think the tissue around the teeth that I'm prepping is happier because there is less damage to it. The Dryz™ product is very good when used by itself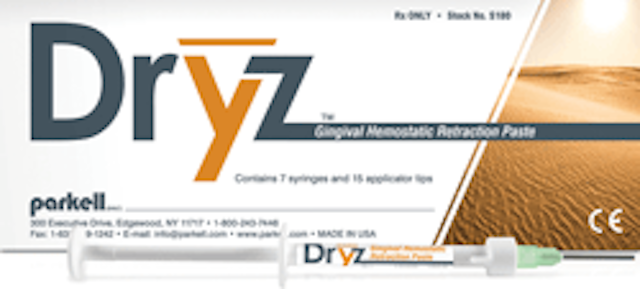 or with compression caps. I really like the consistency of the material because it stays where it's placed, but it's also easy to extrude right from the syringe. Dryz is effective at stopping gingival bleeding and seepage that may interfere with a final impression. The color of the material is light green, which contrasts nicely with tooth structure, blood, and the gingival tissue, so I can see where I've placed it. Dryz is also terrific for managing tissue when seating restorations, placing rubber dam clamps, bleaching teeth, and restoring subgingival or Class V cavities. The material quickly controls seepage so that you can do your best restorative dentistry. To order, visit www.parkell.com. To watch this Pearl video in action by Dr. Joe Blaes, visit digital.dentaleconomics.com.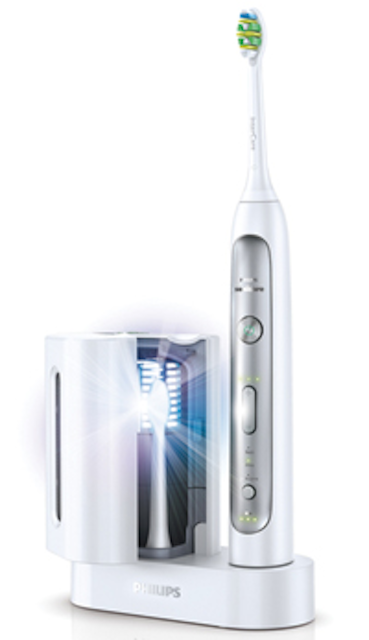 FlexCare Platinum Power Toothbrush from Philips Sonicare -- FlexCare Platinum provides more choices for a customized brushing experience with three Modes -- clean, white, and gum care, and three intensity settings -- high, medium, and low. There is a new pressure sensor built directly into the handle (no external components) that gently resonates to alert you when too much pressure is applied. This gives you interactive guidance for proper brushing technique and a more customized brushing experience, which is important since no two patients are alike. The design uses high-quality materials and finishes with a textured handle to provide stability while brushing. The new InterCare brush head has strategically placed longer bristles for an enhanced interproximal cleaning and improved plaque removal along the gumline. It is available with or without the Brush Head Sanitizer. Contact your Sonicare representative to set up a demonstration or to purchase a specially priced trial unit, or visit www.philipsoralhealthcare.com for more information.

Ceraresin Bond Porcelain & Resin Repair System from Shofu Dental -- Picture this: your assistant seats a patient who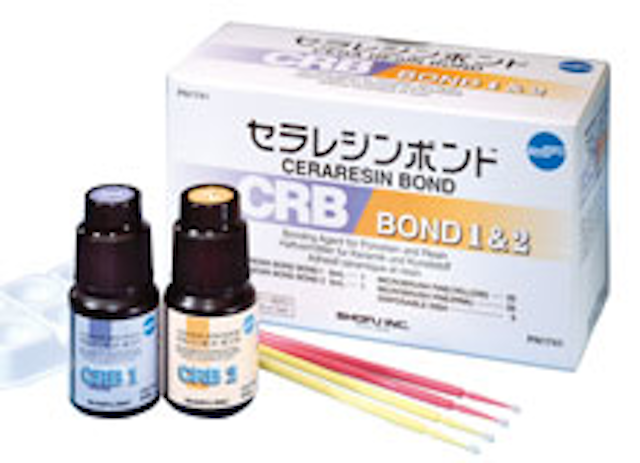 immediately points to an anterior crown that has a piece of porcelain broken off the incisal corner. In my experience, I have not had a lot of long-term success in repairing the porcelain. At that point, I remake the crown, usually at my expense. I have recently tried Ceraresin Bond in these circumstances with excellent adhesion and no loss of the repaired restoration. Ceraresin Bond can be used to modify porcelain restorations quickly and efficiently with light-curing materials. Ceraresin bonds to porcelain, ceramic, resin, acrylic, and metal (metal exposure requires ML Primer (metal/liquid primer PN 1740). It is resistant to moisture and thermal strains on the restoration. The procedure has been simplified and is quick and easy to use. It is a very stable material with a three-year shelf life. Visit www.shofu.com or call 800-827-4638 for more information.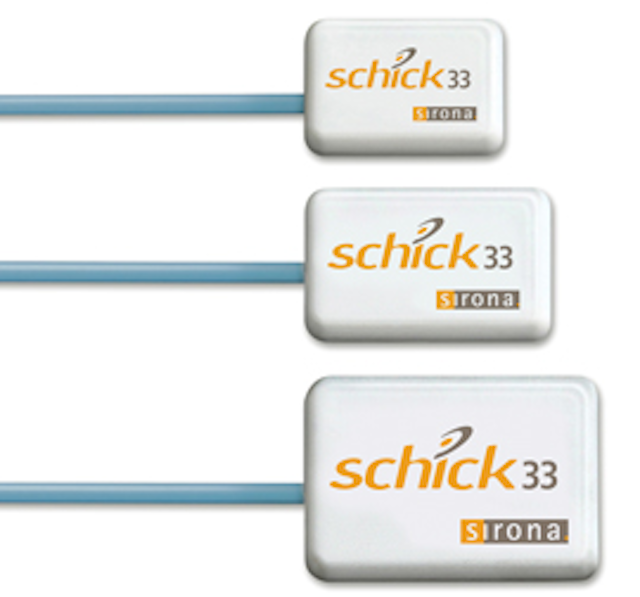 Schick 33 from Sirona Dental -- The latest addition to the industry-leading Schick Modular Platform features Schick's unique interchangeable cable technology and remote module designs. Schick 33 gives you more control over your high-quality digital images, with a dynamic image enhancer, image preference presets, and the best resolution that will raise the standard of care for every dental practice. This changes the definition of digital diagnostics. Schick 33's clinical-task-specific mapping feature allows you to quickly view images based on your particular diagnostic needs. Simply click on the preset and your images will automatically default to settings designed for general dentistry, endodontics, periodontics, or restorative dentistry. Schick 33's image enhancement software also features a dynamic image enhancer that allows you to manipulate image sharpness quickly and easily. It's a simple enhancement that gives you sophisticated diagnostic capabilities along with a level of personalization that is unprecedented. Call your local Patterson representative, your local Patterson branch, or call 800-873-7683.

VALO Cordless Broadband LED Curing Light from Ultradent Products, Inc. -- What is the right power to cure dental resins, including adhesives? Studies have shown that the VALO Cordless beam remains ideally collimated and concentrated to provide the optimal power and prevent hot and cold spots. The VALO weighs in at 6 ounces, making it easy to hold and maneuver even for big veneer cases. The custom LED pack offers multiple wavelengths that will consistently cure all materials within the 395 to 480 nm range, including camphorquinone and the entire range of proprietary photo initiators. I find that the five-degree head angle allows any dental professional to easily keep the light source parallel to the restoration, which prevents power dispersion and loss. I like the three curing modes – standard, high power, and Xtra power. The VALO is made primarily from a single piece of high-grade aluminum, which offers excellent heat dissipation and durability. Visit www.valo-led.com to learn more. To watch this Pearl video in action by Dr. Joe Blaes, visit digital.dentaleconomics.com.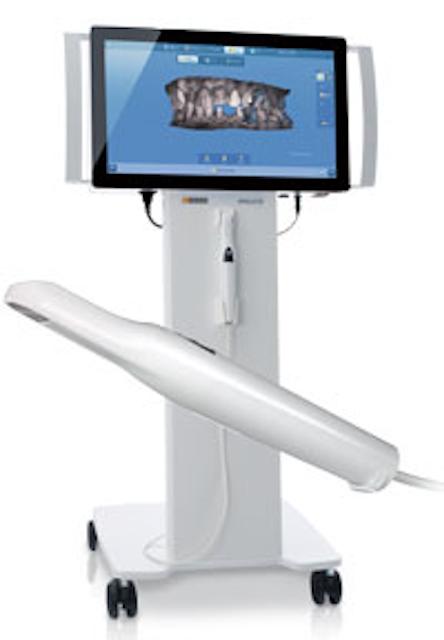 Apollo DI from Sirona Dental -- CAD/CAM technology enables patients to have a more comfortable experience. Sirona now has a complete range of systems that allow for digital impressioning. Now you can start at whatever level you are comfortable with. If you want to maintain your relationship with you dental laboratory technician, then you can start out with the Apollo DI, the specially developed intraoral scanner of cost efficient digital impressions. The quality of the digital impression has a decisive impact on the restoration outcome. Apollo DI delivers precise images and an unprecedented degree of measurement precision. Digital impressions significantly reduce your input of time and effort. Only a few seconds are required in order to capture the preparation, the adjacent teeth, and the antagonists. Prepare, capture, send – digital impression-taking is simple and easy to integrate into your practice workflow. The design and fabrication of the restoration are performed by the dental lab of your choice. Visit www.sironausa.com for more information. To watch this Pearl video in action by Dr. Joe Blaes, visit digital.dentaleconomics.com.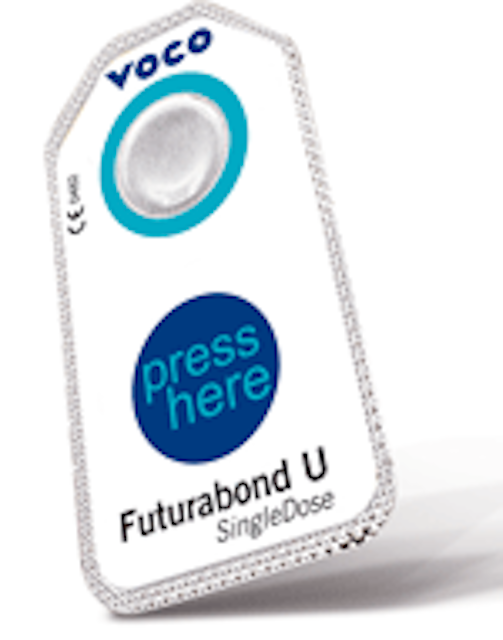 Futurabond® U: Dual-cure Universal Adhesive from VOCO -- I have always believed that the best way to dispense any adhesive was in a single dose unit. Every time you squeeze a drop of adhesive from a bottle, you introduce air into the bottle and evaporate some of the solvent. Futurabond U has two main advantages. First it has universal indications for all adhesive procedures without the need of any additional activators. Second is Futurabond U's ability to prevent solvent evaporation by packaging the adhesive in a unit dose delivery system. This ensures reliable and predictable results with each application so that the first bond will be as good as the last bond out of the box. This product's versatility allows it to be used in self-, selective-, or total-etch mode without any additional primers or activators on virtually all substrates. This is truly a faster, better, easier adhesive that is less expensive to use. Visit www.vocoamerica.com for more information. To watch this Pearl video in action by Dr. Joe Blaes, visit digital.dentaleconomics.com.

More DE Articles
Past DE Issues