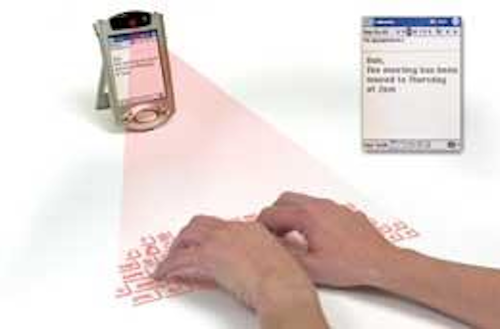 Paul Feuerstein, DMD
Computers in treatment rooms are more prevalent than ever. One overlooked area is data input. The care provider or assistant has the task of entering information into the digital chart, making appointments, and, in some situations, taking payments. The most common data input devices are the keyboard and mouse. However, disinfection and cross contamination are legitimate concerns. How many times will you have to take off or change gloves during an appointment? How do you disinfect a mouse or keyboard? Covers are available as well as stick-on barriers, but they are difficult to manipulate and can get in the way. Wireless keyboards can be wrapped in a thin plastic bag made of the sort of material that a dry cleaner uses.
One helpful product has the distinctive name The Virtually Indestructible Keyboard (grandtec.com), which is a flexible, sealed unit. It can be washed, rinsed, sprayed, and can even be rolled up like a jelly roll when not in use. They are USB connected, come in designer colors, and cost less than $30.
Touch screens have been around for a while and are becoming more common. The glass screens can be wiped down easily; newer models can be used even with gloved hands. The better monitors come sealed and are "medical grade;" they are commonly used in installations by companies such as CIEOS.com. Many practice-management systems have touch screen input as an option, as do patient education systems such as CAESY and SmilePad (patientcaresuite.com).
A newer concept is the tablet computer, which can function either as a touch screens or accept notes written with a stylus. Some of the "smart" software can recognize handwriting and convert it to printed text. Claude Berthoin, founder of Digital Dental Solutions (formerly Video Dental) believes this is the future. He has developed an entire hardware-software system based on tablet-type computers called DOT (Digital Operatory Tablets), which are all integrated wirelessly. Berthoin has been a fixture in the dental high-tech arena for years. His company had one of the first intraoral cameras available and now offers new models as well as repair services for obsolete models, along with some innovative new products. Berthoin has been one of my technical resources over the years, and you may pick his brain at most major dental meetings as well as online. His Web site is www.videodental.com.
Digital radiography systems by Lightyear and Dexis also use tablet computers as an "all-in-one" solution. These systems also use a touch screen or a stylus. The added feature allows the office to go digital immediately without putting computers in the treatment areas as the entire system moves from room to room. All of these portable units accept input from keyboards, mice, and other input devices if desired.
Voice recognition is now better than ever thanks to faster processors and larger memory availability, but it is still not perfect. There is a fair amount of editing that is necessary after the notes are dictated. Some systems allow predetermined "macros," which solve some of the syntax problems. I have personally found that charting is very accurate after the system is trained, as letters and numbers and the limited vocabulary are easy for the system to recognize.
What is in the future? Canesta Corp. has come up with an amazing possibility — a projectable keyboard. The device uses a tiny laser "pattern projector" to project the image of a full-sized keyboard onto a flat surface, which can be easily cleaned. The user can then type on this image, and Canesta's electronic perception technology will instantly resolve the user's finger movements into ordinary serial keystroke data. More information is available at www.canesta.com.
This is all part of the search for the "holy grail" which in this case is the chartless office. Several other solutions that clever offices have come up with and perhaps we can report on some of these in the future. Maybe someone will come up with an outside-the-box solution. The manufacturers and I are listening.
Dr. Paul Feuerstein installed one of dentistry's first computers in 1978. For more than 20 years, he has taught courses on technology throughout the country. He is a mainstay at technology sessions, including annual appearances at the Yankee.Dental Congress, and he is an ADA Seminar series speaker. A general practitioner in North Billerica, Mass., since 1973, Dr. Feuerstein maintains a Web site (www.com putersindentistry.com) and may be reached by email at drpaul@computersindentistry.com.
---
NEW TECH
Wingers Digital X-ray positioners — This unique system uses a combination of disposable and reusable components, similar in concept to those used for standard radiographs. They can be adapted to almost all digital X-ray sensors. Their newest product, Wing-A-Ray, gives another type of positioning for those who do not use aiming rings. Information is at www.steri-shield.com
i-Cat 3-D Radiographic Imaging — Imaging Sciences has introduced compact cone beam computed tomography, which allows a three-dimensional analysis of bone structure and tooth orientation. This is helpful in implant planning as well as developmental or TMJ diagnosis. The 40-second scan is done with a unit resembling a pan/ceph unit and can provide cross sections of any location in the maxilla or mandible. Information is at www.imagingsciences.com
Clear Match Shade Matching software —
This software allows the dentist to use a digital photo to transmit tooth shade information to a laboratory. The software corrects discrepancies that are found using varying monitors and printers. The unique pricing (beginning at $495 plus $175 training) makes this a competitive product. More information from (877) 202-4643, or www.smart-technology.net
Ergonom-X Self Developing X-ray film.
The system is an X-ray film in a sealed pouch that contains chemistry to develop it. If your digital system or automatic processor goes down, this product allows you to continue working. After the film is taken, the pouch is manipulated for 50 seconds, peeled open, and the developed radiograph is ready for viewing. Information is at Cramer Dental Sales, Inc. (800) 723-4895.
Correction:
Venga intra-office paging software was featured in last month's "New.Tech." Their correct Web address is www.venga.info.