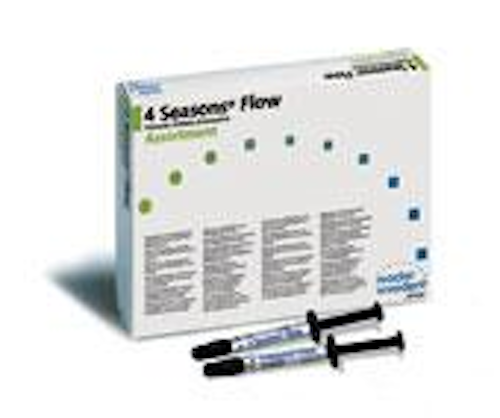 Joe Blaes, DDS
4 Seasons® Flow by Ivoclar Vivadent — This flowable resin material is matched to the shades of 4 Seasons universal composite. It is quickly and easily polished because of its fine particle chemistry. 4 Seasons Flow is easily identified on X-rays due to its high radiopacity.
These features make 4 Seasons Flow a good choice for Class V restorations, small posterior restorations, micro preparations, lining tooth restorations, or preventive resin restorations. The syringe delivery system with small tips allows you to place the material precisely where you want it. Great shade-matching colors and easy handling make this a good addition to your line of composites. Order from your dealer or visit www.ivoclarvivadent.us.com for more information.
Ergovision™ Magnification from SurgiTel — I have been wearing loupes in my practice since 1972. Dr. Omer Reed recommended magnification in one of his courses, and I contacted my Designs for Vision salesman when I returned to the office. It took a couple of weeks to get used to them, but I have been wearing them ever since. My patients have become so accustomed to seeing me wear loupes that they remind me when I've forgotten them. They don't want me cutting on their teeth without magnification.
I've had a number of loupes from different manufacturers over the years. A couple of years ago, I met Dr. B. J. Chang from SurgiTel, and he began his quest to have me try his loupes. His main claim was that his loupes could eliminate neck pain by putting me in the correct position. Finally, I gave in and got loupes from Dr. Chang. Wow! What a difference. I sit straight with my head and neck in alignment. I feel less stress and strain during the day, and my posture is great. Recently, I heard a lecture by an industry ergonomic expert (new to dental) who was addressing dental sales people. He described the best way for dentists to see a patient's teeth, and his information was identical to what Dr. Chang has been telling me for the past two or three years.
Now, both my body and an outside source have confirmed I am in the right position. Ergonomists with insurance companies report many dentists who have been using through-the-lens loupes for years have neck injuries because the declination angle of traditional, through-the-lens-loupes is small. To create larger declination angles for through-the-lens loupes, Surgitel invented the ErgoVision TTL loupes that offer larger declination angles of more than 15 degrees. The ergonomically optimum declination angle depends on the user's physical features, working habits, and procedures.
I know this all sounds really involved and technical, but please — do yourself and your body a favor by stopping by the SurgiTel booth at the next meeting you attend, or calling one of their technical sales reps at (800) 959-0153. Visit their Web site at www.surgitel.com for more information.
BriteSmile To Go — This is a new tooth-whitening product that is designed to allow patients to apply it to their teeth easily and inconspicuously. The applicator looks like a ballpoint pen, but when you remove the cap, there is a brush tip rather than a writing tip. Click the button on the other end until a small droplet appears. You can now apply a proprietary whitening formula that will quickly dry on the surface of the tooth. The time-release formula will whiten the teeth. Have the patient rinse with water before applying BriteSmile To Go to the teeth. Contact BriteSmile at www.britesmile.com for more information.
Status Blue in a Bucket by Zenith/DMG — Now you can buy an alginate alternative in an alginate can. Status Blue now comes in cartridges that will fit your existing guns. In a clever marketing/packaging move, Zenith is packing the cartridges in an alginate can along with the mixing tips. Status Blue is an efficient, clean, and stable alginate alternative. It captures great impression detail, sets quickly, and provides complete dimensional stability so you can pour impressions right away and repour as needed. Order from your dealer or visit www.zenithdmg.com
Something new by Scientific Intake — If my sixth sense is right, something big is in the air. How often do we see something truly new in our field? Something that is backed by quality science and clinical research? Would you like to have something that could help your patients overcome today's number-one epidemic — being overweight? Five years ago, a couple concluded that the oral cavity plays a key role in fighting this epidemic. They took their idea, created a prototype, and it worked. Three years ago, Scientific Intake was born to pursue the idea. Leading behavioral scientists embraced the idea. Clinical trials conducted at the foremost academic research center in the field of overeating and obesity verified dramatic results. Further research was conducted in the field on real people and in real dental practices. Patient acceptance and dental office satisfaction were both extremely high. This does not have anything to do with selling pills or chemicals. You will be amazed that you did not think of this yourself. As you read this, 56 Scientific Intake representatives are meeting with dentists nationwide to explain this new innovative opportunity. If you have already met with them, you have a sense for the significance this new modality has for our profession, your practice, and the overall health of your patients. If you have not seen what Scientific Intake is doing, it is worth 45 minutes of your time to find out. Their patent protected invention will impact dentistry in a huge way for a long time to come. I have seen what they are doing and I am going to offer it in my practice. For more information, call (877) 264-2345.