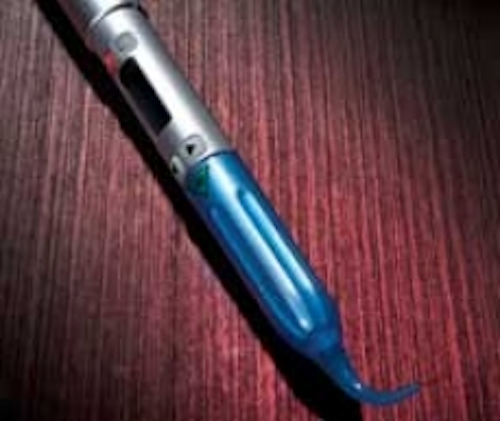 Michael DiTolla, DDS, FAGD
For more on this topic, go to www.dentaleconomics.com and search using the following key words: convenience, shade guide, cordless, restorataive dentistry, Dr. Michael DiTolla.
NV MicroLaserTM from Discus Dental(www.discusdental.com)
I am happy to report that yet another one of my favorite products has gone cordless. To me, cordless is about more than convenience. Many times it determines whether a dentist uses the technology or lets the technology collect dust, especially when it comes to using cordless in multiple operatories. The NV MicroLaserTM, manufactured by Zap Lasers and distributed by Discus Dental, is small when compared to my old diode laser. That laser is the size of a shoebox. The NV MicroLaser weighs only 1.9 ounces and measures just 0.6 inches in the section where you hold it. Even better, with the introduction of disposable cutting fibers that snap onto the laser body, the NV MicroLaserTM has eliminated the need for a fiber-management system. With presets for common laser procedures and a look and feel that would make Apple's Steve Jobs jealous, this product seems to be the prototype for diodes to come.
Occlusal Reduction Rings(www.clinicianschoice.com)
As many of you probably know, I am a big fan of depth cut-based preparation techniques. In my opinion, they are a foolproof way of ensuring you get adequate reduction and a functional and esthetic restoration. Some dentists are too set in their ways to consider trying a new prep technique. But the fact remains that the majority of posterior crown preps received at labs are under-reduced. Enter Occlusal Reduction Rings. Unless your patients have translucent cheeks, checking occlusal reduction on a molar visually is substandard. But with a 1.5-mm or 2-mm reduction ring, you can watch the ring slide between teeth to indicate if you have enough reduction on the lingual cusp of that upper first molar. The best news? There are no more calls from technical advisors asking you to reprep and reimpress.
VITA Linearguide 3D-Master from Vident(www.vident.com)
Dentists seem to be in love with the VITA Classical Shade Guide, not that it is necessarily their fault. The VITA Classical is the shade guide that dentists have used since Day 1, except for a few of us who remember the Bioform shade guide that was a mile long. Despite VITA developing better shade guides, such as the Linearguide 3D-Master, dentists still want to stay with the familiar. This is true, even if it might be more difficult to use. This product makes accurate shade taking simple, with two quick steps that are faster for me than the VITA Classical system. First, grab the portion with the six tabs and determine the nearest value to the tooth to be matched. This is straightforward and difficult to get wrong. If the value number happens to be 3, then take out set 3 of the hue/chroma tabs and pick the one that is the closest match. In the laboratory, I can tell you that most of the missed shades are due to incorrect values. The Linearguide 3D-Master is a big step in the right direction for correcting this problem.
Dr. Michael DiTolla is the Director of Clinical Research and Education at Glidewell Laboratories in Newport Beach, Calif. He lectures nationwide on both restorative and cosmetic dentistry. Dr. DiTolla has several free clinical programs available online or on DVD at www.glidewelldental.com.
More DE Articles