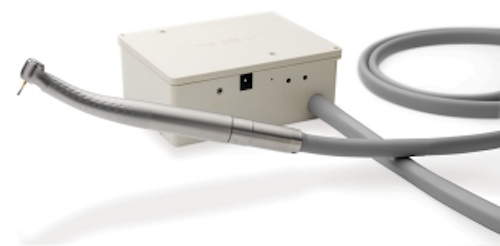 Joe Blaes, DDS
---
STYLUS™ ATC from Midwest®
- With a traditional air-driven handpiece, I usually revved up the handpiece before I touched the tooth because I knew that it would stall. Then I would have to use a feather technique in order to cut the teeth. Cut a little, blow a little, look a little. Eventually, I switched to an electric handpiece so that I would have constant torque as I was cutting teeth. To be honest, I was reluctant to try the Stylus™ ATC handpiece from Midwest® simply because I thought it was just another air-driven handpiece. Recently, I saw a patient for a complete mouth reconstruction, and in two days I prepped 29 teeth. During this procedure, I used my electric handpiece and the new Stylus™ ATC. I am really not sure how the company did this, but the Stylus™ ATC maintained torque at all times. I was particularly impressed by the constant speed that was maintained while the bur was under load. I will let the experts at Midwest® tell you how this happens. While prepping the 29 teeth, I was removing many old dentistry crowns, amalgams, and decay. You name it, and somewhere it was among the 29 teeth.
STYLUS™ ATC from Midwest®
This handpiece delivers smooth, consistent power and control for cutting efficiency and faster removal of whatever kind of material you are trying to cut. The Stylus™ ATC automatically optimizes power to virtually eliminate stalling and the need to make frequent adjustments. It also adjusts the speed when the bur is not under load. This minimizes wear on handpiece parts. This is the most powerful air-driven handpiece that I have ever used, and it is a dream to work with. I really never thought I would say this about an air-driven handpiece. The Stylus™ ATC from Midwest® features an advanced suspension system that allows the handpiece to operate at speeds of 330,000 RPM without noticeable bur deflection and chattering for better control and precision. This gives you smooth, precise control for margin refinement and restorative procedures. The Stylus™ ATC features a user-friendly design that is significantly lighter than electric handpieces. It has great rotation capabilities for freedom of movement, and with the midsize head I used, it has great visibility. The Stylus™ ATC handpiece from Midwest® has won rave reviews from everyone who has tried it. I urge you to contact the company to arrange for an in-office demonstration that will allow you to try out the unit for a few days to evaluate its strengths in the comfort of your operatory. When Midwest® comes to pick it up, I can almost guarantee that you will not want to give it up. To view actual clinical demonstrations, laboratory test comparisons, and testimonials from fellow clinicians, visit www.StylusATC.com.
---
Smartburs II from SS White
- This is a relaunch of a bur I think was one of the smartest ideas ever to come out of the world of burs. Imagine a bur that will only cut decay in a tooth. You heard me right. It will only cut decay. When the bur reaches sound dentin, it stops cutting. The problem with this bur when it was originally launched was that it had to run very slowly or the cutting blades would strip off. These speeds were so slow that you needed to buy special equipment for them to work. A number of dentists bought the burs but did not reorder them. Now, after years of research and trial and error by SS White, Smartburs II is back. These burs are designed to work with your regular slow-speed handpieces. Many times when I am excavating decay, I know that I am close to the pulp chamber and I usually stop drilling and pick up a spoon excavator to finish the procedure.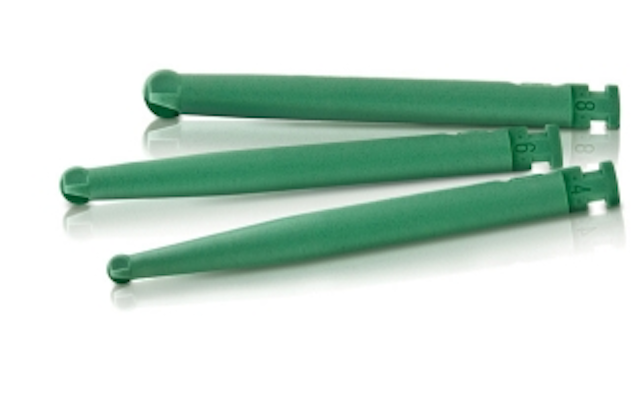 Smartburs II from SS White
This can be a time-consuming procedure. But carbide burs indiscriminately cut decay and healthy tooth structure and can lead to unintentional pulp exposure. Smartburs II is hard enough to cut only decayed dentin that guards against any unintentional pulp exposures. University studies show that this product is the instrument of choice to remove decay in deep lesions and guard against unintentional pulp exposure. The burs are also ideally suited for decay removal in patients who are needle-phobic or prefer no local anesthesia. I think this product is essential when removing deep decay because the burs preserve the healthy dentin that will reduce postoperative sensitivity. A quote from Daniel W. Boston, DMD, associate dean for clinical comprehensive care, Temple University Kornberg School of Dentistry, best describes the use of this product: "Smartburs II provides a conservative endpoint during excavation of infected carious dentin. Underlying and potentially protective caries-affected dentin is thus preserved. Smartburs II relies on dentin hardness to provide a scientifically based endpoint, and not staining, which can be variable or absent, and not a true indicator of remaining carious dentin." Order from your dealer or go to www.sswhiteburs.com for more information.
---
Pearl UPDATE: Isolite Dryfield Illuminator from Isolite Systems
- The Isolite Dryfield Illuminator is an innovative dental isolation tool that combines the functions of light, suction, and retraction into a single device that solves many of the frustrations dental professionals deal with daily. Isolite generally holds the patient's mouth open, keeps the tongue out of the working field, and guards the patient airway - all while continuously evacuating saliva and excess moisture. The super soft mouthpiece used with the device makes for a more comfortable experience for the patient, and allows dental professionals to complete procedures - on an average - 30% faster. The LED Smart Stick is a key component of the Isolite system and hosts the system's light source, cooling technology, and illumination settings. In addition to boosting the LED Smart Stick's light output by 100%, the engineering team at Isolite Systems made improvements to the structure and strength of the polycarbonate lens, improved the self-regulating cooling technology, and made the electronic component almost completely resistant to water and spray.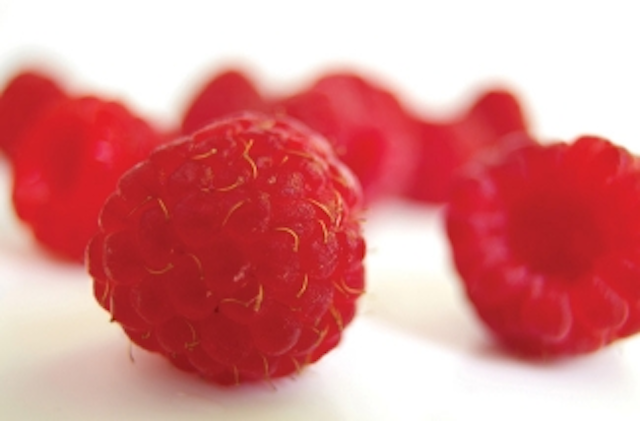 Pearl UPDATE: Isolite Dryfield Illuminator from Isolite Systems
The LED Smart Stick is a complete lighting system that comes in a sleek small package that is about the size of a computer flash drive. A single button controls five light intensity settings, including a "Cure-safe" setting for working with light-sensitive dental materials. This is a must-have system that can change your life and your assistant's life in the dental treatment room. Dentists, dental assistants, and hygienists at dental practices and clinics throughout North America are making their practices more productive and profitable by using Isolite Systems products while improving patient comfort and safety. For more information about Isolite Systems and its products, including clinical videos, visit www.isolitesystems.com or phone (805) 560-9888.
---
Estelite® Flow Quick (Medium Flow) and Estelite® Flow Quick (High Flow) from Tokuyama Dental
- These are universal supra nano-filled resin composites that offer a choice of two optimal flowabilities, superior esthetics, ideal handling, and excellent gloss and polishability - all in one system. Building on the proven success of the spherical filler and the patented Radical Amplified Photopolymerization initiator technology (RAP technology), Estelite® Flow Quick and Estelite® Flow Quick HF provide an extended working time and quicker curing time. These flowable composites offer superior mechanical strengths and very low shrinkage. Both have excellent handling and stay right where you place them without a pull-back problem.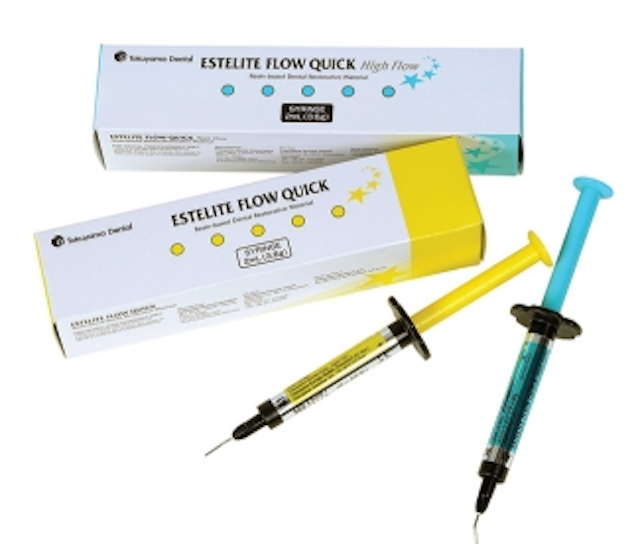 Estelite® Flow Quick (Medium Flow) and Estelite® Flow Quick (High Flow) from Tokuyama Dental
They have an easy-to-see radiopacity so they will not be mistaken for decay. They exhibit outstanding esthetics with great polishability and exceptional surface gloss. Flow Quick and Flow Quick HF are indicated for direct anterior and posterior restorations (particularly for small, shallow, and tunnel-shaped preps). Use these flowable composites for cavity lining, blocking out cavity undercuts before fabrication of indirect restorations, and repair of porcelain and composite. Order from your dealer or visit www.tokuyama-us.com for more information.
---
Racegel from Septodont
- If you are looking for fast and easy access to cervical margins, you need to evaluate this product. Racegel is a new thermodynamic, hemostatic material. It is easy to place and is atraumatic to the gingival tissue. Due to its unique thermal effect, Racegel works most efficiently in conjunction with the single cord technique. The oral temperature stiffens the material so it won't drip or run; it stays where you place it.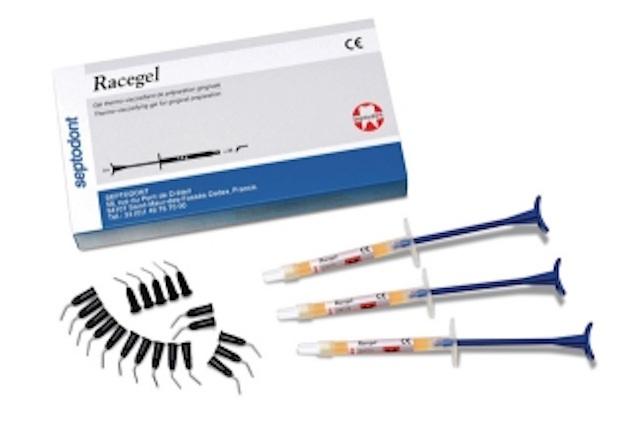 Racegel from Septodont
The bright orange color is easy to see and rinses away easily with water. Within minutes, the cervical margins are ideally exposed. Racegel controls bleeding to create ideal conditions for precise impressions. This product contains 25% aluminum chloride that is clinically proven for its astringent properties. Racegel ensures tissue deflection and eliminates the need for additional hemostatic products. It is used for any procedure that requires gingival retraction, including impressions, seating restorations, and class II, III, and V restorations. Racegel is conveniently packaged in a syringe with a pre-bent tip to better control the placement of the material, even in hard-to-reach areas. Any time you want to stop bleeding, use Racegel. Order Racegel from your dental dealer or visit septodontusa.com for more information.
---
Pearl UPDATE: MI Paste Plus™ from GC America
- Most of the advertising for this great product has been directed at hygienists, so you may not have heard about it. MI Paste™ was first introduced by GC in 2003. This is the first product for professional use to contain Recaldent™ (CPP-ACP), which is a special milk-derived protein that can help provide important minerals such as calcium and phosphate that are required for healthy teeth. MI Paste Plus™ (introduced in 2007) adds fluoride to that mix to give the correct bio available ratio of 5:3:1 (calcium, phosphate, and fluoride) for enamel strengthening. I have been using MI Paste™ and now MI Paste Plus™ since introduction. I have found it to be great for hypersensitivity after bleaching or even better during the bleaching process because then patients never experience sensitivity.
| | |
| --- | --- |
| | Pearl UPDATE: MI Paste Plus™ from GC America |
The hygienist often has patients use it for sensitive dentin in gingival erosion areas. Are you looking for something for those white spots on anterior teeth or the decalcification spots after orthodontics? MI Paste Plus™ will recalcify and strengthen the enamel in these areas. There are 45 clinical and in situ trials and more than 100 publications that substantiate the benefits of Recaldent™ (CPP-ACP). MI Paste Plus™ is a great adjunct to minimum intervention dentistry methods that emphasize identification and prevention because it helps to treat so many indications. GC America provides many promotional materials to help explain the benefits of treatment to patients. They are all a valuable way to begin discussing treatment and how MI Paste Plus™ can improve patients' oral health and how it can help them to develop stronger, healthier teeth. Order from your dealer or make a visit to www.gcamerica.com for more information.
---
Sonic Tips from KOMET
- I think that the most critical part of any tooth preparation is the finish line of the margin. Many times when using rotary instruments to place this margin, the gingival tissues are cut or torn. This causes bleeding and makes it harder to successfully place this margin where it should be. I have found a new instrument from KOMET that is a solution to this problem. With all of our restorations, we strive for an exact marginal seal that will provide long-term success of the restoration and a clinically perfect result. The KOMET SF1LM is an innovative sonic handpiece that assists the user in prepping the tooth for the critical gingival margin.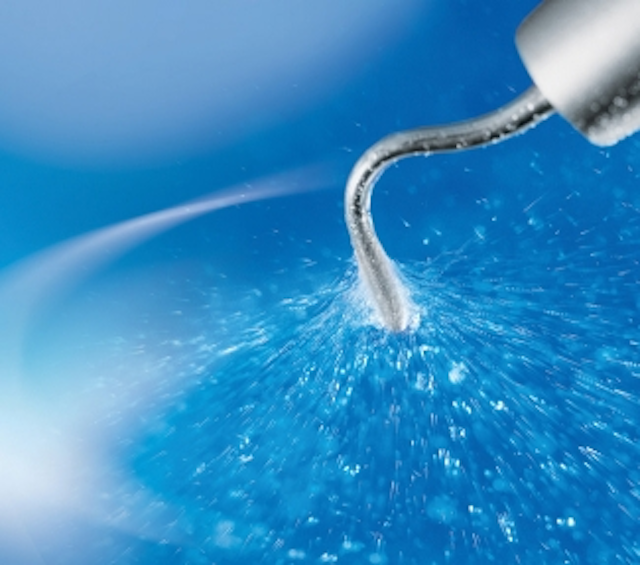 Sonic Tips from KOMET
The SF1LM attaches to the KaVo MULTIflex connector to provide air to power for the oscillation generation. The sonic handpiece is lightweight, making the tips easy to control. The dentist can choose from three different shapes of the Sonic Tips: a round end taper, a tapered flat end, and a flame. These Sonic Tips are designed to place the finished margin that has been partially created by rotary diamonds. These sonic instruments provide for exact positioning and finishing of critical restorative margins. They achieve excellent finishing results and leave the gingival tissue completely unharmed, even if a direct contact occurs. The sonic handpiece has a built-in halogen light and comes with three different power settings and works at a frequency of 6 kHz. A sonically placed and finished restorative margin makes producing an exact impression very easy. Additionally this makes the lab technician's job much easier by being able to produce a finished restoration that will have an exceptional fit. If you have been looking for an instrument to produce that perfect margin, I think I have found it. Visit www.komet-usa.com for more information.
---
Composite Restorations: Subtleties in Shade and Technique from IneedCE.com
- Be sure to read this very well done course on how our use of dental anatomy on anterior and posterior teeth can have a positive or negative influence on the esthetics of the tooth. This CE course is included in this issue of
Dental Economics®
.
| | |
| --- | --- |
| | Composite Restorations: Subtleties in Shade and Technique from IneedCE.com |
The abstract of this course is included for your information. The esthetics, strength, and longevity of composite restorations are prime considerations for clinicians and patients. In order to select a composite shade and chairside technique, an understanding of the influence of dental anatomy and light on color and shade is necessary, as is knowledge of the desired physical attributes and technique options available. Current composites offer reliable esthetic solutions, improved physical attributes, and simplified solutions. Visit IneedCE.com for more information and CE credits.
---
To have Dr. Joe Blaes present his lecture, "Pearls For Your Practice®," for your study group or dental society, please call (866) 274-4500.