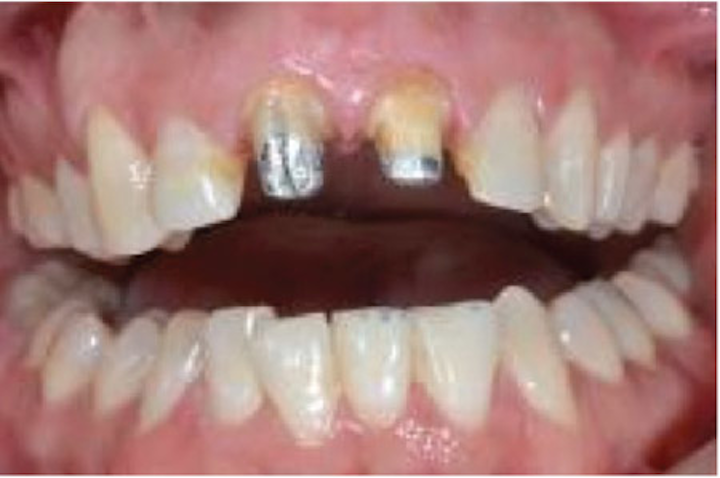 An option for patients "turned off" by traditional methods
Jason H. Goodchild, DMD
Sometimes you never learn why patients decide not to follow through with treatment recommendations. As clinicians, we assume it is because of finances, a busy schedule, fear of the drill, fear of the needle, or the dental team not properly educating patients and building value. In the case presented here, it was none of the above. It was only because the patient was the boyfriend of my hygienist that I learned "impression phobia" was the major reason he continuously avoided treatment.
My patient's name is Sean. Between having braces as a child and sports accidents that necessitated crowns on his maxillary central incisors, he had suffered through too many uncomfortable dental impressions. So when I recommended two new crowns on teeth Nos. 8 and 9, he balked (figure 1). In his own words, "I was not looking forward to getting impressions. In fact, it was my biggest source of anxiety. When I was much younger and getting braces, taking impressions was a horrible experience. They put so much in your mouth that I was always gagging."
Wouldn't it be nice to be able to have greater control of how much impression material you use and where it flows?
After discussing the entire procedure with Sean, I decided that the Aquasil Ultra Cordless Tissue Managing Impression System (Dentsply Caulk) was the ideal tool to capture his final impression. It allows precise delivery of Aquasil impression material through an ultrafine tip, which ensures that I capture the needed preparation details without excess material in unwanted areas. The Aquasil Ultra Cordless Tissue Managing Impressions system is made up of three parts: the "digit power" dispenser for placement of wash impression material, a regulator that connects to an air line at the dental chair via commonly available connectors, and a specially formulated tray and wash Aquasil impression material.
Instead of loading a backfill syringe or squeezing the 50 mL impression gun, I can hold this system's dispenser in a pen-style grip and step on the rheostat to start the flow of wash material. The small diameter intraoral tip on the impression cartridge lets me passively place the wash material around a prepared tooth or implant component. Best of all, this impression material and dispenser minimizes or eliminates the need for retraction cords and pastes. Sean and I discussed which impression tray would be most comfortable and then practiced placing it in his mouth a few times.
After taking the impression, Sean's feedback was as I'd hoped: "This impression was a lot nicer. It seemed like a lot less material was used because there was no runny excess. It also felt like it took less time. I think it was only in my mouth for a few minutes, and I was pretty happy with it."
Figure 1: Pre-operative view of Sean's maxillary central incisors after his old crowns were removed and preparations refined
I thought our first impression was perfect and I was able to avoid putting Sean through it again. With impression in-hand, I fabricated and cemented provisional crowns and Sean left for the day (figure 2). About three weeks later he returned for the final delivery, and I was pleasantly surprised by two things. First, although we had overcome Sean's anxiety of impression-making on the first appointment, I was nervous about having to make another one if the crowns did not fit. I needn't have worried-the crowns fit exquisitely and looked great. Second, I was extremely impressed with Sean's glowing feedback.
Figure 2: Final impression recorded with the Aquasil Ultra Cordless Tissue Managing Impressions System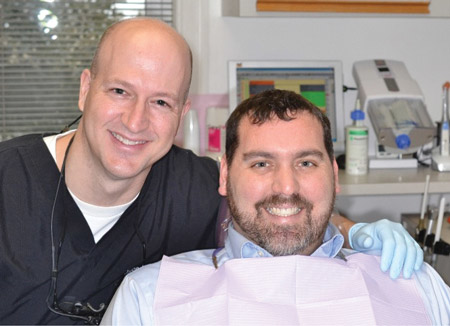 Sean and Dr. Goodchild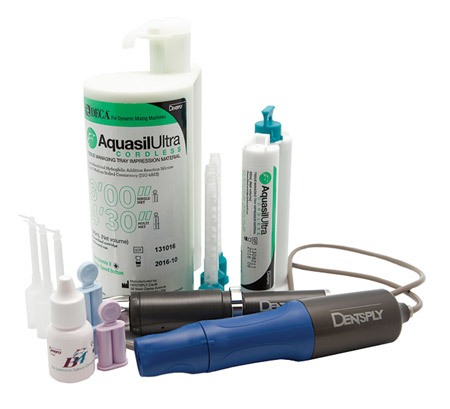 The Aquasil Ultra Cordless Tissue Managing Impression System consisting of digit power impression cartridges, the digit power dispenser, and the tray material in 50 mL and 330 mL cartridges.
"I'm very pleased with the entire process," he said. "I was expecting the impression visit to last at least an hour, but I was done in around 30 minutes, and that really made a big difference."
Sean continued, "The comfort of the impression was a lot better than I'd ever experienced. We were able to get an impression on the first try . . . that didn't goop all the way back in my mouth, so I didn't have that gagging feeling. It was a lot better than I expected. I gag pretty easily, but this stuff didn't do it at all."
I get excited about the fit of crown margins, but patients care a lot more about how we make them feel while they're in the chair. I challenge you to reevaluate your impression system to see if it delivers
---
Jason H. Goodchild, DMD, received his dental training at the University of Pennsylvania School of Dental Medicine, where he holds a faculty position as a clinical associate professor in the Department of Oral Medicine. Dr. Goodchild is a research dentist at Dentsply Caulk and involved in educating dentists on new materials and techniques to improve clinical practice. He has published numerous articles and lectures on a variety of topics, including treatment planning, treatment of medical complex patients, restorative dentistry, pharmacology, and emergency medicine in dentistry.