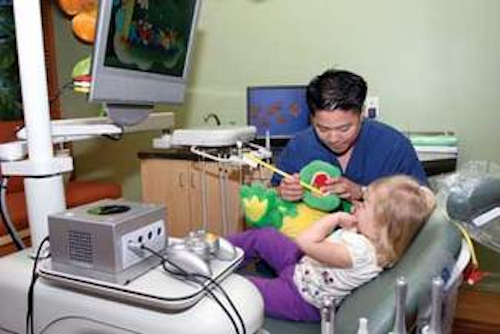 Partners collaborate to design "kid-friendly" dental facility that helps to promote their shared philosophy of "growing healthy smiles" through early prevention.
After working together in a pediatric dental office for just more than a year, Drs. Kevin Hszieh and Richard Lee knew that they were destined to practice together as partners.
Besides sharing many of the same interests outside the office, each had similar philosophies regarding the type of pediatric dental treatment they preferred.
So, when the two sat down to create the "ideal practice," it was no surprise that one theme prevailed throughout the planning stages.
The facility had to be one that would be all about kids.
In May 2005, Hszieh and Lee unveiled the culmination of their collective planning efforts with the opening of Ladera Ranch Pediatric Dentistry.
Nestled in a rapidly growing master-planned community with the same name in Orange County, California, Ladera Ranch Pediatric Dentistry is a 1,700-square-foot, six-operatory facility that is unquestionably "kid-friendly."
From the saltwater aquarium to murals on the walls depicting jungle and ocean themes, to a game room, to its signature banyan tree, Ladera Ranch touts features that are specifically geared for children.
"We wanted to create a 'fun' office," said Dr. Hszieh, who graduated in 1998 from Loma Linda University School of Dentistry in Loma Linda, Calif.
"We wanted the practice to be a place where children could come, be excited while they are here, and then stay after their appointment."
To that end, Ladera Ranch has eight Xbox and Sony PlayStations, which feature the latest in video games. In addition, six DVD players are available so that children can watch any of a number of movies before, during, or after scheduled appointment times.
"We're big kids, too," said Dr. Lee, who earned his DMD in 1996 from Tufts University School of Dental Medicine in Boston.
"We joke that we bought the video games and movies for Dr. Kevin and me," he added.
Dr. Lee, who is on the medical staff at Children's Hospital of Orange County and is dental director of the Children's Dental Surgery Center, talks about the response children have had to the 10-month-old facility.
"Parents tell us how much their kids look forward to their dental appointment and even brag about our office to their friends and neighbors," he said. "When you hear comments like that, it makes all the difference in the world.
"I do think we have our dream practice."
The office is a reflection of the common interests shared by Drs. Hszieh and Lee since the two first met while staff members at a pediatric dental office in San Diego, Calif.
Outside the office each enjoys sports, traveling, and cooking. Both also admit to being "tech geeks." Inside the office, the two are known to be soft-spoken and easy-going while advocating a philosophy of prevention through conservative treatment.
With so much in common, the duo quickly recognized that a partnership was inevitable.
"From his personality, I knew from the beginning that he (Dr. Lee) would be the type of partner I would look for," said Dr. Hszieh, who is an assistant professor of dentistry at his alma mater as well as the dental director for Healthy Smiles for Kids of Orange County.
"I knew that, if there was any person who I would partner with, it would be him. We have the same goals and philosophies. That is why we work so well together."
Dr. Lee echoes his partner's comments.
"For a successful partnership, you must have similar philosophies. We are both very much alike in how we treat kids," he said.
Once the two decided to form a partnership and create a facility, they needed to find a location for their practice.
In 2001, Dr. Lee and his family moved to the bustling community of Ladera Ranch. For the past four years, Dr. Lee watched as the community grew to some 5,000 households in the three- to four-square-mile region that Ladera Ranch encompasses.
With schools being built and amenities such as walking trails, a skate park, dog park, and aquatic-related entertainment (Ladera Ranch is just six to seven miles from the Pacific Ocean), the setting was perfect for the community's first pediatric dental practice.
With tenants being sought for the second of a two-building medical complex, Drs. Hszieh and Lee signed a lease agreement in December 2004 to begin their venture. Six months later, the doors to the practice opened.
"From what we understand, we were the first tenants accepted and approved for the building," said Dr. Lee, whose Ladera Ranch home is only about five minutes from the office. "It was perfect timing on our part. I guess it was just meant to be."
By being among the early tenants, the partners had first choice on an office location in the new building.
"Originally, we had thought about having the office face the west," Dr. Lee said. "But then we learned that another building was going to be constructed on that side that would obstruct much of our view. By facing the east, as we do now, we have a scenic view with a lot of trees, greenery, birds, and blue skies.
"Our outside walls serve as windows, allowing a lot of natural light to enter," he added. "That provides a bright, airy environment, making people feel at ease and relaxed."
With the practice being so close to the shoreline, the office's location provides a spectacular view of the Pacific Ocean.
"On a clear day, we can definitely see the ocean. We can't complain about that," said Dr. Hszieh, who lives in Irvine, which is about a 15-minute drive from Ladera Ranch.
The scenic views outside the facility mirror those inside the office.
One of the first items of interest that visitors to Ladera Ranch notice is a large saltwater aquarium.
"The saltwater fish tank provides a nice ambiance as people enter the office," Dr. Hszieh said.
In addition, the interior walls of the facility are adorned with multi-colored murals depicting two distinct themes.
"In general, most offices are the same in that they have some type of theme," Dr. Lee said. "We wanted a theme that was not only kid-friendly but adult-friendly. So we came up with the jungle and ocean themes."
Drawings of birds and animals decorate walls of the jungle theme. Meanwhile, murals depicting fish and water-related mammals adorn other walls.
"The office reflects both themes," Dr. Hszieh said. "We wanted to create lifelike scenery with the use of many colors. There are enough colors in the murals to help create a soothing, relaxing effect for our patients. Plus, kids are very perceptive when they are in the chair. They notice the detail in the drawings on the wall murals."
But the most talked-about feature at Ladera Ranch is its banyan tree, which stretches to the ceiling of an interior hallway.
"I had seen this look in a couple of other places," Dr. Hszieh said about the full-sized tree. "But ours is the most realistic I have ever seen. The company that created it (NatureMaker®) had never done one for a small office. It took three months for the company to build the tree. I think parents probably notice it the most."
Added Dr. Lee: "Many offices have some sort of tree or foliage in them. But when Dr. Kevin and I took a trip to NatureMaker's warehouse to see its trees, the tree looked so real that we decided we just had to get one for our office. For us, it was a huge, huge investment."
Besides being a topic of discussion for those coming to the practice, Dr. Lee points out that the banyan tree serves another purpose in correlation with the community.
"The tree serves as a symbol of our office in Ladera Ranch," he said. "Ladera Ranch uses a tree for its symbol (as a community), too."
Besides NatureMaker, other vendors contributing to Ladera Ranch Pediatric Dentistry include architect Niall Saunders, interior designer Jolanda Powierza, general contractor Doug McDaniel, dental equipment specialist Matt Scott, graphic artist Rebecca Palmer of Practice Cafe, and mural artist JoAnn Jones.
Dr. Lorne Lavine of Dental Technology Consultants coordinated the networking of computers in the office.
In fact, the practice features the latest in dental technology, including digital radiography. In all, there are 11 computers and 16 LCD monitors in the office.
Ladera Ranch Pediatric Dentistry has two LCD monitors for each operatory - one for the staff and/or doctor and one for the patient.
With the latest in technology, Drs. Hszieh and Lee are able to provide high-quality care at an affordable price. This is an aspect that particularly appeals to parents, who are also a key focus at Ladera Ranch.
"We want parents to be comfortable here as well," Dr. Hszieh said. "We allow parents to come into the operatories with their children."
A carefully planned facility that concentrates on providing quality dental care that appeals to both children and adults has proven to be a winning formula at Ladera Ranch. Since opening, the practice has averaged about 100 new patients per month.
"That has exceeded every expectation that I had ever envisioned for the practice," Dr. Hszieh said. "I have never seen an office like this one in terms of the quality of construction and entertainment options we have for kids."
That's because Ladera Ranch Pediatric Dentistry is a place that is all about ... kids.
Ladera Ranch Pediatric Dentistry
600 Corporate Drive, Suite 200
Ladera Ranch, CA 92694
Phone: (949) 429-6400
Richard Lee, DMD • Kevin Hszieh, DDS
E-mail: info@lrkidsdentist.com
Web site: www.LRkidsdentist.com