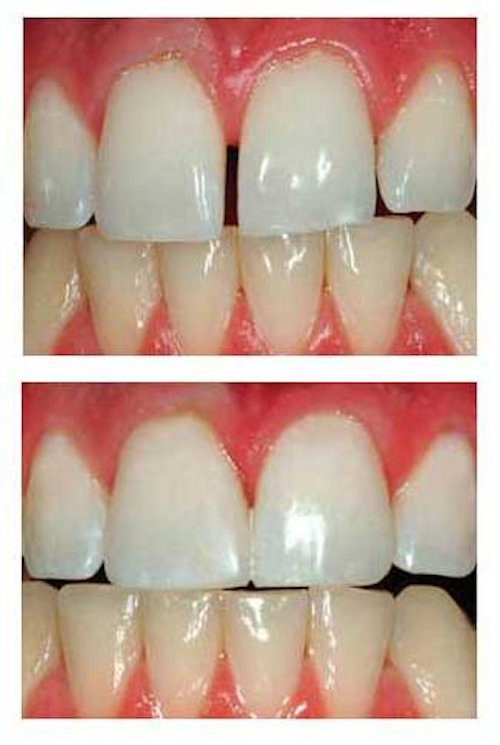 In this monthly feature, Dr. Gordon Christensen addresses the most frequently asked questions from Dental Economics® readers. If you would like to submit a question to Dr. Christensen, please send an e-mail to info@pccdental.com.
QWhen adding new restorative resin to previously placed resin, is there a bond between the old resin and the new resin? When I am repairing an old restoration, I do not like to remove the old resin all of the time because a significant amount of additional tooth structure will be removed.
AAfter restorative resin has matured (cured) for several hours, days, or weeks, there are few - if any - atomic bonds remaining in the old resin to which the new restorative resin may bond. Parkell has a material named Add&Bond™ that may be used to bond new resin to old resin. It is simple to use and the material has shown significant clinical success. Removal of the old resin and replacing the entire restoration with new resin is probably still the best choice, but repair is occasionally necessary. If you find that the cured resin amount is deficient in some location when placing resin restorative material into a newly prepared cavity preparation, and the surface of the newly placed and cured resin has not been contaminated with saliva or blood, new resin may be added. It will bond adequately.
If the surface of the previously placed resin has been cured and contaminated with saliva or blood, you may:
Place standard phosphoric acid on the cured resin to remove the organic debris.
Wash the area thoroughly with water.
Dry the restoration with air.
Place a layer of unfilled bonding agent on the restoration.
Blow the liquid bond slightly with an air stream, but don't cure the bond.
Place the additional resin on the previously placed restoration.
Cure it.
If you find a defect in a newly placed resin restoration on the placement appointment, remove the defect with a bur:
Place phosphoric acid on the resin to remove the organic debris.
Wash the prepared restoration thoroughly with water.
Place a liquid bonding agent on the prepared defective area.
Blow the bond slightly with air, but don't cure the bond.
Place the restorative resin.
Cure the entire restoration.
As you can see, there is not a simple answer to your question. You can add new resin to newly placed resin without any difficulty and expect it to bond to the previously placed resin, but placement of new resin to old resin requires special techniques.
Our new PCC video, V3519 "Predictable Use of Resin-Based Composite Restorations," shows in close-up, live clinical procedures the most up-to-date selection and placement of resin-based composites, including the new "nanofills." For more information, contact Practical Clinical Courses at (800) 223-6569, or visit our Web site at www.pccdental.com.
QIt seems that every impression material is advertised to be hydrophilic. For many years, I have used several brands of impression material, and I can't tell much clinical difference there is between those materials that claim to be hydrophilic and those that do not. What is important about hydrophilicity?
A Hydrophilicity is a characteristic that allows impression materials to work well when moisture is present. The main reason that you want hydrophilic materials is to reduce or eliminate air bubbles in the impression material.
The hydrophilic materials usually have surfactants in them, and they have a low contact angle between the surface on which they are placed and the impression material itself. When a liquid is placed on a hydrophilic material, the water does not form a perceivable droplet. It blends into the surface characteristics of the material on which it is placed. On the contrary, when a drop of water is placed on a hydrophobic material, the water forms a perceivable drop or "bead."
As an analogy, when the painted surface of an automobile has just received a layer of wax and water is placed on its surface, you can easily observe the water droplets on the surface of the automobile. When water is placed on the surface of an old automobile that has not been waxed for many years, the water forms a homogeneous thin layer, without any "beading" effect. An impression material that does not develop "beading" is hydrophilic. The challenge is that the hydrophilicity of impression materials varies significantly. You and I can't tell the difference until the materials in question have been used many times.
Some materials known to be highly hydrophilic - and observed empirically to have few or no air bubbles - are Aquasil Ultra from DENTSPLY/Caulk, or Impregum™ and Imprint™ 3 from 3M ESPE. Clinicians can perceive a positive difference when using these and similar materials instead of other less hydrophilic materials.
I prefer hydrophilic elastomers for denture final impressions or denture reline/rebase impressions because I want the impression material to impregnate thoroughly into all of the crevices of the soft tissue. However, for conventional fixed or implant prosthodontics, I do not think that hydrophilicity is highly important if the following procedure is done.
When the impression material is injected onto a tooth or implant, the material should receive a carefully directed slight-to-moderate air blast. The air stream breaks the surface tension between the impression material and the hard object being impressed. The problematic previously observed air bubbles can be almost totally prevented when using this technique with any currently popular elastomer impression material, whether it is hydrophilic or not.
Hydrophilicity can be measured scientifically. But, in my opinion, the true significance of hydrophilicity in clinical dentistry is more related to soft-tissue impressions than impressions for teeth or implants, if the previously described techniques to "break" the surface tension of the tooth or implant abutment are used.
Dr. Christensen is a practicing prosthodontist in Provo, Utah. He is the founder and director of Practical Clinical Courses, an international continuing-education organization for dental professionals initiated in 1981. Dr. Christensen is a co-founder (with his wife, Rella) and senior consultant of Clinical Research Associates which, since 1976, has conducted research in all areas of dentistry and publishes its findings to the dental profession in the well-known "CRA Newsletter." He is an adjunct professor at Brigham Young University and the University of Utah. Dr. Christensen has educational videos and hands-on courses on the above topics available through Practical Clinical Courses. Call (800) 223-6569 or (801) 226-6569.