Hygiene pearls for your practice
It is recognized that nearly one third of dental health professionals cite musculoskeletal disorders as the reason for early retirement.
Aug 13th, 2014
By Joe Blaes, DDS
Cavitron FITGRIP Ultrasonic Inserts
from DENTSPLY Professional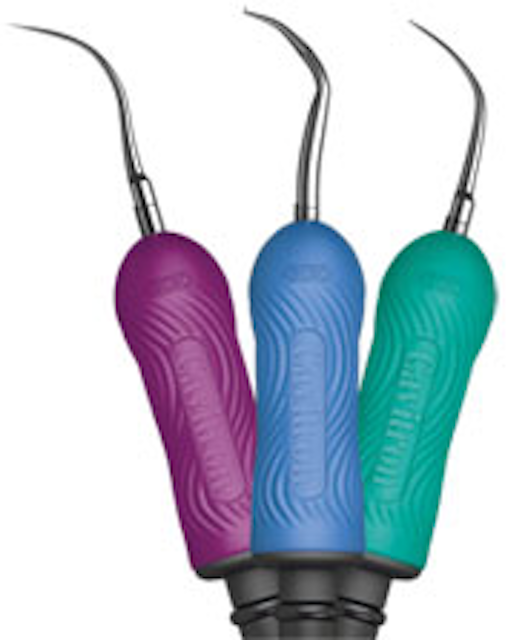 It is recognized that nearly one third of dental health professionals cite musculoskeletal disorders as the reason for early retirement. That's why we must move toward more comfortable ergonomic equipment and instruments. A wider grip helps lessen muscle load and pinch force. For dental professionals seeking improved comfort and performance, Cavitron inserts give you the confidence of an ergonomically designed grip. The unique one-piece design of FITGRIP Ultrasonic Inserts allows the hygienist's fingers to conform naturally to the grip. A large grip diameter decreases muscle load and pinch force, and a rippled texture and unique shape lessen the chance of slipping during a procedure. FITGRIP Ultrasonic Inserts will be available in nine of the most popular Cavitron 30K inserts, including Focused Spray slimLINE, PowerLINE, and THINsert. These Inserts offer customers a variety of preferred insert tips, such as the first thin insert, THINsert, and the unique Focused Spray slimLINE 1000 triple bend with coined edge. Dedicated to providing end-to-end solutions in dental hygiene, Cavitron products continue to evolve to best serve clinicians and their patients. Keep your hygienists healthy by giving them the new Cavitron FITGRIP Ultrasonic Inserts. Patient loyalty is built by your hygienist!
For additional information, visit www.professional.dentsply.com.
Customized Assessment and Risk Evaluator (CARE)
by Philips Oral Healthcare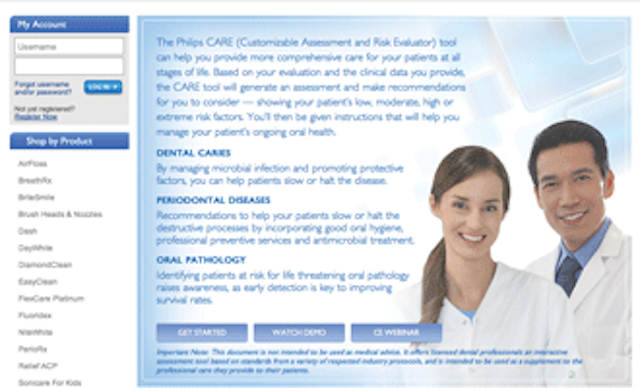 Most practices have developed a standard protocol for diagnosing their patients' dental-related diseases. The problem is that there is no standard protocol within the dental profession. Using industry-standard criteria and guidelines for each of three patient evaluations, the Customized Assessment and Risk Evaluator (CARE) web-based tool offers comprehensive risk assessments for dental caries, periodontal diseases, and oral pathology. By assessing a patient's risk for each of these major concern areas, dental professionals are better prepared to identify disease at an early stage, which contributes to successful treatment options and outcomes. Philips Oral Healthcare has partnered with a team of leading experts to provide this valuable resource to the dental profession. Michelle Hurlbutt, RDH, MSDH, chaired the CARE Board and worked closely with Doug A. Young, DDS, EdD, MS, MBA (caries prevention, detection, and management), Gregory E. Oxford, DDS, MS, PhD (board-certified periodontist), and Ken R. Tilashalski, DMD (board-certified oral and maxillofacial pathology), to create this comprehensive and complimentary online resource. It was designed to serve as a supplement to dental professionals' clinical expertise in determining patient risk. CARE's online questionnaires for each area of concern include:
Disease indicators pinpointing existing diseases or conditions and the patient's history of the disease
Risk factors related to the patient's oral health, systemic diseases, and lifestyle choices, including nutrition
Protective factors identifying the patient's biofilm control habits, history of professionally delivered dental care, adjunctive treatments (such as fluoride exposure, use of antimicrobials, and sunscreen), and nutrition
The Philips CARE tool can help you provide more comprehensive care for your patients at all stages of life. Based on your evaluation and the clinical data you provide, the CARE tool will generate an assessment and make recommendations for you to consider — showing your patient's low, moderate, high, or extreme risk factors. By managing microbial infection and promoting protective factors, you can help your patients slow or halt dental caries. By incorporating good oral hygiene, professional preventive services, and antimicrobial treatment, you help your patients slow or halt the destructive processes of periodontal diseases. Identifying your patients at risk for life-threatening oral pathology raises awareness, as early detection is key to improving survival rates. This is a free online program where the dental professional's clinical input prompts the program to estimate the risk level for the patient. Deciding factors for the assessment, recommended clinical guidelines, and the patient's risk level all aid in educational discussions with your patients and you are able to save them to your patient's record. CARE offers a dental professional suggested protocol and patient education handout that can be customized with the practice letterhead and contact information.
View and utilize this complimentary tool at www.philipsoralhealthcare.com/CARE.
More DE Articles
Past DE Issues