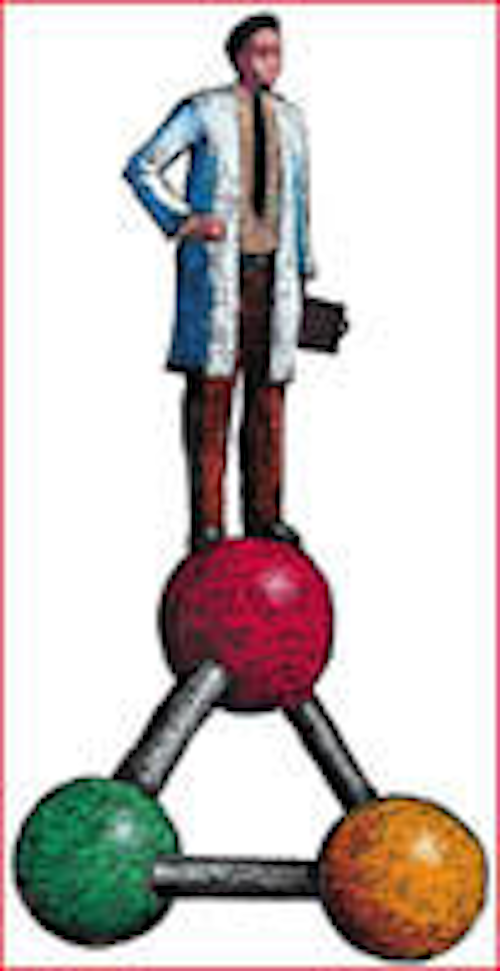 by Ted Anibal
Your assistant has just seated your 10 o'clock patient — the one who's been putting off the full crown he needs on number 19 for more than a year. You check the tooth and discover some puffiness around the gum. Not good. A little gentle probing produces copious bleeding. You check his chart for when he had his last SRP — five months ago. Why is this happening?

Localized flare ups of periodontal infection can put the brakes on your treatment plan. New adjunctive therapies can help control both acute and chronic infection by reducing inflammation and pocket depths in between scheduled SRP appointments. The therapies include the following:
Arestin — bioadhesive, bioresorbable microspheres delivering 1 mg. minocycline into the sulcus.
Atridox — a bioresorbable viscous solution administering 10 percent doxycycline into the sulcus.
PerioChip — a small (4 mm by 5 mm), bioresorbable wafer delivering 2.5 mg. chlorhexidine into the sulcus.
Periostat — a 20 mg. tablet of doxycycline taken orally twice daily, providing a localized anticollegenase effect in the sulcus.
Treatment choices and indications
You and your hygienist should confer on the condition and progress of patients with recurrent perio infection. Assess the patient's age, history of the condition, home care, and temperament. These factors can help you choose which treatment or combination of treatments will be the most effective. In addition, many patients will prefer or be more compliant with a particular type of delivery system. Presenting your patient with a choice can increase acceptance and compliance.
Since none of the delivery systems involve injections or unpleasant tastes or odors, patient acceptance is favorable overall. The topical treatments such as Arestin, Atridox, and PerioChip are quick, easy, painless, and fast-acting. Effective therapeutic levels of these substances are maintained by periodic re-treatment to each site, typically at three-month intervals if the condition persists.
Periostat uses a systemic approach. It acts on the host response to periodontal infection by arresting the action of enzymes released by white blood cells in response to infection. In particular, Periostat arrests collegenase activity, which prevents protein breakdown in the periodontal ligament. The dose is "submicrobial," which enables its effect to be limited to the oral cavity with no changes to beneficial microflora elsewhere in the body.
Depending on the case, combining therapies can yield the best results both short and long term. Keep in mind, however, that tetracycline derivatives are contraindicated for pregnant women. Chlorhexidine therapies have no known contraindications, with only very rare occurrences of severe mucosal sensitivity. Some patients report mild to moderate sensitivity the day after insertion, subsiding by the third day.
Product reviews
Dental Economics asked three practitioners several questions about how they used these new therapies and their results clinically, as well as the impact on the dental business. Depending on their patients' needs, the three practitioners use or have used more than one therapy.
Dr. Jeffrey Ganeles is a periodontist in Boca Raton, Fla. He has been using Arestin since April 2001. Dr. Gary Goodman is a dentist in Springfield, Mass. He has been using Periostat since early 1999. Dr. David Nusblatt is a dentist in New York City. He has been using PerioChip since May 2000.
How often do you use the product?
Dr. Ganeles: I use Arestin on about one in eight patients, four times per year on each. These are patients on maintenance and supportive therapy after surgery, and also nonsurgical patients.
Dr. Goodman: I use Periostat on about 40 percent of my patients, and everyone with perio issues. It is especially useful for smokers and diabetics to help heal and maintain them.
Dr. Nusblatt: I use PerioChip every day, on 50-60 percent of patients. These patients have one or more pockets.
Do you use other therapies besides?
Dr. Ganeles: Yes, depending on the case and patient, I'll use PerioChip or Atridox.
Dr. Goodman: Yes, PerioChip and Atridox.
Dr. Nusblatt: No.
What is the profile of the typical patient on which you use the product?
Dr. Ganeles: New referrals in their 50s, and maintenance patients in their 60s and older.
Dr. Goodman: It's very broad, but generally patients over 30 years old.
Dr. Nusblatt: Adults of all ages.
Has the use of this product enabled you to proceed with other procedures more easily?
Dr. Ganeles: Not usually, because this is what I do primarily as a periodontist. Referring doctors appreciate that I am able to get a patient's disease under control.
Dr. Goodman: Yes. It stabilizes perio conditions, which allows me to get to other treatments faster.
Dr. Nusblatt: Yes. It's much easier and more pleasant for both the patients and me to do procedures when they have healthy gums.
Are your perio patients aware of therapies on the market to help combat perio disease?
Dr. Ganeles: Not normally, except for Periostat, which advertises in the media.
Dr. Goodman: No, not until I tell them.
Dr. Nusblatt: Very few are aware of these treatments.
What is the typical response of your patients to your suggestion of a particular therapy?
Dr. Ganeles: They're enthusiastic and glad to avoid surgery. Some don't like a pill regimen, however, so I'll use Arestin. It's easy, quick, and painless. I'll say, "We're going to squirt this stuff under your gum."
Dr. Goodman: They're relieved to know that Periostat is not an "antibiotic," but has the same therapeutic properties. They're very receptive to it.
Dr. Nusblatt: Very receptive. There's no pain on insertion of PerioChip, no return visit for removal, and it works. Ninety percent will accept my recommendation to use it. Cost is the issue for the 10 percent who decline.
Can your patients tell and recognize the success of the treatment on their perio problems?
Dr. Ganeles: Yes and no. It depends on the severity of the problem compared to the results of the treatment.
Dr. Goodman: Yes, about 50 percent notice a positive difference.
Dr. Nusblatt: Yes, at least 50 percent notice that the bad taste in their mouths has gone away. They notice fresher breath and appreciate it.
Improvements in profitability and outcomes
The practitioners experienced improvements in overall profit margins in hygiene, and by extension, operative departments. For the periodontist, however, there was no difference, but better outcomes resulted with higher patient satisfaction and improved trust and rapport.
Product profit margins are at least 100 percent. Insurance providers are typically far behind the awareness curve on these new therapies, but a few will cover 80 percent of reasonable and customary charges.
For the periodontist as well as the general dentists, the addition of these therapies have resulted in consistently better control of periodontal disease. By eliminating perio flare-ups, operative treatment plans can be carried out more easily with no wasteful interruptions or unpleasant surprises.
For patients, they can reduce or eliminate the need for surgery, help stabilize periodontal conditions, provide fresher breath, and improve home care motivation. These therapies do not replace regular SRP, but used in conjunction they are safe, effective, easy to use, profitable, and offer measurably better outcomes for all.