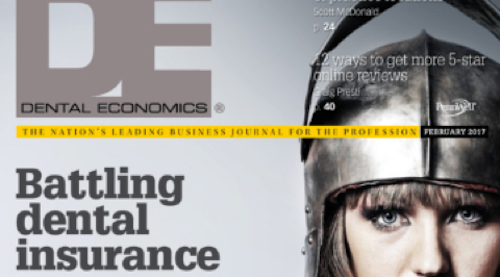 Joshua Austin, DDS, FAGD, reviews the Bio/Screen oral exam light from AdDent Inc., the Picasso Lite Plus soft-tissue dental laser from AMD Lasers, and 3M Ketac Universal glass ionomer restorative.
---
Bio/Screen oral exam light by AdDent Inc.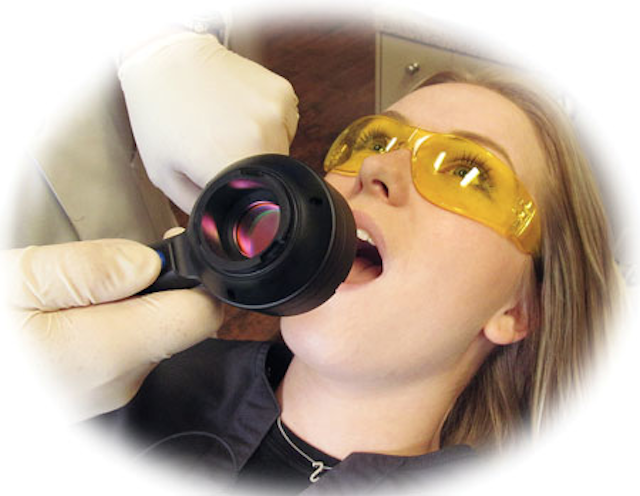 I don't have to tell you what an epidemic oral cancer is. One person dies of oral cancer every single hour of every single day. Sadly, it frequently takes a celebrity to be afflicted with an illness before the public takes notice, but despite Tony Gwynn, Roger Ebert, and Michael Douglas, I still don't see anyone wearing special ribbons for oral cancer awareness.
On the other hand, I can't watch the NFL in October without seeing pink everywhere for breast cancer awareness. I don't know anyone who isn't aware of breast cancer, yet much of the public is blissfully unaware of oral cancer. We need to do a better job of informing and screening our patients. The Bio/Screen oral exam light by AdDent Inc. is a great tool for addressing this problem in your practice.
Many other oral cancer screening aids can be cumbersome to use, requiring you to turn off the operatory lights and remove your loupes to put on special glasses. That's a pain. Not to mention, removing your loupes and putting them back on so many times during the day increases wear and the risk of breakage. In my office, adjuncts like that end up in the drawer after about a week, never to see daylight again. The Bio/Screen oral exam light makes things so much simpler.
The light is wireless and rechargeable, and it's made from sturdy aluminum, which feels great in my hand. With this handheld device, you don't have to turn off the overhead lights or take off your loupes. To use it, you simply turn on the device and look through the view finder in the middle of the light, just as you would look through a magnifying glass. If epithelial dysplasia is present, it will show up in dark spots. Catching abnormalities at the dysplasia stage is important to positive outcomes for patients. Early detection is key with oral cancer, but unfortunately, too many lesions are detected too late.
My patients have been curious about the Bio/Screen exam light. When I tell them, it raises awareness of oral cancer, and they seem to appreciate the extra vigilance. Also, after screening, you can submit a D0431 code to the patient's dental insurance for reimbursement, so this can become a productive adjunct for you.
All in all, my experience with the Bio/Screen has been very positive. Line-drive base hit to center field for AdDent!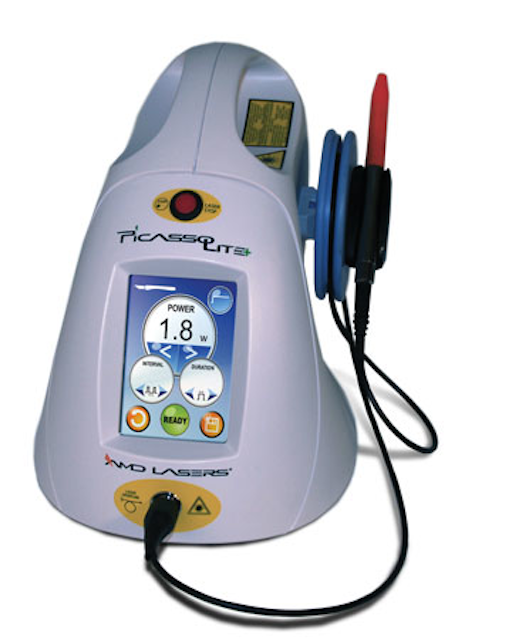 Picasso Lite Plus soft-tissue dental laser by AMD Lasers
Meeting great people in the dental industry is part of what makes this job so amazing. One person I've met is Alan Miller, Sr., the CEO and founder of AMD Lasers. He is one of the most fun and energetic people I know, and following him on social media is a must. He and his family put their hearts and souls into the company. If you see an AMD booth at a dental meeting, you will likely find him or his son, Alan Miller, Jr., staffing the booth to answer your questions.
I love family-run companies—probably because they remind me of how so many dental practices are run. One of the most popular AMD products is the Picasso Lite Plus soft-tissue laser, which is perfect for restorative dentists.
The AMD Picasso Lite Plus is an excellent soft-tissue diode laser that can be a workhorse for your practice. It's got a curvy yet minimalist profile, and it sits elegantly on the counter. With a hefty three watts of power, it has more than you need under the hood. The color touch screen is easy to navigate with many preprogrammed settings, so you don't have to memorize any numbers. It comes with a wireless foot pedal and even has an option for a rechargeable battery pack. Multiple disposable tips for different applications are available, plus a strippable fiber.
As a relatively recent adopter of a diode laser, I probably don't use it for nearly all of the applications I could, but using it has basically eliminated retraction cord from my crown prep technique. Instead of packing cord, I use the AMD Picasso Lite Plus at 1.2 watts on pulse mode to trough the gingiva around the margin. This allows me to drop the margin subgingivally by 0.5 mm if needed, and it gives me lateral space around the margin to make digital scanning easier. When done properly, little to no charring occurs and good hemostasis is usually easy to achieve.
For most restorative dentists, this will be one of the main procedures for using a diode laser. I have also used the AMD Picasso Lite Plus six weeks after scaling and root planing as an adjunct and for aphthous ulcer treatment with great results. After some training, fibroma removal and frenectomies can also become quite predictable with the AMD Picasso Lite Plus.
For almost my entire career, I practiced without a soft-tissue laser. I thought life was fine without one. Over the past couple of years, however, I have slowly begun to integrate lasers into my practice, starting with demonstrations for this column. My eyes have opened to how useful they can be. Today, I am not sure I could practice without one.
The AMD Picasso Lite Plus is an excellent soft-tissue laser. If you are looking to add a laser to your practice, it would be a tremendous choice. You will get a great piece of equipment and family customer service, which should be important to all of us! Two-run home run for AMD on the Picasso Lite Plus!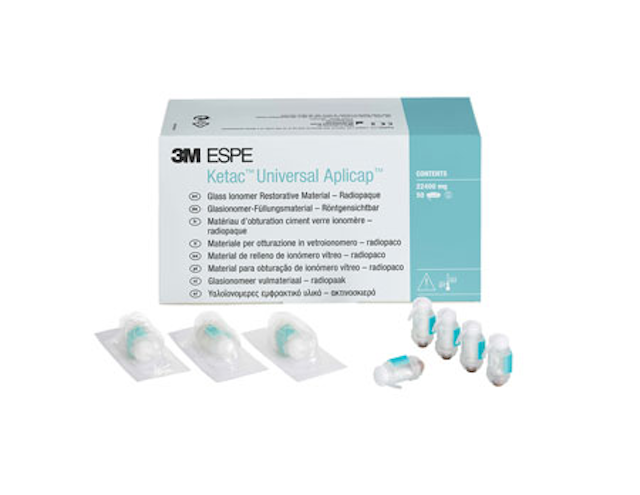 3M Ketac Universal glass ionomer restorative
About once a year, I get an e-mail from a reader or podcast listener who bemoans resin composite and pines for a "tooth-colored amalgam." Well, I want a flying car and a tree that grows money. We all want things, but magic isn't real, so we are condemned to reality. This seems to be a common refrain though. We want to improve the esthetics of amalgam or make resin composite longer lasting and more forgiving. But glass ionomer often gets ignored completely.
I was a part of the problem for a huge portion of my career. I didn't place a glass ionomer for more than a decade. From my experience in dental school, I wasn't impressed. Esthetics were poor. Handling was a mess. But after getting to play with some of the new iterations of glass ionomer on the market, such as 3M Ketac Universal, I have reexamined my beliefs. I believe every restorative dentist should have a glass ionomer option. Maybe glass ionomers can become the tooth-colored, amalgam-like material we've all been dying to have.
One huge advantage to Ketac Universal is its suitability for use in small Class I and II restorations in permanent teeth, due to its compressive strength and surface hardness. What a paradigm shift! If the new universal glass ionomers are strong enough to survive and thrive in these occlusal situations, it opens up their applications.
In my opinion, glass ionomer restoratives have several great applications in dentistry today, including root decay, the cervical third of deep interproximal boxes, and primary tooth decay. Glass ionomer is also a great option for patients who have esthetic demands but are at high risk for caries. Plaque and bacteria love resin composite, promoting recurrent decay for patients with high caries risk. Glass ionomer restorations tend to be more resistant to plaque accumulation, and they have the potential to last longer than sloppy resin composite restorations in patients with high caries risk. Like all glass ionomers, Ketac Universal offers fluoride release, which contributes to its advantages in high caries risk situations.
Ketac Universal comes in either a familiar Aplicap or a mixable liquid and powder form. I demoed the Aplicaps, which require a triturator to mix, in my office. No conditioner is required for Ketac Universal, which saves a step. The Aplicap nozzle is well designed and allows for easy reach into deep areas.
Compared to previous iterations of glass ionomer, Ketac Universal's handling properties are much better. As with all glass ionomers, Ketac Universal can be bulk filled, which saves time. In fact, the entire process is designed to be a time-saver and can be done in four simple steps: Simply activate the Aplicap, mix it, place it in bulk, and then finish. The working time is one minute and 40 seconds, so you can get to adjusting and finishing quickly. With six available shades, Ketac Universal has great options for areas of esthetic concern.
If there is a downside to using the Aplicaps, it might be that you no longer have an activator, triturator, or Aplicap applicator in your office. You can always hit up eBay and get new ones. I use mine all the time now with several other materials as well.
3M Ketac Universal is a great option if you are looking to rekindle your relationship with glass ionomer. It is quick and easy to use, performs well, and fills a nice niche within restorative dentistry. Whether it's for the kiddos you see, your geriatric patients with root caries, or your teens and adults with high caries risk, there is a place for Ketac Universal somewhere in your practice. Hard-hit double to the gap for 3M!