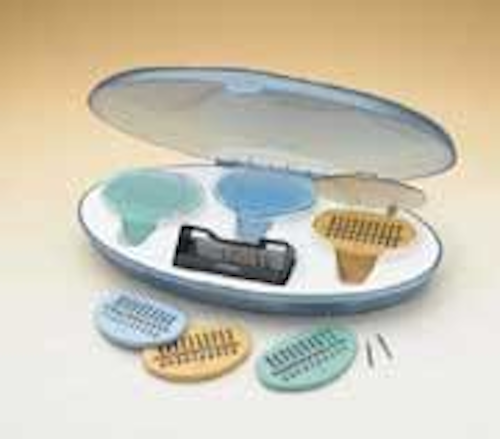 Joseph Blaes, DDS
Pearl 1 — Smartprep Instruments from SS White. I can remember the first cavity prep that I did in dental school many years ago. It was an occlusal on a lower left molar (pretty good tooth selection!). It took me all afternoon to do it. When I reached the decayed dentin, I took out a shiny new No. 6 round bur and proceeded to remove the decay. At this point, it occurred to me to wonder, "How do I know when I'm finished?" I've been trying to answer this question ever since. We use round burs, we use spoon excavators, we use dyes, we use magnification, we read and listen to many theories, but still we all wonder — how do I know when I've reached sound dentin?
I think that SS White has an answer for this question in the form of a revolutionary new concept — a cutting instrument that only cuts decayed dentin. For the last eight months, I have been using the Smartprep Instruments in all sorts of clinical situations. This instrument "knows" when it reaches sound dentin. There is no guessing, no dyes, no explorers, and no spoons — the Smartprep simply quits cutting when it reaches sound dentin. Sounds unbelievable, doesn't it? But it works. Two university studies are in progress. However, this bur definitely requires a learning curve. It will probably take five to 10 of these instruments for you to get the "feel" of it. Try using them on extracted teeth. The Smartprep will remove decay in any situation, but initially I would advise starting with Class I and V preparations.
Since this is a revolutionary approach to removing decay and conserving healthy tooth structure, there are some guidelines that you must follow to get the best results. Gain access to the decay using specially chosen carbide burs in the Caries access kit. Both sound enamel and dentin will dull the cutting blades of the Smartprep, so you must be certain that you have complete access to the decay. Now, switch to the Smartprep in your existing slow-speed handpiece (running very slowly at 500 to 800 rpm) to begin removing the decayed dentin. This is probably the hardest thing to do since most of us like to rev up the handpiece and run at full speed. Use the instrument to "peel" away layers of decay from the outside in. When the instrument contacts healthy dentin, it will rapidly dull and stop cutting. In most cases, I was able to complete treatment without using a local anesthetic. Think what this could mean in your busy practice.
Order Smartprep from your dealer or visit SS White's Web site at www.sswhiteburs.com for more information.
Pearl 2 — Stardental Titan® E-lectric motor system from the DentalEZ group. I have been using StarDental handpieces for most of my career. They have always offered innovative designs with great service and have been cost effective for my practice. So I was excited when this company introduced an electric handpiece. As most of you probably know, I am sold on electric handpieces and wouldn't think of cutting a tooth with anything else. An electric handpiece allows me to complete tooth preparations in less time and with less trauma to the tooth and the patient. Since torque is a constant with electric handpieces, I am constantly cutting on teeth with little vibration and almost no noise. Patient response has been extremely positive to the electric handpiece. The other day, I was able to complete a 13-veneer prep case in two hours from start to finish!
The new Titan E-lectric Motor System addresses several of the existing problems with other electric handpieces. One of those is weight. The Titan E-lectric is made with an all-titanium body, which makes it much lighter than stainless steel, yet stronger. This results in less fatigue, and the handpiece will experience less wear and tear from repeated autoclaving. This handpiece is equipped with cellular glass rod optics that will not lose their ability to transmit light. The control unit is compact, lightweight, easy to set up, and allows easy viewing and operation of all functions. The handpiece is quick and easy to integrate into your existing operatory equipment. A variety of attachments are available that will quickly attach to the electric motor to provide other primary functions. This is the lowest-priced electric handpiece system that I've seen.
Order Titan E-lectric Motor System from your dealer or contact the DentalEZ Group at 866-383- 4636. Or, visit www.dentalez.com for more information.
Pearl 3 — Statim 2000 Cassette Autoclave® from SciCan. Today's challenge of infection control and the demands of modern dental patient treatment are met with SciCan's state-the-art sterilization technology. I have been using a Statim 2000 for the last four years and it is great. It gives me a certain peace of mind to know that Statim's biological and physical effectiveness have been proven in test after test in university, hospital, and office settings. This is a reliable sterilization system that is compact enough to fit in the patient treatment room and fast enough to provide sterilization of instruments between patients. In just nine minutes, the sterilization cycle is complete. The thin-walled cassettes quickly heat and cool, further shortening the overall processing time. The Statim has prolonged the life of my instruments by providing temperature consistency. Rapid heating and cooling cuts instrument exposure to heat, while a built-in air pump flushes the chamber with filtered dry air, further reducing exposure to humidity. Best of all, the Statim is easy to use and maintain. The keypad operation and helpful display prompts make Statim user-friendly. It is also self diagnosing - if a problem occurs, it will be indicated on the electronic display. Once the cassette is in place, Statim users have a choice of three preset sterilization cycles. The cycles include a wrapped instrument cycle, unwrapped instrument cycle, and a rubber and plastic cycle.
I know you will be thrilled with this sterilization system. Order Statim from your dealer or contact SciCan at www.scican.com for more information.
Pearl 4 — IntraFlow™ Dental Anesthesia System from IntraVantage, Inc. I've tried all of the different anesthetic systems for years, trying to find a better way to administer anesthesia. What I was looking for was a simple system that would assure profound anesthesia in all areas of the mouth. Until a few months ago, I had not found it. Thanks to the IntraFlow system, I have finally ended my quest. The IntraFlow Dental Anesthesia System is a low-speed, pneumatic handpiece that is compatible with standard dental equipment and uses a standard dental anesthesia cartridge. This one device performs two functions — it drills and infuses anesthesia at the same time. You will have profound anesthesia to the targeted tooth within one minute.
Patients feel less anxious since the combined drilling/drug infusion process isn't the same as getting a "shot" with a long 1-1/4-inch needle. There is no lingering numbness. Patients really appreciate the absence of pain during the procedure without lingering numbness to the jaw, lips, tongue, and cheek. You can also complete treatment in multiple sites during a single office visit, saving time for you and the patient. The IntraFlow can be used for operative dentistry, crowns and veneers, endodontics, and tooth extractions. To order, call (877) 476-4299 or visit their Web site at www.intravantageinc.com for more information.
Pearl 5 — Infection Control in Practice, a newsletter from the Organization for Safety and Asepsis Procedures (OSAP). I am a charter member of OSAP and have always found their information to be the best available in the realm of infection control. If you are looking for a way to simplify employee training and compliance with infection control recommendations, look no further than OSAP's Infection Control in Practice. It is published eight times per year and focuses on infection control, occupational health, and safety topics. Each issue uses step-by-step instructions, charts, and checklists to clear away the confusion that can surround broadly written recommendations and regulations. Recent editions address new hand hygiene guidelines, sharps safety requirements, employee training, and OSHA compliance. With contributions from recognized experts in clinical dentistry, the allied health professions, research, and academia, Infection Control In Practice helps clinicians put policy into practice and provides clear-cut compliance assistance. Each issue includes a "Practice Tip" for streamlining infection control and an hour of continuing-education credit.
So much information for only $50.00 a year! This is a bargain you cannot afford to pass up. Order by calling (800)298-OSAP, or visit OSAP's Web site at www.osap.org for more information.
Dr. Blaes has a general practice in the St. Louis area. He is known for his expertise in dental materials and techniques and his innovative systems designs. He writes and lectures on "How To Increase Productivity and Profitability." Dr. Blaes is a member of the American Academy of Dental Practice Administration. He may be reached at joeb@pennwell.com.