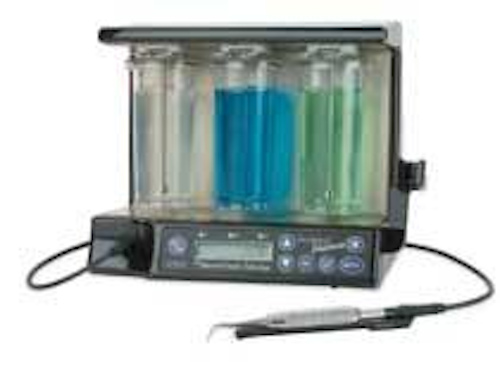 by Joe Blaes
Pro-Select Platinum™ from Pro-Dentec, a Zila Pharmaceuticals Company — How often do you hear a dentist brag about hygiene products? Let me first say that I am a long-time user of Pro-Dentec products, which includes the Rota-dent powered toothbrush and the original Pro-Select, and I can remember my hygienist dragging me (kicking and screaming) to the Pro-Dentec booth to buy our first piezo ultrasonic scaler. We already had conventional power scalers, and I couldn't see the need for something new. But, I listened to its benefits and finally gave in. In the ensuing months, Pam (my hygienist) proved the worth of this new unit to me. Patients had less sensitivity and discomfort and Pam accomplished more at a single appointment. Instead of one quadrant, she could do two quadrants in one appointment. Now, Pro-Dentec introduces the Pro-Select Platinum, a piezo ultrasonic scaler and irrigator with an amazing new LED light. This is the only scaler that uses only a universal (straight) tip, shaped like a dental probe, with 360 degrees of usable surface. If Pam can probe it, she can clean it — without having to change tips or use a hand scaler nearly as often. It's also the only unit that offers choices of purified water, chlorhexidine, and fluoride in a three-bottle, closed, multi-fluid system. Lavage, irrigation, and loading doses of medications to treat infection or sensitivity all are controlled by a great new foot pedal, so your hands are always free to focus on patient treatment. Pam really loves these new designs, and our patients do, too. The Advanced Comfort Technology makes scaling so gentle that it can be used on all your patients, not just adult periodontal cases. The Pro-Select Platinum uses only a light mist for lavage because it creates virtually no heat while scaling. This is a great step forward from other scaling units that require excessive and uncomfortable water sprays to cool their tips. Pro-Select Platinum creates substantially more comfort for the patient and it is kinder to the tooth. It also produces better visibility for Pam, and faster, more efficient treatment for our patients. So get comfortable with a new Pro-Select Platinum today. Ask for an in-office demonstration from your Pro-Select rep by calling (800) 228-5595 or visiting www.zila.com/Products/proselectplatinum.asp for more information.
DenLite Illuminated Mirror from Miltex — I am a long-time user of this product. First introduced by the Welsh Allyn Company several years ago, it was a device that had to be plugged in. Now, Miltex has reintroduced the DenLite system as the only lightweight, cordless, illuminated, ergonomic dental instrument that can be used as a mirror and a retractor during any dental procedure. It provides a bright white light in any area of the mouth. Want to see that prep on the distal of the first molar? The DenLite will light up that difficult-to-see area quickly and easily without ever touching the surgical light. Actually, the DenLite shows more detail than surgical lights because it directs light to where you want to see. It provides shadow-free, glare-free light that is safe — even around composites. The mirror heads are disposable and the handpiece is autoclavable to eliminate cross-contamination. To see better instantly, order from your dealer or call Miltex at (866) 854-8300 for more information.
Adper™ Easy Bond from 3M ESPE — If you've been around dentistry as long as I have, it should be easy to remember Scotchbond Multi-Purpose Adhesive. This early adhesive provided really great results and became the "gold standard." Adper Easy Bond adhesive builds on much of the same chemistry, so you know it's reliable. Faster, better, easier comes to mind when I use this adhesive. It simultaneously etches and bonds to dentin and enamel in one simple step. Simply apply to moist or dry dentin and enamel and leave for 20 seconds, air dry for five seconds, and light cure for 10 seconds, and you're done! Wow! That's all there is to it — one-bottle, one-coat convenience. You get a faster procedure with a much lower chance of contamination to the area to be bonded. The greatest advantage is no sensitivity if you follow the easy instructions. I guess that's why 3M ESPE calls it Easy Bond! It uses an ethanol-based solvent so it is much less volatile than acetone-based adhesives. A Vitrebond copolymer was added for more consistent performance under variable humidity, and Easy Bond has a higher filler content for improved strength. So if you want a simple, reliable, one-bottle, self-etch adhesive, reach for Adper Easy Bond. If you want the very best chemistry, order the unit-dose delivery system. Order from your dealer or contact 3M ESPE at (800) 634-2249 or visit www.3mespe.com for more information.
MixStar™-eMotion from Zenith DMG — I can tell you from my experience with this machine that you and your staff are going to love it. This is another faster, better, and easier product for your office. With one quick push of a button, the impression material is automatically and precisely dosed, mixed, and dispensed. Another great advantage is that you don't have to hold the button, so you have both hands available during the whole procedure. In addition, the unit has two timer functions that accommodate the working and setting times of different impression materials. The MixStar-eMotion features three different speed levels, the highest of which is twice as fast as the preceding model, the MixStar. When loading an average impression tray, you can save up to 20 seconds, which will give you additional working time for the material. The convenient slower speeds allow you to easily back-fill syringes or accommodate a novice assistant who is learning. Once you begin to use this machine for dispensing impression materials, you will become hooked because of its homogeneous, bubble-free delivery system. MixStar-eMotion cartridges are easy to change, easy to store, more economical to purchase, and there is less waste. If you buy enough impression material, the machine is free. Order from your dealer or contact Zenith DMG at (800) 662-6383, or visit www.zenithdental.com for more information.
HemCon® Dental Dressing from HemCon Medical Technologies, Inc. — Stop bleeding without stitches! American soldiers in Iraq often have to help severely wounded comrades or other victims of warfare. To stop bleeding fast and effectively, they are equipped with a miracle bandage. The bleeding area is held under pressure for two minutes, and then it stops. Founded in 2001, HemCon Medical Technologies had a goal: to save lives. This is achieved by controlling bleeding — reflected in the company's name, HemCon, which stands for hemorrhage control. Wound management is also important in dentistry and oral surgery, so the company has used the same concept to develop dental dressings. These are especially useful when a tooth has to be extracted from a patient who takes anticoagulants. If the anticoagulant medication cannot be discontinued and if the extraction is unavoidable, HemCon Dental Dressing provides the solution. It works because it's made from chitosan, a natural product found in shrimp shells. It helps to seal the wound and provide a physical barrier. HemCon's oral surgery products are individually packaged and have been sterilized by gamma rays. The smallest size of HemCon Dental Dressing is 10 mm x 12 mm, and they can be cut to size with a pair of scissors. The dressing is applied with no stitches to the bleeding wound, positioned at the gingival crest (not into the extraction wound). The positively charged chitosan attracts the negatively charged red blood cells. In two minutes, there is a strong adhesive seal between the HemCon Dressing and the wound, which stabilizes the wound surface. The dressing works best if the wound bleeds sufficiently to moisten the surface. Before the patient goes home, it is essential that the position of the dressing be inspected. Once it has been applied to the wound, it can be left in situ. The material usually dissolves within 48 hours, but can sometimes take a week. According to Dr. Jay Malmquist, the previous chairman of the American Association of Oral and Maxillofacial Surgeons and later head of the clinical experiments on dental dressings, the results are amazing. Dr. Malmquist states that the dressings produce a physical protection for the wound and that the seal over the wound forms within a minute. This is a must-have for every dental office. To order, call (800) 200-3594, order from your dealer, or contact www.hemcon.com for more information.