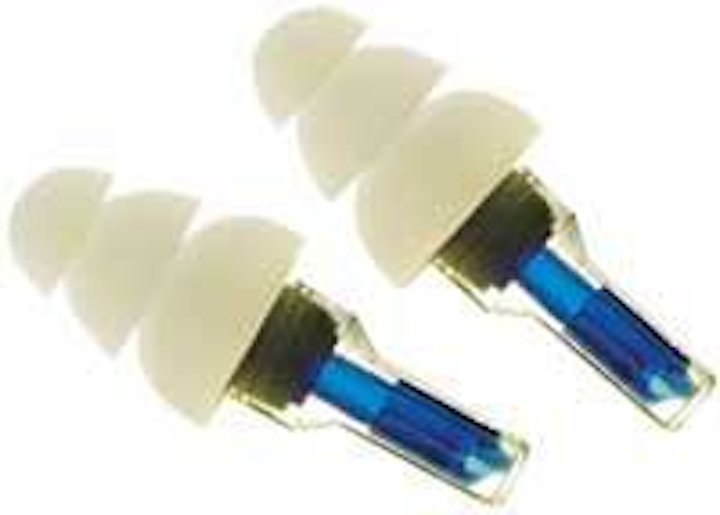 FiltEars™– The best new product I saw at the recent Greater New York Dental Meeting will save your hearing! We all joke about our hearing loss stemming from the noises associated with dentistry, but nobody seems to do anything about it; dentists constantly tell me they have a partial hearing loss because of high-speed handpiece noise, but everyone seems to feel that it's a price you pay for being a dentist. We all protect our hands, our eyes, and our mouths, but not our ears. How much protection do you need? Hearing loss is a function of exposure time, the average sound level, and the peak level of very loud sounds. The exposure levels fall between 85 decibels (dB) and 95dB. Most earplugs on the market today either provide too much noise reduction or are too uncomfortable to wear for long periods. This earplug is easily placed, comfortable, and reduces sound by 20dB, but still allows the wearer to hear normal conversation. I have been using FiltEars for a few weeks now, and they are great. I'm sure my lost hearing will not come back, but my dental assistants and hygienists are really excited that there is finally a way to prevent hearing loss. Your patients will love them as well. FiltEars uses patented technology that replicates the natural response of the ear canal so that sound heard with FiltEars in place is as clear as the original, just quieter. To protect the ears in your office, order direct from www.filtears.com or call (877) FILTEAR (345-8327).
Peak™ SE Primer and Peak™ LC Bond Resin from Ultradent – This company is a late entry into the self-etch field, mainly because Dr. Dan Fisher wanted his product to be the best. He seems to have achieved that with some very interesting chemistry and a syringe-within-a-syringe technology. You probably guessed that it has something to do with a syringe. Peak SE Primer is a self-etching primer that is delivered in the JetMix™ syringe. The primer is made to work only with Peak LC Bond Resin to achieve the highest bond strength possible. The JetMix technology keeps the acid separate from the optimized resin chemistry to ensure fresh, stable chemistry when mixed to etch and prime the tooth. JetMix also thoroughly mixes the chemicals to save time and eliminate waste. The ethyl alcohol carrier allows consistent coating and penetration with a longer working time. Peak SE Primer is delivered with a syringe tip that provides exact placement with an easy, one-coat technique. It eliminates the need for mixing wells and brushes. Peak LC Bond Resin is a light-cured resin adhesive that can be used either with Peak self-etch Primer or with Ultra-Etch in a total-etch technique. The resin exhibits high bond strengths to both dentin and enamel, and cures with all lights. I have always been a fan of the syringe delivery because it offers easy dispensing and the convenience of unit-dose delivery with little waste. The resin usually eliminates any postoperative sensitivity. For more information or to order, contact www.ultradent.com or call (800) 552-5512.
Ceram·X™ from Dentsply Caulk – Caulk brings you just what you need: another composite. But wait – read on, this one is different. First, it has four-year in-vivo clinical trial results that confirm the long-lasting physical properties of this new restorative material. And, it has a new shading system that mimics natural tooth color while using a small number of shades. Caulk utilizes a proprietary nano-ceramic technology with ceramic filler particles of 2 nm to 3 nm in size to optimize the physical properties, handling, and polishing of Ceram·X restorative. The material does not stick or pull back on the instrument, and it has a good working time of up to three minutes under ambient light. It is a composite restorative that can be used for all cavity classifications. Order from your dealer or visit www.caulk.com for more information.
doctorseyes ultrabright dental mirror from J.L. Blosser, Inc. – Dentistry finally has a dental mirror for photography that has an ultrabright coating that, for the first time, achieves close to 100 percent reflectivity. I did not know that high-grade rhodium mirrors have only reached an average of 75 percent reflectivity and the traditional chromium-plated mirrors achieve about 65 percent. What difference does it make? The higher the percentage of reflectivity, the more detail we can see and the truer the color of the images. Each doctorseyes ultrabrightdental mirror comes with a removable silicon handle for comfortable handling. The handle can be autoclaved together with the dental mirror. This is a complete line of mirrors that have been shaped and perfected for optimal use in the oral cavity. They were created based on the best possible combination of reflective surface, safe handling, and comfort. These include special optimized shapes for buccal and lingual shots. They offer occlusal and buccal mirrors in sizes that are suitable for children. To help you identify the corrected side, the doctorseyes logo is engraved on the wrong side. Go to www.doctorseyes.com for more information. To order, call (800) 200-3594.
Optima MX INT from Bien Air – a Pearl Update. OPTIMA MX INT is available in several versions for integration into your dental unit. Your distributor/installer can upgrade your air-driven unit to electric operation with a miniature electronic control-board that integrates easily into the unit. The Optima MX INT has a number of advantages, including simplistic system navigation, which provides complete control of your electric system with ease. The system is capable of a broad speed range, which achieves most general procedures with only two contra angles that can be preset to memory for efficient use, saving you time and money. Use the "high speed" angle for high- and slow-speed procedures, and the "low speed" angle for NiTi endodontics with automatic reverse and precise torque control. There are 40 customizable program presets, and with the most torque on the market, this is the best system available. Go to www.bienair.com for more information. To order, call (800) 433-2436.
Cadent iTero™ – a Pearl Update. At the Greater New York Dental Meeting, I got an update on the iTero digital impression system. The added features and benefits in the "next generation" system include a 100 percent improvement in the overall digital capture and scan time, and a 50 percent faster real-time display of the 3-D digital model. The shade library has been expanded to include VITA 3D-Master®. A background color option has been added in both solid colors and gradients for added depth of 3-D models. The foot pedal design has been modified for increased stability during scanning. The iTero digital impression system is available in more than 30 states. As Cadent continues its phased launch, the company anticipates iTero will be available nationwide by mid 2008. For additional information on iTero, visit www.cadentitero.com.
---
Correction: An error occured in the December issue of DE®. On Page 36, the photo of XP Bond from Dentsply Caulk did not print correctly. This Top Pearl from 2007 is reprinted below with the correct photo. We apologize for the error.
XP Bond from Dentsply Caulk – This adhesive's new chemistry delivers exceptional handling for quick and easy strong bonds to dentin and enamel. XP Bond has a new Tertiary-Butanol solvent that improves handling by mixing with water and resins for greater penetration into moist dentin and collagen. A combination of nano-filler and resin technology provides great bond strength. Order from your dealer or call (800) LD Caulk, ext. 794 for more information.