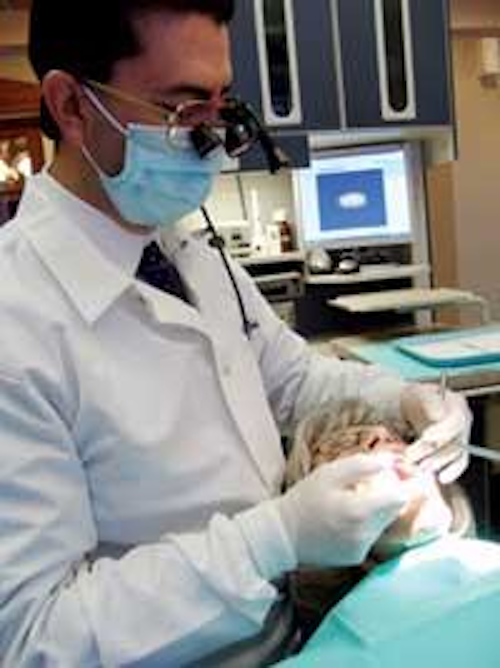 The philosophy for Dr. Christopher H. Hughes is to diagnose and do more procedures on patients at one time for better efficiency and profits.
Story by Editor Dr. Joe Blaes and Duane DaPron
Photography by Beth Skarstad
For more on this topic, go to www.dentaleconomics.com and search using the following key words: Dr. Christopher Hughes, simple, spacious, Computerized Tomography (CT).
So, who says that more is necessarily better?
Certainly not Dr. Christopher H. Hughes.
At Hughes Dental Arts Centre in Herrin, Ill., although designed to have four operatories, Dr. Hughes uses just two treatment rooms in his 2,500–square–foot office. The other two rooms are for hygiene.
Perhaps "less is better" more accurately describes the approach for the 1989 graduate of the Southern Illinois University School of Dental Medicine.
Dr. Hughes' style of dentistry was honed from courses early in his career taken at the Pankey Institute and from legendary educator and clinician Dr. Peter Dawson (one of the finest teachers in dentistry). He credits the American Academy of Implant Dentistry for guiding him in implant training. He learned to treat more complex cases with an emphasis on dental implants, cosmetics, and IV sedation.
He believes in comprehensive treatment planning and diagnosis, which requires spending more time examining and developing a relationship with patients. At the time of case presentation, this philosophy allows patients to better understand all of their dental needs and treatment options.
He also organizes treatment, so that multiple procedures are performed in one visit. Fewer visits with greater productivity per visit is a feature appreciated by both the doctor and patient. This is a more efficient way to utilize your time and the patient's time. By adding IV sedation for patient comfort, it's a "win–win" for everyone.
Dr. Hughes has discovered other advantages with this philosophy.
"I want to deliver the highest level of care possible in a relaxed way," he said. "By achieving more with longer, but fewer appointments, I don't feel rushed or distracted."
As a result, it eliminates worries about constantly jumping to the next chair, which is stressful. Also, it's more profitable since overhead is reduced. The approach simplifies front–desk tasks like collections and appointing.
"The patients love it," Dr. Hughes added. "They prefer to get as much done as possible in one appointment."
Dr. Hughes has been in his current free–standing facility for six years. Previously, he had occupied a small office in a professional building on a side street in the town of Herrin for 11 years.
Hughes Dental Arts Centre is now located in a medical park that is next to a four–lane highway. The exposure from the traffic coming and going from the medical park, along with the nearby highway, has improved visibility of the facility. Location has proven to be extremely important in generating many new referrals. The office knows that 25% to 30% of new patients have come because of the practice's location.
Also aiding in the popularity of Hughes Dental Arts Centre is the building's design, landscaping, and signage.
The building has a unique vertical appearance due to its 12–12 pitch roof. It is a tall building for its width, which gives the building more presence. Space upstairs has provided much–needed additional storage and an area for a gym with workout equipment.
Investing in fine landscaping creates a sense of esthetics and attention to detail. The landscaping is well maintained so the practice always is in the presence of a new, beautiful garden. The landscaping includes topiaries (plant sculptures) and a Venus de Milo statue. Framing the building with the right landscaping makes an esthetically pleasing statement. It represents a perception of the kind of dentistry performed in the practice.
The practice's self–illuminating sign is prominent. It was purposely made large enough to be seen from the highway. The practice logo is on both the signs and the building. This creates a sense of identity.
Dr. Hughes prefers this to spending more dollars on radio and television advertising. These items help complete the image that the office represents high standards and cutting–edge care.
This level of dental care can only be accomplished with some of the latest in technology. One new tech feature, Computerized Tomography (CT), has made quite an impact at Hughes Dental Arts Centre. While the practice does not own a CT machine (patients are referred to a local CT center where scans are made), Dr. Hughes uses SimPlant software to interpret CT scan images and for planning dental implant procedures.
The software reconstructs CT data into a virtual 3–D model and cross–sectional views that can be manipulated on a computer screen. CT imagery provides information on bone anatomy and composition that are simply not attainable with two–dimensional radiography.
"It's awesome, a remarkable technology," Dr. Hughes said, referring to SimPlant.
"It takes the guesswork out of implant surgery by allowing me to study bone morphology. I can precisely locate critical structures like the inferior alveolar nerve, maxillary sinus, and nasal floor. This greatly improves my knowledge of the area prior to surgery."
Next up for the practice, according to Dr. Hughes, will be the implementation of computer–guided implant surgery.
Other technology that plays a key role at Hughes Dental Arts Centre includes digital radiography, digital photography, electric handpieces, networked computers throughout the office, and computer monitors affixed to ceilings (so patients can watch their favorite television show during treatment).
Another feature that Dr. Hughes lauds is Consult–PRO, a patient education software.
The software explains and illustrates for patients what the dentist is trying to achieve. Consult–PRO uses pictures, text, and movies that explain different dental or surgical procedures. The practice has found it to be an effective tool in communicating with patients.
Dr. Hughes believes the practice's design, with its spacious hallways and cathedral ceilings, is also inviting to patients. Certainly, the broad corridors are good for traffic flow and create an open feeling.
In the reception area, one feels like he or she is walking into the lobby of a very nice hotel. The high ceilings enhance the sense of a quality facility. It makes one feel comfortable and that he or she is in the right place.
Dr. Hughes believes he has created a "WOW" effect for his patients. He feels it enhances their confidence and enthusiasm for recommended treatment.
Finally, Dr. Hughes knows a clear vision for the practice is an essential ingredient for success, much like a strong foundation is key to a sturdy home. Dr. Hughes believes you have to conceive and believe in something before it can be achieved.
In addition, when you assemble a select team that believes in the vision, team members will propel you forward at warp speed.
Following this philosophy explains just why Dr. Christopher Hughes understands that more is not necessarily better. In fact, less can be better.
---
Hughes Dental Arts Centre
Office equipment checklist

CareCredit with direct access
Nikon D70 digital camera
Welch Allyn vital monitoring unit
DENTSPLY Cavitron in hygiene room
KaVo electric handpieces in treatment rooms
Biolase ezlase 940 diode laser
Porter nitrous oxide systems in all rooms
Royal chairs
A–dec cabinetry and lighting
SimPlant software
BioHorizons and SimPlant implant systems
Tatum Surgical instruments
Dexis digital imaging and practice management systems
Dexis intraoral camera
SheerVision loupes worn by hygienist and doctor
---
Christopher H. Hughes, DMD
Hughes Dental Arts Centre
504 Rushing Drive
Herrin, IL 62948
Phone: (618) 993–3100
Esthetic and general dentistry, implants
e–mail: chhdmd@clearwave.com
---
Dr. Christopher Hughes
Credentials & Memberships

Fellow, Academy of General Dentistry
Associate Fellow, American Academy of Implant Dentistry
Sustaining Member, American Academy of Cosmetic Dentistry
Fellow, International Academy of Dento–Facial Esthetics
Member, ADA
Member, Southern Illinois Dental Society