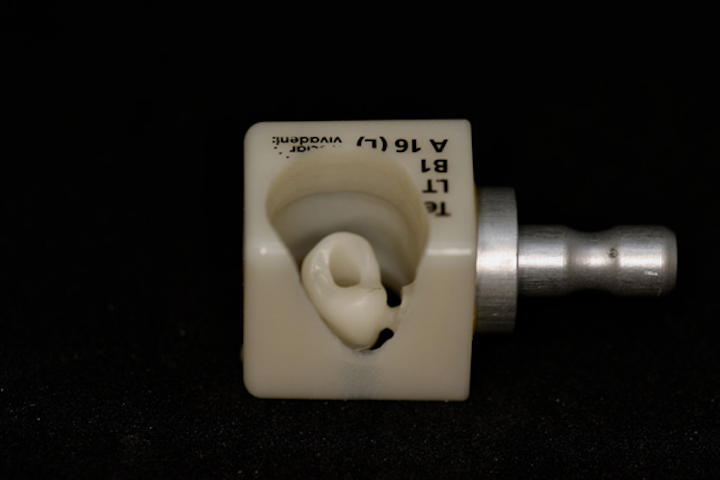 Laura Picano, DDS
In today's dental practice, there are many reasons and several ways to temporize a single-tooth dental implant. Whether it is for an immediate restoration or to tissue condition at a second stage, conventional methods of temporization are time-consuming and technique sensitive. With today's top technologies, we can overcome both of these issues. Utilizing a digital workflow for this process is reliable, efficient, and very cost-effective.
There are considerable advantages to employing a digital workflow for your implant restorations. This article focuses on the temporary process; however, once the implant temporary is fabricated, the same scan can be reused to fabricate the definitive prosthesis at any time.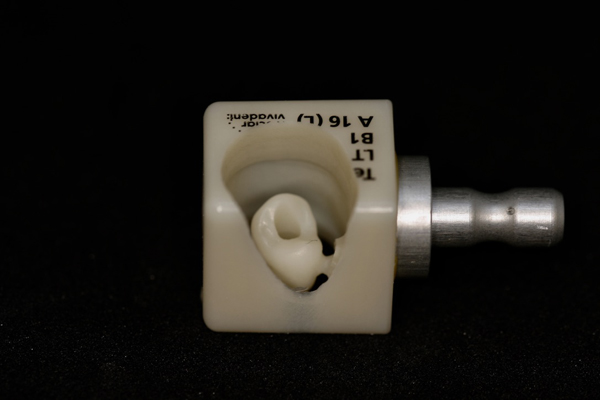 Figure 1: Crown after milling
Implant integrity
Milling one solid restoration, where abutment and crown become a single unit that is then directly cemented extraorally to a titanium base, can help maintain the integrity of the implant. Digital planning allows for ideal emergence and contour, promoting tissue health. By eliminating the junction between the abutment and crown, we can eliminate the possibility of cement and bacterial colonization that can negatively affect healing. Compared to traditional methods, this process results in less disturbance of the implant fixture after placement. By removing the on and off process, especially for an immediate temporary, implant integrity can be maintained. You can view the entire process in Figures 1–8.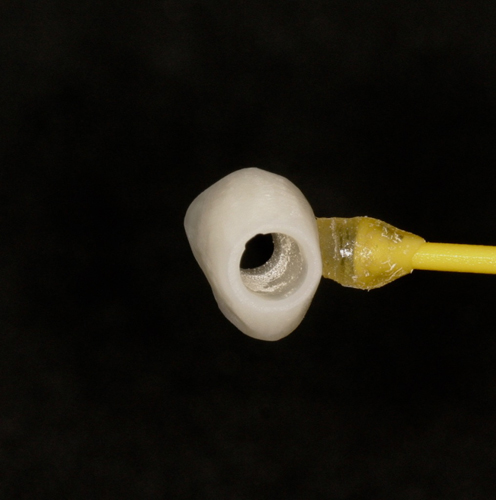 Figure 2: Internal surface of crown prior to cementation of Ti-Base
Materials
For milled temporary restorations, I like to use Telio CAD (Ivoclar Vivadent), which is a cross-linked PMMA block. Milled PMMA undergoes a different polymerization process than its chairside counterpart. The polymerization gives the material a more homogenous structure, leading to increased strength and stability over time.1 Telio CAD block has an average flexural strength of 135 MPa.2 When I reviewed the literature, one study showed that the CAD PMMA material flexural strength, at 131.9 MPa average, is double the flexural strength of conventional PMMA, at 66.1 MPa.3 Bis-acrylate composite resin flexural strength fell in the middle at 85.2 MPa.3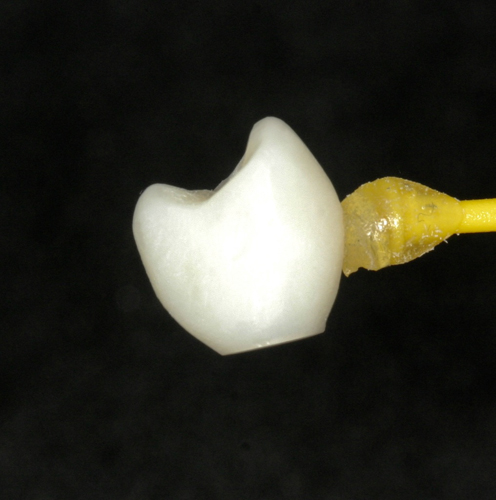 Figure 3: Notice emergence profile of crown to promote tissue health
After milling, the surface of the restoration can be highly polished. This material also allows for easy composite resin additions and shade optimization with composite surface stains.
Scanning with CEREC
For this process, first scan the working arch, opposing arch, and bite with just the cover screw in place. To save time, copy the working arch scan into the scan body catalog and cut out the implant area, ensuring the adjacent contacts are maintained. I find it easier to scan the contacts without the scan post and scan body in place.
Figure 4: Crown after removing from spur
Although a Ti-Base can be used in some clinical situations based on the position of the implant fixture in relation to the tissue, a scan post/scan body is the most universally predictable and repeatable approach. At this step, it is critical to align the vertical notch of the scan post and scan body for the proper milling orientation of the temporary restoration in the Telio CAD block.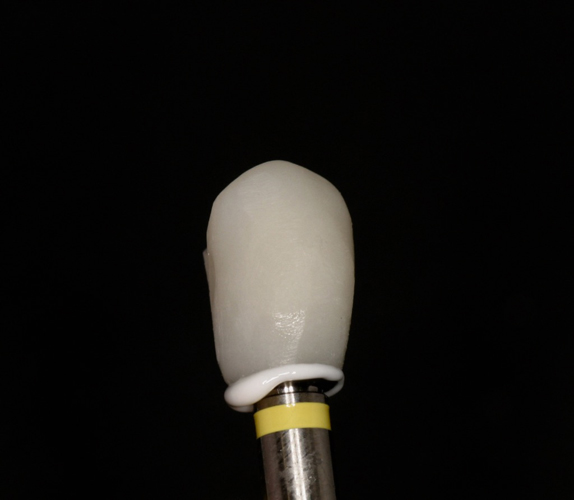 Figure 5: Cementation to Ti-Base; Ti-Base is placed on implant analog for ease of holding
From here, a restoration is proposed and can be altered as needed, similar to any other CEREC restoration.
Finishing
Once the design is completed, the restoration can be milled and luted to the Ti-Base. Realign the aforementioned notch in the base and the block, guaranteeing the proper position for the crown. Lute the Telio CAD to the Ti-Base following the manufacturer's guidelines.3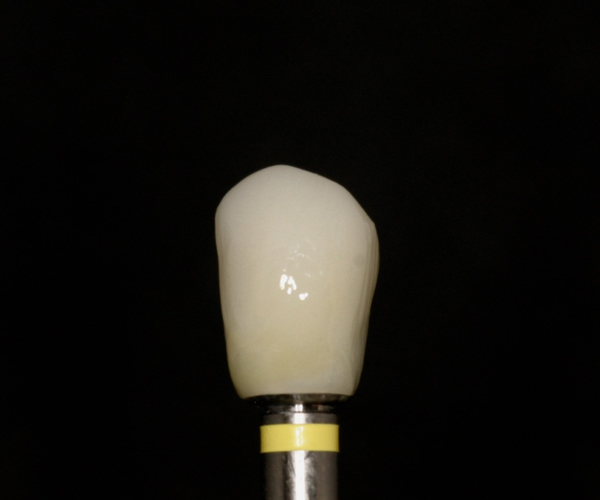 Figure 6: After stain, using Empress Color, and polishing
Take careful attention to ensure that no luting cement or composite resin addition, if characterizing, remains on the titanium Ti-Base collar. When polishing and adjusting, use special precautions not to scratch the titanium, leaving a high polish that is consistent with preventing biofilm formation.4 Once the clinician is proficient, the entire process of scanning, milling, extraora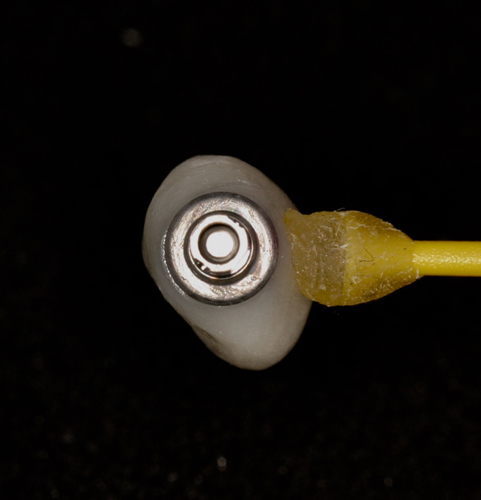 Figure 7: Ensuring that no cement or added resin is on the titanium
l luting of the Telio CAD block, and placing the restorations takes about 40 minutes.
In conclusion, there are many reasons and several ways to temporize a single-tooth dental implant. Combining time-tested philosophy with today's digital technology provides tremendous benefit to our clinical process, outcomes, and practice success.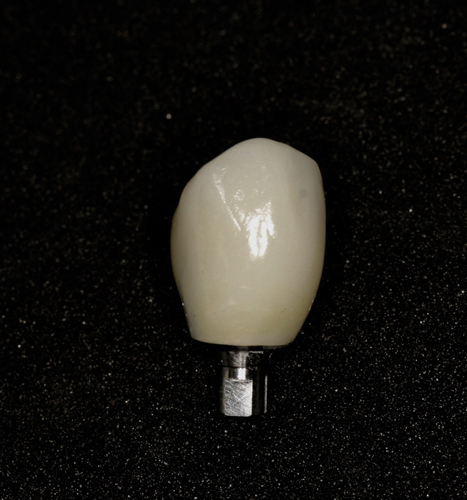 Figure 8: Finished crown
References
1. Singh A, Garg S. Comparative evaluation of flexural strength of provisional crown and bridge materials-an invitro study. J Clin Diagn Res. 2016;10(8):ZC72-ZC77. doi:10.7860/JCDR/2016/19582.8291.
2. Wanner M. Telio everything (for) professionals. Scientific documentation. Telio CAD. Ivoclar Vivadent AG. Research and Development, Scientific Services. Liechtenstein. Published April 2010.
3. Alp G, Murat S, Yilmaz B. Comparison of flexural strength of different CAD/CAM PMMA-based polymers: comparison of flexural strength of interim resin materials. J Prosthodont. 2019;28(2):e491-e495. doi:10.1111/jopr.12755.
4. Gharechahi M, Moosavi H, Forghani M. Effect of surface roughness and materials composition on biofilm formation. J Biomater Nanobiotechnol. 2012;3(4A):541-546. doi:10.4236/jbnb.2012.324056.
Laura Picano, DDS,graduated with honors from the University at Buffalo School of Dental Medicine. She completed her residency at Yale New Haven Hospital, gaining experience in all aspects of patient care. Her research in oral biology has been published in multiple journals and presented at several national conferences. Dr. Picano now practices in East Amherst, New York.