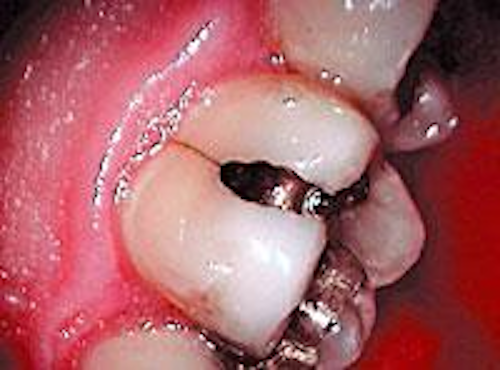 Daniel R. Sweet, DDS
What do you say to your dental school buddy of 25 years who says, "Posterior composites - aw, they don't work." Since that's all I do now, I try not to give my friend that "Are you stupid?" look and instead ask, "What do you think of the Zin?"
The real truth is that, yes, they don't work unless they are done properly, with little room for error.
With amalgam, we had the luxury of sloppiness. Let me explain. Back in the "olden days," a Gestaltic dental consciousness tacitly implied that it was OK to leave in or miss a little decay. Place the calcium hydroxide as a panacea, and you know the rest!
The only reason this concept worked reasonably well was because a toxic mercuric-silver biofilm formed with amalgam that would make an Alchemist shudder. This was covered up by the myth of "sealing by corrosion." In fact, it was one of the few successful toxic-leakage stories of modern times! It wasn't that long ago that we were placing arsenic mummification in pulp chambers! It is obvious that mercuric preparations have lingered long past their time in modern dentistry.
This brings me to the breakdown of the transition process between the two procedures. The first myth is that composite is a substitute for amalgam. Just look at the buffoonery in "packables." One procedure has nothing to do with the other! Get over it!
This, however, is not a technique article, friends. The troubling issue is that decay is not being removed. Why? Two reasons: old technique holdover and vision.
Regarding posterior composites, all - and I mean all - decay and soft dentin and decalcified enamel must be removed. This is a zero-tolerance consideration!
There is no toxic biofilm to save you here. Bonding has to be precise! Bonding over an unknown micro-junk pile - similar to current "sealant" theory - is a fantasy fix. No amount of sixth - or any generation - agent will help you, nor will a high-output laser help you. You are on your own, chum!
And let's not rush to judge previously done composites. First, we have had to put up with dental manufacturers who were foisting untested products on us.
Most of the time, these manufacturer's research was done by their graphics art department. Bonding agents had the same name, but changed formulations 14 times. Unfounded claims were made about cure depths, shrinkage, and durability. Solid research was replaced by "famous name" testimonials in dental advertisements. Be that as it may, I have patients of record that have working "holes-in-the-knees" composites from 17 years ago, and also ones from four years ago that I have had to redo for one reason or another. It's been a long and treacherous road.
I grew up with perfect eyesight. I could see an ant on a crow at 100 yards. Now, I can't read the menu without glasses. There is a transition zone where your sight declines imperceptibly.
Even with corrected vision, you will not get the precise level of decay removal necessary without using quality magnification and a caries detector. Unless you are 28 and really on it, you are blowing it if you are doing posterior composites without enhanced sensory advantages.
The reality is the rest of us need microscopes. For routine work by the salt of the profession, good lighting, corrected magnification, and a caries detector are musts.
There is no place for poorly done posterior composites. Amalgam succeeded because it was toxic and technique-insensitive. But now, with some effort, we can do better.
This all leads me to the real problem looming ahead. The unspoken fear of the profession is that amalgam will be banned. Regardless of the fact that amalgam looks bad, has some degree of toxicity, and cracks teeth like a tree wedge, a lot of doctors still use it because they do not have the time and/or ability to place composites effectively. Amalgam is the grist of the "welfare/managed-care ma chine." It can be placed quickly, and smashed in under saliva in all kinds of adverse conditions - job done!
You can't pull that off with composite. It requires a controlled field, precise preparation, adherence to protocol, and artful layering and curing. With practice, speed is achievable, but never to the convenient level of amalgam. And, yes, you have to work a little harder, and it takes a little longer. Just remember, when you junk the amalgamator, you will at some point be doing a deep distal composite on No. 15 on an uncooperative patient. Cringe!
So, I appreciate the profession's reluctance to leave amalgam behind. But its time to step outside the box. We must look ahead. How much longer can we convince the public that a material that comes into the office as a hazardous material - and must be disposed of as a hazardous material - is OK to place in their teeth? The scenario of an amalgam ban leading to a wave of poorly placed restorations by unprepared professionals can be mitigated if we take action now. The public deserves better!
Let's face the real issues and fears, and get everyone up to speed on how to do the new procedure quickly and efficiently. So, get started. Take out your trash can and rid your office of ineffective, worthless, dated products. Start your list with asbestos, aromatic medicaments, and lidocaine (yes, that's right!). Then, move on to dycal, balsamic/peanut-oil product, (keep the vinegar), eugenol, and Pinesol. Next, trash the amalgamators!
Don't panic, though. You might be able to sell the alloy on e-bay with a hazardous materials permit.
Cheers and good luck!
Daniel R. Sweet, DDS, is a graduate of the University of the Pacific at San Francisco. He has been in private practice for 26 years in Clovis, Calif., focusing his practice on restorative dentistry. He is a member of the Academy of General Dentistry. Dr. Sweet can be contacted at dansweet777@hotmail.com.