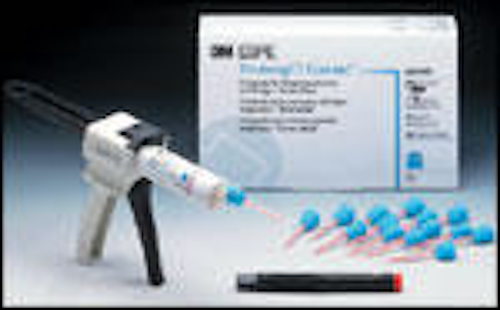 by Joseph Blaes, DDS
Pearl 1 — Protemp™ 3 Garant™ Temporization Material by 3M ESPE. A constantly recurring question in my "Easy Temporary" workshop is, "What can I do to strengthen the bis-acryl material to prevent fractures?" 3M ESPE comes to the rescue with its new bis-acryl temporization material.

The superior strength of Protemp™ 3 Garant™ means fewer broken temporaries and fewer emergency visits for repair. It is most unproductive to have to repair or recement a temporary between the prep and seating appointment; it costs you time and money.
Using 3M ESPE's Position PentaQuick impression material as a matrix, you will produce temps with a precision fit that protects the dentin and the gingival tissues. The monomers do not irritate tissues, little or no heat is produced while setting, and this material can be removed in a flexible stage with no distortion. You have a choice of four shades, including a great bleach shade. These shades have good color stability over long periods of time, and they do not pick up stains or odors.
Protemp™ 3 Garant™ has new filler technology that provides a reduced oxygen inhibition layer and easier finishing and polishing. I did not find it necessary to polish the temps that I made, but if you are into polishing, this material is great.
A Protemp™ 3 AddOn Material is included to make additional characterization and filling of bubbles and voids easier. Or you could use other resin-based products that you have on hand. This material is ideal for temporization of single crowns, long- and short-span bridges, quadrant crowns, onlays, veneers, and implant provisionalization procedures.
Order from your dealer. For more information, call (800) 634-2249 or visit www.3MESPE.com.
Pearl 2 — Vac Attack™ by Premier Dental Products. Do you ever wonder if all that stuff you run through your suction lines really does any good? What if you looked in the trap and actually saw pieces of material that have come off the inside of the suction hoses? Vac Attack™ is a high-performance evacuation system cleaner that does just that. I was amazed at all the gunk that came out! This cleaner combines chelation chemistry with concentrated organic chlorine to remove debris and bio-burden from your evacuation lines.

Vac Attack™ is fast-acting, but safe and environmentally friendly. It is nonfoaming, so it is safe with all pumps. Just add one scoop of Vac Attack™ to water and flush through the system. It's that easy to do!

Call (888) 670-6100 or visit www.premusa.com for details.
Pearl 3 — StatusBlue® Situation Impression Material by Zenith/DMG. This material was specifically designed as an alternative to traditional alginate impressions. StatusBlue® comes in a unique no bag/no mess cartridge system for clean, easy handling. The material is dispensed directly into the tray using the MixStar machine. StatusBlue® sets in the mouth in less than two minutes and is easily removed with minimal tearing.

This material will bring a new dimension to your models because of the excellent detail you will get. I use StatusBlue® for my original study models since the impression can be poured again and again. With one impression, I get study models, models for composite mock-ups, models for the opposing arch, and an extra set just in case something is broken during shipment.
Order from your dealer. For more information, call Zenith/ DMG at (800) 662-6383 or visit www.zenithdmg.com.
Pearl 4 — Visionflex Snap-On Disc by Brasseler. This is my favorite instrument for shaping and recontouring embrasures and incisal edges. The discs are now available in three sizes: small, medium, and large. The small and medium discs are the ideal sizes for working in the mouth.

As the name implies, Visionflex is a flexible diamond disc that you can see through to watch what you are cutting. How many times have you had a diamond disc lock up between the teeth and fly off in a direction that you did not intend? This product has a fail-safe, integrated sliding chuck that allows the disc to stop if it gets caught between teeth. The discs are universal and can be used on three different mandrels: latch type, friction grip (for slow speed), and the straight handpiece.
To order, call Brasseler at (800) 841-4522; for more information, visit www.brasselerusa.com.
Pearl 5 — Aspiject by Septodont. This is a totally new and different self-aspirating anesthetic syringe that is lightweight, well-balanced, and comfortable to use. Get ready to throw away your old syringes!

The Aspiject is designed to aspirate anytime during the injection with a unique system that does not require pull-back. This reduces the chance of needle movement and problems with the harpoon. In fact, the first thing you will notice about this syringe is the absence of a harpoon. There is no need to engage the carpule stopper, which allows for quick replacement of cartridges even while the needle is in place. Aspiject has a nonremovable hub design, so you can forget about losing syringe hubs when they come loose.
Order from your dealer or call (800) 872-8305 for details.
Pearl 6 — The Dispenser Rack by Chipman Dental Products. This product is designed to bring some order to the dispensing guns that are a part of almost every procedure these days. In my practice, we are constantly opening drawers and looking for different dispensers and materials.

The Dispenser Rack is made of clear plastic. It is a compact, sturdy, lightweight unit that will last for years. There is also a holder for easy access to dispenser tips.

The unit can be placed on a countertop or wall-mounted, and is available in three configurations to hold three, four, or five dispenser guns. To order, call (800) 814-7537, or visit www.chipmandentalprod ucts.com for more information.
Dr. Blaes has a general practice in the St. Louis area. He is known for his expertise in dental materials and techniques and his innovative systems designs. He writes and lectures on "How To Increase Productivity and Profitability." Dr. Blaes is a member of the American Academy of Dental Practice Administration. He may be reached at joeb@pennwell.com.