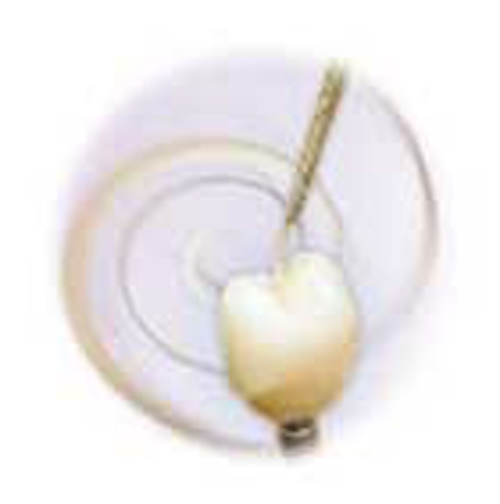 IPS Eris ideal for three-unit bridges and full crowns
Trident Dental Laboratories introduces IPS Eris (part of the IPS Empress System) to its family of all-ceramic restorations. With IPS Eris, dentists no longer sacrifice esthetics for the convenience of conventional cementation. IPS Eris restorations can be conventionally cemented using traditional glass-ionomer cement or adhesively bonded. The enhanced strength, biocompatibility, natural translucency, and excellent margin adaptation make IPS Eris ideal for three-unit bridges and full crowns.
For additional information, call Trident Dental Laboratories at (800) 221-4831.
VERAVIEWEPOCS panoramic X-ray unit
J. Morita USA introduces a new panoramic X-ray unit, VERAVIEWEPOCS, (manufactured by J. Morita Manufacturing Corp., Japan). The new unit will set the standard for reduced exposure time to the patient. The new high-speed mode takes only 8.2 seconds for completion of the cycle. It offers optimal image contrast and consistent film density.
Features include uniform magnification (image layer center), automatic exposure mode, auto-focus mode, TMJ mode, maxillary sinus mode, pedodontic mode, and large panoramic mode. Cephalometric model is also available.
For more information, call (866) JMORITA (566-7482), or visit www.jmoritausa.com.
Sof-Lex? Finishing Brush
3M ESPE introduces the Sof-Lex™ Finishing Brush, a reusable brush developed to combine the once-separate finishing and polishing procedures of posterior-composite restorations into one easy step.
The brush is made of a polyester elastomer, which contains an aluminum-oxide abrasive that polishes the restoration's surface to a uniform finish relatively similar to Sof-Lex™ discs, delivering a favorably esthetic restoration. A Sof-Lex™ System Kit, featuring the finishing brush, is available now.
For additional information, call (800) 634-2249 or visit www.3MESPE.com.
KaVo RONDOflex
A new, portable, air-abrasion instrument, the KaVo RONDOflex, is available from KaVo America Corp.
The RONDOflex is a portable unit that attaches easily to the MULTIflex coupler and requires no set-up time, and no separate foot control, air, or power supply.
Indications for use include minimally invasive cavity design and fissure treatment, as well as surface roughening and residual cement removal. The RONDOflex is also the ideal adjunct to the DIAGNOdent laser caries detector.
Affordably priced, the RONDOflex comes with both 27 and 50
For additional information, contact KaVo America Corporation at (800) 323-8029 or visit www.kavousa.com.
Comfort is a key feature ...
Comfort is a key feature of Kodak's InSight intraoral dental film due to a new design incorporating a soft-resin vinyl end on film packets. Patients who complain of sensitivity or the gag reflex during the taking of dental X-rays appreciate the "comfort edge" of SureSoft packets. The packets require no special handling or preparation, and the X-ray processes associated with Kodak InSight film remains unchanged. SureSoft packets are available for IP21, size 2, the most popular size of InSight film. Kodak introduced SureSoft with its InSight film because of the added benefit of reduced radiation dosages.
For more information, contact Kodak's Health Imaging Dental Products Group at (800) 933-8031 or visit www.kodak.com/go/dental.
Miris? universal hybrid composite system
Coltene/Whaledent Inc. introduces the Miris™ universal hybrid composite system. Miris™ differs from all other composites in its use of a new, simplified shading system, with only seven dentin and six enamel shades. An innovative shade guide was specially designed for Miris? that allows the clinician to see the final shading before starting the restoration by layering the selected dentin shade tab under the selected enamel shade tab.
Miris™ is suitable for direct anterior and posterior restorations and inlays, onlays, and veneers. Its 0.6 micron average filler particles provide both strength and polishability.
For additional information, call (800) 225-9382.
Qwik Reversible Hydrocolloid
Van R Qwik is the new 3 Minute Set impression material that offers consistent accuracy, ease of use, and unsurpassed hydrophilic properties. Qwik not only offers a 40 percent faster set, but also easy-to-read colors and a patient-pleasing cocoa aroma. Qwik is available in tray, wash, and syringe formulas, and is recommended for all fixed and removable impressions.
Ask your local distributor sales representative, give Van R a call at (800) 833-8267, or visit www.vanr.com for more information.
Interdental cleaning just entered a whole new dimension ... stain removal!
Healthy teeth and gums depend on conscientious brushing and flossing – not just on tooth surfaces but between teeth where most decay occurs. Existing interdental brushes have been shown to remove plaque and reduce gingivitis, but they have no effect on interproximal stains.
Dedeco Inter-national's latest product line introduction is StaiNo Interdental Brushes; proven in university testing to safely and effectively remove tobacco, coffee, and tea stains twice as fast.
The StaiNo line of products is the ideal system for use in the dental office. It features a full selection of StaiNo brushes, refills, and travel models, that enable the dental professional to prescribe the ideal size and shape interdental brush to meet the specific needs of all their patients. Plus, the system includes helpful prescription pads that the doctor or hygienist can use to note the appropriate brush for each affected interdental area.
StaiNo refill brushes fit all Oral-B and Butler handles. For additional information, call (888) 4-Dedeco or visit www.dedeco.com.
VersaTemp® available in six Vita shades
Sultan Chemists introduced VersaTemp® Temporary Crown and Bridge Resin, a superior automix material that delivers high strength and hardness of a composite in a wide range of six brilliant Vita-matched shades: A0-Bleach, A1, A2, A3.5, B1, and C2. VersaTemp® is packaged in new 25 ml clog-proof automix cartridges. These economical cartridges more easily, reliably and accurately mix VersaTemp® in a 1:1 ratio. Smaller-diameter mixing tips reduce waste by up to 15 percent providing a substantial cost savings.
The VersaTemp® Introductory Kit includes four 25 ml cartridges (A1, A2, A3.5, and B1), a Type S-25 Automix Dispenser, and 40 Mixing Tips.
To order, call your dental dealer or Sultan Chemists at (800) 637-8582, or visit www.sultanchemists.com.
CAESY Enterprise debuts May 1
CAESY Education Systems, Inc. announces the most flexible and adjustable patient-education system on the market today – CAESY Enterprise, which debuts May 1.
CAESY Enterprise enables dental practices to run the patient-education programs CAESY and the Smile Channel throughout the office, with new technology that can show different presentations on different computers, concurrently.
Both programs are loaded onto The Edge Serve, which connects to the doctor's existing computer network. With CAESY Enterprise, there is no longer a need for a DVD disc and player in every room.
More information on these products can be found at www.caesy.com.
High-torque, color-coded handpiece
The Meditorque America is a high-torque, autoclavable, slow-speed, color-coded handpiece and motor in one. Full torque at any speed provides stall-free cutting power. Variable speeds range from zero to 20,000 rpms for the Meditorque America I and zero to 6,000 rpms for the gear-reduced Meditorque America II, handling everything from prophies to delicate-soft decay material. Meditorque America will power and accept handpiece burs as well as all the standard contra angles, prophy angles, and disposable prophy angles that you already have in your operatory. The price has been the same since 1978.
For additional information, call (800) 221-0750 or visit www.medidenta.com.
Faster, more accurate tip available for the Opus20™
OpusDent Ltd. introduces its latest innovation, the HPX Tip. The unique technology of the HPX Tip focuses the laser's energy in a very concentrated mode, providing a precise fine line of cutting, resulting in a speed comparable to that of a dental turbine.
The HPX Tip is combined with a proprietary fiber technology that offers dental professionals a contact laser tip that can actually touch the surface, providing a more robust tactile feedback. It is available in two sizes.
The Opus20™ is a reliable, affordable, dual-purpose dental laser that widens the range of in-office treatments and, through its delivery of more than 1000 mJ of energy, provides the fastest laser cavity preparation available today. In addition, the Opus20™ can perform a variety of functions, including caries removal, enamel etching, pit-and-fissure preparation, as well as a multitude of soft-tissue procedures ranging from simple gum and soft-tissue trimming to more extensive surgery, all performed in a simple, bloodless, and minimally invasive mode, many without anesthetic.
For more information, call (866) 678-7336 or visit www.opusdent.com.
Take your dental office anywhere on earth
Portable, powerful, and completely self-contained, the TravelBELL™ is a field dental system with capabilities you would expect from your office. Now standard equipment of the U.S. Army, the TravelBELL™ goes anywhere, anytime. It allows you to do high-performance dentistry in places as remote as the Amazon jungle or high in the Himalayas. And with the optional solar panels, you'll never need a wall plug.
For more information on the TravelBELL™ features, call Bell Dental Products at (800) 920-4478.
Chair combines ergonomics and value
Dentists can now get the increased productivity a truly ergonomically designed chair provides, at a value price. The ECO 19 chair from Dentech Corporation offers superior patient comfort while allowing the dental team easy access from all directions. The chair is loaded with many of the features commonly found in higher-priced chairs, but can be purchased from most dental dealers for less than $4,000.
The ECO 19 features a contoured backrest that has compensated tilt and movable left and right armrests for ease of access and optimum patient comfort. The chair carries a five-year manufacturer's warranty.
For more information or a dealer near you, call (800) 826-5004 or visit www.dentechcorp.com.
DELight® dental laser
The Erbium:YAG dental laser is designed for removal of caries, composite resin fillings, and tooth structure; also suitable for soft-tissue procedures.
Features include a light specifically selective for tissues based on water content; preferentially affects carious material over healthy tooth structure; lightweight, compact, integrated handpiece; user-adjustable presents to select appropriate laser energy; long-reach 80-inch fiber delivery system; user-friendly control panel with concise controls, readouts; and autoclavable tips and handpiece sleeve.
For additional information, contact Continuum, 3150 Central Expressway, Santa Clara, CA 95051, or call (800) 532-1064 or visit www.continuumlasers.com.
Sterile procedure gloves
Allegiance Healthcare Corporation introduces sterile procedure gloves.
Features include: gloves are approximately 3" longer than exam gloves for extra protection; mechanically locking cuff guards against rolldown; patented "natural" anatomical design for greater comfort; cost-effective alternative for noninvasive sterile exam-room procedures; excellent tactile sensitivity; hand-specific for added comfort; and 12" average length; 9.1 mil average finger thickness.
The procedure gloves are ideal for sterile exam-room procedures and are powdered for smooth, easy donning. Their molded design helps reduce palm strain, and the anatomically designed fingers allow an excellent range of movement. Gloves feature an anti-slip finish for a firm grip. Packaged in peel-open pouches for sterility; 50 pair of gloves per box, four boxes per case.
For more information, call (800) 964-5227 or visit www.cardinal/allegiance.net.
OraTec 2002 periodontal catalog
OraTec Corporation releases its 32-page catalog for dental professionals. With the addition of the brand-new BANA and TOPAS microbial tests, the catalog now features every in-office periodontal risk-assessment test on the market.
The catalog is free to dental offices. For more information, call (800) 368-3529 or visit www.oratec.net.
JETLITE 4000 Plus dental curing light
J. Morita USA introduces JETLITE 4000 PLUS, an upgraded version of Jetlite 4000 with increased power output of 900-1400 mW/cm2 and a built-in digital light intensity meter. It is a microprocessor controlled curing light designed to perform standard curing techniques as well as ramp-up curing techniques. The JETLITE 4000 PLUS allows the user to easily select and rotate between standard and ramp-up (quantum cure) at the touch of a button. Standard features include digital display countdown timer, audible start and stop signals, and choice of nine pre-set curing times. The unit includes 13-8 mm tapered light guide, eye protection shield, and two no-glare cones.
For more information, call (888) 909-3636.
Don't miss out on the rewards program
Throughout 2002, earn "Pik Points" with every Waterpik™ dental product purchased. Trade in your "Pik Points" for over 160 great prizes. Electronics, TVs, jewelry, recreational equipment, etc., can be yours. Plus there is a chance to win a Caribbean Cruise for Two!
Participation is easy: Enroll on-line at www.professional.waterpik.com or call (800) 525-2020 to receive an enrollment form. Once enrolled, send in invoices of Waterpik
All Waterpik™ dental products are part of the program. For more details, call (800) 525-2020 or visit www.professional.waterpik.com.
LuxaBite™
Zenith/DMG releases LuxaBite™, an innovative new rigid bisacryl bite registration material that will be available this month.
LuxaBite™ combines superior handling properties and a firmer set to yield the most accurate and stable bite registrations on the market. Dispensed from an easy-to-use automix gun system, LuxaBite
To order LuxaBite™, contact your local dental dealer. For more information, call Zenith/DMG at (800) 662-6383or visit www.zenithdmg.com.
Protective apparel – comfortable barrier solution
Medicom Inc. introduces a comprehensive family of disposable protective apparel. The apparel is effective against cross-contamination and also features latex-free material to reduce allergic reactions. Comfortable and great fitting due to 3-ply SMS breathability, deluxe quality construction, and highly fluid-resistant material.
Items available include lab gowns, isolation gowns, shoe covers, and bouffant caps.
To place an order, contact your local dealer. For product information, call (800) 308-6589 or visit www.medicom.ca.