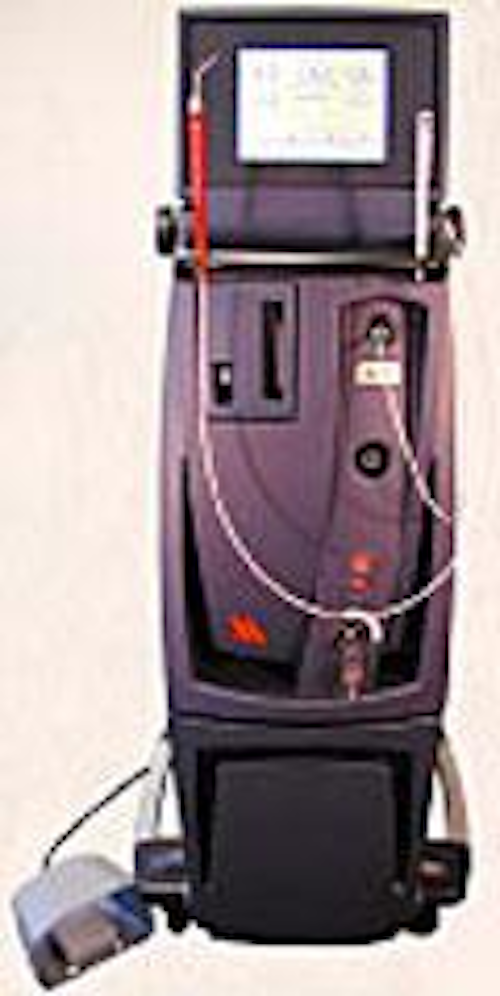 New FDA clearances for PerioLase®II
Millennium Dental Technology, Inc. has obtained additional FDA clearances for its PerioLase® II, a breakthrough achievement in dental lasers. The PerioLase was first cleared for sulcular debridement in January. The new clearances, received in April, add to the laser's appeal, acknowledging that it improves overall clinical indices including the gingival index (GI); gingival bleeding index (GBI); probe depth (PD); attachment level (AL); and tooth mobility (TM).
These new clinical claims validate the safe and successful use of the PerioLase for the treatment of periodontal disease without using scalpels or sutures.
With the power and versatility to provide a wide variety of new soft- and hard-tissue laser treatment options, the PerioLase is gaining recognition for its ease of use and income-generating potential. Clinicians report significant increases in income, consistent and superior clinical success using a minimally invasive procedure, the convenience of seven pulse-duration settings, the procedure-driven menu, and numerous patient referrals.
For technical information, call (888) 495-2737 or visit www.millenniumdental.com.
Dent Corp unveils wireless intraoral camera
Dent Corp.™ Research & Development company has introduced the ME-15 wireless intraoral camera. It transmits 2.4 GHz high-quality UHF video images to your TV monitor or PC.
The ME-15 features high resolution of 380,000 to 440,000 pixels by using a Sony Super HAD 1/3" CCD sensor assisted by four mini super-bright LED lights for true color. The focus adjustment is user-friendly with a push/pull slider that adjusts from a full-mouth view to a single tooth.
To simplify explanations to your patients, the multi-mode video-image freeze feature can display up to two images at a time on your TV monitor or PC.
The ME-15 is powered by rechargeable NiMH batteries, making the unit always ready for operation. Fully charged, the ME-15 can operate continuously for more than 60 minutes. In addition, the ME-15 turns itself off automatically when placed on its charging stand, and turns on automatically when removed from the stand.
To order or for more information, call (800) 454-9244 or email dentcorp@cloud9.net.
New soap dispensing system
Kimberly-Clark Professional has introduced All-N-1™, a disposable, self-contained soap system that includes the dispenser and soap in one unit. As soap is depleted, maintenance professionals simply discard the unit - which is recyclable - and install a new one. The All-N-1 is ideal for any setting where general-purpose soaps are used.
The system is made of durable, high-density polyethylene (HDPE) plastic, and offers sleek curved styling. Available in white or black, it coordinates well with other dispensers.
The All-N-1 system requires no dispenser investment, lease agreement, or costly customer repairs. The unit installs simply into easy-to-mount brackets vs. more complicated wall dispensers. Users get a new, clean dispenser and pump with each refill. While disposable, the All-N-1 offers the appearance of a permanent, wall-mounted dispenser. It provides easy and reliable dispensing, and does not leak, clog, or drip. The see-through back window helps the maintenance staff quickly see when it's time to change the unit.
The new system is available in 2.5 L dispensers - more than three times the capacity of an 800 ml system - resulting in fewer run-outs and refills for maintenance. Five different Kimberly-Clark soap formulations can be used.
As with all Kimberly-Clark products, the All-N-1 system comes with the "no questions asked" guarantee. The guarantee reimburses purchasers up to $1,000 worth of free products if the initial product does not meet expectations.
For more information, call your sales representative, Kimberly-Clark Professional at (888) 346-4652, or visit www.kcprofessional.com.
Sabra introduces the Econo-Torque
At 350,000 rpms, the Sabra Econo-Torque high-speed handpiece is ideal for the office that is not equipped with fiberoptics, or as a back-up handpiece. This very economical, lightweight, quiet-running handpiece offers extremely high torque, sturdy and reliable operation, and is available in both push-button and Jacobs-type models.
Sabra Dental also offers fast and reliable handpiece repair services with prepaid mailing and a $20 introductory coupon to be applied to your first repair.
For more information or to order, call (800) 888-4435 or visit www.sabradent.com.
Cercon is now for crown & bridge restorations
MicroDental Laboratories now offers Cercon Smart Ceramics crown and bridge restorations. Fabricated with pure yttria-stabilized zirconia, Cercon is the first restorative fabrication procedure that combines traditional production techniques with the high precision of computer-aided manufacturing (CAM) processes.
The strongest dental ceramic available, zirconia is cementable and ideal for placement anywhere in the mouth. Zirconia-based copings are virtually unbreakable and can tolerate multiple pontics in a row for a maximum bridge span of 38 mm, including cantilever bridges. MicroDental technicians have received significant training directly from Dentsply Ceramco, and are more than capable of creating the optimal Cercon restoration for your patient.
For more information, call (800) 229-0936.
CareCredit offers new brochure
CareCredit, the nation's leading patient payment program, has produced a new full-color brochure that illustrates how offering third-party patient financing can benefit both practices and patients.
Supported by a panel discussion with leading dental consultants, actual case studies, and exclusive endorsements, the new brochure details how CareCredit's comprehensive range of patient payment options can help increase treatment acceptance, improve cash flow, and reduce accounts receivable.
Written in an accessible and informative tone, the brochure also demonstrates the value of offering CareCredit's three-, six-, and 12-month interest-free and extended payment plan - a low-interest plan with an extended term. CareCredit provides financing for treatment fees from $1 to more than $25,000 and can be used by the whole family for ongoing treatment without having to reapply.
CareCredit is currently at work in more than 35,000 practices nationwide and is exclusively endorsed by most major state and national dental associations.
For information, call (800) 300-3046, Ext. 519.
Progeny introduces new intraoral product
Progeny, Inc., a leading United States independent manufacturer of medical X-ray components, brings to market the JB-70 Intraoral dental X-ray system. According to the manufacturer, the JB-70 offers increased productivity, ease of use, and a modern design modeled for a new or recently updated office.
The JB-70 features an intuitive, efficient keypad that can be mounted remotely; standard film and digital imaging compatibility; effortless, ergonomic positioning thanks to a unique handle; smooth-gliding arms that provide full range of motion with no unwanted drift; and a design for quick, simple installation on almost any wall or cabinet surface.
With precision die-castings, high-tolerance aluminum extrusions, and impact-resistant plastic, the JB-70 harnesses the latest in computer-assisted design, and is built to withstand decades of daily use.
Compatible with both standard film and digital imaging receptors, the JB-70 is designed to provide reliable, razor-sharp X-rays for years to come.
The JB-70 offers exposure time selections from 50 ms through 1.5 seconds.
Options include your choice of 66- or 76-inch total reach, exposure handswitch, 12-inch cone, 8-inch rectangular cone, and two-stud or metal stud mounting plate.
For more information, call (888) 924-3400 or visit www.progenydental.com.
Replaceable brush head for SpinBrush?
Crest announces that it will improve upon its wildly successful SpinBrush™ line of affordable electric toothbrushes by converting to replaceable heads on all of its adult model brushes. The new replaceable-head models are available now at their original low price. The replacement heads come in packages of two, and for the same price as the SpinBrush.
For additional information about the SpinBrush and other Crest products, visit www.spinbrush.com.
Dentrix announces newest software version 9.0
Dentrix Dental Systems is now shipping Dentrix® 9.0, the latest full-featured version of the industry's most popular practice-management system. This release solidifies Dentrix's position as the most thoroughly tested, stable product on the market today. The new features and enhancements will significantly enhance the clinical and business side of every practice.
New and enhanced features include the document center, lab case tracking, electronic insurance attachments, and improved Web-enabled capabilities. Document center is perhaps the most exciting feature - files, pictures, X-rays, and more can now be cross-linked with one another and integrated with the patient's file within Dentrix. It's like a virtual filing cabinet. Document center represents the missing link to a truly paperless office.
Dentrix 9.0 works seamlessly with the Digital Dental Office (DDO) total technology system, which includes the award-winning Dentrix ImageCAM, the state-of-the-art Dentrix ImageRAY digital X-ray sensor, and Dentrix Image - a fully-loaded imaging suite. One of the hallmarks of DDO is full integration - no bridging software or software "links" are necessary. All Dentrix components work together flawlessly, simplifying the dental workflow.
Dentrix 9.0 also leverages the advantages of the Internet to increase practice marketing and facilitate patient communication through its revolutionary DXWeb features. A sensible workflow, robust practice-management features, leading-edge clinical tools, and extensive customization options make Dentrix the most powerful and flexible practice-management system available. For more information, call (800) 336-8749 or visit www.dentrix.com.
Two new translucent shades for Heliomolar? HB
Heliomolar® HB, a heavy-body reinforced microfill indicated for all Class I and II cavity restorations, is now available in two new translucent shades: translucent white (TW) and translucent gray (TG). The outstanding translucency, polishability, and low wear make these two new shades an ideal choice for incisal edges and final occlusal layers of all posterior restorations. With its proven reliability of the Heliomolar technology (18 years) and outstanding aesthetics (11 shades), Heliomolar HB is the perfect addition to any doctor's armamentarium of materials.
Heliomolar HB has been recently evaluated by The Dental Advisor with ++++1/2 and a 91 percent overall rating by 22 consultants who evaluated the product. It also has been evaluated by Reality with four stars. The evaluators like the good packability and sculptability as well as the excellent polishability. Heliomolar HB provides clinicians with a dental material that demonstrates excellent adaptation to cavity walls with superior polishability and radiopacity, resulting in a long-term, durable posterior restoration.
For more information, call (800) 533-6825 or email at mail@ivoclarvivadent.us.com.
Now, your patients can choose their smile
If you have not yet experienced Portrait® IPN® teeth from Dentsply Trubyte, Trident Dental Laboratories can help by offering a free "Choose Your Smile" practice-development kit. This resource was designed to allow you and your patients the opportunity to discover the world's finest aesthetic teeth on the market today.
The kit includes a split denture model with standard teeth on one side and personalized Portrait IPN teeth on the other side. In addition, the kit includes 20 patient-education brochures, 20 practice-to-patient letter stuffers, and a colorful IPN denture poster. Trident also has included an Rx checklist as a reference tool to help successfully personalize your case, a reminder letter for you to send to your denture patients, and a Portrait IPN mold chart to assist in choosing your patient's smile.
For more information or to obtain a free kit, call (800) 221-4831 or visit www.tridentlab.com.
Newly designed endodontic file organizer box
Keep track of your NiTi rotary instrument usage easier. The new organizer is made of anodized aluminum with laser-etched graphics. It features a MAR holder, rubber-stop ruler, color-coded label to help easily identify specific sizes, and a slider to track usage and help determine when to replace your LightSpeed instruments. Priced at just $55 (without instruments), the organizer is sturdy, convenient, autoclavable, and easy to use.
LightSpeed instruments may be purchased separately. With the cost per usage at only $.55 per instrument, LightSpeed is a most cost-effective, nickel titanium rotary system.
For more information, call (800) 817-3636 or visit www.lightspeedusa.com.
Power up with Torq-Master™ lab handpiece
With up to 50 percent more torque than any unit on the market, the Torq-Master dental lab unit can increase your earning potential by cutting your work time on models, bridges, and crowns. Adjustable speed and torque let you perform both low- and high-speed tasks with equal ease. A small footprint takes up little space on your bench, and the simple set-up makes it easy for your staff to learn.
The two-year limited warranty is one of the longest in the industry so you can put your worries aside. The list of features includes:
Two interchangeable motors - B-35 and B-30-E
B-35 motor develops up to 35,000 rpm, fully adjustable
B-30-E motor accepts E-type nose cones for speeds from 30,000 to 150,000 rpm
Standard variable-speed foot switch allows hands-free operation
For more information or to order, call (800) 920-4478.
DEXIS? introduces easiest digital X-ray yet
DEXIS, the company that introduced the first portable laptop digital X-ray solution in the United States, has just released DEXIS 5. The new software release has been fully rewritten to be 100 percent compatible with Windows XP, the new operating system from Microsoft.
Elegant, simple to use, and powerful in its capability, DEXIS 5 brings digital X-ray within reach of every dentist. Ultra-easy features such as the "1-Click Full Mouth Series" and multiple "Smart Buttons" for major dental tasks confirm the DEXIS commitment to its users. Innovative tools in DEXIS 5 include built-in image backup, differential subtraction radiography, and advanced image modification security.
For more information, call (888) 883-3947 Ext. 141, email at contact@dexray.com or visit www.dexray.com.
A team approach to treatment-plan acceptance
Do you have problems getting your patients to say "yes"? Is presenting treatment to patients not giving you an 85 percent or higher case acceptance? Then these audio tapes by McKenzie Management and Associates are for you.
With this audio tape series, you will learn an effective case presentation format, how the dental team can increase acceptance, all of the verbal skills needed to present recommended treatment, and techniques to uncover patient objections. This series also includes information about how to use a "trial close," negotiating skills to overcome objections, how to integrate a treatment coordinator into your practice, and, finally, the steps to a thorough treatment audit.
To find out more about this and Sally McKenzie's other products, call (877) 777-6151 or visit www.mckenziemgmt.com.
DME Dezigns introduces body mat and head rest
Patient-eze is made from the highest quality memory foam and medical-grade coverings that are easily disinfectable. Patient-eze conforms to your patient's anatomy, eliminating pressure points and relieving anxiety.
The body mat measures 19"x72" and incorporates a non-slip backing that conforms to most dental chairs.
For more information or to order, call DME Dezigns at (949) 421-0120, email dme@dmedezigns.com or visit www.dmedezigns.com.
AdDent introduces CALSET? composite heater
AdDent introduces a major breakthrough in thermal-assisted light polymerization that shortens the curing time of restorative materials by up to 50 percent.
The CALSET composite compule heater increases flowability, decreases film thickness, and improves monomer conversion compared to standard procedures. With similar or less light intensity than usual, CALSET pretreatment yields stronger restorations as well as deeper and faster curing of all composite materials.
For more information, call (203) 778-0200 or visit www.addent.com.
New patient-education software introduced
CommuniDent©, version 4.0, has been released by New Boston Software, Inc.
CommuniDent is multimedia dental patient-education software that is available on CD-ROM or DVD. The new version includes an underlying state-of-the-art video-based graphics engine, insuring the highest quality and smoothest playback.
Educational modules utilizing real-time video, graphics, clinical photos, animation, voice narration, and music explain to patients in a clear and unthreatening way the procedures and options open to them in today's high-tech/high-touch office. Treatment modalities presented in CommuniDent version 4.0 represent the majority of options offered in the everyday general practice of dentistry.
CommuniDent is competitively priced at $695 for either CD-ROM or DVD. A free demonstration CD is available upon request.
For more information, call (866) 775-2455 or visit www.dentalpatienteducation.com.
Patients learn the
Oral-B introduces patient-education leaflets called Oral-B Dental Essentials. Dental professionals can use these complimentary brochures to promote the importance of daily oral care to their patients. Five unique brochures targeting different patient needs stress the importance of a daily oral-care regimen.
Developed by Oral-B with the input of dental professionals, Oral-B Dental Essentials feature a variety of oral-care topics, including:
Tips and Tools to Promote Better Oral Health
Start Early, Start Right
Oral Care and Braces
Keeping Clean In Between (shown)
Pregnancy and Oral Hygiene
Valuable retail coupons and rebates for various Oral-B products are enclosed with each patient brochure, including a $10 rebate on the Braun Oral-B 3D Excel Pulsating Toothbrush. Oral-B Dental Essentials are packaged in packets of 50 leaflets.
Dental professionals now can receive Oral-B Dental Essentials by visiting www.oralb.com, contacting Oral-B at (800) 446-7252, or submitting a written request to Oral-B Laboratories, c/o Dental Essentials, 600 Clipper Drive, Suite 200, Belmont, Calif., 94002.
Each order is limited to a maximum of two packages of each brochure, but professionals may re-order additional brochures thereafter. For displaying the patient brochures on either the counter or wall of dental offices, acrylic cases are available exclusively to Oral-B Guaranteed Savings Plan members.
One-to-one direct-drive compressors
Kaeser Compressors, Inc., announces its newest direct-drive series rotary-screw compressors. The BSD and CSD compressors are 40 to 75 horsepower units available in flows from 158 to 361 cfm, and pressures to 217 psig. They are designed for efficiency, reliability, and minimal maintenance.
These state-of-the-art units feature the optimized Sigma Profile airend, patent-pending Sigma Control system, and the latest one-to-one direct-drive technology.
The BSD and CSD units are true direct-drive compressors with an oversized airend connected directly to the motor via a maintenance-free coupling for maximum efficiency. Kaeser has developed a unique cooling air flow that significantly reduces noise levels and provides superior cooling.
Plus, all units are fitted with a redesigned, high-efficiency separator system for extremely low oil carry-over - perfect for all of your instrument and process air needs.
For more information, call (800) 777-7873 or visit www.kaeser.com.
Bio-2000 offers mint-flavored solution
Anodia Systems is the distributor for Bio-2000 and injection systems for dental unit waterlines. Bio-2000 was initially developed for use during operative procedures. The Bio-2000 replaces the water going through the high-speed handpiece or the scaler during operative and power scaling procedures.
Bio-2000 is a mint-flavored solution for cleaning dental unit water lines or use during operative and scaling procedures. It is safe for the patient, staff, and equipment, and is effective against Pseudomonas aerugenosa.
According to the manufacturer, Bio-2000 is recommended by most dental equipment manufacturers, and is distributed in 16-ounce bottles in cases of 10, or in 2.5 gallon jugs.
Anodia Systems invites you to see its Web site - www.Bio-2000.net - for an injection system picture and details.
For additional information, write to Anodia Systems, 514 S. Third Street, Danville, Ky., 40422, call (866) 246-2548, or email at info@bio-2000.net.
Hu-Friedy announces new implant scaler
Hu-Friedy, the leading manufacturer in hand-held dental instruments, introduces a new ergonomic implant scaler. The Implacare® implant maintenance instrument is now available with the ergonomic Satin Steel® handle.
Satin Steel instruments have a lightweight, large diameter handle. The unique diamond texture on the Satin Steel handle provides a secure grip and greater rotational control, even through wet gloves. The Implacare Satin Steel handle is sterilizable and designed for extended use.
Implacare's replaceable curette and scaler tips are made from Plasteel®, a high-grade resin that does not scratch titanium, allowing the clinician to perform scaling procedures without damage to implant abutments.
Implacare tips are available in three different paired designs: H6/7 scaler, 204S sickle scaler, and Columbia 4R/4L curette.
The tips are disposable and easily secured into the handle using dressing pliers. The Implacare Satin Steel handle (item code IMPHDL6) and tips are sold separately or as kits.
For more information on Implacare, please contact your authorized Hu-Friedy dealer representative, or call (800) 483-7433.
Automatic computer backup over the Internet
Sentinel Data Systems offer the best solution in immediate offsite computer data storage and recovery services. Now, dental practitioners can backup their computer systems over the Internet automatically, inexpensively, and reliably.
Using Sentinel Data Systems' implementation of the Connected TLM application, practitioners can be assured that their business will continue with minimal problems in the event of a disaster, as well as staying in compliance with existing HIPAA privacy rules. Record-keeping requirements of HIPAA mandate data backup and recovery procedures to be in place, as well as contingency plans for continued operation in the event of office computer equipment failure.
Sentinel Data Systems also provides digital image archiving services for your digital X-ray radiographs and other images.
To achieve peace of mind by knowing that your vital practice data is safe, call Sentinel Data Systems at (866) 444-9660 or visit www.sentineldata.com.
Multi-sport mouthguards prevent injuries
GAMEguard™ multi-sport mouthguard reduces the risk of the mandibular condyles from being forced into the base of the temporal bone and injuring the brain. GAMEguard is made with PolyShok™ technology that absorbs 285 percent more impact energy than EVA, the polymer used in other mouthguards.
GAMEguard Plus provides maximum protection against brain injuries caused by an impact to the jaw. ShoK Pads™ made of PolyShok™ Plus strengthens the GAMEguard Plus and enhances energy absorbency, offering 384 percent greater shock absorption than EVA. Other features include:
Reduces the risk of concussions
More comfortable
Excellent breathability
Works well with braces
Meets all collegiate, high school, and youth regulations
Available in blue, red, green, yellow, white, and black (including black ShoK Pads for GAMEguard Plus).
For more information, call (800) 401-1776 or visit www.sportsguard.com.