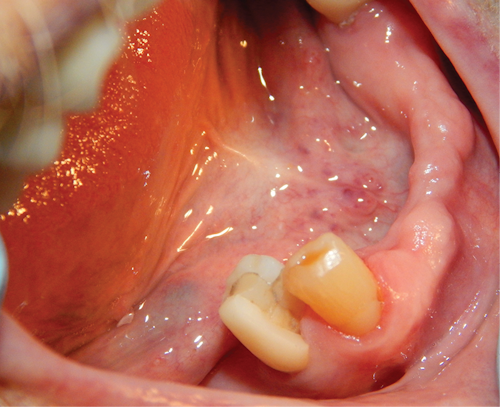 David Burt, DDS, FICOI, FICD
Digital dentistry in the form of CAD/CAM, chairside milling, and more recently, digital scanning is becoming the norm rather than the exception when it comes to fixed and removable prosthetics.1 Although chairside design and milling has grown in the dental community to a respectable percentage of practices, there are many practitioners who feel that either the ergonomics or the economics of chairside restorations just won't work for them.2
With dental insurance companies all competing in the race to the bottom for compensation for fixed prosthetics, it can make more sense to prep and temporize two units in about the same chair time it takes to prep, design, mill, finish, and deliver one unit in a single visit. Plus, many practitioners believe that fabrication for high-value cases and demanding esthetic challenges is better left to the laboratory.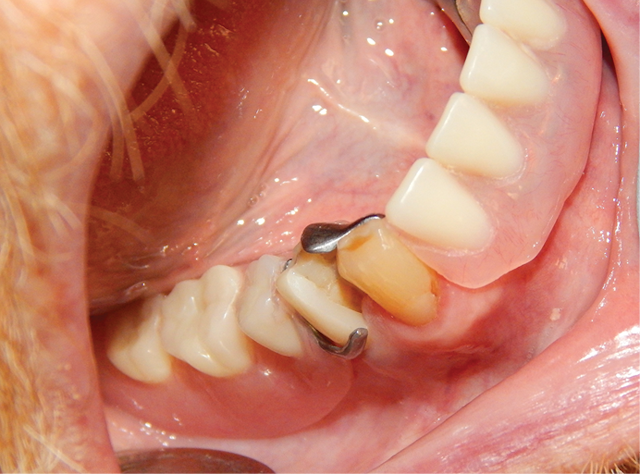 Figure 2: The removable partial denture in place showing the importance of the contours
Efficiency of time and daily production make up the two biggest variables today and are the metrics that play a large part in determining the health of a dental practice.3 With that in mind, many practitioners still prefer to have the lab fabricate their crowns, especially considering that many single-unit crowns are now made of IPS e.max lithium disilicate (Ivoclar Vivadent) or zirconia because of their inherent strength and newfound esthetics that can rival the best of porcelain-fused-to-metal (PFM) crowns.
The swing away from traditional PFMs is evidenced by the almost complete reversal of the ratio of cast metal versus milled restorations that labs produce. Some of the biggest dental labs in the country report an ever-decreasing demand for PFMs.4 In light of this shift to extremely strong ceramic materials, it is only natural to utilize them as abutment teeth for metal-based partial dentures. The use of CAD-produced crowns, coupled with high-compressive-strength materials such as zirconia, has given doctors good reason to stick with the tried-and-true method of sending their cases to a dental lab for fabrication. On the lab side of the process, CAD programs now have the ability to create rests, guide planes, and contours to maximize the form, fit, and function of an abutment crown as well as the resultant partial denture.5
Because the digital process of CAD/CAM involves multiple digital files, all of the work done—whether by chairside or lab—is archived and can be exactly reproduced at any time in the future, as the file has not been deleted. It's like having an office where the doctor has kept all of his or her impressions over time, and they are as pristine and distortion-free as the day they were taken. Even this analogy is somewhat flawed in that all analog impressions and the subsequent PFM production process have multiple built-in distortions when compared to digital.6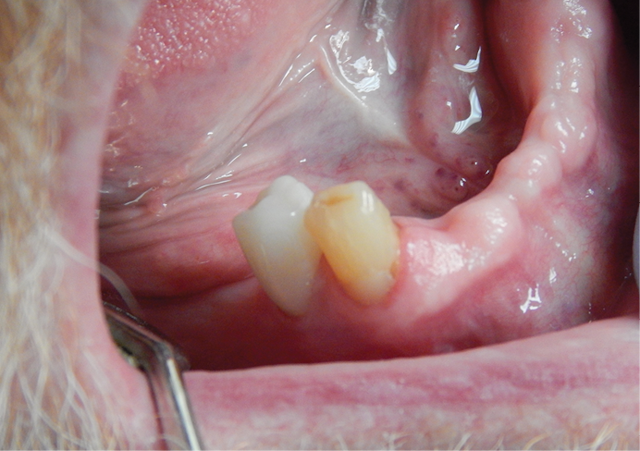 Figure 3: No. 28 crown delivered and cemented
The keys to intraoral digital scanning
This article will show how even a recently placed cast partial denture can have a crown replaced as well as another one fitted under an existing clasp without compromising the integrity of the system or jumping through hoops to try to achieve it. The key to such modifications lies in the ability of digital scanning to either copy an existing crown file or closely replicate a tooth that was a key abutment for a partial and in need of a crown. Digital files can effectively save a crown/partial system and provide longevity to treatments already done, which would have been almost impossible to accomplish before the digital era. This is truly a win-win for both doctor and patient.
Digital case presentation
A patient presented to our office with the chief complaint of an inability to properly chew his food, and he wanted to have his mouth restored as best as possible.
Treatment planning
The patient already had a full maxillary denture and did not want to have all of his mandibular teeth extracted. An implant-retained overdenture was discussed and recommended. However, a CBCT scan and evaluation determined that the overdenture would be an option only if guided surgery and extensive bone grafting were utilized due to the minimal bone available.
While a few insurance companies will cover a portion of implants, most have no allowances for them or for grafting procedures. When the financial implications of the implant option were presented, the patient expressed concerns and wanted his insurance to be utilized as the main source of funding for the work. Fortunately, he had three key teeth that were able to be used as abutments for a lower partial denture. Two of the teeth would need crowns due to their extensive restorations.
A treatment plan of zirconia crowns on these key abutment teeth and fabrication of a metal/resin partial denture was readily accepted by the patient, and the work was completed.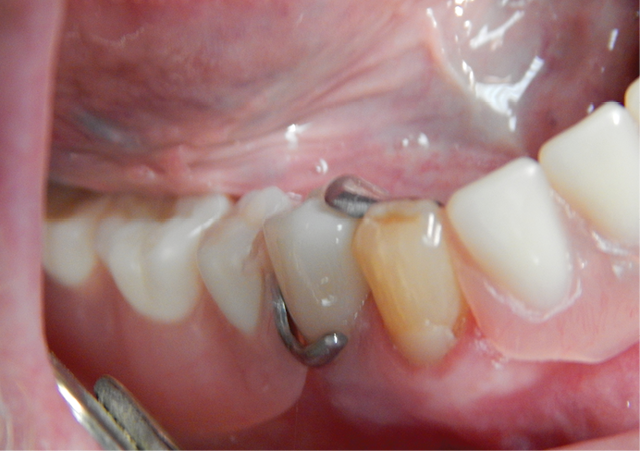 Figure 4: No. 28 crown and removable partial denture in place to check for fit and form
What digital files can do
Less than a year later, the patient presented with pain in one of the crowned abutment teeth. Endodontic therapy was initiated and completed on tooth No. 28.
Shortly after, the patient presented with a vertical fracture and loss of a portion of crown No. 28 (figures 1 and 2).
After making an analog temp maker out of polyvinyl siloxane (PVS), the remainder of the crown was cut off and a temporary was placed. Since the crown was fabricated before the partial was placed, we were able to ask the lab to locate the patient file and make a new crown, which would be an exact duplicate of what he originally had.
Within two weeks, the new zirconia crown was delivered and cemented with virtually no adjustments needed even being clasped (figure 3).
Six months later, a routine prophy and exam revealed extensive interproximal decay on tooth No. 27, which was not yet crowned but had a rest on the lingual. Retrofitting a crown to an existing partial framework or clasp has been attempted many times using various techniques with the partial, usually requiring a trip to the lab with the final fit leaving much to be desired.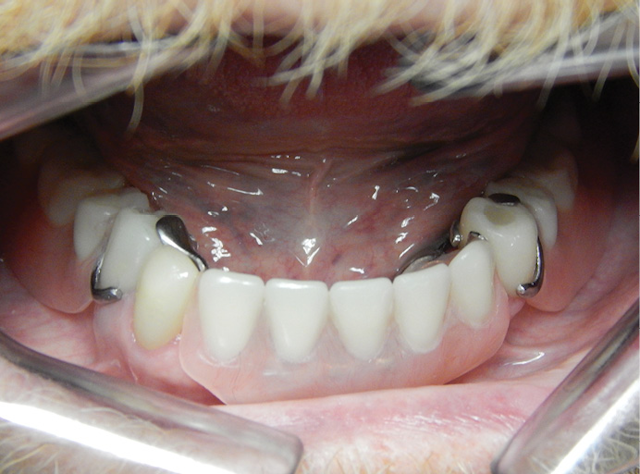 Figure 5: Both Nos. 27 and 28 in place with the removable partial denture
Once again, digital scanning and its files came to the rescue. The tooth was imaged before any work was started, as well as after the crown prep was completed. Another scan of the partial denture alone was also done and sent with the case. The prescription to the lab was for the lab technicians to copy the original form of the tooth, based on the prerestorative scan. The lab was able to mill a close replica of the original tooth form in zirconia without ever having the partial in the lab to verify the fit. The crown was
delivered, and the partial fit perfectly, again with no adjustments (figures 4 and 5).
Conclusion
Sometimes in dentistry restoration of the dentition may require a stepwise succession of procedures to obtain a functional solution that must remain stable for years. Securing partial dentures in the mouth usually dictates that the clasped teeth be able to handle the additional stress that is placed on them. Restorations on these teeth become the foundation that the final prosthesis depends on to continue its function. Being able to easily and predictably repair or replace these teeth can provide a greater longevity and cost savings for any appliance that a patient already has.
References
1. Kaye G. Does 'digital dentist' mean anything today? Dental Economics website. https://www.dentaleconomics.com/articles/print/volume-107/issue-12/science-tech/does-digital-dentist-mean-anything-today.html. Published December 6, 2017.
2. Elsenpeter R. The truth about chairside dentistry. Dental Products Report website. http://www.dentalproductsreport.com/lab/article/truth-about-chairside-dentistry. Published April 17, 2017.
3. Tighe K. Efficient time management and scheduling in your dental practice. DentistryIQ website. https://www.dentistryiq.com/articles/2017/07/efficient-time-management-and-scheduling-in-your-dental-practice.html. Published July 11, 2017.
4. Christensen GJ. The all-ceramic restoration dilemma: where are we? J Am Dent Assoc. 2011;142(6):668-671. https://jada.ada.org/article/S0002-8177(14)65571-9/fulltext.
5. Burt D. Copy existing tooth form to retrofit to an RPD accurately: An ideal CAD/CAM application. Dentistry Today website. https://www.dentistrytoday.com/restorative-134/1774—sp-978499547. Published February 1, 2009.
6. Petersen GF, Asmussen E. Distortion of impression materials used in the double-mix technique. Scand J Dent Res. 1991;99(4):343-348.
DAVID BURT, DDS, FICOI, FICD, a 1978 graduate of Temple University School of Dentistry, is in private practice where CAD/CAM, digital scanning, and dental implant/guided surgery are integral to his dentistry. His passion for new and better dental treatment led him to be an early adopter of many of the emerging technologies available today. He has authored numerous articles about digital technology and its application to dentistry.