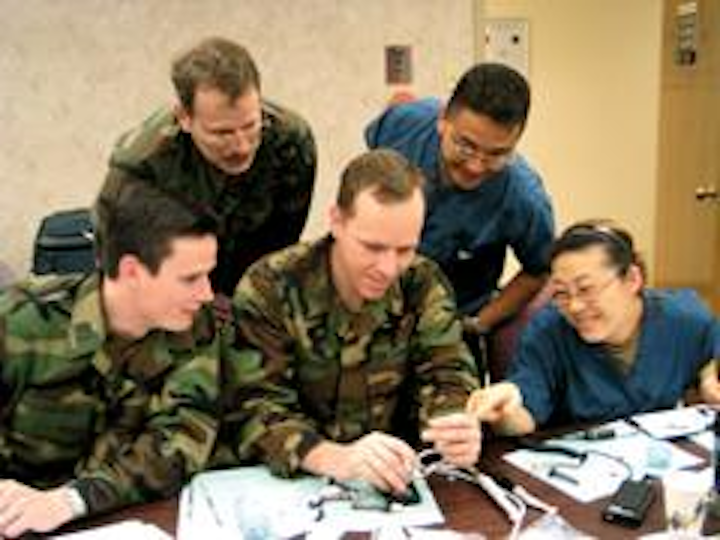 By Dr. Frank Milnar
The term "Military Dentistry" always stirs the curiosity of civilians. It brings to mind images of special equipment, places, and procedures. However, military dentistry is not that unusual. It's merely dentistry that takes place in special conditions in military bases for the oral health of the armed forces. It also takes special people to be military dentists and special people to teach them.
This type of dentistry does take a greater personal effort. It does not always take place in aesthetically pleasing offices in urban areas. Many times military dentists are challenged to provide the best possible care under some of the most trying conditions.
So why would I, a civilian dentist, want to go teach in the military?
A friend asked a few years ago if I'd be interested in teaching military dentists about new products and procedures. I believe in doing something for my country — so I said yes. I'm a focused and disciplined individual, but I'm also very inquisitive. I'm open to new experiences and this opportunity seemed especially interesting and challenging.
At first, I didn't know what to expect. My first military experience was in the Army at Fort Jackson, S.C. The sincerity of the doctors I met was a refreshing surprise. They were very glad to see me, and they were very eager to learn.
The surroundings were not glamorous. It was a plain little room with makeshift slide screens. "Shoestring operation" is the description that came to my mind. However, the devotion and commitment these dentist/soldiers displayed was impressive and more than made up for the spartan surroundings.
In the military realm, dentists work on maintaining good oral health for soldiers. And for the most part, they work on soldiers stationed on military bases. However, military personnel frequently get transferred to different bases. Sometimes they get deployed. And in the case of Operation Iraqi Freedom they were deployed very rapidly.
Because of these ever-changing factors, it's incumbent that military dentists provide services that are predictable and safe. Soldiers have more important matters on their minds. They can't be worried about dental work that can be chipped, knocked off, or that may cause pain. Mishaps like this would take a soldier or an officer away from their important duties. And that could be detrimental to their unit and to their operation. Therefore, aesthetic restorations are the optimal choice for military dentistry.
This type of dentistry mandates education and hands-on instruction, which gives civilian practitioners the perfect opportunity to teach. The military welcomes experienced dentists and is eager for them to teach not just officers, but also new graduates (what we call residents). We represent a different perspective. We see different challenges driven from the public sector.
Aesthetic dentistry
Aesthetic or cosmetic dentistry is as important to military personnel as it is to the civilian sector. Military dentists realize that happy service members are more productive and perform their jobs better. Aesthetic dentistry is one way that military dentists contribute to the overall wellness of the troops. And not only do military members benefit, but their families also appreciate the results.
Contributing to the education of military dentists was an honor. Our military men and women are the main reason why Americans enjoy our unique freedoms and our high quality of life. Educating military dentists about cutting-edge technology is my way of saying thank you and giving them back something in return. Showing gratitude for what our soldiers do for our country is very important and lifts their morale.
The military is entrusted with the dental health of all military personnel and that of their eligible beneficiaries. Anything less than their best effort violates that trust. It is a special privilege to help them achieve their dental-health goals through ongoing, expert dental instruction.
Aesthetic restorations provide durability, which is absolutely essential for active duty service men and women. I'm an advocate of direct, restorative dentistry; I want to save as much tooth structure as possible. Dental technology has changed very rapidly. These days, manufacturers promote very expansive, artistic, multiple-shade restorative systems for direct placement of resins. This can be confusing to dentists in the private sector as well as military dentists ...
• Which shades do you use?
• Where do you use them?
• How do you make something match in color that you've created?
• How do you make it disappear into the mouth over a tooth?
By teaching military dentists how to prepare a tooth properly for an aesthetic restoration, I'm showing them how to save the tooth structure. Now we've "tooth-banked" that tooth for the next generation of technology that doesn't even exist today!
In my hands-on workshops, I teach dentists these qualifications and indications by using academic models to emulate the techniques.
New graduates — Get ahead with Uncle Sam
Graduates right out of dental school have one thing in common: They have a minimal set of skills. They've met the requirements for graduation and we respect that. And now they'll be working on human beings.
Unfortunately, most of these graduates also have something else in common. By the time a student graduates from dental school, they've accumulated approximately $130,000 in student loans. These amounts are staggering. And, since most graduates have not done a lot of procedures, their opportunities will be limited. And they still have $130,000 worth of student loans to pay.
There is a way for today's young graduates to build a good, solid foundation of skills and manage the huge debts they've accumulated: They can join the military. Graduates who serve Uncle Sam for three to four years can hone their skills, see the world, and say goodbye to their student loan debts!
The military offers a multitude of educational benefits and opportunities to new graduates. For example, dental students who enter the Navy Dental Corps have some of the following options* available to them:
* Health Professions Scholarship Program (HPSP): This is a two, three, or four-year scholarship that pays the dental student's tuition and school-related expenses (such as books and equipment). They also receive a stipend of $1,131 per month. Their active duty obligation is three to four years.
* Health Services Collegiate Program (HSCP): This is offered to dental students in their third or fourth year of dental school. They receive $26,000 a year in military pay and benefits, and their active duty obligation is for three years.
* Financial Aid Program (FAP) for specialty training: This is a lump sum payment for $2&,924 for up to 5 years, plus a $1,131 per month stipend and all school-related expenses. The total value of this program is $37,496 a year. Their active duty obligation is between three to five years.
* Dental Student Program (1925I): Students can receive a $30,000 accession bonus, and their time in dental school counts for constructive pay purposes, which can amount to an additional $10,000 per year.
The Navy Dental Corps also has ADA-accredited, postgraduate PGY-1 programs — both AEGD and GPR — available for newly commissioned dentists at multiple sites worldwide.
Once on active duty, the Navy offers dentists two advanced clinical programs in general dentistry and exodontia. The length of these two courses is one year. There also are residency programs in all of the following dental specialties:
• Comprehensive Dentistry
• Endodontics
• Maxillofacial Prosthetics
• Operative Dentistry
• Oral and Maxillofacial Surgery
• Oral Medicine
• Oral Pathology
• Orofacial pain
• Orthodontics
• Pediatric dentistry
• Periodontics
• Preventive dentistry
• Prosthodontics
• Public Health dentistry
Military dental schools are all post-graduate in nature. Specialty training is the same as civilian post-graduate training (modern techniques/materials, evidence-based, and meeting ADA accreditation standards). Some of the training even takes place in civilian dental schools.
However, the main advantage the military offers over civilian dental schools is the low resident/mentor ratios, the availability of board-certified specialists who represent the entire spectrum of dental care, and the fact that every faculty staff member in Naval post-graduate dental school is board certified in their respective specialty. For those who want to seek board certification, the military offers financial assistance for obtaining that goal.
When I teach at a military base, I see dentists in every stage of their careers — from newly graduated recruits to seasoned officers who have spent their lives building their military careers.
The military is offering an attractive benefits package in an effort to attract new dentists (and to entice them to stay beyond the initial three to five year commitment) into the military. Here are some of the benefits military dentists receive:
o Full medical and dental benefits
o Thirty days paid vacation per year
o Ready-made diverse practice (Variety of work places and positions; may be able to work on a ship, with the Marines, in a foreign country, hospital, teaching staff, or partake in humanitarian missions.)
o Fully paid office expenses; no overhead
o Complete staff and lab support
o No billing, copayments, or insurance to worry about
o Malpractice and disability coverage provided at no extra cost
o Practicing with state-of-the-art equipment and supplies
o Travel opportunities
o Professional development and camaraderie; paid continuing education; paid specialty training>br>o Comprehensive retirement plan
o Military recreation facilities (resorts, Officer Clubs, golf courses)
o Security
Sometimes I teach dentists about new procedures and demonstrate the latest products. I also point out that certain factors must be considered when developing a treatment plan for military patients. One such factor is the cost of dental care for that person once they return to civilian life. Therefore, procedures must not only be predictable and safe, but also should be inexpensive to maintain.
As a result, military dentistry is focusing more on prevention. They are putting more emphasis on total dental health versus just having their patients' caries-free.
Military dentistry is on the cutting edge in treating dental caries as an infectious disease. Civilian dental instructors work in partnership with the military to help them keep current with emerging technologies so they can fight this disease.
The hands-on workshops that I teach on military bases are a lot of work. So I like to put on the Rolling Stones and add some fun to break it up. I have permission (from commanding officers) to make sure that the young dentists pay attention. If they don't I can get in their face! And that's a stark difference from teaching in the private sector.