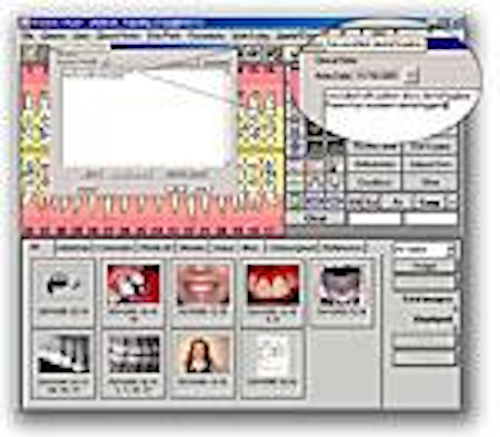 Winston Williams, MS
These days, you can dial your cell phone simply by talking. You can change the CD in your car with only the sound of your voice. And you can adjust the environment in your home by verbally commanding the lights to go up or down or the temperature to adjust to your wishes. For all the thrills these new technologies offer, in reality they do little to dramatically improve our way of life - but they sure are fun! However, the same voice-activation technologies also can be used to significantly increase efficiency within an organization. Imagine the effect it could have on dentistry - increased efficiency, production, and profits, just to name a few. The promise of hands-free charting, quick one-person perio exams, and automated transcription of clinical notes has long been considered a technological Holy Grail of the truly wired practitioner. These advances were limited, though, by the instability and unreliability of available voice-activation technologies.
That was then, this is now! Today, voice activation in dentistry has progressed to the point where each of those wishes can come true.
Modern practice-management systems make the paperless office an attainable reality. However, entering information into integrated charts, recording periodontal exam data, and transcribing clinical notes into online patient files traditionally still requires hands on the keyboard and clicks on the mouse. With new advancements in voice activation, these tasks have taken a quantum leap forward.
Leading the charge into voice activation is Dentrix Dental Systems. Their clinical and practice-management system provides seamless integration with dental-practice-specific, voice-activation technology for charting and transcription. With only the sound of a voice, practitioners can navigate through the charting process and record information as quickly as they can speak.
Voice activation for charting
"With three full-time hygienists, we found it almost impossible logistically to do thorough perio exams when we record the depths by hand," says Dr. Chris Hammond, a general practitioner from Provo, Utah. "Our options were to have each hygienist manually record every depth in the practice-management system's perio chart, put two staff members together so one could record while the other probed, or simply do cursory exams. None of these options were acceptable. Either the exam took too long, required too many people, or didn't adequately serve the patient."
To overcome these limitations, Dr. Hammond uses DENTRIX Voice, the integrated voice-activation component of his practice-management system. For clinical and perio charting, Voice allows the hygienist and the doctor to record pertinent information simply by speaking into a headset. Leveraging the latest in voice-recognition technology from Microsoft, these stable solutions require minimal setup and training and allow the user to speak in conversational tones at normal speeds.
These modern solutions require users to "train" the software by reading a short paragraph into the headset microphone. The software uses the tone, inflection, and pace of the dialog to create a customized profile of the speaker. This profile then is used by the software to read and understand the user's spoken commands. Through common commands and procedure-specific terminology, charting functions are automatically recorded in the practice-management system as quickly as they are spoken.
"The benefits of Voice are very evident in our practice," continues Dr. Hammond. "It provides a high-tech image that really impresses the patients. And, we're able to provide better and more thorough perio exams in less than two minutes with only a hygienist. For the timesavings and increased efficiency alone, voice activation has been a very wise investment. We generate more profit because we can diagnose and treat more patients. The end result is better treatment and happier patients."
Voice activation for transcribing clinical notes
While voice activation for charting functions can significantly streamline day-to-day diagnostic tasks, transcribing clinical notes has long been a time-consuming process. Voice-activation technology finally has progressed to the point where it can ease this burden too.
"Until recently, in my practice, one hour of clinical time typically translated into an additional two hours of processing time," says Dr. Ting-Wey Yen, a Long Beach, Calif., prosthodontist. "I specialize in implant restoration, so about 95 percent of my patients are referrals from other doctors. To provide adequate clinical notes back to the referring dentist, I would write everything down in shorthand and manually transcribe the notes after hours and on weekends."
Dr. Yen's evenings and weekends quickly became nothing more than extensions of his office time. He typically ran two weeks to one month behind on returning his detailed notes to the referring dentists.
"About five years ago, I bought voice-recognition transcribing software," Dr. Yen shares. "But it was very error-prone because it couldn't understand dental terminology. I've even tried dictating my notes to an assistant, but she couldn't keep up. It was quicker and more accurate to do it myself."
Recently, Dr. Yen enlisted in the beta program for DENTRIX Dictation. "Once I found out how easy Dictation was to use, it just took off from there," he says. "The big difference between this solution and the one I tried five years ago is the system's ability to understand dental terminology. To train it, I simply read a few passages. But the real advantage is that it can be trained on-the-fly to customize it for my needs."
As Dictation transcribes spoken notes, Dr. Yen can correct - or train - as he goes, and he can edit vocabulary from the program's toolbar. Both options offer a new level of accuracy, flexibility, and intelligent adaptability.
"I use quite a bit of medical terminology in my notes and always include the referring doctor's name," Dr. Yen says. "The ability to customize has proven invaluable as I expand stored vocabulary beyond dental terminology. I'm finding that I now can provide much better and more detailed notes. I've even begun using Dictation in the operatory as I examine new patients. I just dictate as I go along; it impresses the patient to no end. I've noticed an increase in case acceptance, because patients want to be treated in an office that uses the latest technology. I've even had several tell me so."
Dr. Yen takes the notes that his software creates and merges them into Microsoft Word. Then he can add images - X-rays and photos - from his integrated imaging solution (stored within his practice-management system) to the Word document and create professional, easy-to-understand, detailed notes for the referring doctor. He then attaches the Word document back into the practice-management system's Notes module for claims and records.
"I would say that the Dictation solution has made me at least twice as productive," concludes Dr. Yen. "My notes are better, more detailed, and more professional."