How to profit from . . . Marketing
Indianapolis 500 rookie would like to say a few things about his other occupation - just step around the racing helmets.
Jun 1st, 1997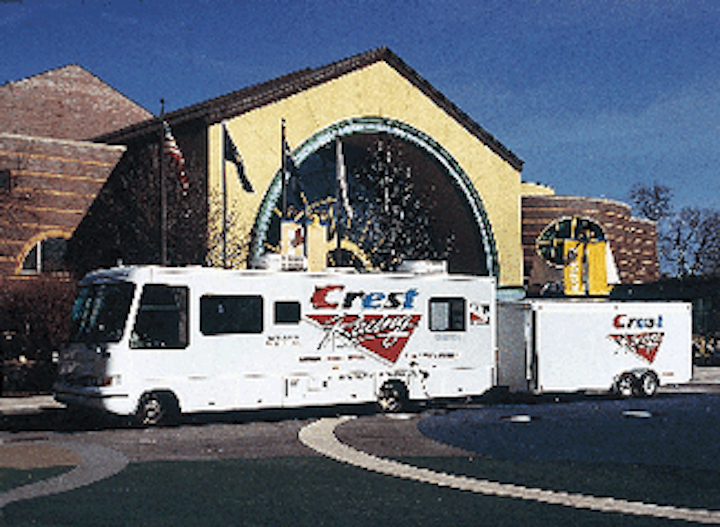 Dr. Jack speedily promotes dentistry
Indianapolis 500 rookie would like to say a few things about his other occupation - just step around the racing helmets.
Mark Hartley, Group Editorial Director
A high speed down most streets typically draws attention to the license plate, so law-abiding citizens can dutifully report the license numbers to police officers. But one dentist finds his average speed of 200 mph delivers another kind of message: Don`t forget oral health care.
The car that Dr. Jack Miller drives - a 700-horsepower Dallara-Infiniti - has the Crest logo, as on the Procter & Gamble toothpaste, painted all over the car. The reminder about toothpaste is not just seen by neighbors on a peaceful residential street; thousands of people, for example, watched Dr. Miller zip by during the Indianapolis 500 a few weeks ago.
Dr. Miller is not merely touting a generous sponsor or promoting his dental practice. His main purpose in this unique approach to community involvement (a technique advocated by marketing experts) is to steer the car into the parking lot of an elementary school - at a much slower speed, of course.
The Crest Race Car will be viewed by 120,000 youths at 400 schools this year. Dr. Jack, as he is known, proudly takes the pole position for the Crest Mobile Dental Clinics. The clinics follow Dr. Miller as he participates in his passion, racing open-wheel formula cars.
"We`ve never been turned down," Dr. Miller says, "Every school we`ve contacted has wanted us to visit."
The clinics are 32-foot motor homes, equipped even with intraoral cameras. The oral screenings urge schoolchildren to get "revved up" about proper oral care. Dr. Miller and his volunteer dental professionals issue oral-health report cards based on the quick, routine oral exams and hand out posters and toothpaste. Of course, a replica of the Crest Race Car in the parking lot is the main attraction.
Although Procter & Gamble has been extensively involved in patient education efforts for the better part of four decades, the Crest Race Car is the company`s only venture into the arena of automobile racing. Dr. Miller pitched the car and dental clinics to a Crest brand manager in 1996. Two days later, he traveled to the company`s headquarters and made a formal presentation. The rest was Indy history.
Any visitor to Dr. Miller`s office in Indianapolis easily can tell that he combines his occupation with a pastime. Racing helmets and other racing paraphernalia decorate the dental office.
"A lot of people walk in the dental practice, and they think they are in an auto garage," Dr. Miller says. "Racing stuff is hanging on the walls. We really combine the two."
The other half of "we" refers to his wife, Elizabeth, who also is a dentist. The 35-year-old dentist/driver met his wife while they were attending dental school at the University of Indiana. She quickly became a fan, since he was already racing cars when school work allowed it.
"She loves it and is very, very supportive," Dr. Miller says. "It works out well that she can run the practice full time."
He only practices two days a month. In 1997, Dr. Miller fulfilled his lifelong dream to be a driver in the Indy Racing League, which includes the Indianapolis 500 race during the Memorial Day weekend. At press time, he was competing in the rookie orientation program, which tests drivers` abilities to drive consistently at various speed ranges.
Although his motor burned out after the first day, he blissfully awaited the rebuilt engine for the second round in early May.
"It`s the happiest I`ve been in my entire life," he says. "Having all my friends and family in Indianapolis come and support me. I was proud when I graduated from dental school. My lifelong dream, though, was to compete at Indy. I know now that I`m not going to be a grumpy, old man saying, `I wish I could have done it.` The thrill of driving over 200 mph is just fantastic!"
The Indianapolis 500 is the third stop of the Indy Racing League season. The rookie driver was competitive at the Walt Disney World Speedway in Orlando during January, but was forced to withdraw after 85 laps due to a broken water pump. Fuel pickup problems knocked him out of contention after 33 laps in Phoenix in March.
"Unfortunately, sometimes things break," he says. "At Indy, my luck is going to turn."
During his career, Dr. Miller has won seven races and has over fifteen top 10 finishes.
In June, the Crest Race Car and the clinic make appearances at schools near the Texas International Raceway (Fort Worth) and Pikes Peak International Raceway (Colorado Springs). In July, the Crest caravan stops at the Charlotte (N.C.) Motor Speedway, followed by a race at the New Hampshire International Speedway in Loudon, N.H. The season concludes Oct. 11 at the Las Vegas Motor Speedway.
The Crest Mobile Dental Clinic visits schools near race track sites, dispensing oral health report cards, posters and toothpaste.