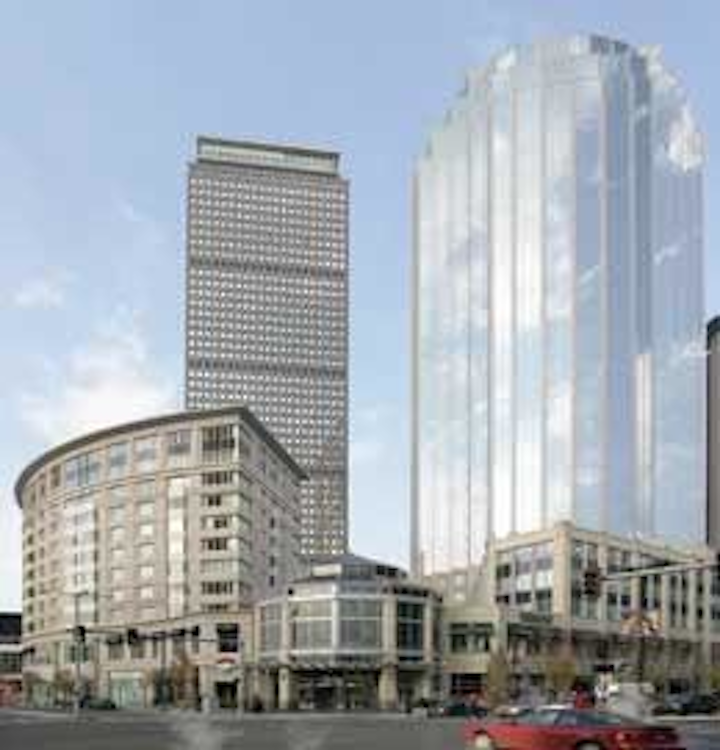 Story by Kevin Henry, Managing Editor, and Garrett Ludwig, Diversified Design Technologies, Inc. Photos by Clements/Howcroft Boston
The last 18 months have been pretty good for teams in New England. The NFL's New England Patriots captured back-to-back Super Bowls. The Boston Red Sox finally were able to shake the curse of Babe Ruth and the New York Yankees on their way to their first World Series title in generations. Last March, the Connecticut Huskies men's and women's basketball teams captured NCAA championships.
Yes, the northeastern corner of the United States seems to have become Titletown (no offense to our readers in Green Bay). The successful championship runs of all of these squads have three things in common - geographic location, excellence, and an attitude of "team first."
Dr. Charles Trauring may not look like Tom Brady or David Ortiz, but he and his partner Dr. James Sowles play a pivotal role in another winning team in New England. Housed inside Boston's landmark Prudential Center and an office in suburban Brookline, Dr. Trauring and Dr. Sowles have built a unique, award-winning practice - Sowles Trauring Dental Partners of Boston.
Over the last 35 years, Drs. Sowles and Trauring have built a unique multi-specialty group practice. Their original vision of this practice's "team" included restorative dentists working together with outstanding specialists who could provide patients with the best in comprehensive dental care, and the convenience of all the services being available in one location. Now, looking out from the second floor of the Prudential Center, the duo has seen their dream realized … and it's still growing.
"Currently, the team is comprised of accomplished, recognized leaders in the field, as well as the best and brightest of the next generation," Dr. Trauring explained. "Each doctor is encouraged to pursue his or his specialty to the fullest, teach at one of our outstanding local dental schools, as well as participate in leading continuing-education seminars.
"When a periodontist, endodontist, and generalist can consult together on a case, whether it is a complex implant case to a single tooth, the impact of the joint consultation is very powerful for the doctor but especially for the patient! The patient realizes that the 'team approach' is the very best dentistry has to offer!
"Our mission is to maintain our leadership position in the dental community with additional strategic 'fold-ins' which will strengthen and enhance our existing team," he continued.
The "fold-in" concept is a unique aspect of Sowles Trauring Dental Partners of Boston. It is Dr. Trauring's strong belief that the long-term success of any dental practice (especially a group practice with specialists) rests upon a strong patient base. To ensure their practice continually kept a strong patient base, Drs. Sowles and Trauring began incorporating other offices into their group practice.
"Originally, we started with an approach of acquiring a retiring dentist, with a similar practice base, either retaining the dentist for a number of years through the transition, or just purchasing the patient records," Dr. Trauring said. "After the practice grew, it was clear we needed some management expertise. When the dentists realized they could benefit from being liberated from a lot of the day-to-day administrative issues and devote most of their time to chairside dentistry, then we were able to recruit existing practices and 'fold them in to the group.'"
In 1998 alone, Dr. Sowles and Trauring negotiated and completed the merger of three successful "solo" practices - one restorative practice, one perio practice, and one oral surgical practice - with revenues ranging from $600,000-$800,000. In all, 10 practices have been purchased or folded in to make up Sowles Trauring Dental Partners of Boston.
The strategy has worked beautifully for the practice. Currently, the group consists of four restorative dentists, three prosthodontists, three periodontists, two endodontists, one oral surgeon, and one orthodontist (a total of 14 dentists), 14 assistants, and 12 hygienists. In all, a total of 66 staff members service more than 15,000 families.
"Leadership in a solo practice often happens by a sort of osmosis. For example, your staff sees how you treat patients and they follow suit," said Adrian Wilkins, a team builder and coach employed by Sowles Trauring Dental Partners of Boston. "To create the same type of service in a multi-specialty practice is very different for two reasons. First, your personal impact is diluted because of the number of people involved. Second, you are now not just dealing with staff but also doctors. The sophistication and desire for autonomy is completely different. Leadership goes from being a kind of unconscious automatic thing to something that needs to be much more organized and conscious."
The patient base numbers may seem almost staggering, but Drs. Sowles and Trauring are looking at even bigger possibilities. As the only dental facility in the Prudential Center, more than 10,000 workers in the facility now have easy access to the office. The accessibility is providing new clients for the practice on an almost daily basis, but it's a challenge that the office welcomes with proven resources.
"Over the last 30 years, we have used BRS Computing for our dental software package and support," Dr. Trauring said. "The data has been extremely reliable, and I know BRS cares about the integrity of the system and the data."
The growth in numbers and team members also has equated into a growth in the number of operatories and needed space. Sowles Trauring Dental Partners of Boston currently has the majority of the Prudential Center's second floor and has rights of refusal on the additional space, which Dr. Trauring expects to become available in the near future.
It's been an amazing ride for Dr. Trauring. At age 61, he is able to look at his practice and see a dream realized, and a successful dream at that. In a recent independent "benchmark" dental study conducted by Chicago's Parkside Associates which included more than 40 group practices across the country, Sowles Trauring Dental Partners of Boston was ranked as the top practice overall.
Sowles Trauring Dental Partners
of Boston
800 Boylston St., 2nd Floor
Boston, MA 02199
Phone: (617) 259-1100
Email: charles@trauring.com
"The profession has been very good to me. I feel fortunate that I still look forward to going to work every day and love the variety of "chairside dentistry" and "practice management," he said. "Clinical dentistry provides me with a great deal of gratification - from the patient interaction to the knowledge that I can still deliver an outstanding personal service. The management side provides me with the opportunity to leverage my vision to create a thriving group practice. I have a truly outstanding team that can provide outstanding care with the support of the management team's strategic planning, budgeting, acquisitions, and fold-ins."
---
Dream it, Believe it, Commit to it, and Live it
...
By Garrett Ludwig (garrett@architext.biz)
That's a time-tested formula for success that is achievable by all, endorsed by many, but applied by few. Charles Trauring, DMD, is one of those few. His adherence to the tenets of this prescription for success has earned him exemplary status as a businessman and virtual mastermind of the above-referenced concept in the dental arts.
I first met Dr. Trauring during an open house for one of his friends and colleagues, whose office we had designed. At that time, Dr. Trauring shared his vision of a future project, and endorsed his dream with an articulate recognition for the distinctive role that the facility itself would play as the framework for his progressive concept in dental health care.
When we next met, it was apparent that Dr. Trauring had transformed his dream into a concrete belief through diligent research and the assimilation of the various elements needed to bring his concept to fruition. His vision and belief were punctuated by his selection of a new site for his Brookline office. The location was ideal - the contemporary building boasted abundant parking at a convenient site on a main city artery in an affluent community. Unfortunately, upon completion of our feasibility study, it was determined that it would have been cost-prohibitive to bring the structure up to code, as well as circumvent structural and technical encumbrances in order to create an efficient office environment. Without breaking stride, Dr. Trauring chose to walk away from that project, despite having invested a great deal of time and money in the process. That is when it became apparent that I was dealing with an individual who could separate emotion from ambition. Although I supported the fact that it was an extremely wise business-minded choice, the true significance of his deft decision-making eluded me until our next meeting.
Weeks later, Dr. Trauring asked us to perform a similar study on the second level of the Prudential Tower, which had been vacated by a health and fitness club. It took only moments to determine that the footprint of the space would prohibit its viability as a dental office, based on the delineation of space proposed by the building management. In short, more than 40 percent of the center core of the 19,400-square-foot space was consumed by 28 elevator hoistways, building utilities, elevator lobbies, stairwells, and lavatories. The latter included showers and saunas - remnants of the former tenant. That left a loop around the center of the building that, at its greatest width, was 28 feet. The remaining space was, in turn, encroached upon by a mandated public egress passageway that surrounded the center core of the building. Understandably, the configuration of the passageway was planned with the logic that it would allow for multiple tenant suites to be positioned around the perimeter and still maintain life-safety code-compliance. The useable space that remained was only 22.5 feet wide - terribly insufficient for a high-profile, functional and efficient dental suite.
Also, from a standpoint of cost, it would have been necessary to lease almost the entire floor in order to accommodate the needs of the practice. This square-footage need-factor was determined by a thorough analysis of the intended function of the overall project, and included room sizes, access corridors, wall thicknesses, storage and utility accommodations. From an even more daunting perspective, function would be forced to follow form, resulting in a flow pattern akin to that of a series of boxcars. Based on the logical assumption that a patient would enter the suite through the waiting area and proceed past the reception and business areas, that flow pattern would displace the treatment rooms to the distal end of the suite. As a result, the simple act of greeting and escorting a patient to the treatment rooms would impose an exponential, nonrevenue-producing loss of time for each assistant and hygienist.
So, in the absence of a formal presentation, I suggested that Dr. Trauring look for another facility for his practice. Without hesitation, he said, "Find a way to make it work!" In my eyes, this trenchant statement elevated him from business-minded dentist to decisive entrepreneur, and became the inspiration for a no-holds-barred, solution-based feasibility study. Not only was he willing to devote the time and the funds to research every potential for a viable design, but he was prepared to make the same commitment to overcome any obstacles to bring his vision to a tangible state.
Our objective was to eliminate as much of the public egress passageway as possible, thereby increasing the useable space. After a thorough review of the life-safety codes and the consideration of several design iterations, we determined that we could eliminate 95 feet of the egress passageway and acquire the much-needed width to the space. The net gain was just shy of 500 square feet of additional, useable space.
In order to make this accommodation, it was necessary to effectuate the endorsement of the building management, since the change necessitated the creation of a new passageway through what had been the fitness center lockerrooms.
The 6,500-square-foot facility now boasts five hygiene rooms, 10 operative rooms, and one dedicated to endodontics. All support areas, including private offices, lab, sterilization area, and staff lounge were sized to accommodate full occupancy. In anticipation of continued growth, a plan was prepared for the remaining 5,000 square feet of space, currently occupied by a day-care facility.
There are two factors that I hope to have imparted in this article. First, more often than not, an accommodation can be made to achieve an objective when planning an office - be it technical, structural, or mechanical. Although some changes may appear costly, the ultimate yield of increased function and efficiency should be considered. Second, if you are diligent about qualifying that the end justifies the means, you are certain to succeed. Keep in mind that most mall stores pay a premium for their space, which they lease. They often pay a percentage of their gross receipts back to the mall as well. Most of these high-profile retailers continue to post increased profits annually. So, in theory, it's not how much you spend, but how successful you wish to be - financially or professionally - that should serve as a barometer for a good investment. Dr. Trauring has a clear understanding of both theories and is now living his dream.