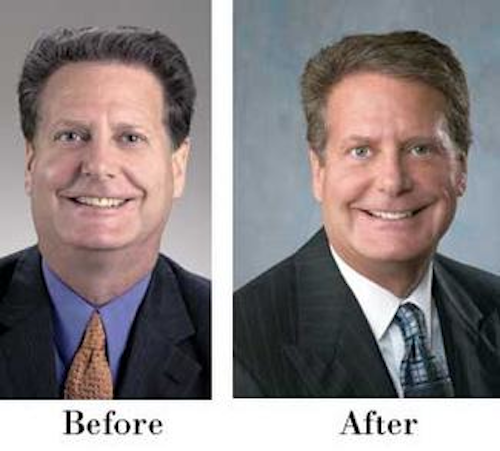 MODERN medicine tells us we can't find youth in a plastic cup, pill, or serum. Our best bets are regular health screenings and preventative care.
In the November 2004 issue of Dental Economics®, I wrote an article called "OLD FATEFUL: It's Hard to Be a Great Dentist When You Feel Old." (To read the article online, go to www.dentaleconomics.com.) In it, I related how I felt old for the first time in my life four years ago. Then I visited a health and longevity physician and went on a personalized program of nutrition, nutritional supplementation, exercise, and hormone balancing.
The results are fantastic! My energy level zoomed. My sex drive skyrocketed. My blood tests dramatically improved. My body ­composition changed. I lost 18 pounds of fat and put on 9 pounds of muscle. My physical appearance changed. See the before-and-after photos below.
The response to the article from dentists around the world was unbelievable. My health and longevity physician, Dr. David Leonardi, and I answered questions for many people who have since started health and longevity programs for themselves and their spouses. Below are seven common questions and our abbreviated answers.
Question No. 1
How are visits to health and longevity physicians different from annual or executive physicals? In some ways, visits to health and longevity physicians are the same as annual or executive physicals. For both, doctors gather complete medical histories and conduct physical exams. For both, physicians look for signs and symptoms of current diseases. If they find a disease, they treat it or refer the patient to an appropriate specialist.
The difference is health and longevity physicians focus on enhanced vitality (mental and physical vigor) and optimal protection against the degenerative diseases of aging. Dr. Leonardi runs 25 tests most often overlooked by mainstream physicians. These tests offer direct insight into the risk of future degenerative diseases. He calls these early warning tests the Paul Revere Tests. They notify him of the presence of a disease process decades prior to its first symptoms. It makes no sense to wait until you're sick to take action. The technology is available today to prevent disease.
Dr. Leonardi spends several hours with each patient explaining the possibility of future problems indicated by the test results and then assembling a multi-faceted program to slow or stop the disease process on a cellular and biochemical level. The program enhances vitality, mental acuity, libido, sexual performance, mood, sleeping patterns, body composition, and resistance to infections such as colds and flu.
Question No. 2
For what diseases do the Paul Revere Tests assess risk, and how do health and longevity physicians help patients prevent or delay these diseases? Listed are the most common degenerative diseases that shatter the quality of life and shorten life spans of Americans. Dr. Leonardi calls them the Serious Seven.
Coronary heart disease
Stroke
Cancer
Diabetes
Alzheimer's disease and other dementias
Parkinson's disease
Osteoporosis
If the early warning signs of the Serious Seven are detected, health and longevity physicians assist their patients with six therapeutic modalities:
Optimal nutrition
Nutritional supplementation targeted at the specific disease risk
Regular aerobic and resistance exercise
Balancing decreased hormone levels that rob people of vitality and increase disease risk
Correction of dyslipoproteinemia - lipoproteins, not cholesterol, signal the truest risk of heart attack and stroke. When physicians only correct the cholesterol indicators, they miss up to 69 percent of their patients who are at increased risk of coronary disease.
Prescription medications - these are used for disease prevention when the benefits outweigh the risks.
Question No. 3
Why isn't this type of evaluation and treatment available from my local internist or many high-profile health centers? First, physicians are trained to treat disease, not prevent it. The newest technology in disease treatment is immediately available to physicians. On the other hand, the quantum leap in prevention made by medical science during the past decade has not filtered down to the majority of physicians. Health and longevity physicians make prevention their focus. They don't treat pneumonia or cancer or assist in surgery. Most don't visit hospitals. They focus on optimal health and longevity.
Second, mainstream doctors - who do a wonderful job of disease treatment - are burdened by managed care. Health insurance typically covers disease treatment, not its prevention. Health and longevity physicians aren't in the insurance game. They spend most of their time evaluating the tests mentioned earlier and educating their patients about health. They practice a different specialty - only part of which is covered by insurance.
Question No. 4
Is balancing hormones a mandatory part of health and longevity programs? I've heard there are risks. No part of a sound health and longevity program is mandatory. Everything is optional. About one-third of Dr. Leonardi's male patients don't use testosterone or growth hormone. About 10 percent of his female patients elect not to use bioidentical hormone replacement. He discusses the benefits vs. the risks with his patients. Ultimately, it's up to each patient. Every program is customized for the individual.
Concerning the risk of balancing hormones, health and longevity physicians carefully maintain hormone levels within the normal range. They don't supplement hormones for people whose levels are already ideal. They use the appropriate dose to create hormone levels into the mid- to upper-normal range, never above that. For patients going through menopause, they use the lowest dose of bioidentical estriol or estradiol that handles the symptoms.
In addition, the best health and longevity physicians never administer female hormones orally. The disappointing results described in the famous Women's Health Initiative Study that prompted most doctors to take women off Premarin and Povera were results of using oral synthetic estrogen and progestin. Subsequent studies confirm this. The goal of an effective hormone replacement program is to get women free of menopausal symptoms without the risks of hormone replacement.
Question No. 5
Do I need to live near a health and longevity physician? The answer is no. Longevity physicians do the initial physical exams and testing in their offices. Follow-up visits to monitor the effectiveness of the program and to continue coaching in disease prevention can be done by fax and telephone. Phlebotomists will go to your home or office to draw the follow-up blood tests ordered by the physicians. When the physicians receive the results, they enter them into a flow sheet so they can compare your current results to your previous results at a glance. They review the results and write comments on the flow sheet for each test. Then they fax the flow sheets to you.
Finally, the physicians schedule a teleconference to review the tests in detail as well as your progress on the treatment programs. Of course, you can call if you have questions or concerns. You return to the physician's office every one to two years for a repeat physical and face-to-face visit. Your interim physical exams are done by your primary care physician.
Question No. 6
What types of improvement are typically seen with health and longevity programs? Vitality enhancement in the form of increased energy and elevated mood almost always occurs. Remember when you were in your 20s and felt all that energy? As your levels of testosterone or estrogen and growth hormone declined, that feeling of wellbeing declined. When these hormone levels are returned to the level of a healthy 30- or 40-year-old, that optimistic life-is-great attitude returns. But when this happens to a 50-, 60-, or 70-year-old, it's without the reckless, invincible feelings of a 20-year-old. The experience is more of a calm, confident sense of alertness where you are in awe of how good you feel and how productive you are each day. Dr. Leonardi has patients who are surgeons who postponed their retirements because they suddenly gained renewed enjoyment from their work. One 53-year-old dentist told Dr. Leonardi his attitude improved so much that his staff recognized it immediately and the entire office became a happier place. Hormone depletion is one of the primary causes of burnout in professionals. It robs us of our energy, productivity, and zest for life.
A second improvement is in body composition. The improvement comes from a combination of a low glycemic nutrition program, hormone balancing, and exercise. The hormone balancing tends to enhance patients' willingness to exercise, their enjoyment of the exercise, and results they attain. Testosterone and growth hormone improve aerobic capacity. Testosterone enhances strength and muscle mass. I'm not talking Arnold muscles. I'm referring to losing inches and getting toned.
Not only are the changes felt in your body, but they're also seen on paper in the form of improvements in the biomarkers of disease risk. Lab results don't lie. Every test result that measures the risk of the Serious Seven can be improved with targeted nutrients, nutritional changes, and, when needed, prescription medication. There aren't biomarkers for the risk of every disease, but there are excellent markers for risk of heart attack, stroke, diabetes, osteoporosis, the neurodegenerative diseases (Alzheimer's and Parkinson's), and breast and prostate cancer.
Question No. 7
How can I learn more about health and longevity medicine? For information, go to Dr. Leonardi's Web site, www.go2lehi.com.
Dentistry is a rewarding yet demanding profession. It takes a lot of energy to keep all your plates spinning in the air. You've got to run the business, lead and manage your team, see patients, and handle all the problems. Seeing a health and longevity physician will help you regain the energy and joy of life you need to keep all your plates spinning and have enough energy to go home and be a great partner, parent, or both. Your team, patients, partner, and you deserve the best. Health and longevity medicine can help you achieve it.
Nate Booth, DDS, MS, electrifies audiences with high-content programs that are packed with enthusiasm and humor. He is the author of the books "Thriving on Change" and "The Diamond Touch." He is the co-author of "555 Ways to Reward Your Dental Team," "How to Build Your Aesthetic Practice," and "Unleashing the Power of Dentistry." Dr. Booth is an instructor at the Las Vegas Institute for Advanced Dental Studies. Reach him at (800) 917-0008, or visit his Web site at www.natebooth.com.