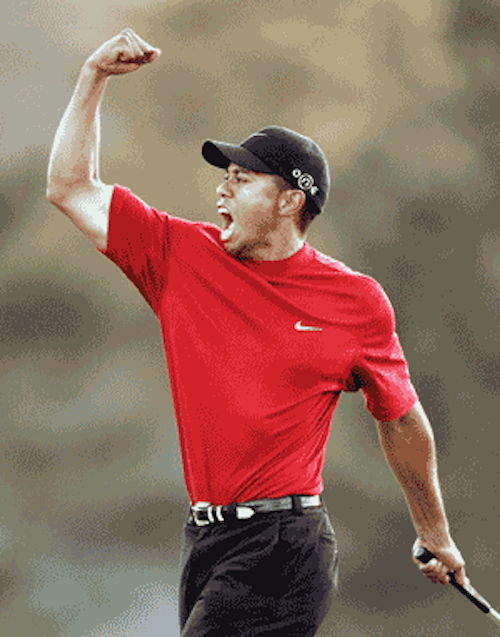 I love the Accenture ads. They illustrate entrepreneurial spirit, and encourage people to step out of their comfort zones. They feature PGA TOUR golfer Tiger Woods. I love Tiger Woods, also. He epitomizes so many characteristics that demonstrate excellence - the efforts required and the success experienced.
As I walk through airports in this country and the world, there he is. Tiger: The focus of the Accenture ad campaign. Accenture is a consulting company for small businesses - the lifeblood of America. I often find myself stopping, getting out a pencil, and writing down the few poignant words of the ad.
This young golfer has shown me, and many others, the value of a great coach and of continuously striving to get better. Tiger has shown us the problems that can occur if you think you know it all, and can't benefit from a caring third party set of eyes, or you think you have become so accomplished that no one can help you improve.
Tiger held the honor of being the leading men's golf professional in the world for a long time. He did so as the youngest person to ever hold this honor. With guidance from his swing coach, he won tournament after tournament. However, Tiger and his swing coach had a "difference of opinion," and separated ways. Tiger decided he didn't need a swing coach anymore. From that point on, the number of Tiger's tournament wins declined. His swing coach started working with other golfers, who competed against Tiger on the PGA TOUR. These competitors started defeating Tiger. But, Tiger now has a new swing coach: Hank Hainey. He is climbing out of a recent slump (in April, he won the coveted Masters Tournament, one of golf's Grand Slam events). The financial investment and the trust he placed in his swing coach were miniscule in relation to the potential revenue he didn't earn after the tournaments he lost when his coach wasn't with him.
Are you as good as you can get?
We have coaches-consultants who work with Jameson Management. There will never be a day when I think I know it all, or one when I think I can't improve. I love being pushed to the next level. I can't imagine the boredom of staying the same year after year. Our consultants push us, and we don't always like what they tell us to do. But we trust that what they are recommending will help us to do a better job for our clients. We believe that a third party set of eyes can see things that we don't see since we are "in the trenches" day after day. These consultants are our "swing coaches."
We are good at what we do; however, we believe we always can get better. In fact, to me, that is invigorating and energizing. Oftentimes, people ask me, "Where do you get all that energy?" I have defined the factors that I think impact my energy level. One of those is being on a continuous path of improvement, and rejoicing in the growth. I believe in focusing on the things that are working, and eliminating the things that aren't. I want to be in control of life rather than letting life control me; I strive to be on a continuous path of improvement.
What about you? Do you have a "swing coach?"
Before we start consulting for a practice, we do an evaluation of that practice. We present our recommendations to the team: "Here is what is going well. Here are opportunities for you to progress, and to increase your revenues." We base this evaluation on years of experience, thousands of practices, and years of work in the development of management systems that work and work well.
Sometimes a team member - or the entire team -will say, "Oh, we can do this ourselves. We don't need a coach. We can do this."
So, then I must ask, "If you can do this, why haven't you?"
I am the wife of a dentist. I do not want anyone to prevent my husband, John, from accomplishing all of his professional goals. He chooses to stretch - to grow - to invite experienced consultants into his office to help him get to the next level. He chooses to have a "swing coach" in his practice. I would be appalled if he allowed anyone to keep him from maximizing his full potential. If that happened, though, it would be his own choice and his own fault. As the owner of his business, he can choose where he goes and how high he climbs. If he should choose to let someone on his team hold him back due to apprehension, egotism, or complacency, then he - the CEO - ultimately would be to blame for his own demise.
Life is short
One of our consultants just learned that her mother (a young, vigorous woman) has colon and liver cancer. In one doctor's appointment - on a beautiful, normal fall day - she went from being "on the go," traveling the world, loving her young grandchildren, and getting ready to enjoy retirement with her beloved husband - to a woman who is facing a devastating and life-threatening disease. At this time, we do not know the prognosis. Regardless, who cannot be touched by this reality of life? One day everything is great. The next day everything has changed. Life's gracious offering of beauty and opportunity comes to a smashing close.
A life-enhancing exercise
Let me introduce you to an exercise that has been very special to me in my personal and business life. My friend's illness has reminded me of the value not only of this exercise, but honoring its results. I do this every year, and I read my notes often throughout the year. Once I do this exercise, I do not fade from honoring my commitments. Here it is:
Imagine that you have six months to live. You have a life- threatening disease that is incurable and, even though there is always hope, you must make some critical decisions. Compose the following three lists:
❶ Things you must do in the next six months
❷ Things you want to do in the next six months
❸ Things you do not want to do in the next six months
Now, once you have composed these three lists, go home and begin eliminating the items on list number three.
When I first was introduced to this exercise many years ago, I did it. I developed the three lists, went home, and started eliminating the items on list number three - the things I don't want to do. At the time - this was many years ago - my list of "don't wants" was quite long. I worked through the entire list.
Today, I still do this, and do it annually. My list of items I don't want to do is quite small. I intend to keep it that way.
For example, one item on my "I don't want to do" list is, "I don't want to be in a state of conflict with anyone." So, if I am ever in a state of conflict with someone (which doesn't happen very often), I make sure that we face our issue and work toward a congenial resolution. I do not want to put my head on the pillow any night, and go to sleep in a state of conflict with anyone - especially my family, loved ones, friends, or colleagues. How terrible to go to sleep forever, and not have resolution with one you love.
Do this life-enhancing exercise. Go to a quiet place - by yourself. Write down items for these three lists. Put the lists somewhere special. Don't share them with anyone with whom you do not have total faith and trust. Don't share them with just anyone. This is the special searching of your heart. If you have anything on list number three - go to work immediately to eliminate the list.
Is "work" on your list number three?
On list number three, if you put "go to work," then you may wish to look at your practice and see what it is that is keeping you from having the practice of your dreams. Is it something or someone? Do not let anything prevent you from having the practice of your dreams. Why would you do that? Who has the right to keep you from accomplishing your greatest dreams?
If you have someone on your team who doesn't want to change, doesn't want to do anything different, doesn't want to make progress because he or she has become complacent with the status quo, or thinks he or she doesn't need a "swing coach," step up to the plate as a leader and make a better decision. Make a decision that is good for you.
Your practice can be fun, profitable, fulfilling, and life-rewarding. Ultimately, the decision of whether or not to have the practice of your dreams is your decision.
If you have people on your team who think they can take you there, then that's great! Ask them why they haven't done so to date. Then, ask yourself how long you are going to wait to become a leader, a CEO, who says, "No one has the right to hold me back from having the practice of my dreams. I choose to go there. NOW!" Life is short. Take hold of life now, and cherish each day. Go on! Be a Tiger!
Dr. Cathy Jameson is the president and CEO of Jameson Management, Inc., an international dental practice-management consulting, lecturing, seminar, and product provider. An accomplished speaker, writer, and workshop leader, Cathy earned a doctorate in organizational psychology, focusing her studies on effective stress-controlled management. Cathy's books, "Great Communication = Great Production" and "Collect What You Produce," are top sellers for PennWell Books. You may reach her toll-free at (877) 369-5558, by e-mail at cathy@jamesonmanagement.com, or on the Web at www.jamesonmanagement.com.