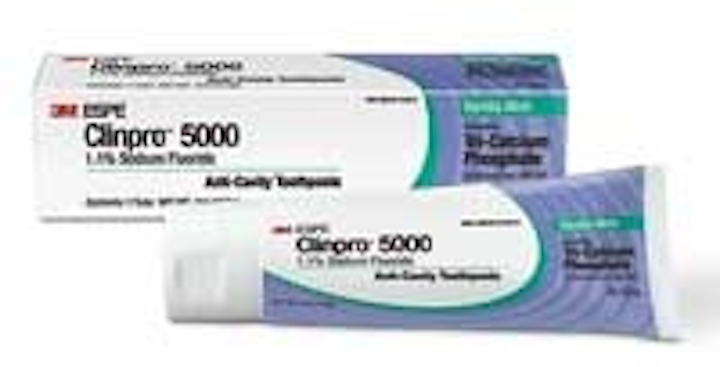 Clinpro™ 5000 from 3M ESPE — The advanced formula contains an innovative tri-calcium phosphate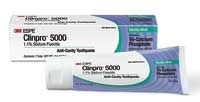 ingredient (TCP) that makes Clinpro 5000 toothpaste an outstanding choice. It contains fluoride as well as calcium and phosphate, which are remineralization components naturally found in saliva. During the manufacturing process, a protective barrier is created around the calcium, allowing it to coexist with the fluoride ions. As the toothpaste comes in contact with saliva during brushing, the barrier breaks down and makes the calcium, phosphate, and fluoride readily available to the tooth. The tooth naturally absorbs these components, helping to prevent the initiation and further progression of demineralization and allowing remineralization to occur. Practicing dental professionals will discover the breakthrough benefits of this winning formula. And your patients will, too! Clinpro 5000 prescription toothpaste "makes every brush better." Dispensing Clinpro 5000 1.1% Sodium Fluoride Anti-Cavity Toothpaste from your office is good for your patients and your practice. Order from your dealer or visit www.3MESPE.com/PreventiveCare for more information.
Insight™ Ultrasonic Insert from Discus Dental — Ultrasonic scaling just got three times easier with the

introduction of this innovative insert. Insight offers a combination of ergonomic features including dual-LED illumination, 360 degree swivel, and a comfortable, balanced grip and Precision Flow™, providing hygienists, dentists, and their patients a comfortable ultrasonic scaling experience. The LED technology improves the workflow and ergonomics while decreasing interruptions as practitioners no longer need to adjust their position to avoid blocking the overhead light. It is powered by ultrasonic energy alone, so the LED light requires no additional wiring or hardware, which allows you to move the insert without restriction during treatment. Another benefit of Insight is the 360-degree swivel that is incorporated into a soft, ergonomically designed grip, which allows smooth movement and eliminates cord twisting and tension, making it easy on the wrist and shoulders. Switching from the maxilla to the mandible can be done single-handedly, and you can finely rotate the insert to follow the line angle of the tooth without straining against the cord. The clinician can keep a neutral body position, which is important to body health. The patient will appreciate the smoother scaling, and the clinician does not have to overlap strokes (or worse, miss a spot) because of the starting and stopping. To further ensure patient comfort, Insight offers precision water flow delivery through the tip, which reduces lavage and enhances patient comfort. Insight comes in three supragingival tip styles and four subgingival tip styles. All of the tip styles are color coded by the grip color for easy identification. To order, call (800) 422-9448 or visit www.discusdental.com for more information.
Symmetry IQ™ 3000 Multifunctional Piezo Device from Hu-Friedy — If you were to design a new scaling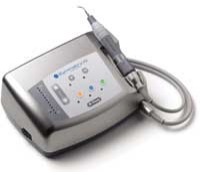 handpiece, I think you would be hard pressed to come up with a more comfortable design than the folks at Hu-Friedy did. I find that the large diameter handpiece keeps my hand relaxed, so I avoid the kind of muscle strain and hand fatigue that I often experience when trying to hold a handpiece. It also has a fiber-optic light source, so you can see what you are doing. Now make this a piezoelectric scaler and you have a winner in your hand. My hygienists have been using piezoelectric scalers for over 15 years, and they will not switch. When I gave them the Symmetry IQ to evaluate, they were thrilled with the truly user-friendly touch pad controls that have three color-coded, predefined power settings for a variety of scaling procedures. The unit has a smooth, easy-to-clean surface that makes infection control easy. Of course, Hu-Friedy has designed an IMS™ cassette specifically for the Symmetry IQ handpiece. The cassette is available for double or single handpieces. Add to all of this Hu-Friedy's 100 years of experience in designing and making scaling tips, and you have the Symmetry S-Series Piezo Tips. They offer a comprehensive group of tip designs that are made to work with the Symmetry IQ generator. Included are a universal standard diameter tip for removing heavy supragingival deposits, a thin perio tip, a curette style tip, and a diamond-coated tip for removal of residual debris. Last but certainly not least, the Symmetry Piezo Tips come with the patented Guardian™ Tip Carrier, which is a great torque-limiting wrench designed for safe and easy connection of the tip to the handpiece. The bottom line is that my hygienists gave this piezoelectric high marks as a great device. They definitely want one of them. Order from your dealer or visit www.hu-friedy.com or call (800) Hu-Friedy for more information.
Iso-active™ technology by GlaxoSmithKline — What would you do if you owned two trusted brands of

toothpaste and you wanted to reintroduce them to the marketplace? I would bring them out with a different way of cleaning teeth. That is exactly what GlaxoSmithKline has done with Aquafresh and Sensodyne. Iso-active foaming gel is the result of a research and development program by GlaxoSmithKline, in consultation with patients and dental experts around the world. A gel-to-foam action generates twice the volume of ordinary toothpaste. This foam formulation works beyond the brush, spreading ingredients throughout the mouth. The unique iso-active™ gel requires a specially designed canister to keep the contents pressurized. The iso-active technology means that its gel formula is transformed upon brushing into a microfine expanding foam. The foam contains thousands of microscopic bubbles that penetrate hard-to-reach places in the oral cavity. The key benefits of the Aquafresh iso-active foaming gel are a reduction in the level of volatile sulfur compounds, 33% better whitening than a nonwhitening toothpaste, and it removes one third more stain on interproximal sufaces. Aquafresh also deep cleans the mouth and it has fluoride to protect against new cavities. The key benefit of the Sensodyne iso-active foaming gel is proven sensitivity relief, even in hard-to-reach areas of the mouth. Since it contains potassium nitrate, which is clinically proven to reduce the pain of sensitive teeth, it will provide sustained pain relief with continuous use. The foaming gel will deep clean the mouth and effectively remove the causes of bad breath. It will protect against caries with fluoride, and has low abrasion. Recommend Aquafresh and Sensodyne to your patients. For more information, visit www.dental-professional.com.
More DE Articles