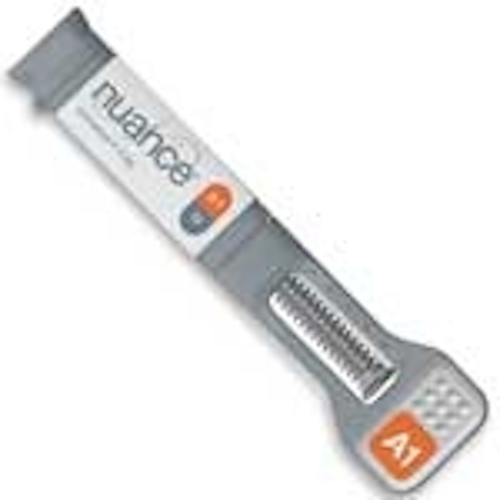 Nuance™ from Discus — There are more than 100 different brands of composite on the market today. Why would a company such as Discus venture into this market? I asked myself this question when I received a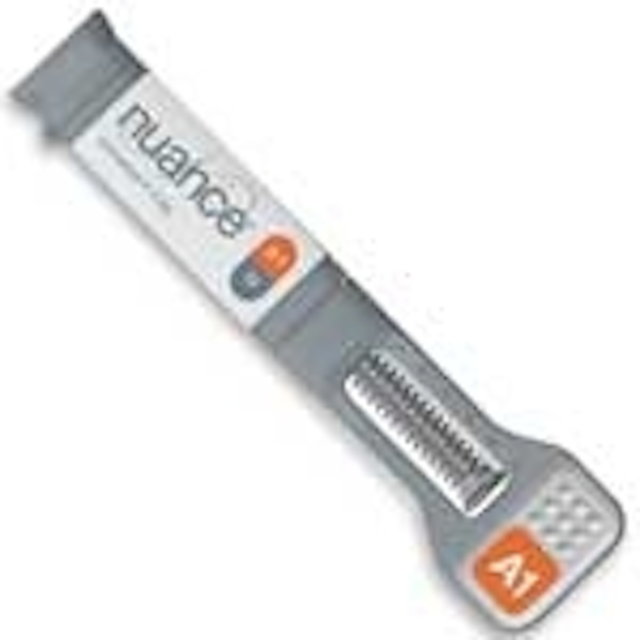 Nuance™ from Discus
sample of Nuance for evaluation. I know that there are a number of excellent composites that have great qualities, so this new composite would have to compete on a difficult playing field. I know it is hard to get dentists to try something new. Those of us who have been teaching hands-on workshops know that the majority of people in class will not change products. I was curious why they chose this name, so I looked in the dictionary. It is from the French word nuer, which means "to make shades of color." As defined in Webster's, it is "a subtle distinction or variation." Nuance is a light-cure, radiopaque restorative composite resin that contains a proprietary nano-filled composite filler and a high refractive matrix for anterior and universal (posterior) use. I have encountered many problems with multishade anterior composites. I don't like having to blend a number of shades to match the tooth, so Nuance has simplified my life. This composite can be applied in just one shade in a technique that Discus refers to as Single-Shade-Solution. This technique has made it easy for me to restore anterior teeth with better, more natural restorations. This composite is easy to shape and sculpt, does not stick to your instruments, and has a significantly longer working time without having to turn off operating lights. This product exhibits a light diffusion property that is similar to natural tooth structure. It mimics the shade of the tooth by causing light that hits the composite to diffuse over a large area. The internal structure of Nuance is composed of multifaceted fillers that reflect light and mimics surrounding dentin and enamel opacities. This quality alone is a reason to try this material because it has allowed me to complete an anterior composite restoration with only one shade. Discus's One-Shade, One-Choice concept brings simplicity to composite fillings, and offers the ultimate in chameleon effect. Nuance is a universal composite. It has the esthetics to be placed on the anterior teeth, as well as the strength to be placed in the posterior teeth. Check out the syringe design for innovation and ease of use. If you are tired of using many shades, give Nuance a try! To order, call Discus at (800) 422-9448 or for more information go to www.discusdental.com.
Salivary Diagnostic Testing from OralDNA® Labs — This is the first U.S.-based diagnostic laboratory to offer salivary testing for periodontal infections. The salivary samples are analyzed using state-of-the-art DNA-PCR technology. The reports that are generated provide valuable information that identifies the type and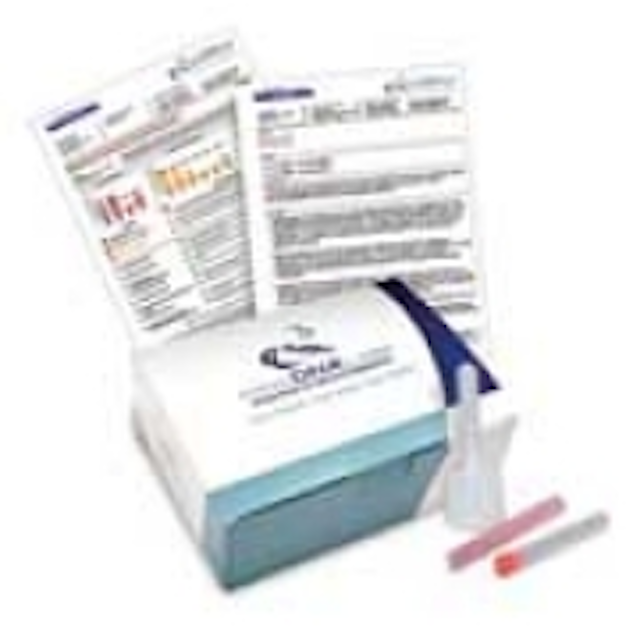 Salivary Diagnostic Testing from OralDNA® Labs
concentration of perio-pathogenic bacteria, and even a person's genetic predisposition toward periodontal disease. Detailed clinical reports summarize the test results, allowing you to diagnose with more accuracy and create a highly personalized treatment plan that is backed by scientific validity. So, why test? We know that periodontal infections are caused by specific bacteria or groups of specific bacteria. The causative agents are primarily Gram- negative and facultative bacteria of 11 different species. But these infecting agents vary significantly from one patient to another and the clinician cannot know the significance of the infection or the risk for advanced bone loss or re-infection without testing. These infections are classified into two main categories: gingivitis and periodontitis. Our traditional diagnostic techniques involve the identification of clinical signs and symptoms of the disease. These usually include bleeding, redness, swelling, and bone loss. While clinical signs can determine that an infection exists, these signs cannot determine the exact causative agent(s) that create these inflammatory diseases or determine specific genetic traits known to exist in approximately 30% to 35% of the population. Clinical signs are simply a measurement of the past damage of a disease. Salivary analysis of bacterial DNA and human DNA can now interpret the types of bacteria present that are essential in determining the severity of the infection and/or the potential for disease progression after therapy. Moreover, clinical signs alone cannot determine if therapy has achieved the goal of elimination or suppression of the etiological agent(s). Testing posttreatment can determine if the primary goal of treatment has been accomplished: the reduction or elimination of the causative agents. Periodontal disease remains the No. 1 cause of tooth loss in America. These chronic infections are known to present increased risk for systemic inflammation and may contribute to a number of systemic diseases. Two current tests from OralDNA® Labs — MyPerioPath® and MyPerioID® PST® — go beyond basic and subjective visual assessment to provide dental professionals with the detailed genetic and bacterial information required to better determine the appropriate treatment regimen for individual patients. This information includes the identification and measurement (quantity) of certain bacteria that can cause gingivitis and periodontitis, as well as a patient's unique genetic susceptibility to periodontal disease. To become an OralDNA practice, call (877) 577-9055 or visit www.oraldnatraining.com.
Micro 250/Micro 300 All-Day Magnification from SurgiTel — Wow! SurgiTel has brought really cool magnifiers to dentistry. When I saw these cool glasses, I had to have a pair. Now you can be a cool doc too, but be sure you get the red frames. The shape of these Oakley frames covers the entire eye even on the sides to protect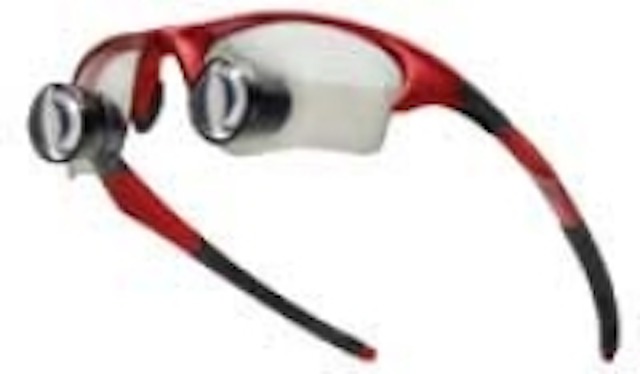 Micro 250/Micro 300 All-Day Magnification from SurgiTel
you from spray. Like all new technology, loupe designs have been improving over time. Significant reductions in weight and increases in adjustability have allowed for a more comfortable fit. With more than 20 years in manufacturing vision and ergonomic systems, SurgiTel has recently engineered its most comfortable magnification system to date — the Micro 250 and Micro 300. Starting with lenses weighing fewer than 10 grams, these 2.5x and 3x magnification designs are centered on the creation of a loupe that can be worn all day without the discomfort of more traditional systems. I bought the Micro 300 and love the small bump-up of magnification. They are so light that I can wear them all day. My neck, shoulders, and back do not hurt at the end of the day because my declination and distance are correct. So I can sit up straight. Find out how good you can feel at the end of the day. These new designs and current models of SurgiTel's magnifiers are available in comfortable and fashionable frame styles from Oakley, the exclusive frame provider. You can also order the old styles if you prefer. To order, call (800) 959-0153 or visit www.surgitel.com.
CAESY® 9 DVD and Smile Channel 9 from Patterson Dental — Now CAESY 9 DVD has seven new and 29 updated presentations. This version features a completely updated esthetics section and new modules on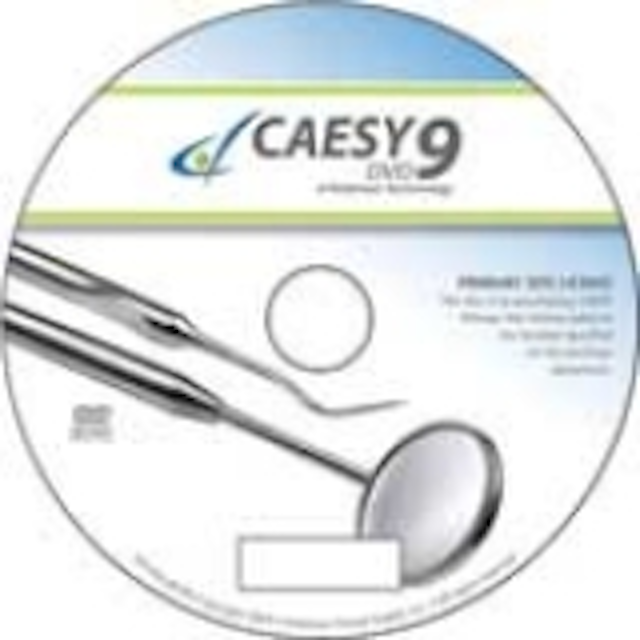 CAESY® 9 DVD from Patterson Dental
digital panoramic X-rays and the caries ID detection wand. CAESY optimizes you and your staff's time, eliminates the fatigue of repeating explanations, and increases case acceptance. These presentations use clear language to explain the need for treatment, treatment options, consequences of delaying treatment, what treatment entails, and home care after treatment.CAESY 9 DVD is updated with presentations of the most requested topics. For offices with computer networks, consider upgrading to CAESY Enterprise, which distributes patient education throughout your practice with just one piece of equipment. Smile Channel, the reception area program that is available separately or within CAESY Enterprise, subtly promotes the benefits of esthetic dentistry and the importance of good hygiene habits in a widescreen format. Features include:
More than 115 presentations
Running on a two-hour and 10-minute continuous loop
Ability to customize Smile Channel to suit practice needs
Ability to eliminate presentations, and even entire topics, that are not relevant to practice needs
Ability to add your digital photos to Smile Channel
Presentations on esthetic dentistry, technology, and children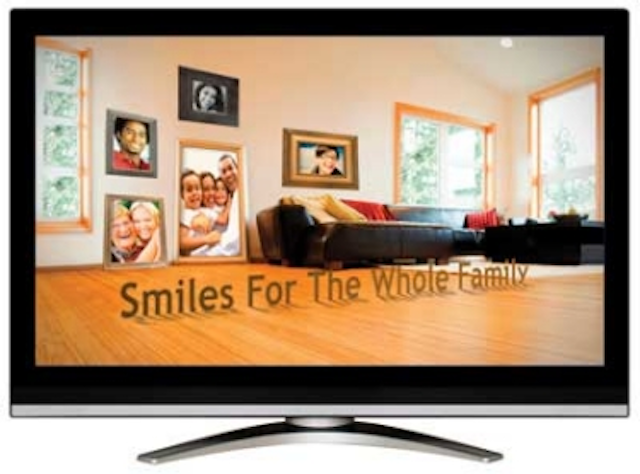 CAESY® Smile Channel 9 from Patterson Dental
Smile Channel is a high-tech way to promote your discretionary services, showcase recent work, and profile you and your staff. Patients are constantly asking about elective procedures they have seen while watching the Smile Channel. For more information, contact your Patterson rep, call (800) 294-8504, or visit www.caesy.com.Widescreen is only available for Smile Channel.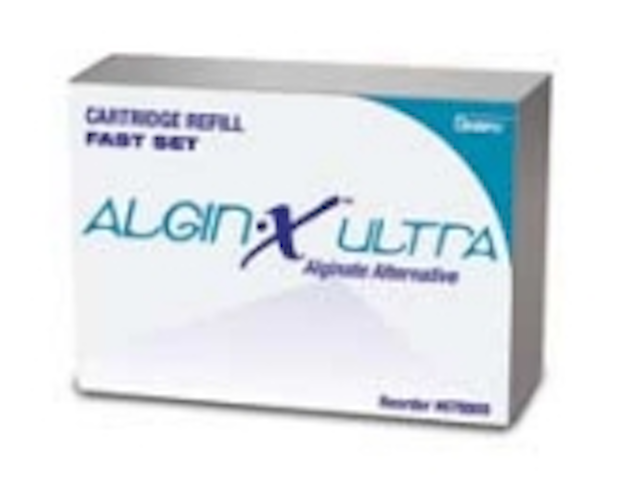 Algin-X™ Ultra Alginate Alternative from DENTSPLY Caulk

Algin-X™ Ultra Alginate Alternative from DENTSPLY Caulk — This material has been designed to expand Caulk's diagnostic impression product offerings. Algin-X™ Ultra is a new VPS-based alginate alternative that allows you to pour a model whenever you want — and repour if necessary — for up to two weeks without worrying about the impression material tearing. This way you get accurate models every time. As the alginate alternative from the makers of Jeltrate®, the No. 1 seller in the alginate market, Algin-X™ Ultra is the option you can rely on for diagnostic impressions. It is available in an automix cartridge to provide a consistent mix. Convenience is mixed in so you can pour it when you want to, and repour it when you need to. For more information, contact DENTSPLY Caulk at (800) LD-CAULK, visit www.caulk.com, or call an authorized DENTSPLY distributor.
More DE Articles