Air Torx by J. Morita — When I am using a handpiece for any procedure, I like TORQUE! If I am running at a

Air Torx by J. Morita
low speed while trying to perfect a margin on a temporary, I have more control if the handpiece has a constant torque at all speeds. Many slow-speed handpieces use speed to provide torque. I find that speed can cause mistakes and problems when I am trying to do fine work. The solution comes from J. Morita and the new Air Torx, which debuted at the Chicago Midwinter Meeting. The Air Torx delivers efficient, powerful, and constant torque with operational speeds up to 20,000 rpm. It will generate about twice as much torque as a conventional low-speed motor in the 5,000 to 10,000 rpm range. Air Torx is comfortable and easy to operate. It is lightweight, perfectly balanced, and delivers smooth power control with torque — even at the slowest speeds. Versatile, it can be used for a range of tasks such as grinding dentures, adjusting, finishing, and polishing restorations, as well as for tooth polishing with a prophy angle (your hygienist will love it). Other features include forward/reverse drive with continuous-speed control, double-lock connection, autoclave safe design, and compatibility with standard ISO attachments. Air Torx is designed for enhanced durability and an extended working life. For more information, call 888-JMORITA (566-7482) or contact your dealer.
IsodryTi by Isolite — This is another great innovation by the folks at Isolite. Isolite has become my favorite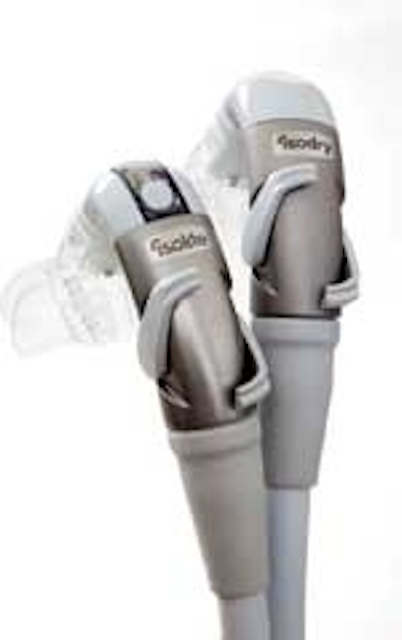 IsodryTi by Isolite
device for isolation of an operating area — the teeth. Until Isolite came along, I used a rubber dam for more than 30 years for isolation. It worked great, except that most patients really did not find the rubber dam comfortable. When I first saw the Isolite, I knew it was the answer! During my seminars, some dentists object to the light saying that they already have a good light source and don't want to have another one. The IsodryTi was created for those who prefer to work only with external lighting rather than using Isolite's interior illumination. Like the Isolite, IsodryTi comfortably retracts a patient's tongue and cheek, protects the throat, and keeps the mouth gently propped open with continuous suctioning via the super-soft Isolite mouthpiece. My hygienists and our patients love it. The Isolite system has become their assistant, keeping the field dry and patients comfortable. We have used it the past four years for our routine hygiene appointments. Every system comes with a 30-day, money-back guarantee and a one-year warranty on system components. See for yourself! You can try IsodryTi for 30 days, risk-free. Call (800) 560-6066 or order online at www.isolitesystems.com. Take a video tour at www.isolitesystems.com/videos.
Z-PRIME™ Plus by Bisco — I often have wondered if the internal surface of my crowns is properly prepared for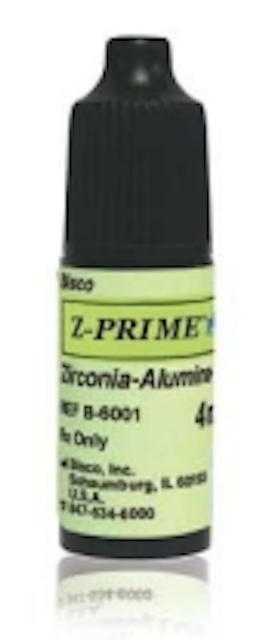 Z-PRIME™ Plus by BIscoZ-PRIME™ Plus by BIsco
cementation. It's not that I don't trust my dental laboratory; I just think I should be doing more. I was wandering through the exhibit hall at the Greater New York Meeting and came across the Bisco booth. I stopped to say "hi" to some friends in the booth, and they showed me Z-PRIME™ Plus. This is what I have been wanting for years. Now I am sure that the surface is ready for my resin cement. BISCO's Z-PRIME™ Plus is a single-component priming agent to enhance adhesions between indirect restorative materials and composite resin cements. It can be used as a surface treatment for zirconia and alumina metal oxide ceramics, as well as other types of metals/alloys, composites, and endodontic posts. Z-PRIME™ Plus has been specially formulated to provide high bond strengths in either self-cure or light-cure modes. It is compatible with light-cured and dual-cured resin luting cements. It comes in a convenient, single-bottle delivery system that makes it easy to dispense. I use Z-PRIME™ Plus whenever I cement anything except veneers. For more information or to order, call (800) 247-3368 or visit www.bisco.com.
1500 Intraoral Camera by Kodak Dental Systems — The Kodak 1500 intraoral camera is the ideal communication tool for dental practitioners. It delivers precise, true-to-life images with each shot and provides the powerful visual evidence you need to educate patients and make more accurate diagnoses. Now you can let patients see exactly what you see so that they will make smarter decisions, and be more likely to accept treatment. The Kodak 1500 camera has a high, still-image resolution that provides the functions you need to capture sharp, clear color images. It has a wide focus range (3 mm and greater) so you can clearly view even the smallest details. This makes diagnosis and treatment planning easier and more accurate than ever. The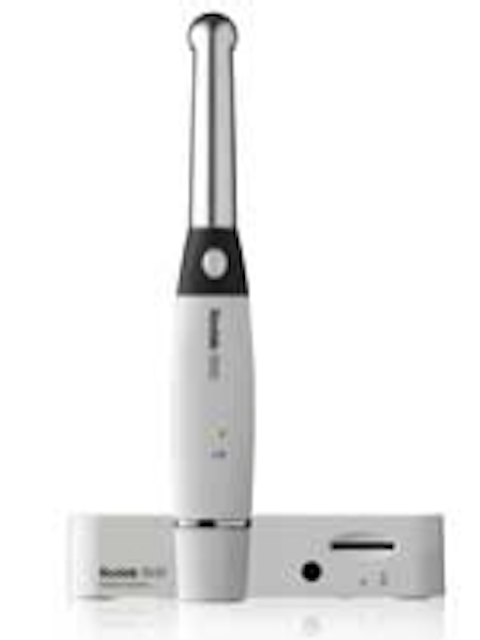 1500 Intraoral Camera by Kodak Dental Systems
camera's one-button image capture allows anyone on your team to obtain clear, detailed images quickly and easily. Combined with an autofocus, the camera's unique liquid lens technology works like the human eye to ensure clear, detailed images each and every time. The intuitive 8-LED lighting system automatically adjusts to your practice's lighting conditions with no manual adjustments required. The Kodak 1500 camera's wireless version provides complete freedom of movement. This camera is a versatile tool for any dental practice. With just one camera, you can capture still images and fluid videos, perform intra- and extraoral exams, and quickly display images on either a PC or video monitor. The USB connectivity allows you to share the docking station between several treatment rooms. This means you can use the camera anytime and anywhere you need it. You can easily modify, store, and manage images and videos with the included Kodak dental imaging software. Simply press the acquisition button to capture a still image, and it's automatically saved to your computer or SD card. Images then can be integrated into patient files, printed, and shared. Kodak provides great support experts to help you integrate the camera into your practice. For more information, call (800) 944-6365 or visit www.kodakdental.com.
BruxZir® by Glidewell — BruxZir® is a full-contoured, solid zirconia crown or bridge restoration with no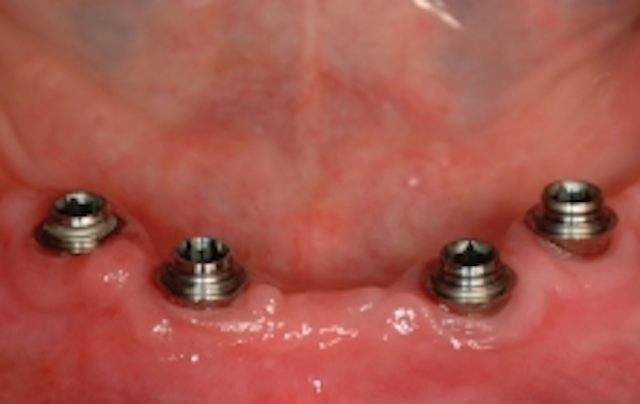 BruxZir® by Glidewell
porcelain overlay. This crown is more brawn than beauty, but it does have nice esthetics as opposed to metal occlusal PFM and full-cast metal restorations. Have you ever cut off a zirconia core? If so, then you know that this material is virtually chip-proof. BruxZir® solid zirconia crowns and bridges are the ideal restoration for bruxers and grinders. Designed and milled using CAD/CAM technology, BruxZir® is sintered for 6.5 hours at 1,530 degrees Celsius. The final crown or bridge emerges and is glazed to a smooth surface. BruxZir® crowns and bridges are backed by Glidewell Dental Labs' seven-year free replacement warranty. This product is indicated for posterior crowns, bridges, inlays and onlays, and is an esthetic solution for bruxers and grinders when using PFM metal occlusal/lingual. It is also indicated when full-cast restorations are not desired or when a patient lacks the preparation space for a PFM or has broken a PFM in the past. Any type of preparation or margin design works for BruxZir® with at least 0.5mm of occlusal clearance. Because it is a monolithic zirconia material, it is chip-resistant. Final restorations are glazed to a smooth surface to reduce plaque accumulation. For cementation, use resin-reinforced glass ionomer cement in most cases. But for short or over-tapered preparations, use resin cements. Adjust BruxZir® crowns and bridges using water and air spray to keep the restoration cool, and to avoid micro-fractures with a fine-grit diamond. If using air only, use the lightest touch possible when making adjustments. A football-shaped bur is the most effective for occlusal and lingual surfaces; a tapered bur is the ideal choice for buccal and lingual surfaces. After you have made all the adjustments, it is necessary to polish BruxZir® restorations with the porcelain polishing system of your choice to reestablish the glossy or "wet" shine of the restoration. BruxZir® is made from translucent Prismatik Clinical Zirconia™. BruxZir® is a registered trademark of Glidewell Laboratories. Prismatik Clinical Zirconia™ is a trademark of Glidewell Laboratories. For more information or to send a case, visit www.bruxzir.com or www.glidewelldental.com.
To have Dr. Joe Blaes present his lecture, "Pearls For Your Practice®," for your study group or dental society, please call (866) 274-4500.
More DE Articles