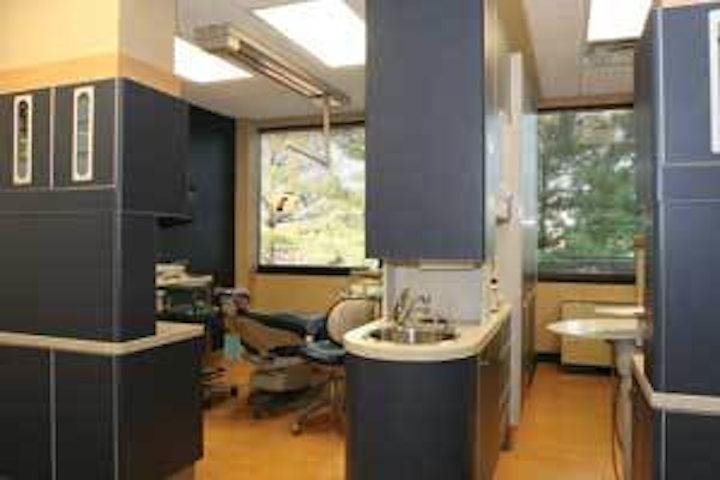 After serving 23 years in the United States Navy, Dr. Joel Schwartz traded in his sea legs for his ultimate dream - a civilian dental practice.
by Dianne Glasscoe, RDH, BS
"Request permission to go ashore." This is the request that naval personnel use when they ask permission to leave the ship. "Permission to go ashore granted." This is what the Commander replies when the request is granted. This was the request made by and granted to Capt. Joel L. Schwartz, DC, USN, on January 1, 2003. That is when Captain Schwartz became USN retired after nearly 23 years of service as a United States Navy Dental Officer and became known professionally as simply Joel Schwartz, DDS.
Making the transition from military dentistry to private practice is the realization of a lifelong goal for Dr. Schwartz.
"I had experiences at every stage of my naval career that were virtually unobtainable in any other way," he said. "I visited more than 20 countries and gained a 'hands-on' personal perspective of world events. I was especially fortunate that my opportunities included advanced training in dentistry and professional leadership. I had the opportunity to apply new skills on missions worldwide. I was most gratified to be able to provide support to our nation's most deserving service members (and their families) that go into harm's way."
However, as every service member learns, there is a sunset on that stage of life. "I was completing an assignment at the Naval Medical Center in Bethesda, Md., as General Practice Residency Program Director, and Specialty Leader for Navy Dental General Practice Residencies," he said. "I anticipated an upcoming move and change in duty stations. That's how a Navy Dental Officer works, and for me, every new duty station presented new challenges and opportunities."
At the same time, Dr. Schwartz and his family knew that his professional "clock" was ticking. "Deciding to retire was a lot tougher decision than it was to come on active duty."
To Contact Dr. Joel Schwartz:
phone -- (301) 738-2111
e-mail -- jschwartzdds@comcast.net
With three children in solid educational situations, and feeling the need for a "permanent change in duty station," Dr. Schwartz and family embarked on the huge challenge of becoming a civilian dental family. "I looked at opportunities to stay in education or government work, but I knew that the best way for me to do what I enjoy, which is providing patient dental care, rested in private practice."
There were many incentives to join the Navy in 1980 when Dr. Schwartz graduated from dental school, just as there are now, such as educational opportunities, travel, and better clinical preparation to practice. "The Navy provided me a general practice residency in hospital dentistry at the Naval Regional Medical Center in San Diego. This experience helped me round out my clinical skills and provided me the confidence to practice dentistry and medical support in isolated areas, such as shipboard and Marine deployments. It also stimulated my desire to continue the learning process."
Dr. Schwartz describes the Navy dental environment as the "largest group practice in the world," and high-quality dentistry is the No. 1 priority. "There is exceptional peer review in the Navy Dental Corps. Any dentistry that is done is probably going to be seen and evaluated by five or more dentists in a very short time. There is no way that anyone can get away with less than top-of-the-line dental care delivery."
Travel and experiencing other cultures is another advantage of being a military dentist. Dr. Schwartz lived on ships, in tents, and in officer quarters during his Navy experience. He has lived in many areas of the world, such as Okinawa, Japan; Iwakuni, Japan (the Naval Base where the Japanese Navy planned Pearl Harbor); Pohang, Republic of Korea; Subic Bay, Philippines; and best of all, a three-year "getaway" to the Marine Corps Air Station in Kaneohe Bay, Hawaii.
Dr. Schwartz states that the cultural experience of being in Japan was wonderful. He was officially charged with running an eight dental officer clinic, with more than 20 enlisted and civilian staff, in Iwakuni, Japan. "Working with the Navy and Marines and their families was tremendous. Everyone was exceptionally professional and most appreciative of the dental and adjunctive support that our staff provided."
Before going to Japan, he also enjoyed mentoring young dental officers in his position as the director of hospital general practice residency. This was a great opportunity to return to where he started his Navy career in San Diego and return some of the educational benefits that he had received.
During his naval career, there were nine relocations, which were never easy on his family. The toughest part of moving was leaving friends behind and pulling up roots. However, Dr. Schwartz states that his wife, Robyn, held them together and was their stabilizing force. "Robyn always made the most of each opportunity and was fabulous support as my partner. I think my children also have great memories, even though they were young."
Front row (from left): Valerie Butler, RDH, Natasha Bautista, Susan Hanson-Haywood (office administrator), Ingrid Aguilar, and Kim Spragg, RDH. Second row (from left): Dr. Joel Schwartz, Victoria Caruso, Kathy Moran, CDA, Raissa Jacobsen, CDA, Dr. Lawrence Blank. Not pictured: Toni Burnett, RDH.
Click here to enlarge image
Toward the end of his naval career, Dr. Schwartz had to make several important decisions about what he wanted to do in the dental profession. He considered teaching and was offered opportunities to be a dental educator. He even turned down an opportunity to return to Hawaii, all to pursue his goal of private practice. Private practice offered the best opportunity to satisfy his passion for treating patients.
"I've had to do what many dental school graduates do but on a condensed timeline," he said.
He spent about nine months as an associate learning a lot about running a private practice, meanwhile keeping an eye out for the right opportunity.
"I was active in the Academy of General Dentistry (he is ready to apply for his Master's in the Academy) and also in the Seminar of Restorative Dentistry at the Naval Dental Center in Bethesda," Dr. Schwartz said. "We meet on Saturday mornings once a month and practice different dental procedures, plus focus on new techniques and materials. It keeps me grounded and forward thinking educationally, with the added benefit of staying in touch with my Navy shipmates."
Here he resumed a friendship with Dr. Lawrence Blank, who was also a Navy dentist. Dr. Blank retired as a Captain from the Navy in 1989. He had been on faculty at the University of Maryland dental school as chairman of the AEGD program and has had a private practice in Gaithersburg, Md., for five years. It was a natural transition, given the similarities in military philosophy and tradition, and with some mentoring and guidance, Dr. Schwartz was ready to "assume command." So, at the age of 49, he bought his first practice from Dr. Lawrence Blank, who continues to mentor and work in the practice as an associate.
The practice immediately blossomed with two doctors of similar backgrounds and equal devotion to the health and welfare of their patients. It soon became clear to Dr. Schwartz that to continue to provide that highest quality of care available and move into newer technologies, he would need more space. One year after buying the practice, he began to seek the right location to make that part of the dream a reality.
Less than a year after moving forward on that vision, the practice moved into a larger space up the street to accommodate the expanding practice. The new office has approximately 1,000 more square feet. There are now six treatment rooms (formerly there were only four), a staff lounge area, expanded business office space, a private office for the practice administrator, and ample parking (which was a significant problem in the former location. After searching for parking, many people came to their appointments already "peeved.")
Key improvements included computer access in each operatory for immediate access to digital X-rays and availability for improved patient education via CAESY™, and intraoral camera access in each operatory; more space for patient privacy; improved sterilization space for capacity and capability; new dental units for improved staff ergonomics; a closed contained water system for the units to eliminate biofilm risks, with overall greatly improved infection control capabilities such as hands-free sinks and dental chair operations; and a large lab with the intent of incorporating technology such as the CEREC® system, and operating space for staff comfort. The new office logo and décor reflect the Navy influence on both doctors' lives.
There have been many challenges along the way for Dr. Schwartz in the transition from military dentistry to private practice.
"There is a completely different set of operational rules, especially with treatment planning, providing for the personal preferences and desires of our patients, and dealing with third-party insurance issues," Dr. Schwartz said.
"The office is located in the heavily populated Rockville, Md., area, where managed care has made significant inroads.
He has found that it is very important to help patients distinguish between their needs and their benefits.
"It hammers home more than ever that, as dental professionals, we are treating the whole patient, not just the mouth, starting with the mind," Dr. Schwartz said. "We need to fully understand each person who comes to us."
Dr. Schwartz credits his wonderful group of staff members in helping him meet the new challenges of private practice. He recognizes that each staff member has certain abilities and talents that he or she brings to the practice, and he seeks to fully utilize their capabilities while helping each realize their potential.
"In the Navy, we called this 'going to the deck plates,' where we recognize that every 'crew member' performs a unique and important part of the mission and is fully recognized and appreciated for their contribution," he said.
When asked what three words best describe him, Dr. Schwartz related his core values - honor, integrity, and commitment.
"Your word is your word, and people need to know that when you give it, there is no question that they can rely on your personal integrity. I value the little things, and I am especially committed to the health and happiness of my staff members, which translates into the health and happiness of our patients and the highest level of quality care."
Dr. Schwartz feels his greatest asset is his family and their support.
"Without their support I would be nowhere near as happy and successful as I am," he said. "The energy that my wife Robyn (an RDH who is very involved in daily practice operations) and three children put into their school and personal projects, as well as supporting and understanding the commitment that private practice requires, inspires me every day!"
Attention to detail is another of Dr. Schwartz's assets, but he also feels it is probably his greatest weakness as well.
"The Navy made me a firm believer in the delegation of duties, but I still like to know what is going on to the point where sometimes I get wrapped around the axle! I try to stay back when my staff members are 'at the helm,'" he said.
The part of being a dentist that Dr. Schwartz enjoys the most is the feeling that comes from helping people.
"I feel I relate well to people, whether it is my staff members or my patients. It makes my day when someone expresses his or her appreciation for the dentistry we do here. I truly enjoy my patients and staff members. If we aren't making others happy, we are missing the point," Dr. Schwartz said.
Asked what he would change about the way he practices today, Dr. Schwartz said he feels he is probably like most dentists, in that he loves the dentistry but dislikes the distracters, such as administrative paperwork, risk management and liability concerns, and dealing with third-party payment issues.
This is an exciting new season of life for Dr. Schwartz and all his staff members, and the new office is the icing on the cake! This is a special practice with a unique and "seasoned" leader. The ones who will benefit most are the patients.