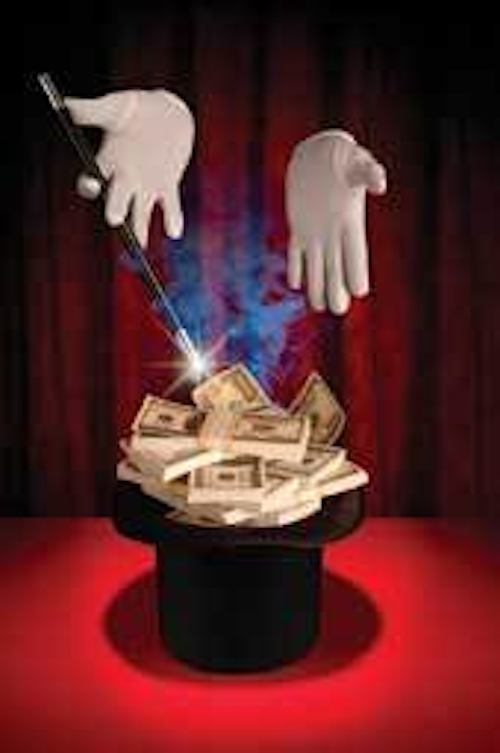 by Barry F. Polansky
Have you ever had one of those free days with no one to whom to answer? While in New York City recently, I found myself with a full day to kill before I had to meet friends for dinner. It was a cold, crisp day, not great for strolling the avenues. I started at Starbucks, trying for a little orientation. I perused a city guide and came across an ad for a place with the enticing name of Fantasma. I know what you're thinking, but Fantasma is the name of the "ultimate magic and toy store." The ad also promised free magic shows daily and a Houdini museum exhibit. I love magic, so my intrigue turned to action. I finished my latte and grabbed a cab downtown.
The driver let me off on the corner of 7th Avenue and 33rd Street, just diagonally across from Madison Square Garden. I was expecting Fantasma to be something on the scale of the Garden, but the cab driver pointed me toward an old walkup building. The building was nondescript. It had a sign in front, one of those closed fists with the thumb pointing upward, to indicate that there was a magic show upstairs. Stepping over a homeless man in the hallway, I made my way to the second floor. A very strange fellow in a Harry Potter wizard hat greeted me and thanked me for attending the show. He told me his name, but then said, "Everyone calls me Magic."
Fantasma was dimly lit and completely stocked with just about every magic trick ever invented. Situated in the center of the room was the Houdini exhibit. For the first 30 minutes, I was mesmerized (now that's a magical word) by the little-known facts about the life of Harry Houdini. Houdini, the master of handcuffs, the world's greatest escape artist, and arguably the world's first superstar, left behind a legendary legacy. He was born Eric Weisz, a World War I survivor who became a hero to many because his magic provided hope for many people. But what made Houdini different from all other magicians, I wondered as his story was revealed to me in the museum.
A few weeks prior to my New York visit, I had seen two movies that dealt with the world of magic, The Illusionist and The Prestige. Both movies left me with thoughts about the world of magic that my trip to Fantasma confirmed. First, every trick has a gimmick or a "secret." Some tricks are certainly more complex than others, like David Copperfield's Statue of Liberty disappearing act vs. a simple Las Vegas lounge card trick. In The Prestige, which took place in the late 19th century, I could see just how much magicians took advantage of the more sophisticated technical knowledge of the day, and how they kept their secrets well protected. But you can't totally protect the secret of the trick, because the law says you can't trademark an idea. No one explained this better than physicist and science fiction writer Arthur C. Clark, when he said, "Any sufficiently advanced technology is indistinguishable from magic." So as time went on, the "secrets" became known to just about everyone in the field of magic. The Harry Houdinis of the world brought something more to the game than just the secret.
I left the museum that day still wondering about Houdini's success. I wanted to apply that formula to my own work. Don't all dentists know the secrets of great dentistry? If they don't, certainly no one is keeping the methods secret, no pun intended. I kept thinking about Houdini's early career. He wasn't known for his close-up magic; actually he wasn't a very good magician. Where he really shined was in his ability to get out of handcuffs. His promoters made him stay with that strength, which he developed into becoming an escape artist. He virtually gave up magic. He was also very good at building rapport with his audience. I thought of my own life motto, "Soar with your strengths, and know yourself and know your patient." Isn't that an integral part of what we teach at the Pankey Institute? Still, just knowing these items is not the secret we are seeking.
There are many forms of magic in my practice, from the magnificent work we complete and the life makeovers we participate in, to the actual transformation of people we never thought would complete comprehensive dentistry. Something happens consistently when doctors visit my office to watch me do a comprehensive examination ... when they come to watch me perform "my magic." The visiting doctors generally tell me that they do exactly what I do, just like I wrote about in The Art of the Examination, but they aren't experiencing "the success" they desire. They are still searching for "the secret."
Then, it hit me.
Ten magicians could perform the Chinese Water Torture Trick, but no one could perform it like Harry Houdini. Sure, they all knew the method. The "secret" has been known for years. So what was the difference? Here's the lesson. The success or failure of how you perform does not depend on knowing the secret or the trick. It depends on how you approach using the secret - the script you choose and how you execute your performance. You may even call this "knowing your magic." In other words, your magic is ingrained in your personality and makes up the essence of who you are. Your magic is what makes you so unique and special. The secret of success is to know your magic.
This is truly the essence of L.D. Pankey's Cross of Dentistry. There is no secret. It lies in the totality of the Pankey Cross, especially in the arm that says: "Apply your knowledge." The intentional, thoughtful application does improve when our minds stay attuned to it. We will keep getting better at this when we stay intentional.
I often wonder about who makes the very best dentists. Is it the very best technician? Is it the very best behaviorist? Or is it a blend of both? Dentistry is about knowing how to do the tricks, but the real magic comes only when the dentist can get it off the shelf and truly serve his market in a way that patients stand back in awe and exclaim, "How did you do that?"
Barry F. Polansky, DMD, practices in Cherry Hill, N.J. Author of the book, The Art of the Examination, and publisher of "Dental Life," he is on the visiting faculty of the Pankey Institute. E-mail him at info@drbarrypolansky.com.