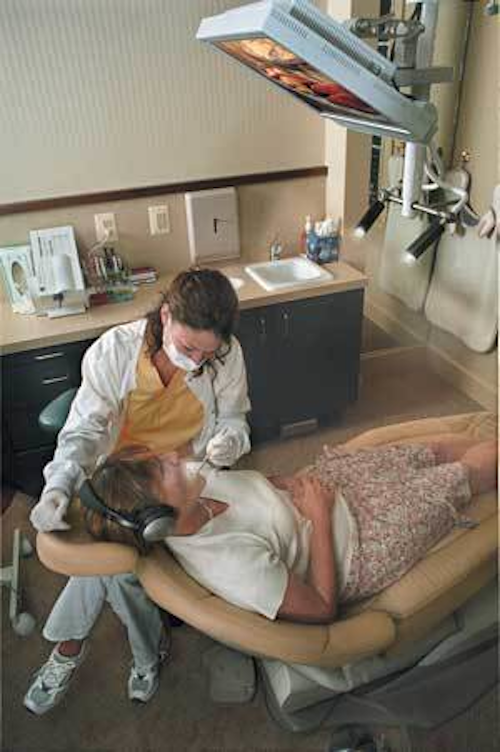 Dr. D. Gordon Rye's philosophy is simple - to achieve the best in life. His busy cosmetic dental practice is a testament to his perspective - from investment in state-of-the-art technology and systems to his commitment to family.
"My parents taught me to 'Do what I do well,'" the dentist from Fairfax, Va., said.
"I decided a while back to focus my efforts on dentistry and my family."
For instance, in terms of family, Dr. Rye takes time from his busy work schedule at his bustling cosmetic dental practice to coach two of his sons and his daughter, who play Little League baseball.
In terms of dentistry, the 1981 graduate from the Medical College of Virginia has been enjoying the benefits of his facility that features many of the latest advances in technology for the dentist.
After four years planning and one year building, Dr. Rye moved into his current building in January 2004. The 5,500-square-foot facility includes 3,100 square feet of space for Dr. Rye's dental practice. The remaining 2,400 square feet is leased to a pediatric dentist.
Technology was at the forefront of the planning for the office, which was cited by Matsco as the winner of its 2005 Outstanding Design Efficiency Award for Small Practices for "most effective space planning and use of square footage to meet practice needs and objectives."
"I have always been interested in technology," the 2005 graduate of the Las Vegas Institute said.
"Technology makes dentistry more fun and exciting. Our guests love it. Technology helps them make more informed decisions. To them, treatment is more interesting with the new technology," Dr. Rye added.
"Technology also helps with case acceptance and the workflow of our office."
Technology's influence is deeply engrained and enhances Dr. Rye's practice philosophy - "Rye smiles, for life."
"We try to combine elegance and comfort with high technology and a gentle touch so our guests can receive the best dentistry that we can offer," he said. "The end result is we really do change people's lives."
Highlighting the list of modern technology touches in the practice is the Technology Lighting Center, or TLC.
Manufactured by the Seltzer Institute, the TLC is a combination operating light-viewing monitor that provides the utmost in patient comfort and flexibility.
When a patient is sitting upright, a flat panel LCD monitor is vertical and in front of the patient. But when the patient reclines, the monitor - which is mounted on a track attached to the ceiling - rotates horizontally so that it is stationed above the patient's face yet out of the way of the dentist and/or dental assistant.
Whether in the upright or reclined position, patients can relax by watching DVD movies, cable television, or patient education materials. In addition, they can view digital radiographs or digital photos of their teeth on the LCD monitor.
The glare-free operating light is composed of two high-intensity fiber-optic lenses. What's more, the lights are directed on the patient's mouth, and not on the eyes, so the patient has an unobstructed view of the monitor.
"The system can be adjusted very easily," Dr. Rye said. "Our patients like it because it helps build relationships. We are in a people business, and that means communication is a key."
According to Dr. Rye, his guests become so relaxed while being treated that they almost become oblivious to where they are.
"They kind of 'zone out.' Sometimes, we have to coax them out of the chair," the dentist said with a chuckle.
Besides the patient monitor, the system includes a separate monitor for the dentist and/or dental assistant.
"Steve Seltzer came up with the idea for the TLC," Dr. Rye said. "My office was one of the first in the country to come out with the system.
"Another advantage," he added, "is that it's so easy to use that the staff and I actually use it. High-tech equipment must be extremely easy to use or it will get stuffed away in a corner somewhere."
Several more of the latest features in technology grace the practice.
Digital cameras are used extensively by Dr. Rye, who likes to give presentations on dental photography to dentists in the Fairfax area.
The office's digital radiograph system helps save time and improve efficiency. Each of the six dual-entry operatories in the practice has a dedicated X-ray head.
"This allows for instantaneous viewing of X-rays with no darkroom needed," Dr. Rye said. "In addition, this format simplifies manipulation, storage, and archiving of radiographs."
With a full load of full-mouth reconstruction cases, the quick-loading feature afforded by digital X-rays is a big plus.
A digital Instrumentarium panoramic radiograph unit produces easy-to-view, consistently exposed X-rays.
"Digital radiographs can be e-mailed to other providers, saving time and costs," Dr. Rye pointed out. "It's very user-friendly."
Computers and screens are used throughout the office. A flat panel plasma television in the reception area, recessed above the fireplace mantle handcrafted by Dr. Rye's father, can be used for patient education programming, cable television, or viewing DVDs.
The treatment area of the practice is designed in an L-shape. A centrally located consultation room - with two entrances - includes several facets of new technology.
A 72-inch projection screen covers one wall but can retract out of view into the ceiling. A projector and computer for displaying material on the screen are hidden behind the viewer. A small, round table - surrounded by plaques on an adjacent wall and a vaulted ceiling with crown molding - welcomes guests.
"The consultation room is perfectly situated in the office," Dr. Rye said. "The room gets used all the time. We use the room for patient education as well as personalized treatment plan presentations."
Two other unique technology items - one geared for prospective patients and another for new and existing staff members - are now in place.
"We are in the process of producing virtual video tours of our office on DVDs and sending them to new patients before they ever come to our office," the Fairfax dentist said.
The other item, the "digital office procedure manual," is a computerized version of dental and staff protocols designed specifically for the practice.
"For new employees, we burn a CD of the manual for them to take home and watch before they begin," Dr. Rye said.
This manual also serves as a great educational tool for current staff members if they assume new roles.
All of these high-tech touches, along with several others, have helped Dr. Rye change the direction of his practice.
"We are moving toward a niche practice," he said. "By improving our physical space and office esthetics, we have experienced a large increase in the size of our cosmetic workload. We are able to treat fewer people by providing more comprehensive dentistry. The office we have is allowing me to do the type of dentistry that I really love to do."
Dr. Rye's focus on dentistry, through the design and implementation of the latest in technology in his practice, combined with his philosophy that patient communications create relationships to achieve the best in life, has put him in the position to perform the kind of treatment that is truly exceptional.
"The building is beautifully designed," the Fairfax dentist said. "We want the design of our building and the quality of our office to reflect the quality of the dentistry we provide."
And those thoughts are right in line with Dr. Gordon Rye's simple, yet succinct, view on life.
D. Gordon Rye, DDS, MAGD, PC
10614 Warwick Avenue
Fairfax, VA 22030
Phone: (703) 352-2010
Cosmetic Dentistry • Sedation • Implants
E-mail: drrye@cosmeticdentistfairfax.com
Web site: www.cosmeticdentistfairfax.com