Pearls for your practice
Most of us have certain things we look for when choosing a new air-driven handpiece.
Aug 13th, 2014

By Joe Blaes, DDS
MASTERtorque
by KaVo

Most of us have certain things we look for when choosing a new air-driven handpiece. You must humor me because I began with a belt-driven handpiece in dental school. When I was a senior, the school put Borden air rotors on eight chairs in the Crown and Bridge Department. The first thing I look for is torque. Each of us has developed our technique of keeping the bur cutting on the tooth. My experience with KaVo handpieces has always been great, and the new MASTERtorque M8900 L is the best yet. Somehow, KaVo has found a way to give this handpiece 20% more power (compared to the KaVo GENTLEsilence 6500BR). It has 23 watts of peak power. This may not mean much to you, but this is quite an increase in power. You will know it when you begin cutting teeth with this powerful handpiece. It makes cutting teeth fun again. With the extra power, you would expect it to scream louder. But the MASTERtorque is actually quieter with an industry-leading noise level of only 57 decibels. The Master Series premium air handpieces operate at a low frequency range. In fact, MASTERtorque M8900 L and MASTERtorque mini M4500 L are two of the quietest high-speed air handpieces around. An extremely well-balanced turbine reduces acoustic pressure and high-frequency peaks to protect your hearing. This helps create a relaxing environment for everyone, including the patient. The unique ball-bearing technology guarantees quiet and virtually vibration-free operation. One of the irritating aspects of air-driven handpieces is the bur run-on. But the MASTERtorque solves this as well with the new Direct Stop Technology (DST). The best just keeps on getting better. DST stops the bur in less than one second when the clinician steps off the foot control. This increases working efficiency and reduces the potential for soft-tissue damage. DST also prevents the drawback of aerosols and debris, increasing the life of the turbine and improving overall handpiece hygiene. You can quickly change your handpieces with secure snap on and off, quick connect for air, water, and light. Your handpiece will have 360- degree full rotation due to the multiplex coupler. This gives you flexibility for diverse clinical applications such as air abrasion and polishing, crown and bridge removal, and air scaling. The MASTERtorque has a field-replaceable water filter, an improved four-port spray for better visibility, a Plasma-Tec coating, and new angles for improved access in the mouth.
Visit www.kavousa.com for more information.
EyeSpecial C-II Camera
from Shofu Dental Corporation
The EyeSpecial C-II camera is designed exclusively for dentistry. It was created for dental and orthodontic photography, case presentations, and at the bench in a dental laboratory. It is extremely user friendly, and can be held comfortably – with one hand. All team members, regardless of their experience level, can achieve identical results. Shofu's smart and stylish camera offers 12 megapixels, intuitive one-touch operations, an ultra-lightweight, sleek body design, and a large LCD touchscreen that allows the user to view and scroll through images effortlessly – even with a gloved hand. The EyeSpecial C-II is compatible with an Eye-Fi wireless memory card. Images can be instantly transferred and uploaded onto a tablet, computer, or smartphone. It comes with SureFile, a proprietary photo management software that allows the user to automatically sort and file images by patient ID number. Each time a patient's ID number is entered into the camera, SureFile will load all of the images for that patient to the same folder. This saves time and helps to maintain compliance with HIPAA standards. The EyeSpecial C-II is ready to use and does not require changes or routine-setting modifications, unlike other dental digital cameras. The preset functions and settings, along with the intuitive one-touch operations, make for fast, easy, reproducible images every time. The camera also has exceptional depth-of-field range that allows the anterior and posterior teeth to be in focus at the same time. It has fast autofocusing and anti-shake capabilities, as well as infrared, UV, and anti-reflection filters. It is water and chemical resistant. This is essential for infection-control procedures in the dental office. The EyeSpecial C-II features the FlashMatic system with four macro LED lights mounted around the lens, as well as an inside and outside flash located on both sides of the lens. This unique flash system blocks out the ambient light to allow consistent images to be achieved. The EyeSpecial C-II is a smart digital camera with sophisticated results that is super simple. It is ultra-lightweight, rugged, durable, and avoids cross-contamination. It is a compact camera that gives professional results with a great magnification range and exceptional depth of field. The camera's built-in double flash and shooting modes make using it simple. If you are looking for the best and easiest digital images for your patient records and case presentation, this is the one to buy. Call and order one now.
Visit www.shofu.com for more information.

Midwest Automate
from DENTSPLY Midwest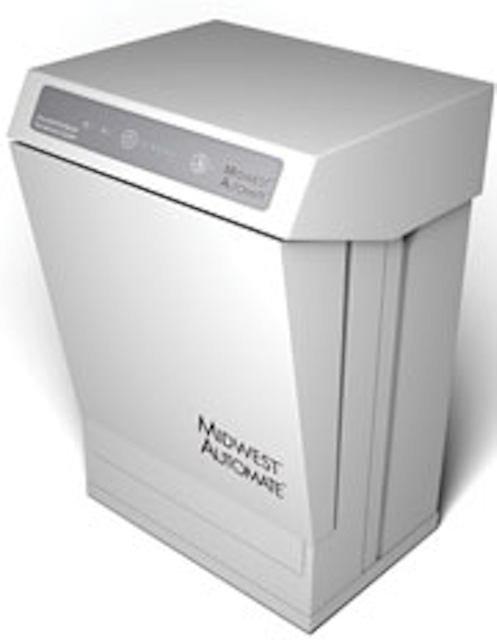 One of the hardest chores in a dental office seems to be handpiece maintenance. Our assistants do not like the job since it can be messy simply because part of the process involves spraying oil to lubricate the handpiece. Midwest introduces a better way to do this job without all the mess. The Midwest Automate system provides consistent and reliable handpiece maintenance, including lubrication and expelling to deliver precise amounts of lubricant, accurate expel times, and constant air pressure. The combination of these maintenance operations effectively removes the debris that may be hindering handpiece performance. According to a recent survey, two of three dentists state that automated handpiece maintenance systems can help to extend the life of handpiece turbines, and three of five dentists say the system is essential to their practice. Automated systems reduce variability and increase efficiency, decreasing hands-on cleaning time by approximately 81% when compared to the cleaning time of manual maintenance. In addition to automated cleaning, the Midwest Automate system features a comprehensive line of adapters and maintenance couplers for use with a variety of handpieces, a handpiece count sensor that allows use with one, two, or three handpieces at a time, and a dedicated chuck cleaning port for easier insertion and extraction of rotary instruments. An innovative waste containment system helps to minimize mess and maintain a clean work environment. The steel construction provides durability. The three-year warranty offers an unparalleled protection plan. When assistance is required, Midwest Air Repair offers prompt, quality support and repairs for your equipment. Order this great way to clean and maintain your handpieces from your dealer. Your assistants will love you for this purchase.
Visit www.MidwestAutomate.com for more information.
Clean and Lube Wipes
from DUX Dental
Clean and Lube Wipes keep alginate bowls flexible and looking like new. They are the answer to how to clean your rubber and plastic bowls – one of the hardest jobs in the lab. This convenient dispensing system is easy to use, and it eliminates waste. Use Clean and Lube Wipes to quickly remove alginate and stone residue from rubber or plastic bowls. Each wipe is premoistened with cleaners and emollients to prevent bowls from drying out while reducing bowl abrasion. Subsequent cleaning gets easier because Clean and Lube Wipes leave the bowls with a smooth luster and feel. This smooth luster makes it easier to mix alginates and stone with a spatula. Clean and Lube Wipes will not discolor your alginate bowls, and they are safe. Simply wipe, toss, and you are finished. This is one of those simple, great, innovative products that you wish someone had made long ago. Your assistants will love you for this purchase.
Visit www.duxdental.com for more information.

Flexipalettes
from SmileLine USA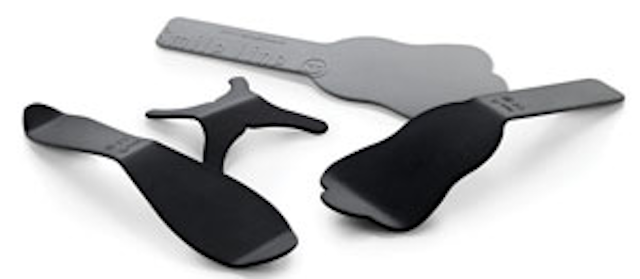 Flexipalettes are made of bendable copper sheet 100% overmolded with Plastimed – a medical grade plastic rubber, latex free, safe, and hypoallergenic. Plastimed coating can be sterilized in an autoclave, and can be safely sprayed with Cavicide. It cannot be placed in cold sterile. The unique protuberance design of Flexipalette A allows you to make wide shots of the upper and lower arch. It is easily handled by the photographer, and is ideal for the patient's self-positioning. It is opaque and reflection free, and can be folded in a 30- to 45-degree angle. It is gentle and soft in the patient's mouth. Flexipalette B has a larger round shape for large and medium arches. The opposite side is narrower for medium and small arches, pediatric use, and lateral pictures in the antero-posterior region. Flexipalette C is a narrow design to retract and hide the lip. It rests in the vestibule. Flexipalette Color Match is manufactured in a soft, neutral, achromatic 18% gray color. It provides a soft neutral intraoral background that will not disturb during shade taking, especially in anterior teeth. It is a tool to regulate the white balance and exposure of digital cameras. It is opaque and reflection free, and it can be folded in a 30- to 45-degree angle. Like all the Flexipalettes, it is gentle and soft in a patient's mouth.
Order online at: http://smilelineusa.com/flexipalettes or call (877) 755-6868 for more information.
eZr
from Garrison Dental Solutions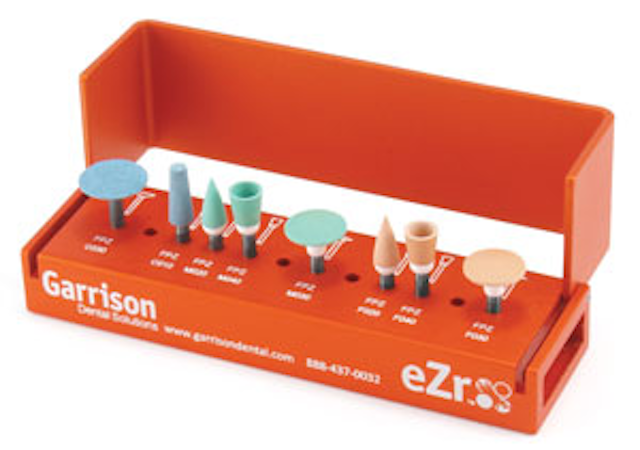 is intraoral adjustment/polishing for zirconia and lithium disilicate. The correct way to make occlusal adjustments on zirconia has been a controversial issue for a long time due to the risk of microfracturing. Finishing with the appropriate instruments is now possible, and they assure long-term stability of the restoration. The eZr polishing system provides a solution that not only produces a high-gloss finish on zirconia, but also increases the physical stability through polishing. Highly polished stable zirconia surfaces are now attainable. The polishers have a long life, and in combination with a high material removal rate, allow for an economic and a fast polishing system to get to glossy smooth in seconds without polishing paste. eZr is a three-step diamond polishing system for the processing of zirconium oxide and lithium disilicate. The grinders and polishers are ideal for adjusting and correcting chairside restorations such as inlays, onlays, veneers, and crowns. Dr. Todd Brower of Holland, Michigan, said, "eZr is the only polishing system that actually polishes zirconia smooth. Research tells us that zirconia is not over-abrasive to opposing dentition so long as it is polished to smooth. With all the other kits, there are still visible bur marks after polishing. The eZr system is the only one I've tried that polishes zirconia to smooth." The proprietary diamond impregnated polisher reduces the possibility of chipping and microfracturing. eZr provides a smoothly polished occlusal surface, eliminating abrasiveness to opposing dentition. It prevents overheating that could lead to premature failure, and it eliminates the need for polishing paste. This reduces overall cost per procedure. If you are placing zirconia and lithium disilicate, you need this adjustment and polishing system.
Visit www.garrisondental.com for more information.
More DE Articles
Past DE Issues