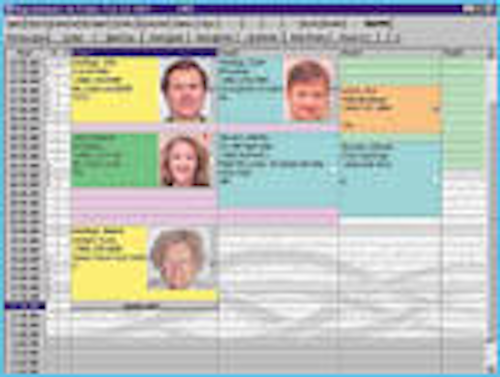 New Products
ACE Dental releases software Version 5.0
ACE Dental Software announces the release of Version 5.0. The new version was completely rewritten utilizing the most current Microsoft technology for software development. The new technology allows ACE to maintain its familiar, easy-to-use, tabbed interface while allowing the software to incorporate many new technologies. The new version makes extensive use of Internet technologies and graphics.
An example of the new graphics technology can be seen in ACE Dental's electronic scheduling. ACE is said to be the only software on the market to incorporate patient photos on the appointment schedule. In addition, any patient record can be linked to as many as 40 different images. These images can include intraoral photos as well as patient photos, digital X-rays, scanned X-rays, or any other scanned image.
For additional information, call (888) 667-4272 or email sales@ace-dental.com.
New line of stools for doctors, assistants
Sirona announces the availability of two advanced Sirona C8 Stools, the Sirona C8 Doctor's Stool and the Sirona C8 Assistant's Stool, as options for its Sirona C8 Treatment Center.

Designed for complete mobility and comfort, each stool meets the specific needs of the doctor and assistant. Both offer full lumbar support, hard-floor casters for stability, adjustable seat heights and backrests, tilting seat cushions, durable griffine material, and ergonomically designed seat cushions in 15 attractive colors.
For more information, contact Sirona USA at (800) 659-5977 or visit www.sirona.com.
Use scanner for digitizing patient images
A film scanner by Eastman Kodak Company is gaining recognition among dentists as an efficient, high-quality technology for digitizing color negative and positive, black-and-white 35 mm film, and mounted slides.

The Kodak Professional RFS 3600 Film Scanner can be used to create high-quality color and black-and-white scans, providing resolution of 3600 dpi and a dynamic range (optical density) of 3.6. Dentists can batch scan three - 36 frames — with no film holder required.
The new scanner is ideal for digitizing 35 mm slides and negatives with images of patient smiles and teeth. The Kodak Professional RFS 3600 Film Scanner is available through Kodak Professional, the corporate division that serves professional and commercial photographers.
For additional information, call (800) 933-8031 or visit the Kodak Professional Web site at www.kodak.com/go/professional.
Cavity Busters Kit helps keep kids cavity-free
The Cavity Busters Kit is a one-of-a-kind, easy-to-use, kid-friendly and motivational program designed to keep kids cavity-free. The kit is great for kids as it makes brushing fun and raises a child's self-esteem. The kit is great for parents because it is a time-efficient, multi-media kit that parents and children can use together to promote good oral health. The kit is great for a dental practice because it will not only educate patients and their parents with valuable information, but help to build the dental practice, saving time and money.
For more information or to order a Cavity Busters Kit, call (888) 292-1991 or visit the Cavity Busters Web site at www.lookmom.com.
Version 7.5 is available now
Version 7.5 of Dentisoft™, dentalxchange.com's desktop practice-management software with integrated perio charting and image management, is available now. It has more than 20 new features, including auto conversion to CDT-3 codes. Users type in familiar CPT-2 codes, which are converted to CDT-3 codes upon printing of any insurance form that requires the new ADA standard.

Other new features include form selection by insurance plan, electronic-claims submission via the Internet, email attachment of images, smart searching, speed-entry of appointments, and more. The easy-to-use, tabbed interface avoids multiple lookups and enables multi-tasking.
For more information, contact dentalxchange.com at (800) 847-7638 or visit www.dentisoft.com.
EyeLites™ available in flip-up model
Providing practitioners with high-performance magnification, lightweight comfort, and fashionable design, Orascoptic introduces EyeLites™, a miniature 2.5 Galilean magnifiying telescope, into its line of high-quality optical products. The new design provides the precision you need with oculars and frames so light, you'll hardly know you have them on.
This flip-up model is available in four fashion styles, 10 colors, titanium or monel, and comes equipped with side shields for added safety.
For more information, call Orascoptic at (800) 369-3698 or (608) 831-2555.
Pre-D Systems™ software
Over the past decade, dentistry has benefited from the exciting discipline of esthetics. Many printed resources and continuing-education programs have approached this topic from a variety of perspectives.

The first challenge is mastering a combination of clinical services such as bonding systems, curing systems, composites, ceramics, polishing, etc. Although the clinician can access a virtual endless array of technique-focused learning tools, little had been designed specifically for team members.
Pre-D Systems™ is an efficient, pre-diagnostic system designed to deliver the message of comprehensive care in the team process of care. The software guides you through a complete array of pre-diagnostic questions and various preloaded treatment prompts. Each section is designed in a tab format and the areas covered are: Creating Smiles, Contributory Smile Considerations, Behavioral Considerations, Home Service Products, Pre-Diagnostic Possibilities, Management Strategies, and Hygiene Clinical Delivery. Pre-D Systems™ supports refocusing team members' knowledge and prediagnostic talents of noticing, recording, and discussing restorative and esthetic possibilities.
For more information, contact Pre-D Systems™ at (603) 887-7277 or visit www.Pre-DSystems.com.
VixWin2000 Imaging Software
The new VixWin2000 imaging software allows you to capture images from the DenOptix digital-imaging system, the GX-S USB intraoral sensor and any intraoral camera, like the AcuCam® Concept IV. You can enhance the image diagnostic information, for example, by using the new 16-bit capability that offers superior imaging quality only available from Gendex. You can easily organize your images then by exams, in a wide variety of customizable mounts. This intuitive, easy-to-use imaging software is integrated with the major practice-management software on the market.
For additional information, contact Gendex Division of Dentsply International at (800) 800-2888 or visit www.gendexxray.com.
Handpiece SPA automates maintenance
Tuttnauer's Handpiece SPA automates and improves the daily task of caring for handpieces. It is a self-contained, easy-to-use handpiece lubricator and protector, and it will accept most handpieces and contra-angles currently on the market.

The Handpiece SPA lubricates using an exact amount of oil, assuring economy of use, and offers the choice of purging and lubricating one, two, or three handpieces in a single operation. Additionally, because it is self-contained, no connection to a separate air line is required.

For additional information, contact Tuttnauer at (800) 624-5836.
Introductory Kit available
Sultan Chemists, Inc. announces the release of VersaSoft, a new high-performance, medical-grade silicone denture soft-liner. It is said to be the most adhesive, longest-lasting automix, chairside permanent-relining material available.

VersaSoft's automix dispensing system and two-minute working time make it extremely easy to use. An advanced 25ml cartridge with distinctly separate outlets ensures perfect mixing, eliminates air bubbles and waste, and prevents cross-contamination.
The VersaSoft Introductory Kit contains one 25 ml cartridge of VersaSoft (enough material for five to six relines), eight mixing tips, primer, varnish, trimmers, and 10 brushes. As a special limited-time offer, buy now and receive an automix applicator gun for free.
For more information, call your favorite dental dealer or Sultan Chemists at (800) 637-8582 or visit Sultan at www.sultanchemists.com.
New communication video series added
Jameson Management, Inc. adds a new cutting-edge video series to its educational product line. 'Effective Communication: The Key to Controlling Stress in Your Dental Practice" is written and presented by Cathy Jameson, Ph.D., President and CEO of Jameson Management.

In these two one-hour video sessions, dental professionals can learn the same skills and techniques that more than 1,700 dental practices have successfully implemented into their personal and professional lives.
Based on information gained from Cathy's research and experience, the information contained in these videos is designed to reduce both the burnout and dropout of dental practice team members, improve job satisfaction, build stronger team and patient relationships, reduce stress caused by conflict, and increase office productivity through great communication.
For more information on these videos or other Jameson Management products, call (580) 369-5555 or visit www.jamesonmanagement.com.
New instrument cassette is space-saver
Hu-Friedy introduces Space Saver Seven, a new addition to its line of IMS Signature Series® Cassettes. The Space Saver Seven cassette is designed to hold seven instruments and features compact dimensions to reduce space constraints in ultrasonic and sterilization equipment, increasing productivity in dental offices. A unique hole pattern protects against instrument protrusion while also allowing for an increased flow rate for thorough cleaning and sterilization. Rounded corners and slotted edges also increase safety and drainage efficiency while reducing drying time.
IMS cassettes are used to hold instruments and accessories in place throughout the entire instrument management cycle. Once a chairside procedure is finished, contaminated instruments never need to be touched again.
For more information, call (800) HU-FRIEDY.
Free sample hot line available
Want to try the latest Young Dental products? Products like the new PETITE LF Short Cup or the CONTRA Disposable Angle? Young Dental has announced the creation of a hot line service where you can call and obtain samples of the newest products as well as a selection of other established Young products. Just call (800) 325-1881, Ext. 3145, and explain what you are looking for. Samples will be sent within the week.
The Great NUPRO® Treasure Hunt is on
DENTSPLY Professional's 'The Great NUPRO® Treasure Hunt" will end Sept. 30, 2001. A scratch-and-win game card is included in every box of NUPRO® Prophy Paste (box of 200 cups) during the promotional period.
All game cards, winners or losers, are entry cards for the monthly drawings and the grand prize drawing. To be eligible for any prize in this program, the recipient must be a practicing dentist or hygienist.
For more details, contact DENTSPLY Professional at (800) 989-8825 or visit www.professional.dentsply.com.
Multivitamin formulated to promote oral health
CollaGenex Pharmaceuticals, Inc. introduces Dentaplex™, a professionally recommended nutritional supplement specifically formulated to help maintain optimal oral health. The new supplement's formulation is built on a 'C-complex" of calcium, vitamin C, and carotene, the group of vitamins and minerals closely associated with healthy gums and strong teeth.

For additional information, visit www.collagenex.com
Hygienist handpiece is cordless, rechargeable
NSK's Taskal 7 is a cordless, rechargeable, ergonomically designed hygienist handpiece offering a speed range (600 — 2,000 rpm) that is ideal for polishing.

It features a screw-in type prophy head that accepts any brand of prophy cup. The prophy head is autoclaveable.

Taskal 7 allows one-hour continuous use after one-hour charging.

For additional information, call NSK America at (888) 675-1675 or visit www.nskamerica.com.
Zila launches infection-control products
Zila Professional Pharmaceuticals launches Zila Pro-Wash™ 0.75 percent CHG antiseptic hand wash, and Zila Pro-Scrub™ with 2.0 percent CHG, for healthcare professionals.

CHG is a highly effective antimicrobial agent which kills a wide variety of microorganisms. It is nontoxic, nonirritating, fast-acting, and persistent, continuing to inhibit microbial rebound over time. While infection-control experts and the ADA urge the use of CHG, handwashing with CHG has generally been limited to pre-surgical scrubs. This reflects the fact that most CHG preparations are at 4.0 percent concentrations, which healthcare professionals tend to view as too harsh on the skin.
Both products are available in 16-ounce pump containers and one-gallon refills, and can be ordered at (866) Zila-Pro. For additional information, visit www.zila.com.
Sample packs available for free
Sample packs of the most popular phosphate investments, PC 15 and FastFire 15, are available from the Whip Mix Corporation absolutely free. The ease of use and reliable performance of PC 15 makes it an excellent investment for all pressable ceramic systems. FastFire 15 is a universal phosphate investment for all crown and bridge alloys. Both investments feature a 15-minute benchset, rapid and standard burnout, and use FastFire Liquid, a Freeze Stable liquid allowing year round availability.
Sample kits include four envelopes of each investment, a water graduate, and an 8 oz. Bottle of FastFire Liquid.
Call Whip Mix Corporation at (800) 626-5651, Ext. 207 for a free sample.
Create-a-Chart Version 3.0
KISCO's new Create-a-Chart Version 3.0 now makes it possible to chart existing and recommended amalgam and composite restorations. This simple, stand-alone software program allows you to replicate a patient's dentition as viewed in a panoramic X-ray. With only five minutes of instructions, any member of the dental team can create a custom chart easily by rotating, deleting, and moving teeth around to depict a personalized dentition of each patient.
These custom charts can be printed out in a variety of formats using the forms provided or any other paper format. Pre-printed, double-copy, carbonless consultation forms are provided with this software for a most effective case presentation. The personalized chart can be sized as large or as small as you prefer to fit whatever forms you decide to use. You can download these images to your existing patient computer database.
For more information, call KISCO at (800) 325-8649 or download a sample version at www.kiscodental.com.
Recessed SweepZone® Technology
L&R Manuacturing Company announces the availability of the SweepZone® Technology recessed-tank cleaning system with an Analog Remote Timer. The recessed unit can be installed easily into countertops and work areas to save valuable workspace, as well as provide the dental staff with an efficient and convenient method for instrument cleaning, infection control, and blood and debris removal.

The Sweep-Zone® cleaning system utilizes simple in-line connections that facilitate installation and negate the need for professional assistance. The unit's recessed tank connects simply via a plug to the unit's generator, which is conveniently stored below work surfaces. For more details, visit L&R Manufacturing Company at www.lrultrasonics.com.
For more details, visit L&R Manufacturing Company at www.lrultrasonics.com.
Easy Dental 2001 software system available
Easy Dental Systems releases Easy Dental 2001, the new version of Easy Dental practice-management software system. The upgrade includes dozens of enhanced features and new tools, while remaining fresh and simple-to-use, allowing any user to catch on with ease.

Easy Dental 2001 is available as a free upgrade to all clients subscribed to the Easy Dental Annual Support and Upgrade Plan. It is available also for purchase by new users and as an upgrade to Easy Dental users not on a support plan.
Easy Dental Systems is a Henry Schein, Inc. company. For more information or to order Easy Dental 2001, call (800) 768-6464 or visit www.easydental.com.
Alabama Mobile cabinet
Oscar Inc. introduces the Alabama Mobile cabinet. Design features include a storage well for amalgamator or other equipment, two shallow instrument drawers and two utility drawers, a retractable electrical cord and outlet. and the top slides front to back or side to side (optional). You may choose any of the three laminate colors: frosty white, light beige, or platinum. Custom patterns or colors of your choice are available at a slight additional charge.

For more information or to place an order, contact Oscar Inc. at (800) 428-5333.
Kaufman Dental introduces Stat-Mate
Kaufman Dental Mfg. introduces a new product for the Statim Sterilizer, the Stat-Mate. The Stat-Mate is designed to eliminate condensation, humidity, and heat from the area where the Statim collection bottle is stored. It eliminates the waste-water bottle under the sink, requires no routine maintenance, and is said to not alter the operation of the Statim machine. Installation is complete in minutes and the unit is shipped complete with parts required to install. The Stat-Mate is available for the Statim 2000 and 5000.
For additional information, call Kaufman Dental Mfg. at (800) 228-0532, fax (503) 297-5936, or email kdm@teleport.com.
V35 Duration™ electric handpiece system
Buffalo Dental introduces the new V35 Duration™ system, a high-powered, reliable, no-frills HP electric handpiece system for use in the dental laboratory. The economical, USA-built system features the new V35 Control Console combined with the new, high torque, Duration Electric Handpiece, and provides four console-selectable cutting speeds to 35,000 rpm. An optional foot control is available to provide fully variable speed control if desired.
The V35 is available from your favorite dental dealer. For more information, contact Buffalo Dental at (800) 828-0203 or visit www.buffalodental.com.
Astralis 10 cures most dental materials in 10 seconds
Astralis 10 is a high-performance curing light from Ivoclar Vivadent, Inc. Featuring a specially designed, 100-watt halogen bulb, which allows the unit to achieve light output of 1,200 mW/cm2, the Astralis 10 cures most dental materials in 10 seconds.

The curing light is operated by one button located on the handpiece. It controls on/off and the selection of one of four programs. The mobile station allows the handpiece of the Astralis 10 to be placed where it is needed, even stored out of sight.
For additional information, call Ivoclar Vivadent, Inc. at (800) 533-6825 in the U.S., (800) 263-8182 in Canada, or send email to mail@ivoclarvivadent.us.com.
Valplast® Nesbit and Flipper partial designs
Keller Laboratories, Inc. has applied the technology of Valplast® to the traditional nesbit and flipper partial designs. Valplast® is a biocompatible thermoplastic with unique properties that allows unlimited design versatility and eliminates acrylic allergy concerns. The key benefits of the Valplast® material and these designs are: retention, comfort, esthetics, strength, ease, and zero porosity.
For additional information, call Keller Laboratories at (866) 535-5371.
Flexible Workstation available
Pelton & Crane introduces a new Flexible Workstation. The workstation, which has swing-mounted components for left-right delivery system convertibility, now has a large accessory chamber that makes adding accessories, such as air abrasion, easy.

The Flexible Workstation has an umbilical that is external to the flexarm, so adding additional components or servicing can be done easily. Dual water bottles are standard and feature a pivoting bottle manifold to prevent damage to the bottles.

The workstation is available for wall-mount, cabinet-mount, or on the Flexible Delivery Cart, with a choice of 12 standard laminate or seven standard, solid-surface veneer work surfaces.
For additional information, contact Pelton & Crane at (800) 659-6560.
Crock-A-Gator toothbrush with matching cover
Continuing with their commitment to make brushing fun, Plak Smacker has added the new Crock-A-Gator toothbrush with matching cover. This 25-tuft toothbrush is made with soft Dupont Tynex nylon bristles featuring a three-row head with the center row colored to match the handle of the brush. The contoured head makes brushing easier for younger mouths. A matching toothbrush cover in the shape of a crocodile head is available separately. The brushes and cover are sold separately by the gross.
For additional information, contact Plak Smacker at (800) 558-6684 or visit www.plaksmacker.com.
Two-way, remote-controlled aerosol dispenser
Fresh Concepts Direct recently introduced what is said to be the world's first two-way, metered, aerosol dispenser which features remote-controlled programmability. 'Point and Click" programming technology allows office professionals to send, receive, and confirm programming settings as well as monitor the status of refill and battery life with a readout on the remote's LCD screen.
The Pro Remote dispenser joins Fresh Concepts' extensive line of Aromatherapy air fresheners, including four new fragrances: Vanilla Calm, Refreshing, Vibrant, and Peaceful Garden.
For additional information, contact Fresh Concepts at (800) 537-3745 or visit www.freshconcepts.com