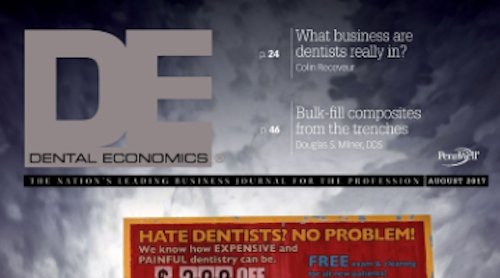 Dear Dianne,
I've had terrible luck finding and keeping good front desk help. It seems like everybody I hire leaves within six months of being hired. My best candidate had two small children who were sick a lot. She finally decided to just stay home. Another relocated to another city. Another person I hired came to work impaired, so I had to fire her. Can you give me any advice on how to find a keeper?
- Dr. Fred
Dear Dr. FRED,
I'm not sure where you've been looking, or by what criteria you've been making your hiring decisions, but I can share some tips that should help. First, you should realize that your front office business assistant is the most important hiring decision you will make, because this person is runningyour practice. Yet some dentists feel that business desk duties are "lower-level" positions, and they try to hire someone who will work for bottom dollar. As Zig Ziglar used to say, "This is 'stinkin' thinkin.'' You need a high-quality person at your business desk who is dependable, organized, congenial, professional, and personally stable. After all, this person is the face of your practice. Remember, when you pay peanuts you generally get monkeys.
Make sure your ad is worded to attract qualified people.
Front Desk Assistant/Financial Coordinator. Our exceptional dental practice is looking for a person who has excellent communication skills in person and on the phone. If you are enthusiastic, caring, dependable, personally stable, and have experience with computer scheduling, insurance, and collections, please send your resumé and cover letter to (email) or fax (111) 123-4567.
If you run an ad in the paper, make sure it is in the Sunday edition. One suggestion is to run a block ad, about two inches by three inches, in the leisure, food, or another section. Online searches are very popular today, but my experience is that Craigslist will probably not give you the best candidate. Better choices are Indeed.com or Glassdoor.com.
You should require three references from people who can attest to the work ethic of the candidate. If the candidate is young, you could speak with teachers or school counselors who know the person. Be sure to check on the social media presence of your candidate. You should also conduct a phone interview prior to having the person come into the office. Ask: (1) What did you like most about your last position? What did you like least? (2) What is the thing or accomplishment in your life that brings you the most pride? (3) Where would you like to be in five years?
Do not hesitate to look outside the dental profession to find good front desk people. Bank tellers often make wonderful dental business assistants. High-quality people can be taught scheduling or computer skills, but the one thing that can't be taught is personality. A friendly personality is a must!
Business assistants are your most valuable employees when it comes to patient perception of the office. It is your responsibility to see that the person is properly trained to do the front desk job and interact appropriately with your patients. Poorly trained business assistants can cause patients to leave your practice, which ultimately affects your productivity.
To conclude, determine to hire a high-quality person with a great personality. Require three references and check them thoroughly. Conduct a telephone interview first, and provide training when necessary. Finally, if your practice is exceptional, then offer an exceptional wage to an exceptional candidate.
Here's hoping your luck changes!
All the best,
DIANNE
---
Dianne Glasscoe Watterson, RDH,MBA, is a consultant, speaker, and author. She helps good practices become better through practical on-site consulting. Please visit Dianne's website at wattersonspeaks.com. For consulting or speaking inquiries, contact Dianne at diannemba@gmail.com or call her at (336) 472-3515.