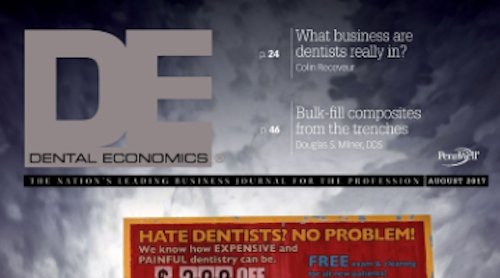 Question:
A selling dentist has an expensive marketing campaign to attract new patients. It's successful, but the buying dentist is nervous about the monthly expense. How should a buying dentist determine if he or she should keep that marketing going?
KATE WILLEFORD, CPA
Do you know how much money you spend to attract each new patient? If not, I highly recommend you calculate it for each type of marketing approach you use. To calculate, you need to (1) determine exactly where each patient is coming from (referrals, magazines, billboards, TV ads) and how many new patients are being attracted by each source; (2) calculate the dollar amount you or the prior owner spent on that type of marketing and divide it by the number of new patients. (This average cost per new patient will help you decide whether or not to keep that marketing approach); and (3) track the referral source every day. I find that the front desk team often believes patients come from a marketing approach other than the correct source. Require the front office team to track the new-patient sources in your software.
Cash flow projection
Do you know by what dollar amount your collections would decline if you dropped the marketing dollars spent on, for example, magazine ads? Before you quit a marketing program, make sure you project the effect it could have on your revenue. Do not simply look at the expense side of the equation. New patients typically cost up to $195 to bring in the door. This is a small price to pay if your rate of return is 10 times your investment (assuming a typical patient is worth a minimum of $2,000 a year).
A dental CPA can create a thorough cash flow projection so you can predict the effect a change in marketing would have on your bottom line. If there is no effect, eliminating that marketing approach might be worth it.
Create an internal and external marketing plan
Does your marketing plan include a budget and a clear strategy for attracting both internal and external patient growth? A clear marketing plan should be designed with the assistance of a dental marketing expert. One expert, Grace Rizza, says, "Cutting new-patient flow can be incredibly damaging and difficult to get back."
ANGELA BAKER, MBA
This is a really tough question. When a dentist buys a practice, all expenses need to be examined, including marketing expenses. We recommend that a new dentist-owner does not immediately make any major changes. It takes 12 to 18 months to become really acclimated to the practice and comfortable with the expenses, operations, and marketing.
In this day and age, a website and practice branding are very important. I would highly recommend taking a look at the website to make sure the information is current and useful. The marketing should match the personality of the new dentist and be tailored to the types of patients the new dentist wants to attract. Most importantly, it should be possible to track the marketing to ensure that the expense and effort are worthwhile.
After the initial transition, sometimes it makes sense for the new dentist-owner to engage a dental consultant who specializes in marketing to make a complete assessment of the existing marketing strategy, and to discuss the strategy moving forward.
---
Kate Willeford, CPA, is the owner of the Willeford Group, which uses a multidisciplinary approach to accounting and profitability consulting focused on creating a substantial impact on the quality of life and income of select dentists. She is the vice president of the Academy of Dental CPAs and a member of the Academy of Dental Management Consultants and the Speaking and Consulting Network. Reach her at katew@thewillefordgroup.com or (770) 552-8500.
Angela Baker, MBA, is vice president of the Professional Practice Group at Village Bank & Trust, a Wintrust Community Bank. She has been working with dentists for more than 15 years, helping them with financing for their practices. She has a master's degree in business administration from Dominican University in River Forest, Illinois. Contact her at (847) 385-7011 or abaker@wintrust.com.